Recently updated on April 19th, 2023 at 05:48 pm
Shipping products from China is a complex but important topic for importers. Many importers are struggling to achieve a better balance between shipping time and cost.
In this post, you would be exposed to all the mainstream shipping solutions available in the market. You have more options than cheap but slow ocean shipping and expensive air shipping. This article would also give you an idea of the best industry shipping practices, which are especially friendly for both small businesses and personal shoppers.
So, whether you are shipping a small shipment of 20kg, or a large shipment of thousands of kilograms, this article would be very helpful in choosing the best solution. Of course, the most important thing is that we would show you the best transport solutions for different sculptures. Follow in the footsteps of YouFine and you would get a feast of imported goods transportation knowledge.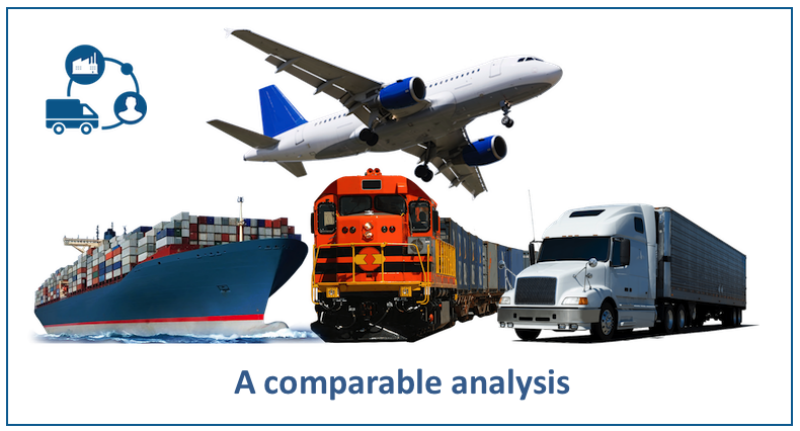 First, Who Helps You Ship Products?
In essence, there are only 4 roles in the whole process of international shipping:
The first role is that of the shipper, which is your product supplier. The second role is that of a freight forwarder, someone who monitors the movement of goods in between. The third role is the shipping company, the person who transports the goods. The fourth role is the consignee, which is you.
First, a shipping company is a person who owns a truck, boat, or plane that transports products from point A to point B. Apart from express delivery, all shipping solutions require different shipping companies to work together to finally deliver to your hands. Also, you never need to deal with them directly.
Because freight forwarders play an important role in the transportation process. Either you or your Chinese supplier needs to find a freight forwarder. He is like a broker, coordinating with all the shipping lines, and picking up the shipment from the supplier until it is delivered to you. At the same time, he also handles everything in the import and export process.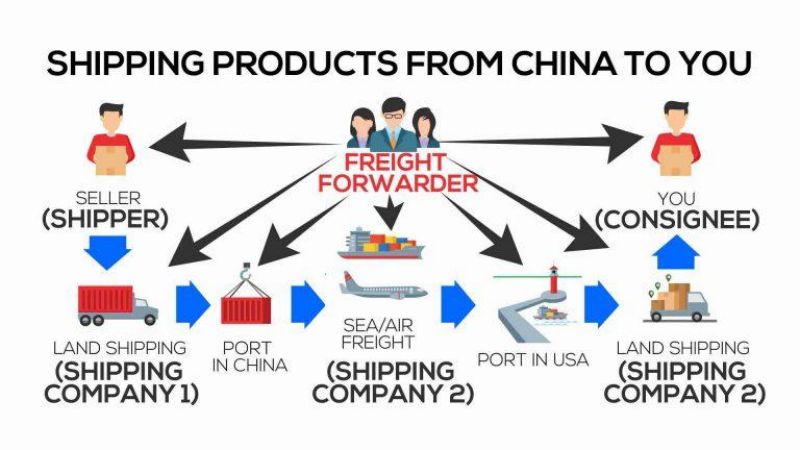 And, there are tens of thousands of freight forwarders in the world. They could be a company or just a person working from home. Of course, it's hard to determine who is trustworthy. Well, one of their most common tricks is to quote you a lower shipping rate at the beginning and then overestimate the size of your shipment or charge you extra when you pick it up.
So if you don't know any forwarders, it's best to ask your supplier to find one. Although suppliers would increase their profits on shipping. But the supplier also takes some responsibility if the goods are lost or damaged in transit. This is safe for you, especially if you are new to importing from China.
Of course, if you frequently import goods from China and prefer to use a freight forwarder who is directly responsible for you rather than your supplier. You could ask someone you trust to recommend a reliable freight forwarder for you. Or you could go to Google and search for a freight forwarder (I'll show you how to find a freight forwarder on Google later). Alternatively, you could also try a platform like Freightos or Flexport to find one. But you need more time to make sure the proxy you find is reliable and correct.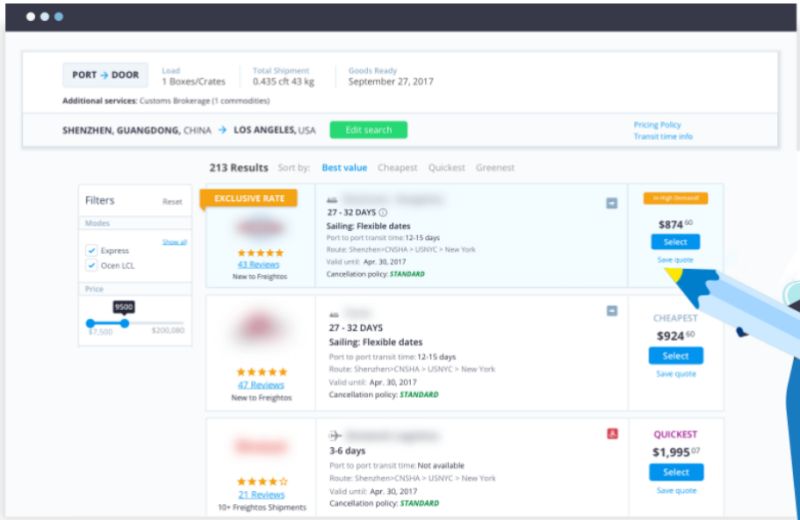 First, Freightos is very easy to use. Just enter cargo information such as volume and weight, pick-up, and delivery city. Then you would get a list of freight forwarders and their quotes. It's as easy as booking a flight.'
It's worth noting that you could only contact the freight forwarder after completing the online payment. The quotes you see are for shipping to the destination city only, not your home address. You must communicate with the freight forwarder about the total cost.
My trials with Freightos proved that it only works if you want to ship to North America, the UK, Western Europe, and Australia by traditional sea or air. For other shipping methods or other countries, you are better off finding a freight forwarder elsewhere.
Second, Understand 5 Basic Incoterms
Before shipping, you need to confirm the incoterm for this order. The terms of trade define the buyer and seller's responsibilities and details of how the product would be delivered.
First, when you ask your Chinese supplier for the final price of a product, tell them which trade terms it should be based on. Otherwise, you would face unexpected additional shipping charges.
The 5 most commonly used Incoterms are briefly described below, namely ExW, FOB, CIF, DDU, and DDP.
First, ExW means you are responsible for all shipping costs. Therefore, you need to find someone to pick up the goods at the supplier's warehouse. Product prices quoted in the ExW Terms are Product Costs only. Of course, the supplier does not provide any shipping or exporting services.


Second, FOB is the abbreviation of Free On Board. The supplier pays all costs for shipping products to China seaports or airports. And the supplier would pay for the export cost of shipping. Then, you also need to find your freight forwarder to pick up the goods at the destination port. However, if you choose to ship via FedEx, UPS, etc. You should pay the supplier on ExW terms. Because the courier company picks up the goods at the supplier's warehouse instead of the port. Then, the express shipping fee is also included in the price quoted by the supplier.

Third, CIF means that the supplier would use its own freight forwarder. And the supplier pays all costs from the factory to the destination seaport or airport. Then, you need to find your own freight forwarder to pick up the goods at the destination port. During this period, your freight forwarder would help you to complete the import customs formalities. Then they deliver the goods to you.


Fourth, for DDU and DDP terms, the supplier would pay for all shipping costs. The only difference between these two terms is whether the supplier needs to pay import duties. DDU and DDP are the abbreviations for Delivered Duty Unpaid and Delivered Duty Pay.


Third, Choose Different Transportation Methods for Different Specifications
1. Courier for Cargos Below 500kg
(1)Choose a Better Express Company
For most e-commerce sellers and new importers, courier services are used frequently. This is the easiest, fastest but also the most expensive. Most Chinese suppliers call it express shipping.
This service is only offered by big companies like FedEx, DHL, UPS, TNT, and others with global delivery networks. The same company handles the entire process from being picked up by the supplier to being delivered to you. They help you with the import and export process and ultimately charge you or your supplier with import duties.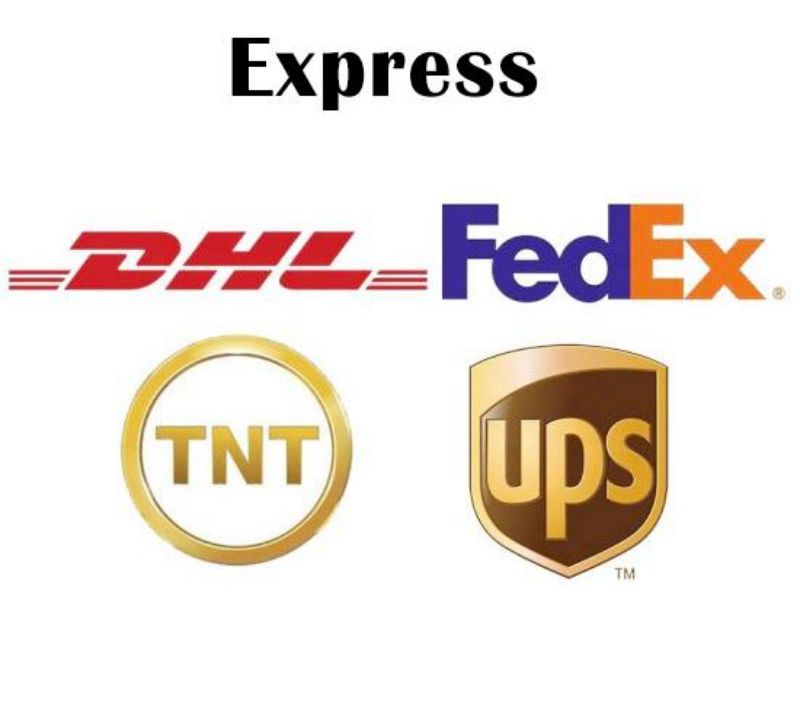 In short, express service has the following advantages:
First, it's fast, shipping to most countries in just 3-5 days. Second, the easiest way to complete import clearance. Fewer compliance certifications are required than in other shipping methods. Of course, shipping quotes are pretty straightforward. It just charges per kilo.
(2) Estimate Express Shipping Cost
Additionally, shipping costs vary with destination and shipping market demand. Shipping rates from China to North America and Western Europe are generally $6-7 per kg. It is cheaper to ship to Asian countries and more expensive to ship to other regions.
The most expensive of these is the last month before Chinese New Year and Christmas. For unusual circumstances like the 2020 pandemic, prices have nearly doubled. Because the number of flights stopping in China has dropped dramatically. The demand for imports from China has increased a lot. For example, there has been a surge in the purchase of personal protective equipment.
Also, small parcels less than 20kg cost much more than regular shipments. Because even shipping a sheet of paper, the minimum fee is about $20.

(3) Find a Cheap Courier Company
First of all, you don't contact courier companies like FedEx directly because the official prices are expensive. In most cases, Chinese suppliers would find a courier company for you. These companies are due to the high volume of daily shipments. They could get over 40% discount from courier companies.
(4) Calculation Rule of Express Fee
When you choose to ship by express, the important things you need to know are volume and weight. Because shipping is not always charged by weight, but also by size.
Let me give you a simple example. Suppose there are two shipments. One is a large empty box that weighs only 10kg and has a volume of 1 cubic meter. Another shipment was the same size as the box, but full of products, with a total weight of 300kg.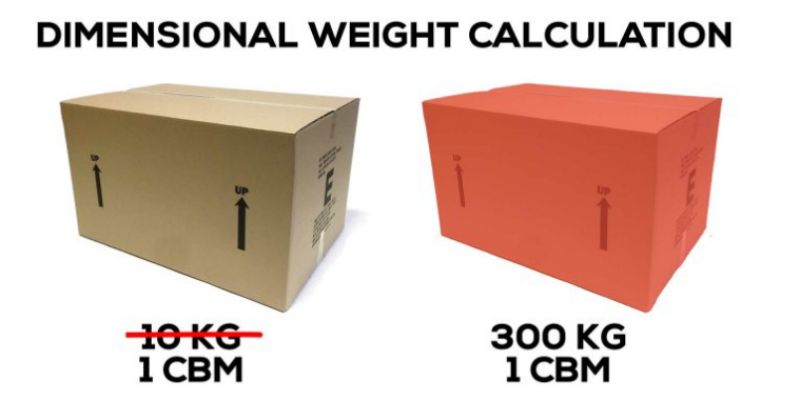 For the first shipment, the courier company couldnot charge you 10kg for shipping because the plane's shipping space is expensive. Therefore, they convert the volume of the cargo to volumetric weight and compare it to the actual weight. Shipping charges are subject to the greater.
Most international express companies use the same formula to calculate dimensional weight. It is the length in centimeters, multiplied by the width, multiplied by the height, and divided by 5,000. So the volume weight of 1 cubic empty box is 200kg, so the freight is charged at 200kg instead of 10kg.
2.Sea Freight for Cargos Over 2CBM
Sea freight is the most common mode of transportation in traditional trade. Because it is the cheapest. One big difference with courier companies is that shipping and customs processes for ocean freight are not handled by a single large company like FedEx.
Instead, you or the product supplier need to find a freight forwarder. The roles mentioned in Section 1 earlier. Freight forwarders handle things in transit. Things like they find trucks to pick up from supplier warehouses, book containers from ocean carriers, find customs brokers, etc. A freight forwarder would help us with the import and export process. Also, the freight forwarder would need to find a truck to deliver from the port to your warehouse. This is how ocean shipping works.
Of course, there are thousands of people or small companies doing this work. But in some ways, their service is a lot worse than courier. And there is no tracking system on the site to let you know where the shipment is. However, the responsible freight forwarder would promptly report the location and transportation of the goods to you.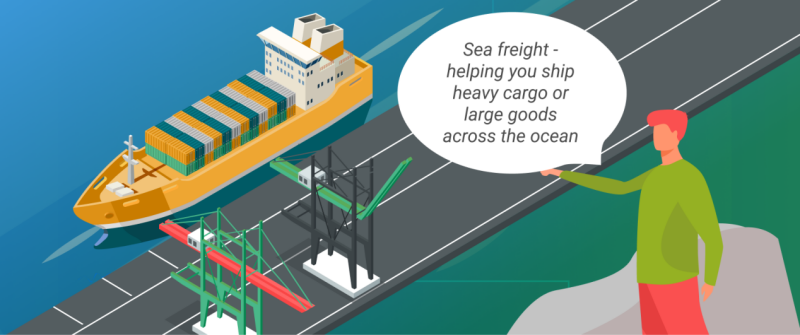 (1)LCL & FCL of Sea Freight
For sea freight, all products are shipped in containers. There are two most commonly used containers, 20″ and 40″. Their shipments are 28CBM and 68CBM. If you have bulky shipments over 20CBM, it's best to ask the freight forwarder to book a container for you. It's called FCL, Full Container Load.
However, for smaller shipments, LCL is generally used. That said, a freight forwarder would help you share a container with others to save you shipping costs.
If your shipment is less than 2CBM, I do not recommend you to choose sea freight. Because each shipment has a fixed cost of hundreds of dollars. The average cost per CBM could be quite expensive when the volume of transport is small. Shipping by sea is no longer cost-effective due to the long shipping times.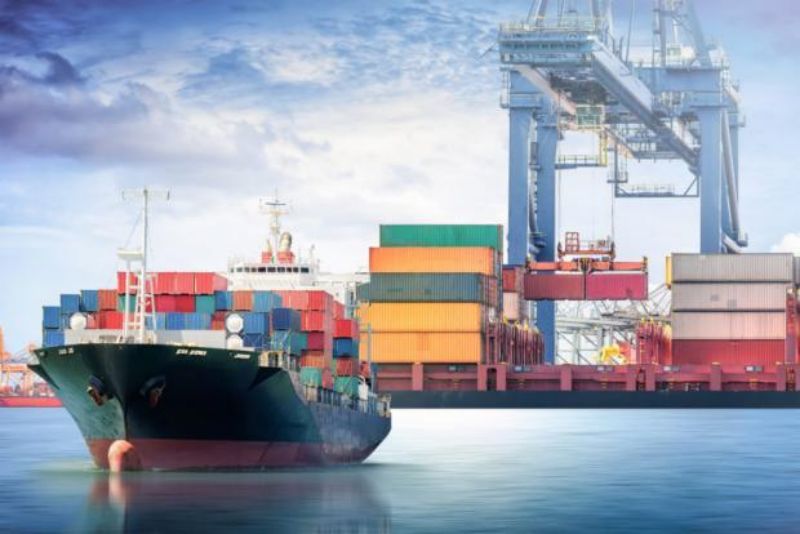 (2)Cost Breakdown of Sea Freight
In terms of cost calculation, ocean shipping is a bit more complicated than express delivery.
First, according to the process, there are land transportation costs from suppliers to China seaports, export costs, sea transportation costs, import costs, seaport costs in your country, and land transportation to your warehouse.
Second, when you ask a freight forwarder for a quote, they may give you the price of the goods themselves and the cost of shipping.
Third, shipping costs are only a fraction of the total. Most of the expansion takes place at the port of destination, the import process, and ground transportation to your address.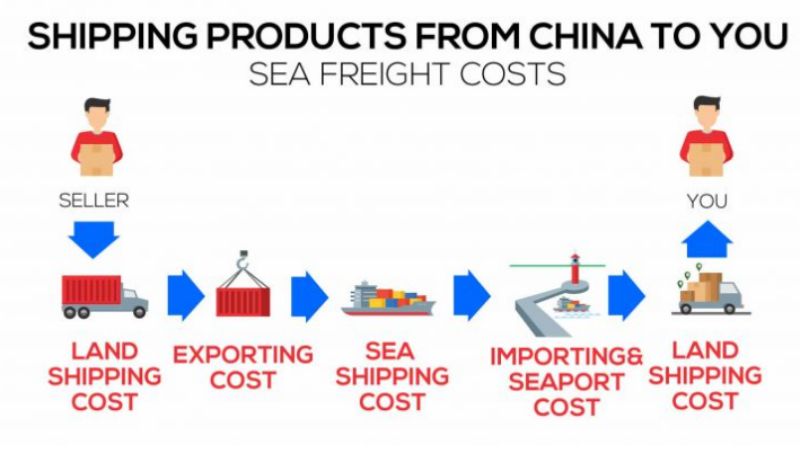 If we just look at the ocean part, let's say we're shipping a 40″ 68m3 container from a Chinese port to the US or Western Europe. The fee is generally around $3,000 but could rise to $5,000 during the peak season one month before Chinese New Year.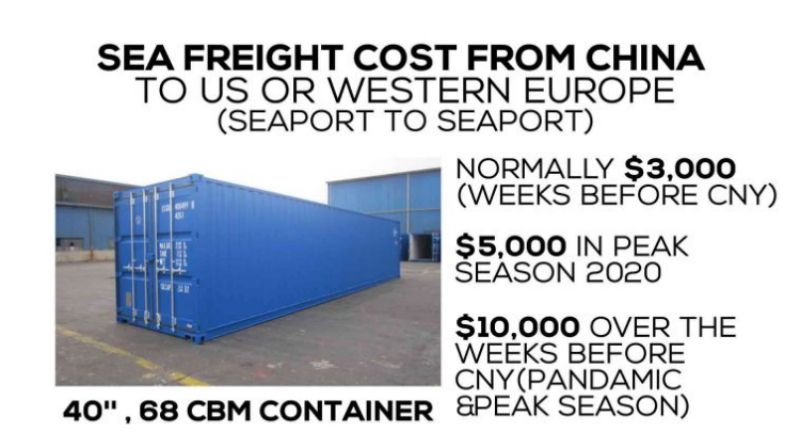 To sum up, the shipping cost is affected by many factors, but you only need to get a general idea of the total shipping cost from China to your door.
Then, shipping from China to areas near the US West Coast is about $100-200/CBM. Shipping from China to areas near the US East Coast is around $200-300/CBM. Shipments from China to the central US are over $300/CBM.
In Western Europe, the cost is between $200 and $300. In South America, the cost would be over $400/CBM.
Note: The above prices are for reference only. If you need the most recent references, visit fryos.com to view them.
Generally speaking, the total shipping cost of ocean freight is about 85% lower than that of air freight.
(3) Sea Shipping Time from China
As the cheapest and slowest shipping option, how long does it take to get home from a seaport in China?
In addition to time spent at sea, the complicated import process was also to blame. Before arriving, don't forget to consider the delivery schedule of the ground carrier.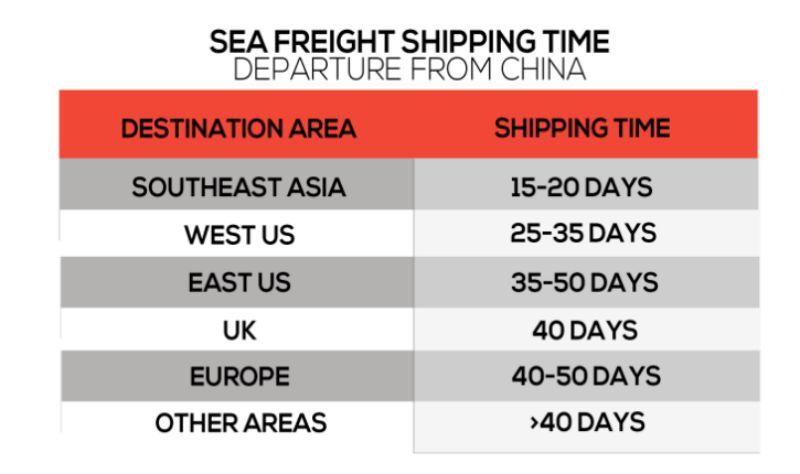 3. Railway Freight for Full Container Load
First of all, for shipping to European countries, it takes 30-50 days to arrive by sea, which is a very long time. Air freight takes less than a week, but the cost is 5-8 times that of sea freight.
Therefore, rail freight strikes a good balance between transit time and cost. This railway is ideal for countries in Eastern Europe and Western Asia far away from the seaport.
The cost of rail freight is about 2 times that of sea freight, and the rail transit time is half of 15-20 days. This adds value because less shipping time could help a lot of people ease their cash flow pressures.
The biggest disadvantage of rail freight is the limited number of countries that could be reached along the China-Europe rail line.
Among them, most freight forwarders are not allowed to share a container with others. So you have to ship the product in a full container. This is not friendly to small importers.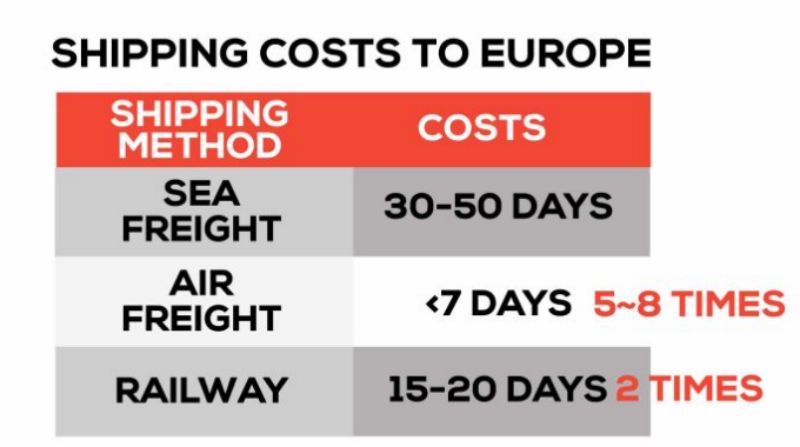 4. Diversified and Combined Transportation Methods
It could be seen from the above analysis that the cheapest shipping takes more than a month, and it is only suitable for goods above 2CBM. Air freight is fast, suitable for goods under 500kg, but it causes 5-8 times the cost of sea freight. Rail is good in terms of time and cost, but you have to ship full cases and could't ship to the US. Therefore, people combine the characteristics of different transportation methods to provide more reasonable transportation solutions.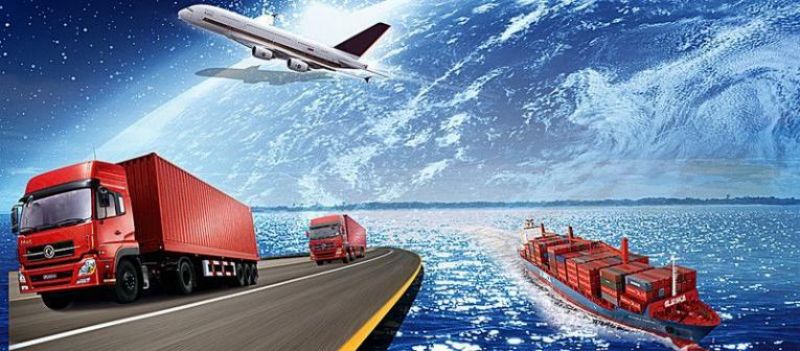 (1)Combination of Sea and Express
So freight forwarders help many customers share a full container shipping to the west coast of the United States. And, they require a local courier like UPS to ship from the port to a specific address in the US. You could even ship small shipments around 50-100kg. Not even a normal LCL (smaller than a container load) could do this.
The total shipping cost is about $2/kg, which is about 2 times the normal ocean shipping cost. However, the transit time from a Chinese port to the final destination in the United States is only about 20 days, which is 20%-50% faster than ordinary sea freight.
(2)Combination of Air and Express
A similar solution combines air freight and local couriers, and costs about 20% less than air freight, just a few days slower.
Not only the US, but the solution is also available in the UK, Germany and other countries with Amazon fulfillment centers. It's designed for Amazon sellers who want to ship small quantities to Amazon warehouses and need a cheaper but faster shipping solution than ocean shipping.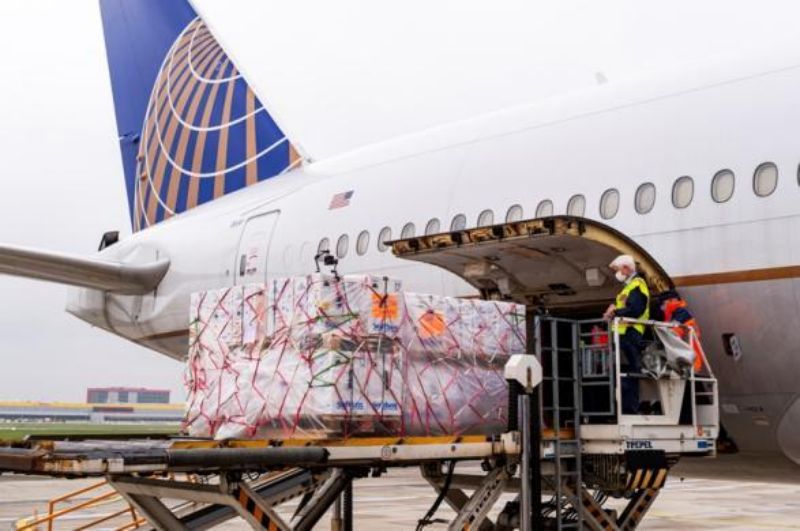 (3)Combination of Rail Freight and Express Delivery
Want more options to travel to Europe? Some freight forwarders even combine rail freight with express delivery.
This is the most popular shipping solution for Ecommerce sellers. Especially Amazon FBA sellers as it is cheap and suitable for small shipments. If you want to opt for this shipping solution, it is best to consult a freight forwarder in China that specializes in shipping to Amazon.
(4)E-package for Small Packages
In the previous sections, we presented solutions for shipments of more than 20 kg per shipment. But drop shipping sellers could't afford air shipping for most packages weighing less than 1kg. The minimum fee is around $20, even if you're just sending a piece of paper.
Dropshipping sellers do not want to keep inventory and prefer to require suppliers to ship directly from China. Then E-package is for you. They airlift countless packages from China to the destination country each time and then use the local postal service to complete the final part of the delivery.
The biggest advantage of E-package is that the minimum shipment starts from 20 grams, and the freight is calculated per gram. This is great for sending gadgets and cheap fashion jewelry. All dropshipping sellers, Wish and Aliexpress sellers are using this shipping method.
As you know, cheap solutions usually have many drawbacks. Compared to air express, Epackge is very slow and unstable. It takes 10-20 days and sometimes the package gets lost.
5. Handling Custom Clearance in China
After understanding all the shipping options, the last important step is customs clearance. You should know what documents or certificates are required in the process.
In the process of export customs clearance in China, all kinds of products need to provide the following documents: contract, commercial invoice, packing list, bill of lading, and certificate of origin.
Of course, according to the different regulatory requirements of the customs on the product, an additional certification is required. But for the export process, you don't have to worry too much. Usually, the supplier would help you solve the problem.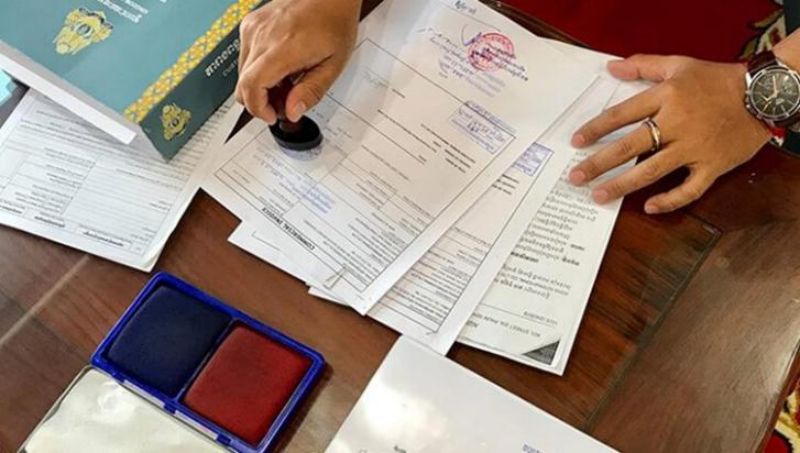 In addition, in your country's import customs clearance process, there are also some standards or documents required by your country's customs. But like the export process, 5 documents are required, including a commercial invoice, contract, packing list, bill of lading, and certificate of origin. But some other certificates vary by country or product. You could consult a freight forwarder who could help you with logistics.
In addition to the certificate, you would also need to pay customs duties. But standards vary by country or product. You could ask the freight forwarder or your customs broker for the required documents and product tax rates.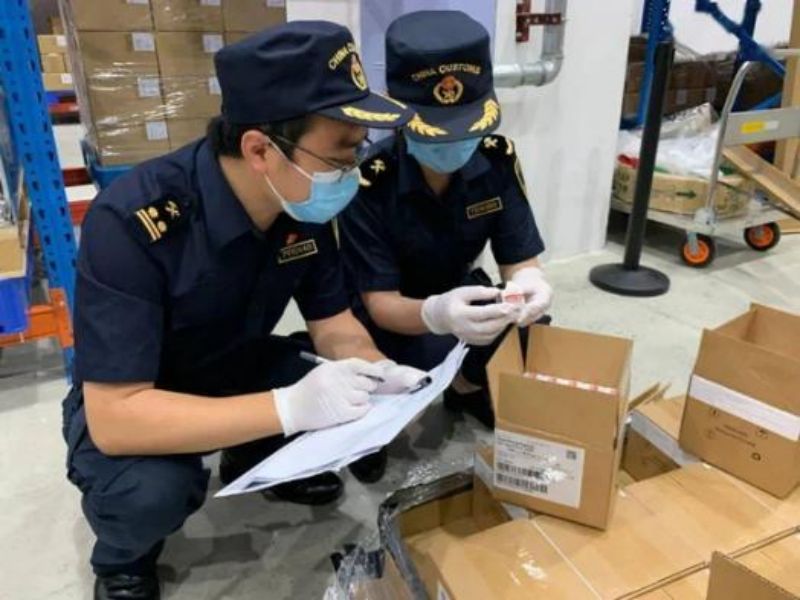 6.US AMS and ISF System Declaration
We all know that if you want to import goods to the United States and choose ocean shipping as the shipping method. Well, we're all exposed to the AMS system. Of course, in general, our freight forwarder would handle this declaration for us. In addition, the full English name of AMS is Automated Manifest System. According to U.S. Customs regulations, all goods to the U.S. or transit to a third country through the U.S. must be declared to U.S. Customs 24 hours before shipment. AMS is the 24-hour Manifest System, also known as the American Anti-Terrorism Manifest System.
The filing materials for AMS are shown in the table below. This information must be automatically checked and responded to by the U.S. Customs system. And customs could only board the ship after replying and confirming. Otherwise, the cargo would not be able to get on board.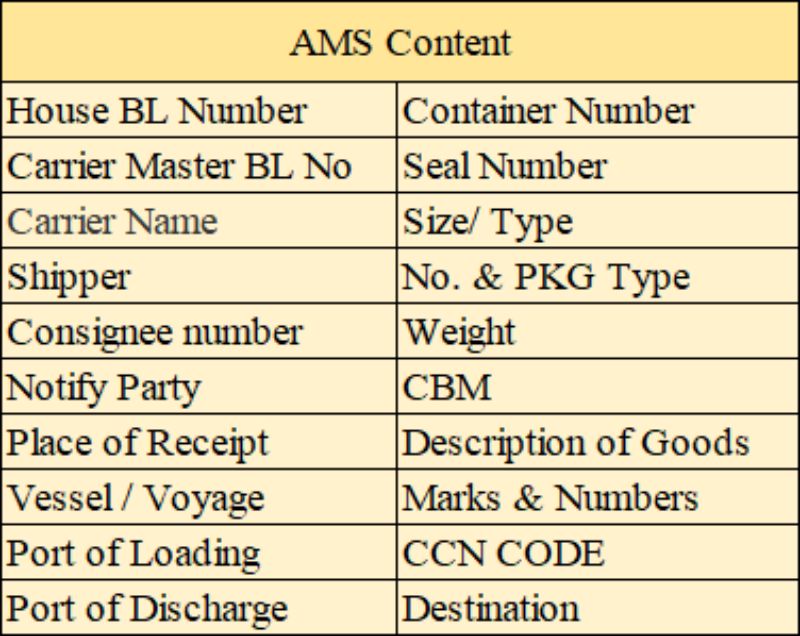 The full English name of ISF is Importer Security Filing, that is, import security declaration, also known as an anti-terrorism declaration. After the 9/11 incident in the United States, the U.S. Customs and Border Protection (CBP) aimed to strengthen the traceability of incoming goods and ensure the security of domestic trade. They proposed a procedure for the declaration of goods.
There are 12 items in the ISF declaration, 10 of which are filled out by the importer, and 2 items are filled in by the carrier, that is, the shipowner. Therefore, the ISF declaration is also commonly known as the 10+2 declaration.
The declaration time of the ISF customs declaration is the same as that of the AMS anti-terrorism manifest and must be declared through the AMS system or the ABI system within 24 hours before the cargo is loaded on board. Of course, the seller of this declaration could find a trusted overseas agent to declare on his behalf.
7.Wooden Box Fumigation
In international trade, in order to protect their own resources, countries implement a compulsory quarantine system for some imported commodities. Fumigation (disinfection) is a compulsory measure taken to prevent harmful pests and diseases from harming the forest resources of the importing country. The Commodity Inspection Bureau issues a fumigation (disinfection) certificate, and the validity period of the fumigation (disinfection) certificate is 21 days. The countries that fumigate (sterilize) the wooden packaging exported from China are the United States, Canada, the European Union, Japan, and Australia. Among them, China must issue official fumigation (disinfection) certificates to the United States and Canada.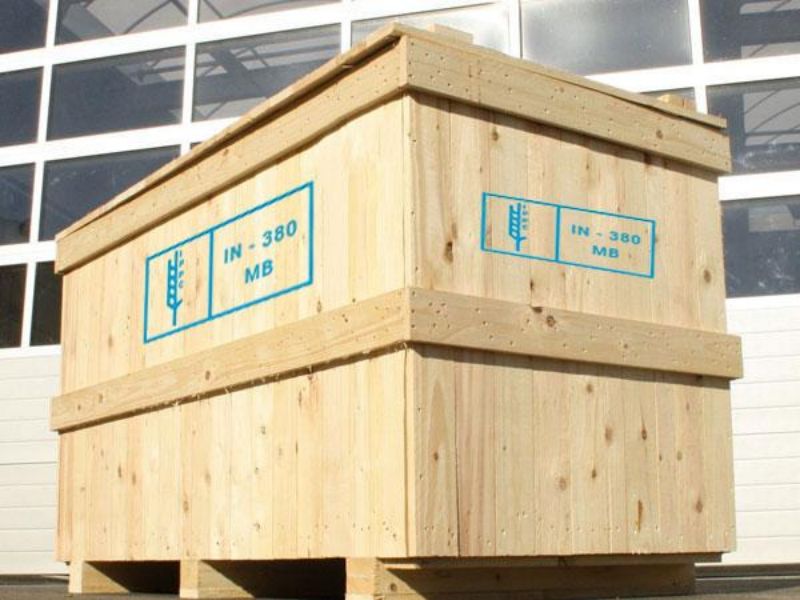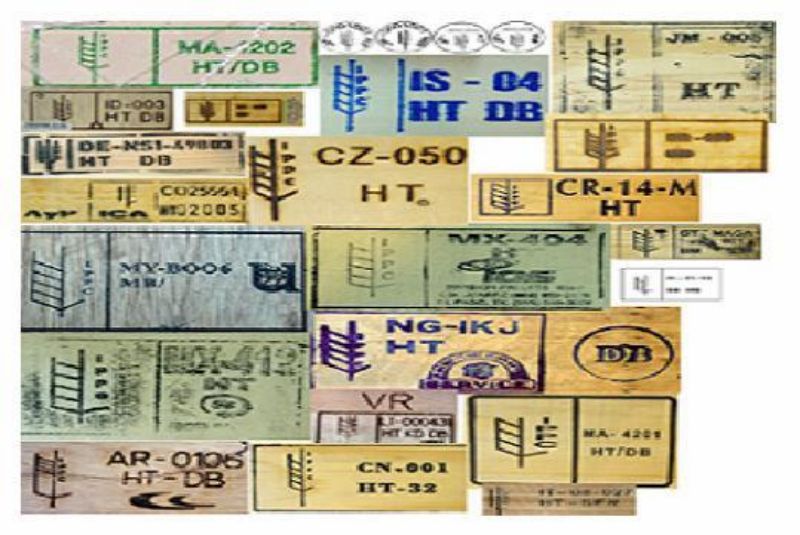 8. Certificate of Origin
A certificate of Origin is a certification document for international trade related to the place of manufacture of exported goods. The certificate of origin is divided into a general certificate of origin and a GSP certificate of origin. Goods listed on the GSP certificate of origin are eligible for tariff reduction and exemption only if they comply with the GSP rules of origin of the country that gives preference to them. Special certificates of origin are required by international organizations or countries based on remediation and trade measures. This is a certificate of origin specified for a specific product in a specific industry.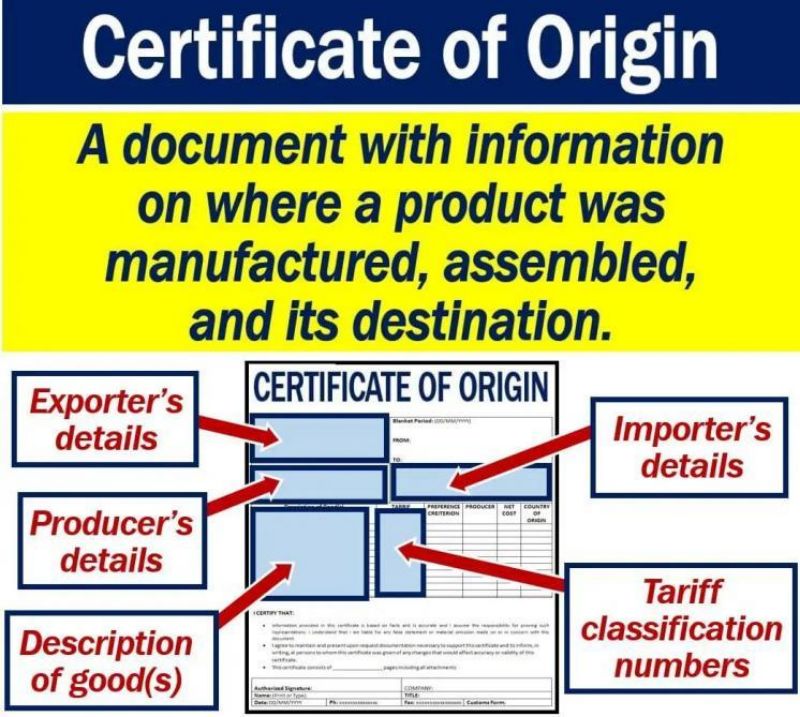 Fourth, Search for the Most Cost-effective and Safest Shipping Method Tutorials on Google
You could search on Google by keywords related to transportation. The keywords in the table below are for reference. Of course, by keyword query, you would get a lot of freight forwarding company website. Next, you could contact their service staff to learn more about the transportation plan. Of course, you could filter out which websites are your desired partners based on their website layout and information presentation.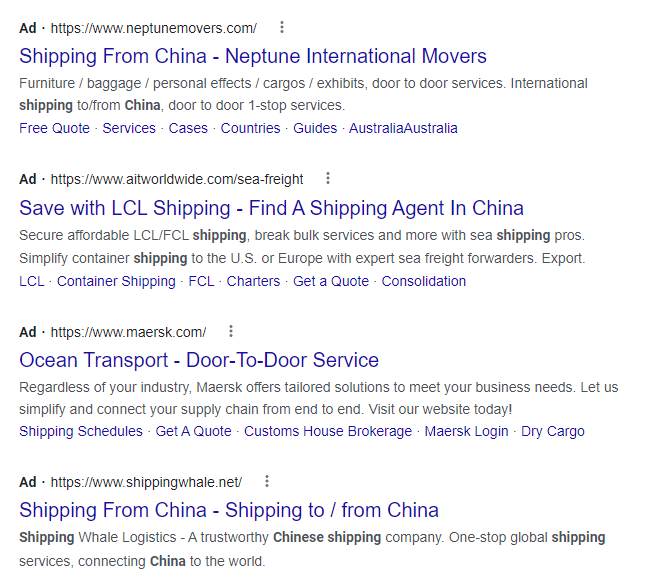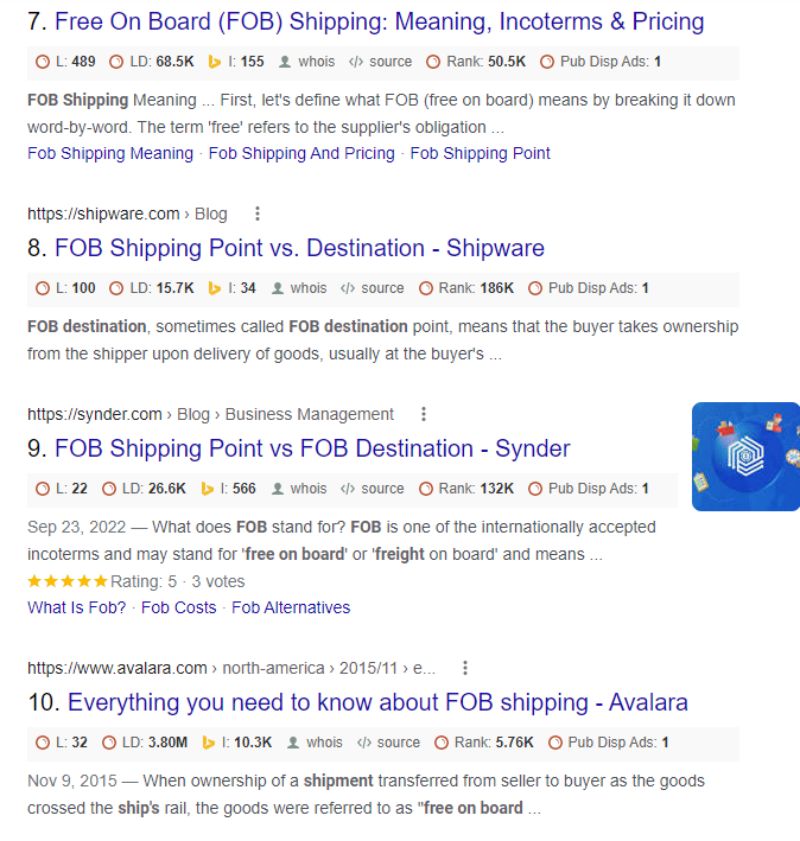 1. Aitworldwide
AIT is more than just a freight forwarder. He could be your shipping service partner. And you could have a long-term and deep cooperation with it. They could connect to a global network of resources and expert logistics covering all freight channels and modes of transport.
Because they are a non-asset forwarder their capabilities are not limited to a single air, sea or ground fleet. This means you have more options. Their website:https://www.aitworldwide.com/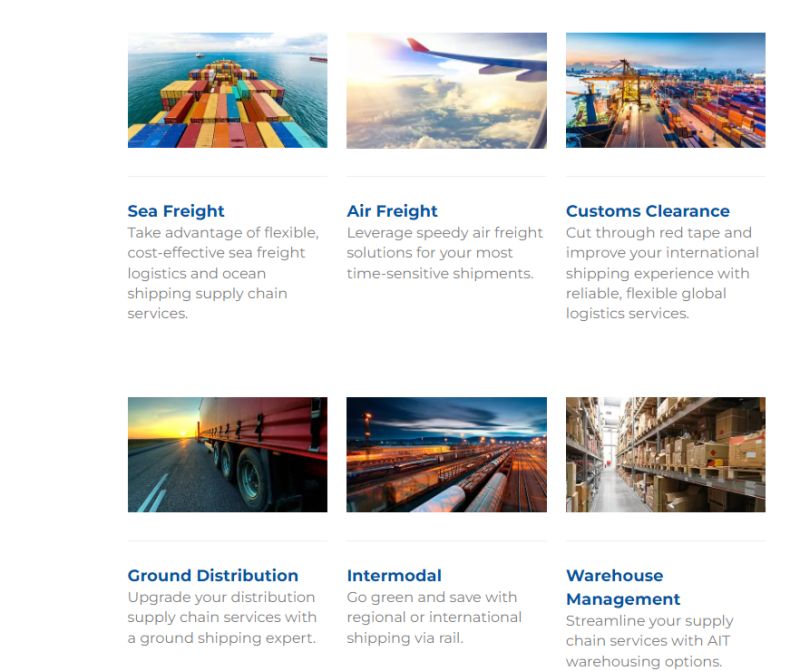 2. Freightos
Freightos® is the digital booking platform for international shipping. They are inspired by how digitalization improved passenger travel and retail, and are bringing the same benefits to global trade. Faster, more cost-effective, and reliable international shipments, help to expand trade between the people of the world.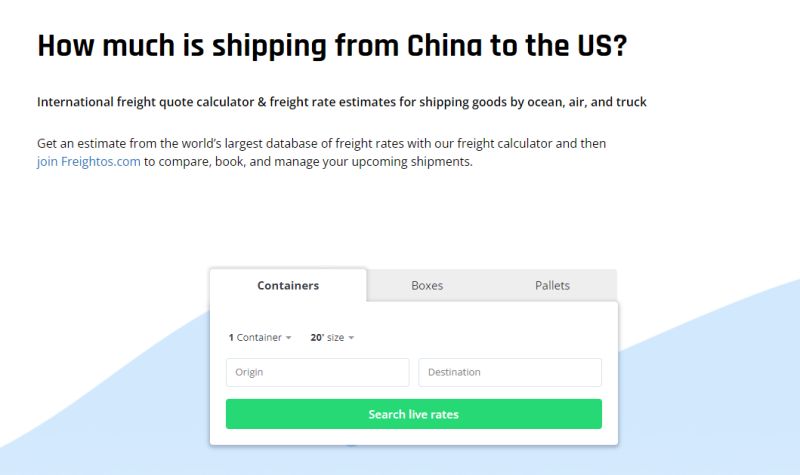 3. Shipping Whale Logistics
Shipping Whale Logistics is an international freight forwarder based in Shanghai, China and is mainly engaged in international bulk/container shipping, international air/rail transportation, international exhibit transportation, import&export agency, warehousing and other businesses between the world and China. Its vision is to be the most trusted international logistics company connecting China to the world. Their website:https://www.shippingwhale.net/.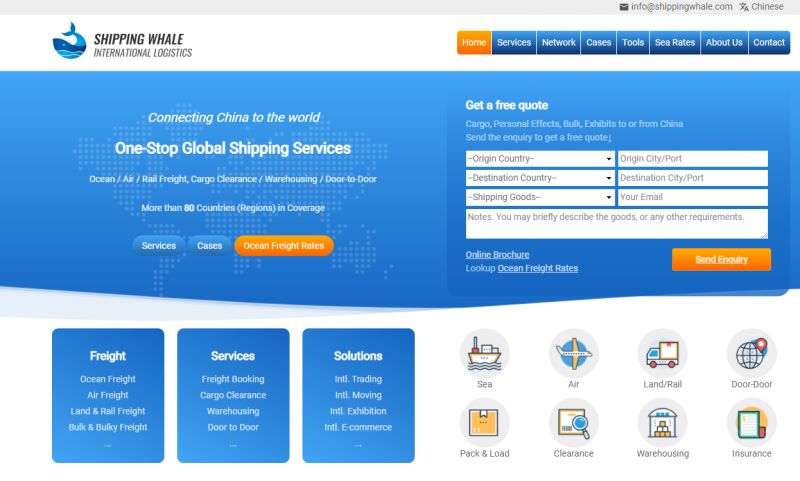 Through continuous comparison and inspection, we believe that you would be able to find your own satisfactory freight forwarder. Of course, if you cooperate with us, you would not have to worry about the problem of transportation cooperation. We would arrange for you very clearly and clearly.
Fifth, YouFine Provides the Best Shipping Solution
First of all, you don't have to worry about shipping when you buy sculptures from YouFine. First, we have a very stable forwarder, and we have a lot of warehouse locations all over the world. We could ship and arrive anywhere. So you could trust our shipping strength and shipping safety. Secondly, we have been engaged in the export of sculptures for 38 years. Our transportation experience is very rich. We could choose the best transportation method according to the characteristics of different sculptures. The most important thing is that we would buy full insurance for each sculpture. Whether the client chooses to arrive at the port or at the doorstep, the insurance we purchase would cover the entire transportation process of the sculpture.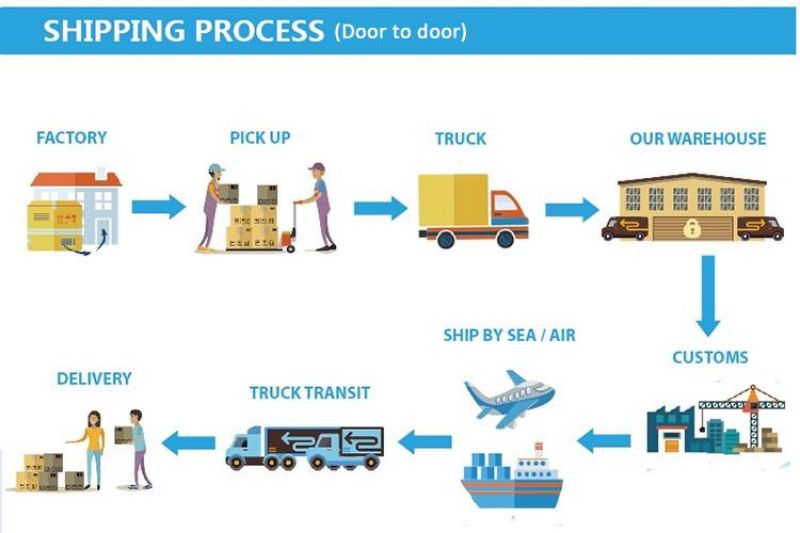 1.The Most Favorable Shipping Plan
With over 38 years of experience in shipping, we could make it easy for you. Generally, we ship the statue directly to your door, the shipping cost is very high, and you need to pay three times the shipping cost. If we ship it to the port, you could save at least $1000 in shipping costs from our factory to your home. So that's why we generally advise clients to choose to ship the sculpture to the port.
Of course, about half of our clients are individual buyers, 80% of our buyers are over 50, and we have a lot of clients over 70. We do most things for our clients and everything is easy and hassle-free for the client.

Obviously, the most commonly used for our life-size and oversized sculptures is the sea. For the vast majority of countries, shipping is one of the most economical transportation options for sculptures. We would arrange the most favorable shipping plan according to the specific situation of the sculpture and the needs of customers.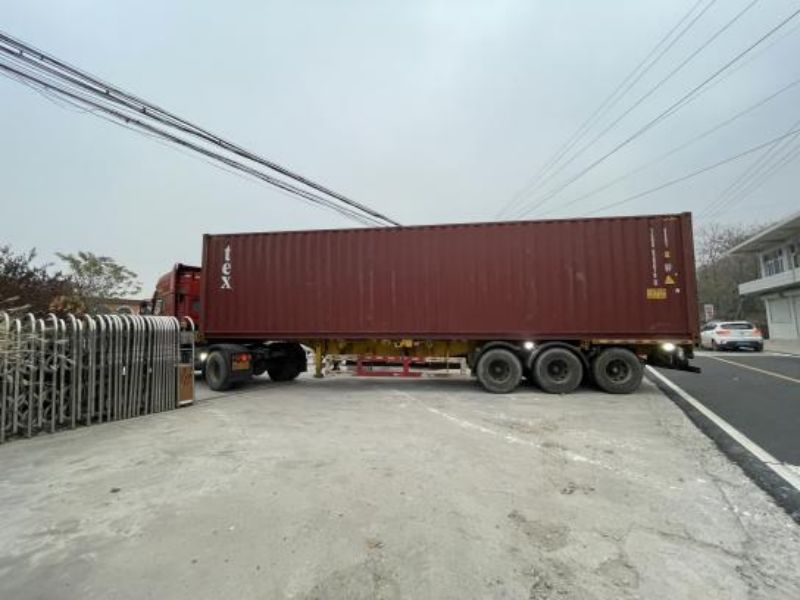 For example, we manufacture 2 large stainless steel horse heads with a height of 7 meters for UAE customers. So what we choose for our customers is the super-high cabinet, that is, the open-top cabinet. Also, our marble sculptures are also very suitable for shipping. Among them, we have carved two large fountains for customers in Russia. The marble fountain weighs 24 tons. Our shipping plan also chooses a 40-foot container.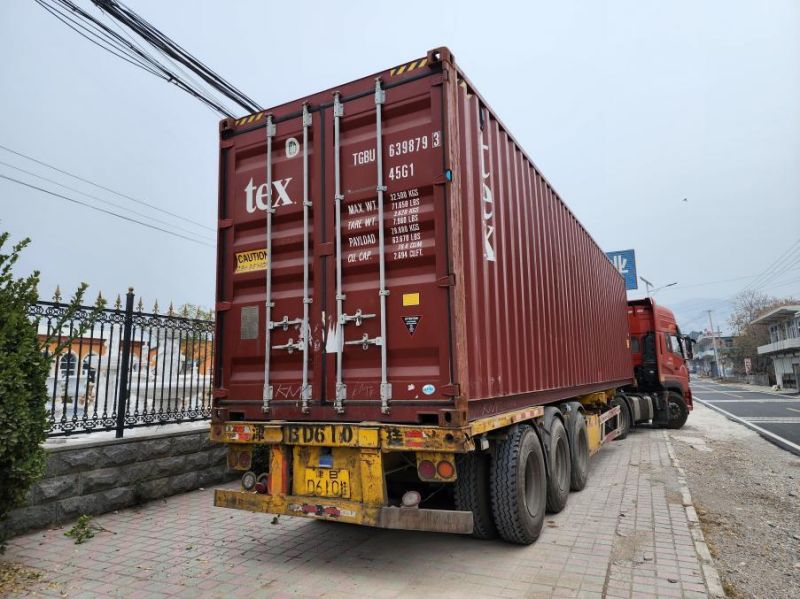 In addition, we would also provide customers with LCL solutions. These are handled solely by our forwarder. They would book the warehouse and deliver the sculpture safely to the port. They'll keep the sculpture safe until it's in the cabinet. Below is a photo of our sculpture load out.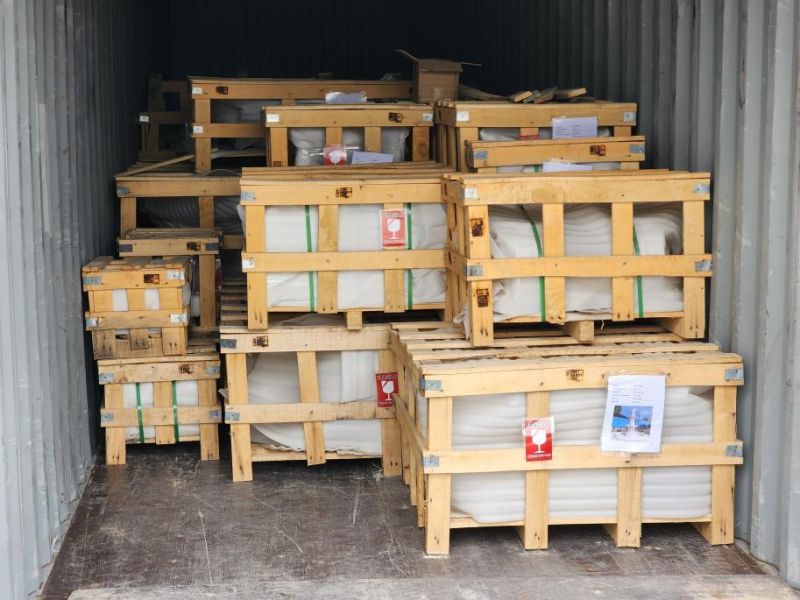 2. Regarding How to Transport the Statue to Your Home
(1) You could Find the Chinese Agent to Help You Transport
The Chinese agent's contact information is on the landing slip after we ship the product. You could also know them by checking B/L. Usually, when a sculpture is near an import, there is an import agent. They would contact our customers to inform them when the product would arrive and to confirm if the customer needs them for door-to-door shipping. At this point, you could ask the agent for a quote (total from import to your home and other charges) for you. If you think the price is right for you, you could let them handle customs clearance and door-to-door service. Then this import agent would help you with everything and get the sculpture to your door. You only need to pay according to the quotation. This is very convenient. 80%+ customers usually choose this method.
NOTE: Please remind them that our sculptures are heavy. They need to arrange trucks (trucks with forklifts).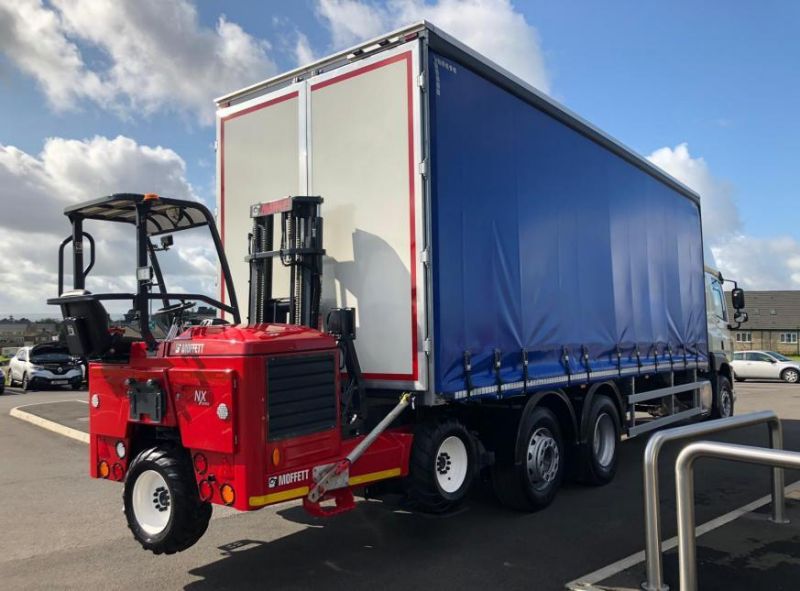 (2) Assign Other Agents or Other Friends to Do It for You
If you do not want to choose a proxy (the above proxy is from our Chinese proxy counterpart). You could assign other agents or other friends to help you drive the truck to extract the sculpture. 20% of customers would choose this way because they always import products from China. And they have long-term cooperation with local agents, everything is very familiar.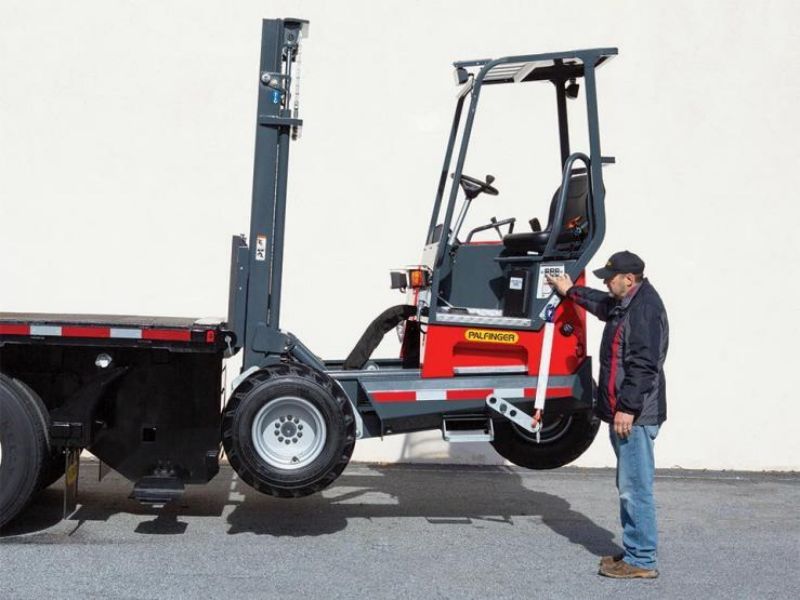 (3) You could Ship from the Port to Your Home by Yourself
You could also track the sculpture from the port back to your home. you could think about it. Usually the customer's warehouse and home are very close to the port, so choose this way. Because our sculptures are heavy and require clients to be a little strong in shipping.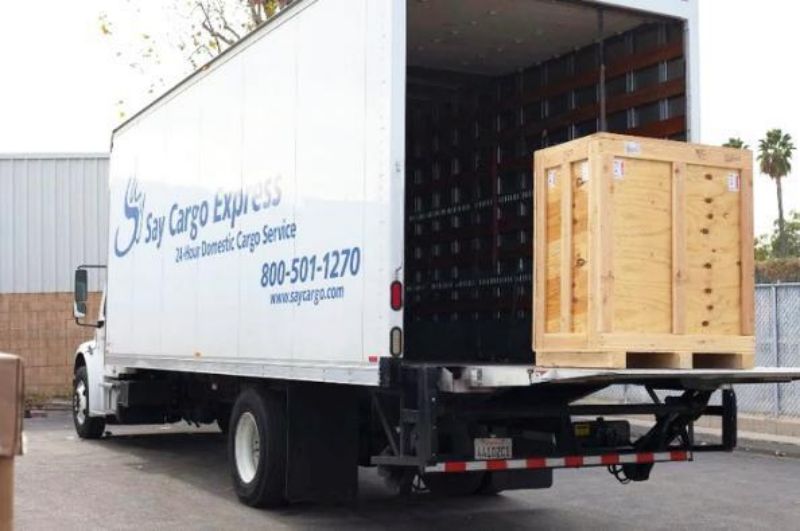 To sum up, these three methods could smoothly transport the statue to your home. You could choose the most suitable one according to your actual situation. Of course, with our patient guidance and attentive service, everything would go well.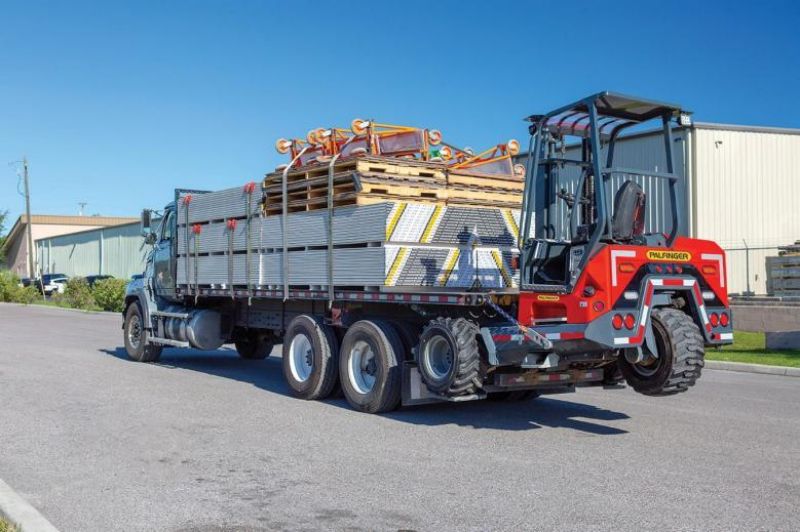 If you want to buy sculptures then please feel free to contact YouFine. We have been engaged in marble, stainless steel cast bronze sculpture for 38 years. We have our own factory and we are of family heritage. We take the pursuit of high-quality sculpture and high-standard service as our life-long pursuit. Please believe in YouFine determination to bring exquisite sculptures into every household.