Custom Outdoor Bronze Abstract Cyclist Sculpture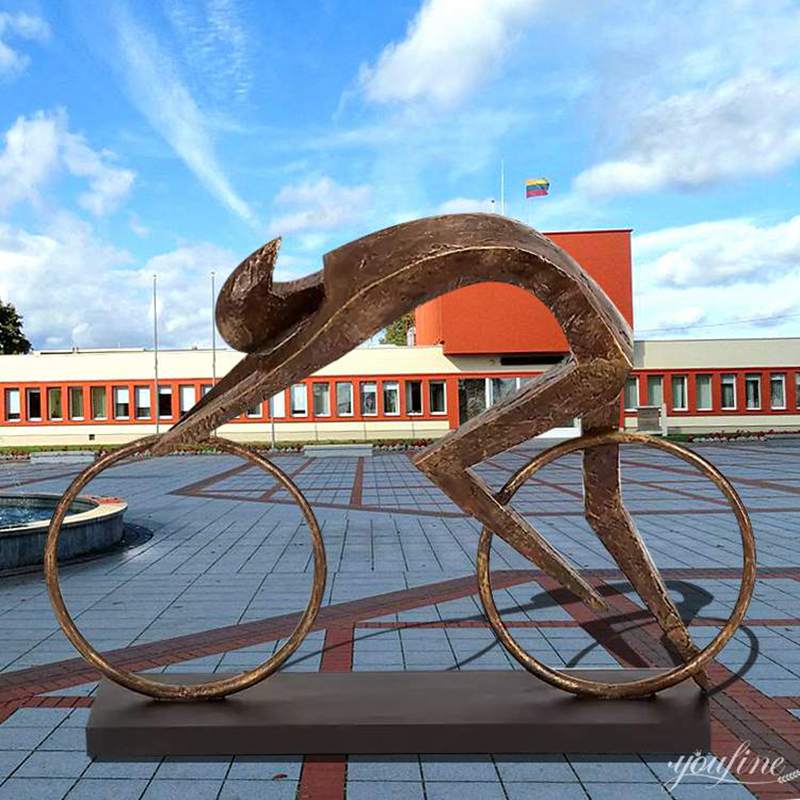 Bronze Abstract Cyclist Sculpture Introduction
This bronze abstract cyclist sculpture is a sculpture we had previously customized for one of our American clients. This sculpture highlights the beauty of abstraction and lines, expressing a sense of abstraction without more details. This sculpture was placed in a five-star hotel in Georgia by our customers. That is a very beautiful seaside hotel. And to cooperate with our specially designed bicycle sculpture and could attract more customers to this resort. This cyclist sculpture decorates this resort. Many tourists could spend their holidays here, and they could also admire sculptures and art.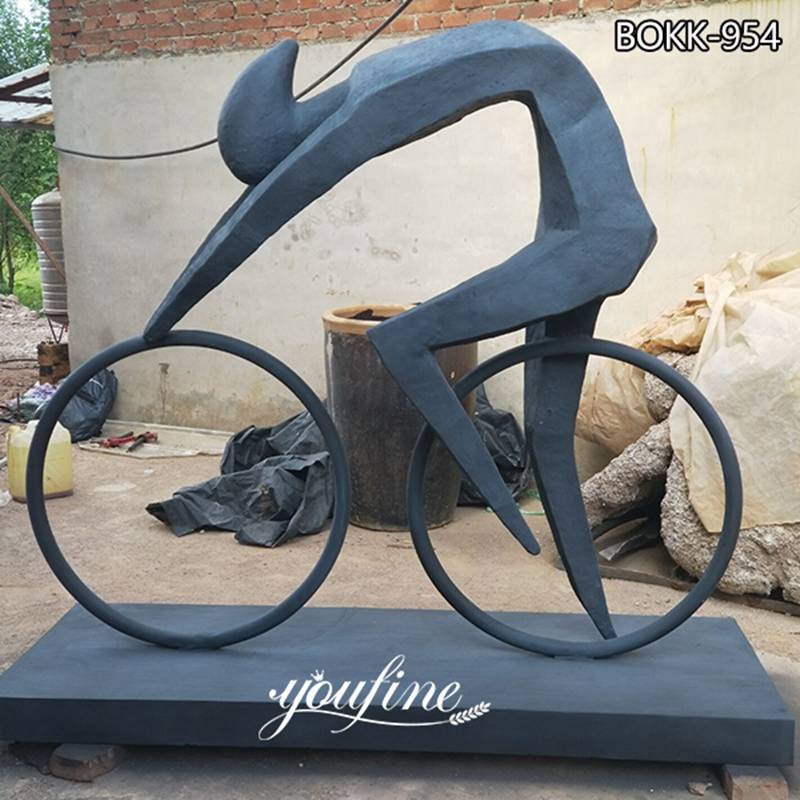 Good Customer Feedback
When our client received this biker sculpture. And placed outside the hotel. Our customers are very satisfied with our quality. So share the photos with us and give us a high rating. This bronze sculpture was also uploaded to their website by our customers.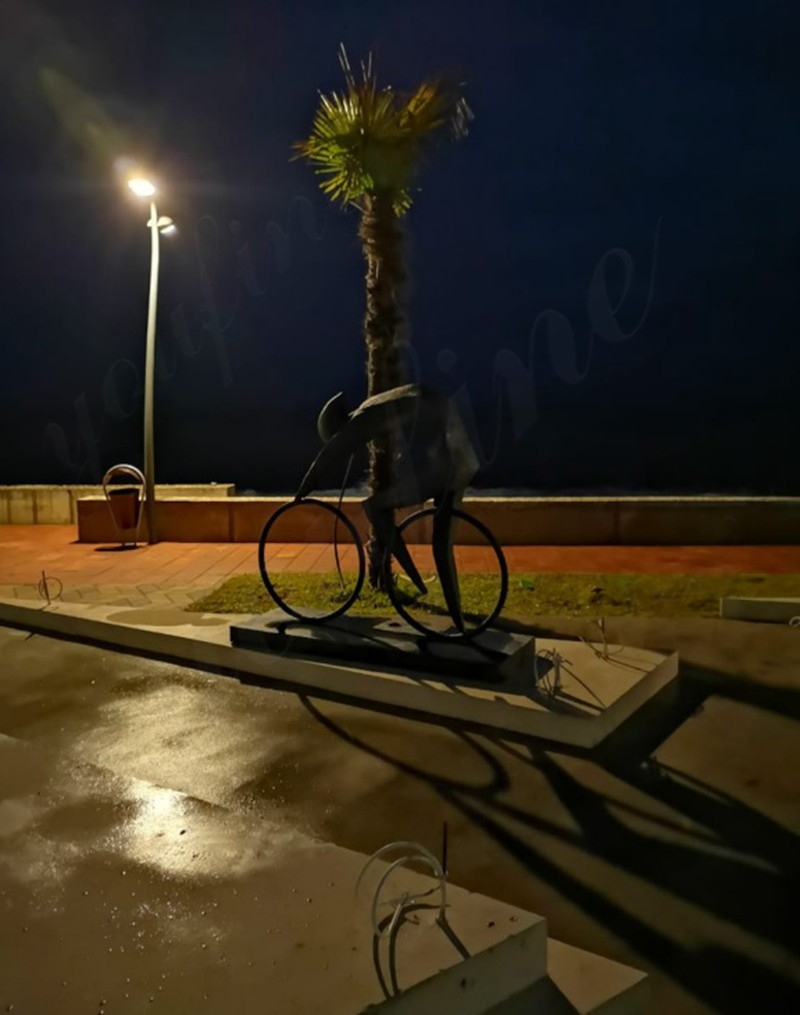 What a beautiful and mysterious bronze abstract cyclist sculpture design. This modern abstract sculpture depicts a person riding a bicycle alone. This fascinating sculpture design is loved by many people. We also believe that any space placed outdoors would attract people's attention. This bronze cyclist sculpture is a very popular design. The size of the bronze bicycle sculpture is 150 cm. It could also be customized. It could be 100 cm high or 200 cm high. It is very suitable for placement in your garden, outdoors, and your home and living room.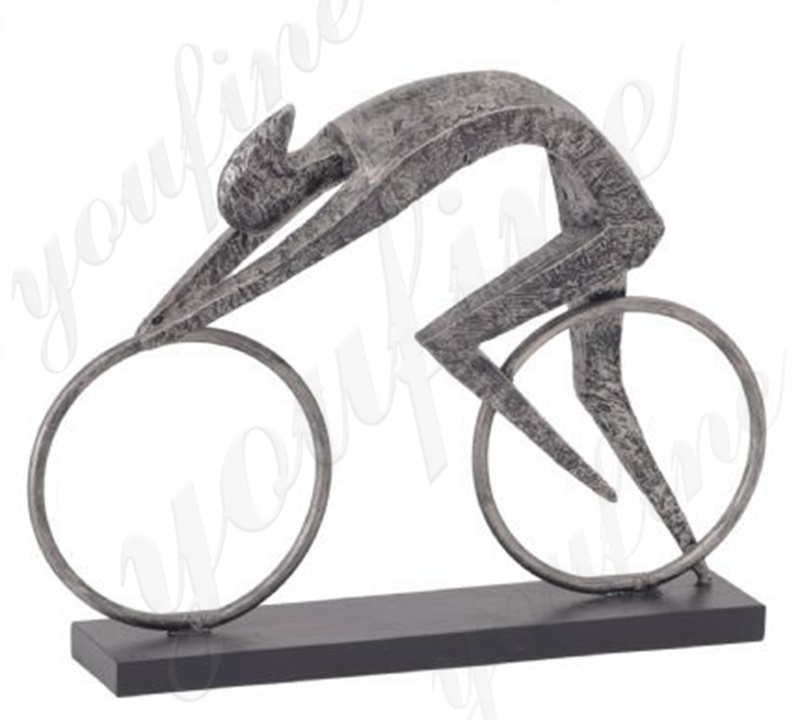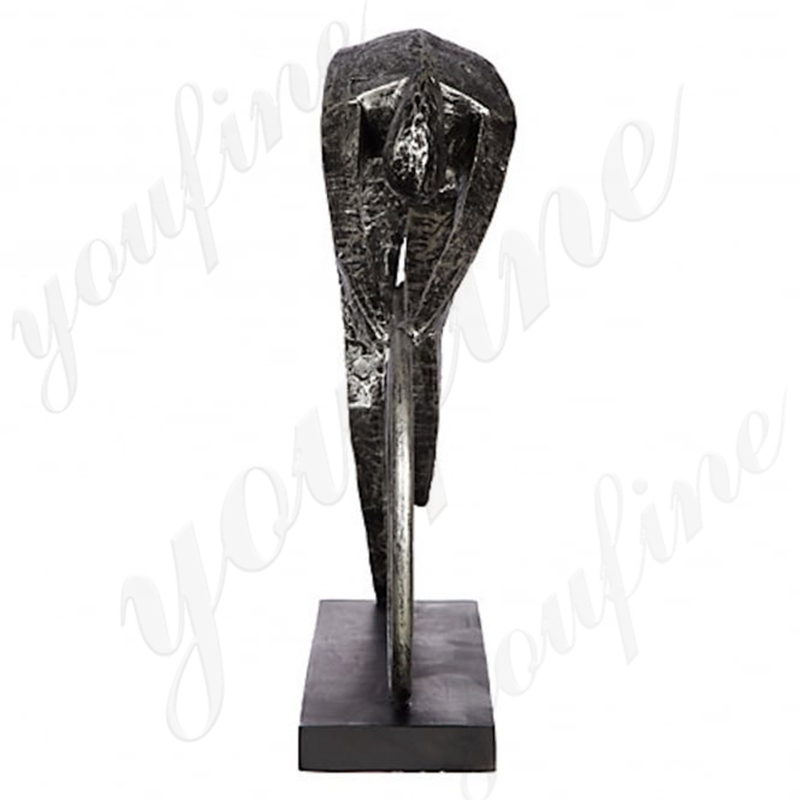 The Production Process of the Sculpture
Design and Clay Model Making
Before making this abstract cyclist sculpture, our design team first designed the 3D drawing of this sculpture for our client. After the client was satisfied, we started to make the clay model. Our mud model has a 1:1 ratio. The clay model is the basis for the production of bronze sculptures and could determine the details of the sculpture. YouFine has a professional clay model studio and top clay model artists. Every detail of all our clay models is perfect.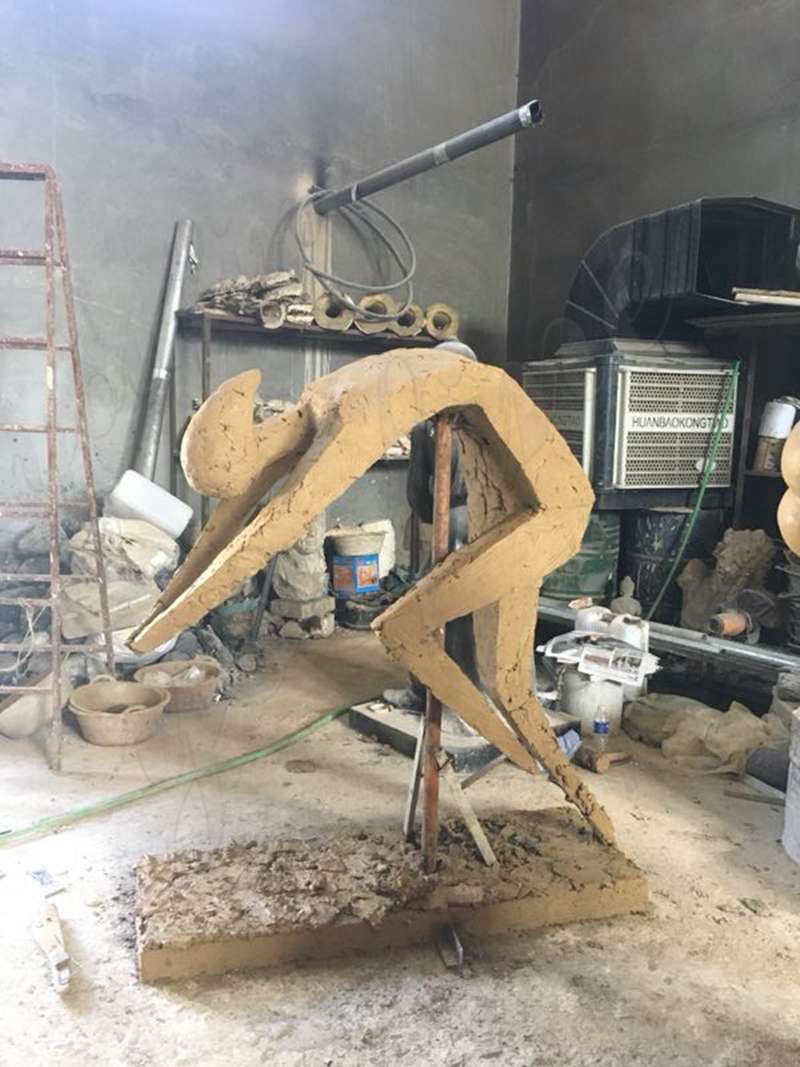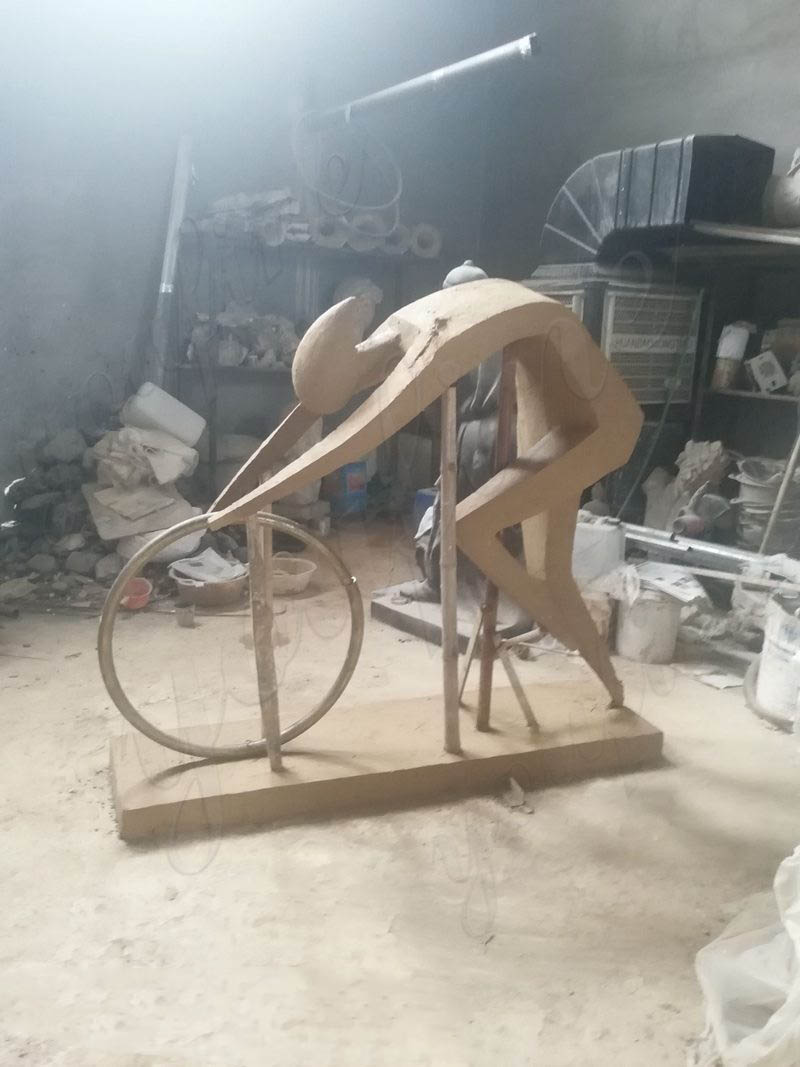 Casting
Our bronze casting process is the traditional lost wax method. So we could guarantee the fineness of every detail of the sculpture. At the same time, during the production process, we would repeatedly repair the wax pattern. So we could guarantee that the sculpture would not lose details during the production process.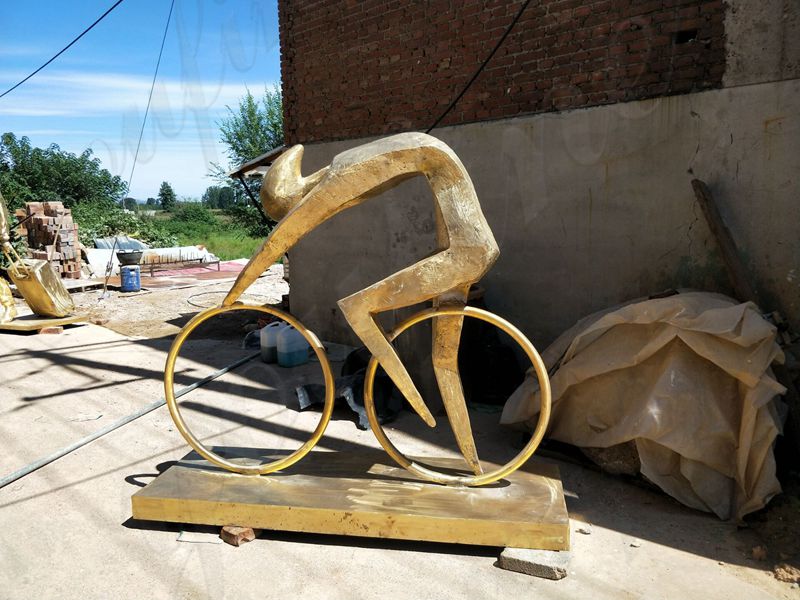 Coloring
After the sculpture is completed, it is the coloring process. We would color the sculpture according to the customer's needs. And before coloring, we would test the color on the copper plate. After getting a positive reply, the sculpture would be colored.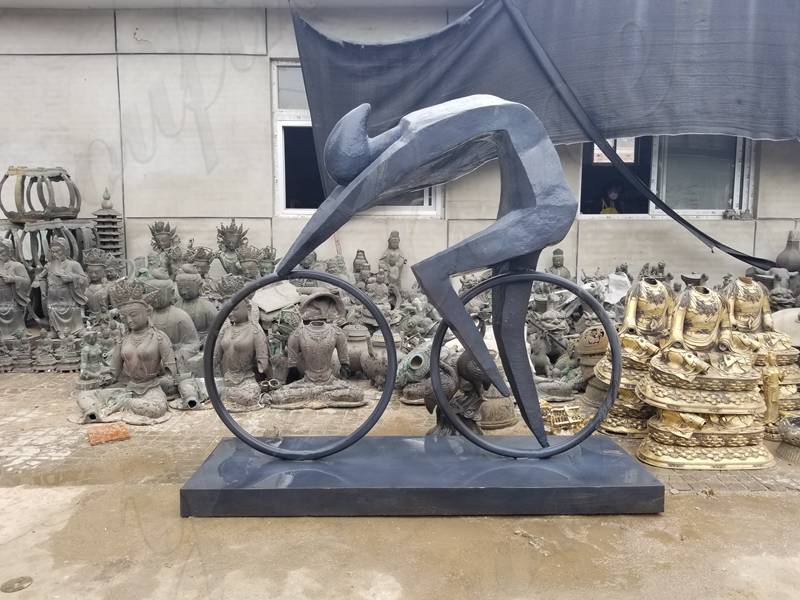 After the abstract cyclist sculpture is completed, we would take photos and videos for your acceptance. After the acceptance is completed, we would package your sculpture with professional packaging technology. Moreover, we would buy the full insurance for your sculpture. Then your sculpture would be delivered to you intact. So if you are interested in our sculptures, please feel free to contact us. As a professional bronze sculpture supplier, YouFine is worth your choice.
Last Article
:
Natural Marble Female Torso Statue Classic Art Design for Sale MOKK-911
Next Article:
Outdoor Bronze Abstract Cyclist Sculpture Garden Decor for sale BOKK-954