Outdoor spaces are the perfect place to add to your home's visual appeal. An Outdoor Marble Gazebo not only delivers great visual appeal, but it also is the perfect shaded area to sit and enjoy the fresh air.
The backyard is an attractive area for the home. When you yourself have a yard with often a tiny or large size, the backyard may have an excellent result to enhance the design of your home. You can see the natural shades on your home site, you will see the new scenery, receive oxygen, and a delightful landscape whilst calming in your home.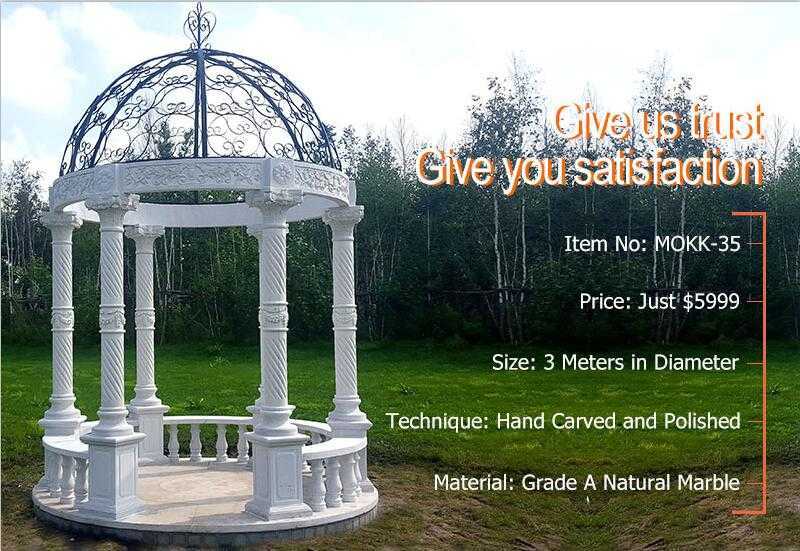 The details of the White Marble Gazebo MOKK-35
An enchanting classical dream! This gorgeous hand-carved white stone marble gazebo features several elegant columns supporting a circular architrave. A dome-shaped ceiling of fanciful iron artwork completes this spectacular piece. Please contact us today for a custom quote.
Hand-carved from solid white marble, this magnificent gazebo makes a strong statement of beauty and elegance.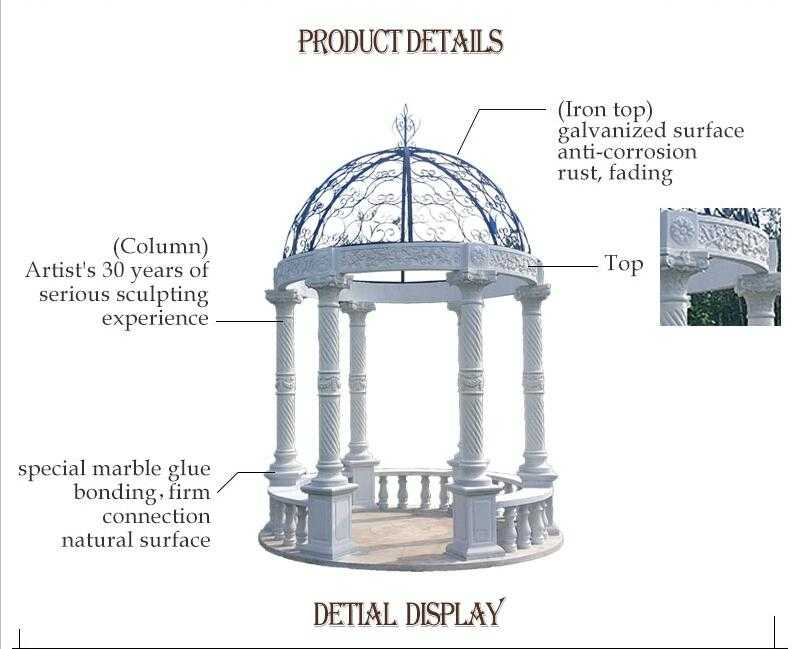 Our Classic Product – White Outdoor Marble Gazebo
The length of the classic gazebo is 33 Feet, the Height is 9.2 feet, This is for our customer who comes from Salt Lake City, USA last year.
A Luxury White Marble Gazebo is a perfect addition and enhancement for any garden or yard. Offer attractive features and focus, as well as spread the joy, infinitely derived from your outdoor space.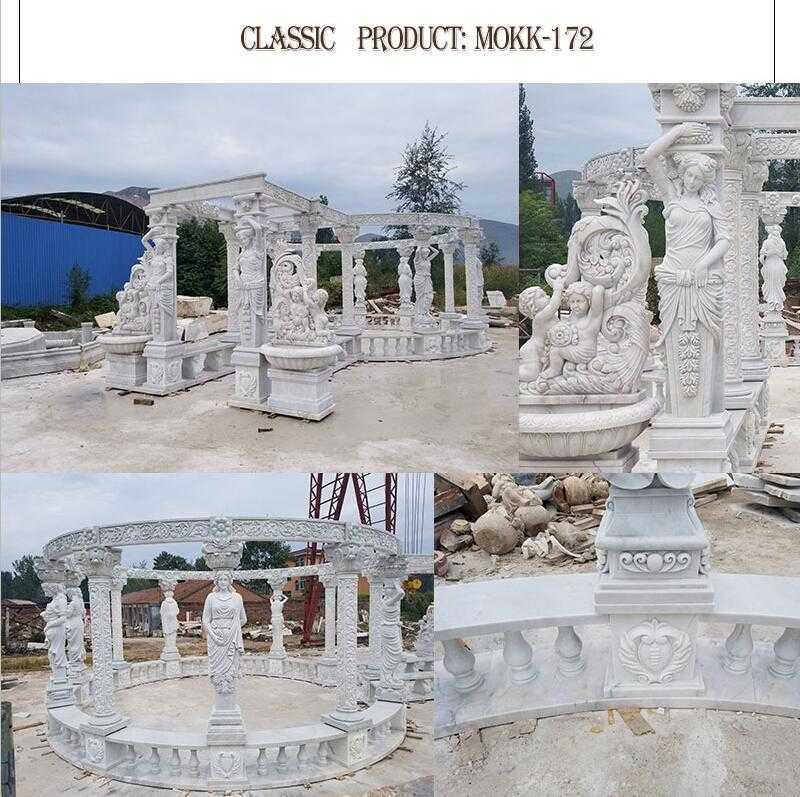 Feedback from Our Customers
Our client placed this large white marble gazebo in the garden of his local residential.
According to our detailed installation instructions, our customers successfully completed the local installation. And very satisfied with our gazebo. These are the feedback pictures sent to YouFine.
Other Customers' Feedback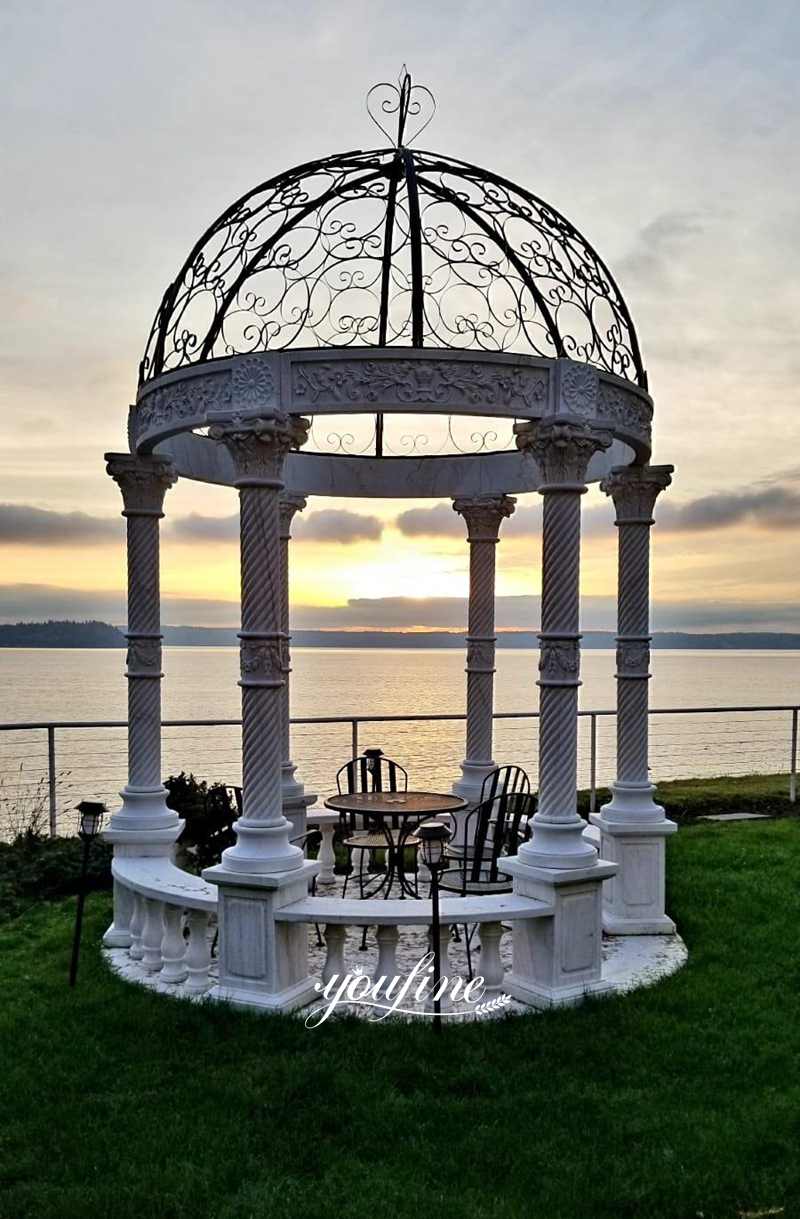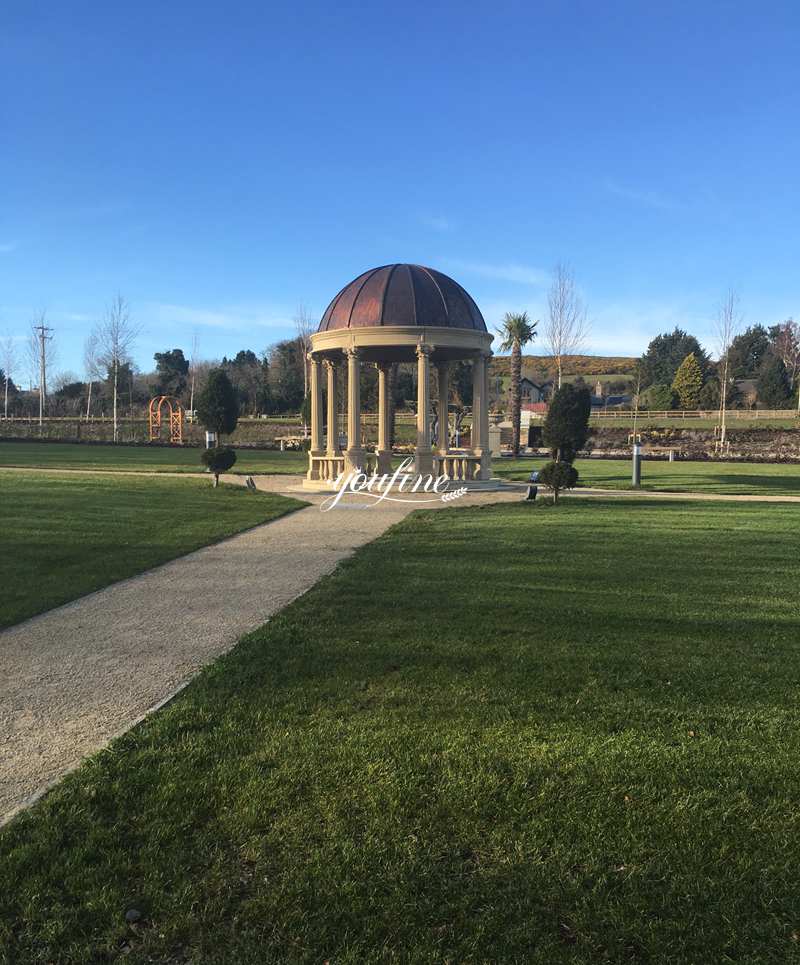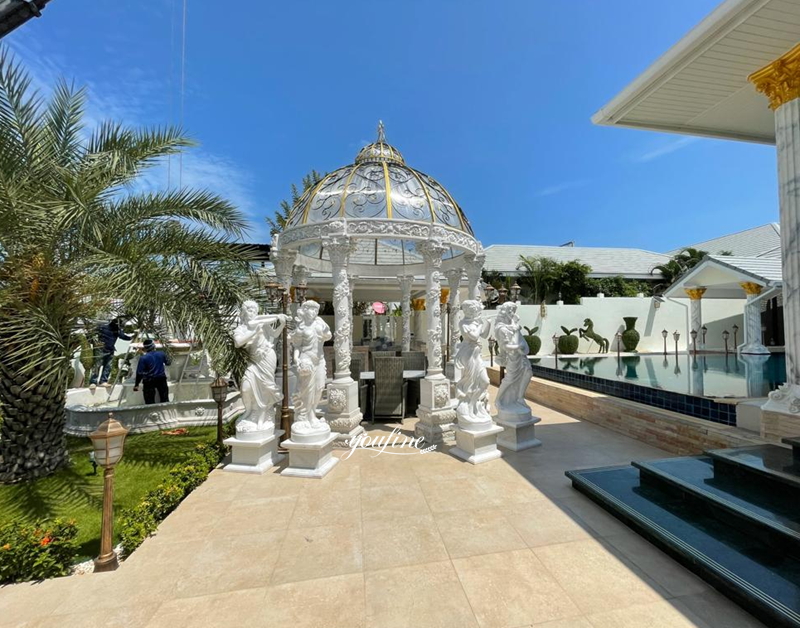 Some Popular Design of Marble Gazebo for Wedding Ceremony
The Outdoor Marble Gazebo for Wedding Ceremony is our classic design. It is made of natural beige marble stone and the dome is wrought iron. We are proud of this great white Marble Gazebo for the Wedding Ceremony, the detail you can see from the following pic.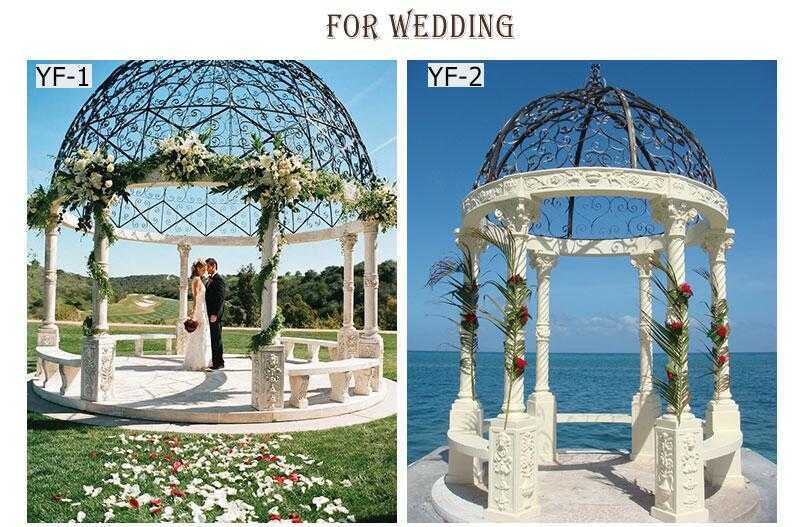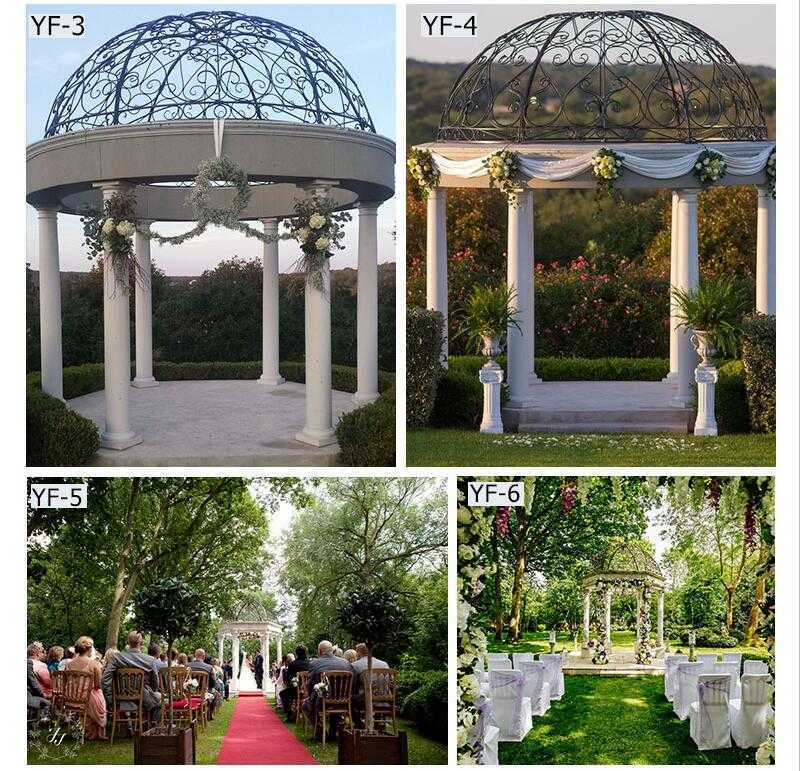 Related Outdoor Marble Gazebo Designs
Outdoor Marble Gazebo is the gazebo is a pavilion structure, sometimes octagonal, in parks, gardens, and spacious public areas. Gazebos are freestanding or attached to a garden wall, roofed, and open on all sides; they give shade, shelter, ornamental features in a landscape, and a place to rest. Some gazebos in public parks are large enough to serve as bandstands or rain shelters.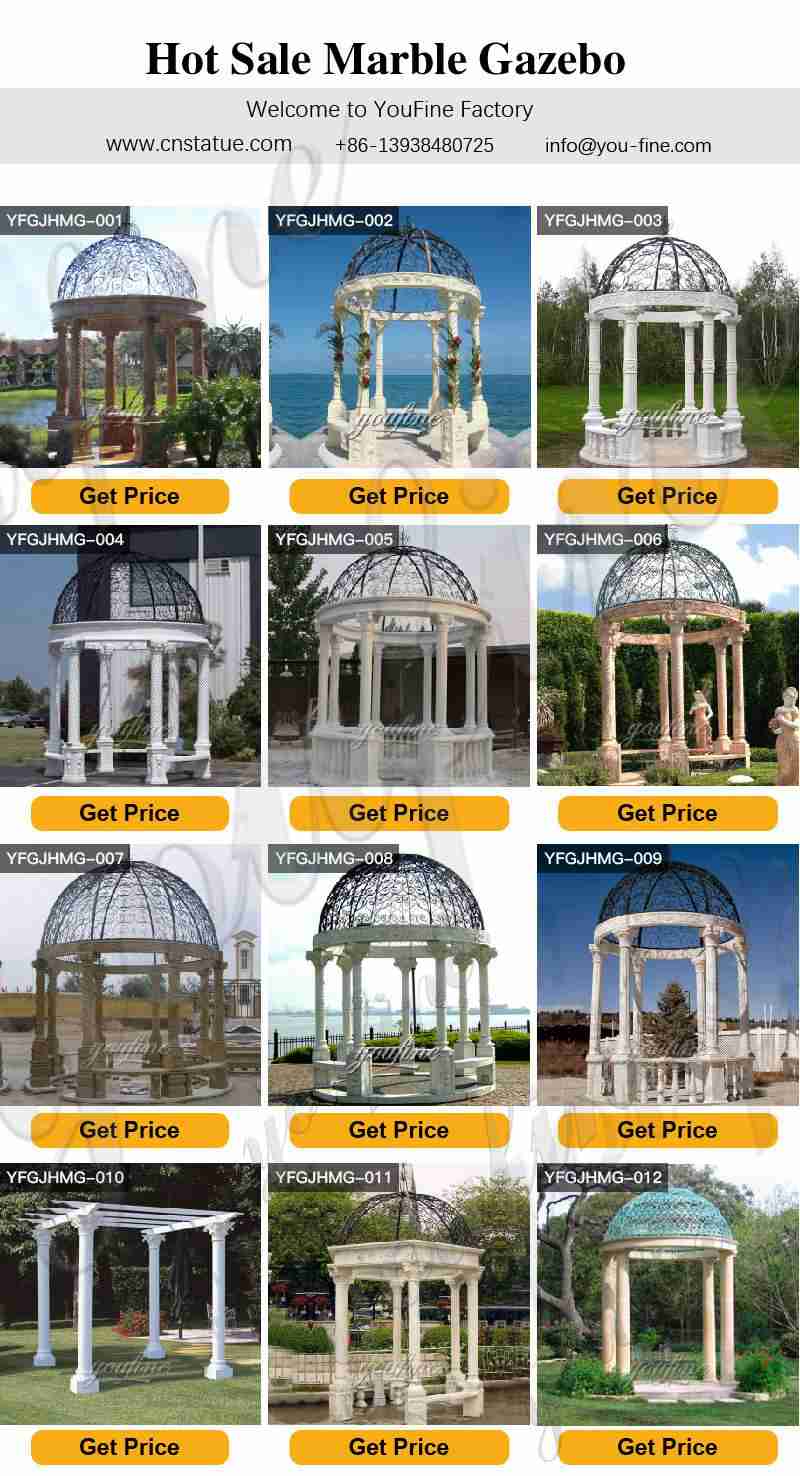 The Material of Outdoor Marble Gazebo
All of our used materials the 100% natural stone, including all kinds of marble, Sandstone, Travertine, Limestone, Granite, and so on. Here is one file that showed our common used material:
In our Artist team, there have the National Treasure Artists and his followers. Their carving quality is the best in the world, each of our Artists treats our items as our kids, and we are using our heart for carvings!
The Pre-Installation of White Marble Gazebo
Every Outdoor Marble Gazebo will be pre-installation before shipping, to ensure the effectiveness of the gazebo we have made for our customer. We have the professional team of installation, and complete equipment, to ensure the process of installing!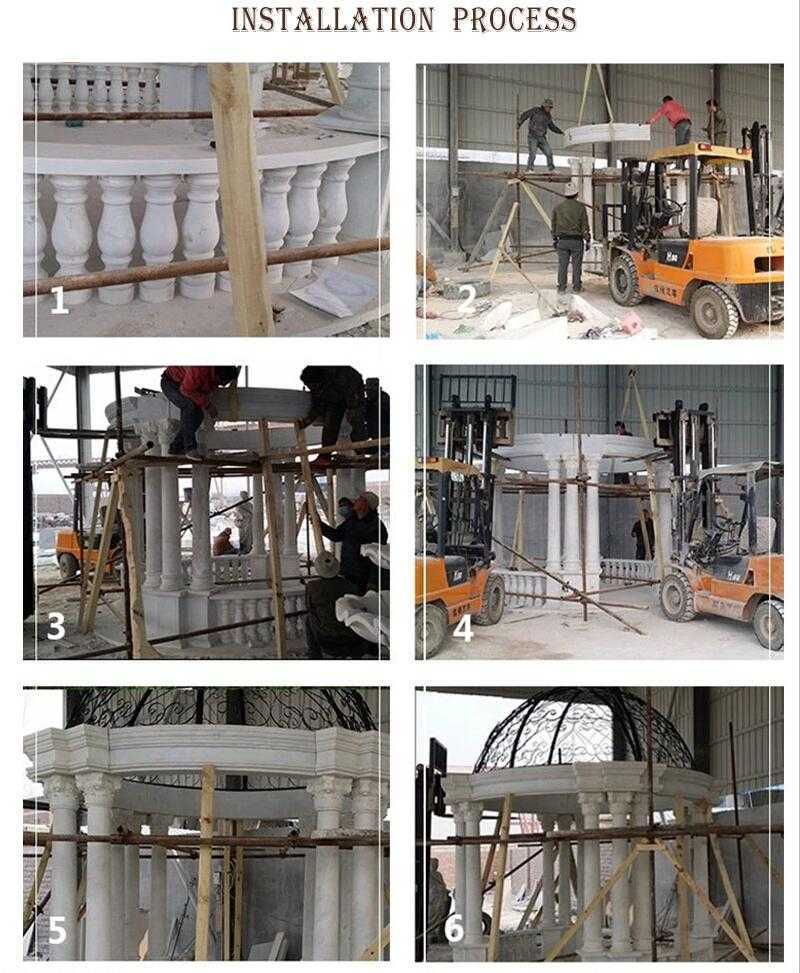 The Package of Outdoor Marble Gazebo
The Package of Outdoor Marble Gazebo is very strong, the thickness of the wood is 3cm, and it is double thickness than the common package. We thought of every point. And for different items, we have different package plans, which will protect the items wonderful during the shipment.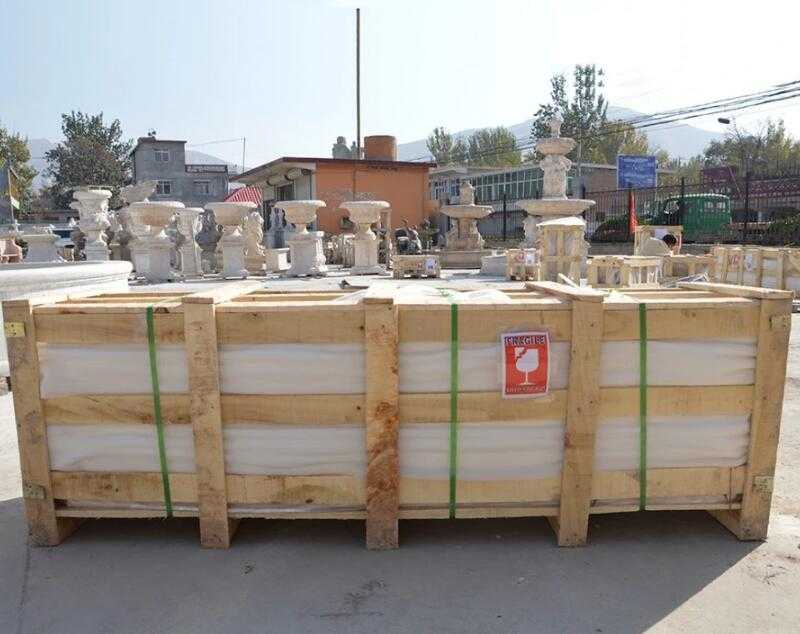 You Fine Art Sculpture having to focus on marble carving since 1983, if there you have some requirement about Outdoor Marble Gazebo, this is the right place to choose from, welcoming your querying!
All custom made sculpture in marble is acceptable!  So please give You Fine a chance to cooperate with each other, you will be satisfied with our marble gazebos!