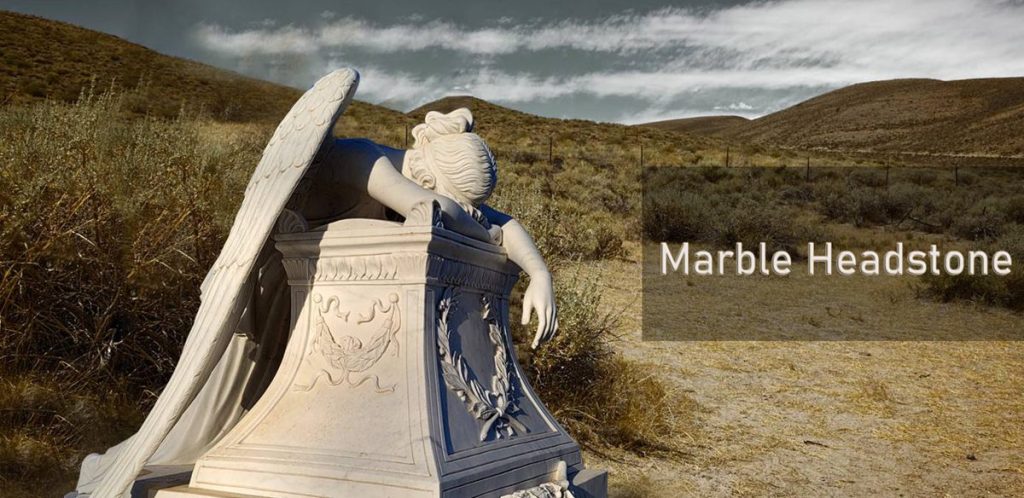 Someone once said that the most significant part of grief is regret. Regret includes grief and remorse, and has to do with unfinished business on this side of the grave. Since those of us still living on Earth can experience heaven only for a brief flash, part of our job is to clear our regrets after a loved one dies. Because regret is a multi-faceted thing (regret for what we did or didn't do, grief for the time spent with your loved one was cut short, regret for the pain of a dying person) regrets The main component, and also the ticket to regret, to overcome it is forgiveness. For those of us outcasts, we must forgive others for the cause of death, forgive loved ones for leaving us, and forgive ourselves for our imperfect relationship with the deceased. In addition to praying while visiting a loved one's cemetery, you may wish to leave something as a gift or as a token of your thoughts about them. A headstone that matches their preferences will help you remember them for a long time.
Headstone Classification
There are many types of headstones, each with different meanings and symbols. There are custom headstones that represent the hobbies of the person being remembered, angel tombstones, and religious figure headstones that represent protection and blessing. You could choose the most suitable tombstone according to different needs and expectations.
Custom Marble Headstones
Provide unique and personalized service to each of our valued customers. From the initial consultation to cemetery design and completion, our headstones and memorial plaques will be tailored to your individual needs and the preferences of the cemetery owner. For example, the drum set that the deceased may have had feelings for during his lifetime, the butterflies that the cemetery owner liked, and so on. In fact, 80 percent of our tombstones are custom-made. Our clients choose the right design for their loved ones and entrust us. So no matter what type of headstone you want to customize, YouFine can guarantee the perfect production.
Angel Headstones
Angels can be called guardians of our dead. One of the main responsibilities of angels is to serve as guardians of the baptized. Our guardian angel's mission doesn't end when a loved one dies. Thanks to their help and protection, our dearest will achieve a heavenly union with God. Each guardian angel tombstone shows God's messengers in prayer protecting our loved ones as they rest below. Carefully hand-carved from granite or marble, these angelic memorials are a truly sacred memorial gift for a life blessed by God.
Gravestones for Children
Without reservation, one of the most difficult things a mother or father can ever do is arrange a headstone or memorial plaque for their child. The death of an infant or young child tests and sometimes breaks our faith in a loving God. However, our faith and hope of eternal life can bring a measure of peace to those of us who grieve. God knows all our feelings: not a tear goes unnoticed, nor a tear to be wasted… As Father St. Bio once told a grieving mother: "Your tears were collected by angels and placed in golden cups, when you presented When you will find them again yourself before God".
Religious Figures Statues Monuments
Using statues of saints to protect loved ones is also one of the popular trends. Generally, statues of Jesus Christ or the Virgin Mary are most commonly used. Additionally, one of our many Catholic saints can also be used as a focal point for a tombstone. All tombstones have a specially designed base for the statue to rest on. Others like to keep things simple, they just need a cross.
Granite Plate Headstones
Minimalist granite headstones are the most traditional and one of the most popular designs. Best of all, personalized granite keepsake gifts will stand the test of time. Unlike other materials, granite headstones can withstand all outdoor climates, making them a great idea for a graveyard plaque. Likewise, our outdoor headstones include examples of tombstone text engraved with weather-resistant paint. With these points in mind, our grave memorial plaques are guaranteed to last for many generations.
YouFine is a marble monument factory with 39 years of experience in meeting customer needs. We can help you commemorate your loved one with the highest quality tombstone or memorial plaque at an affordable price. We are open all year round, you could contact us at any time, and we would reply to your message in the shortest time.
Private Mausoleums
Private Mausoleums are just that—private. They provide a peaceful final resting place for people and an intimate setting for families to honor their loved ones. They can be designed as a single tomb or composed of multiple crypts and feature decorative carvings, seating areas and vases, prayer mats or shelves for items such as flowers, photographs or other mementos. Private mausoleums can also be planned before a person dies, thereby reducing estate taxes. A family mausoleum is a private mausoleum that can be designed and customized according to your needs. These types of mausoleums can have a single or double above-ground burial unit, or a large walk-in space with doors and windows. Large mausoleums can accommodate burials of more than 20 people.
Luxury Tombstones
Luxury tombstones are huge and conspicuous, and there can be many things that your loved one likes in the middle of these designs.
Some Products That Could Be Used As Decoration
In addition to giving a loved one the perfect headstone, some grave ornaments can also serve as a token of how much you're thinking of them. Grave vases with flowers, for example, are by far the most popular grave decorations. In addition, some customers will choose marble flower baskets, some carved permanent flowers can accompany forever, and will not cause pollution. Some benches are also a popular choice. YouFine can not only provide the production of tombstones, the decorations these graves need, we also have many high-quality ones for you to choose from.
YouFine Value-added Services
Provide Ceramic Photos:
Our tombstone images are handcrafted from Italian ceramics that are highly regarded for their beauty and durability. Ceramic photographs used for gravestones are beautiful and precious reminders of those we love who have passed away before us. In particular, tombstone portraits allow present and future generations to visualize and remember their loved ones. With this in mind, our exclusive collection of monumental ceramic photos will provide you with lasting memories for future generations to enjoy. For 39 years, YouFine has been committed to providing high-quality ceramic portraits. Our tombstone relief pictures are made of the highest quality Italian ceramics that will not fade over time.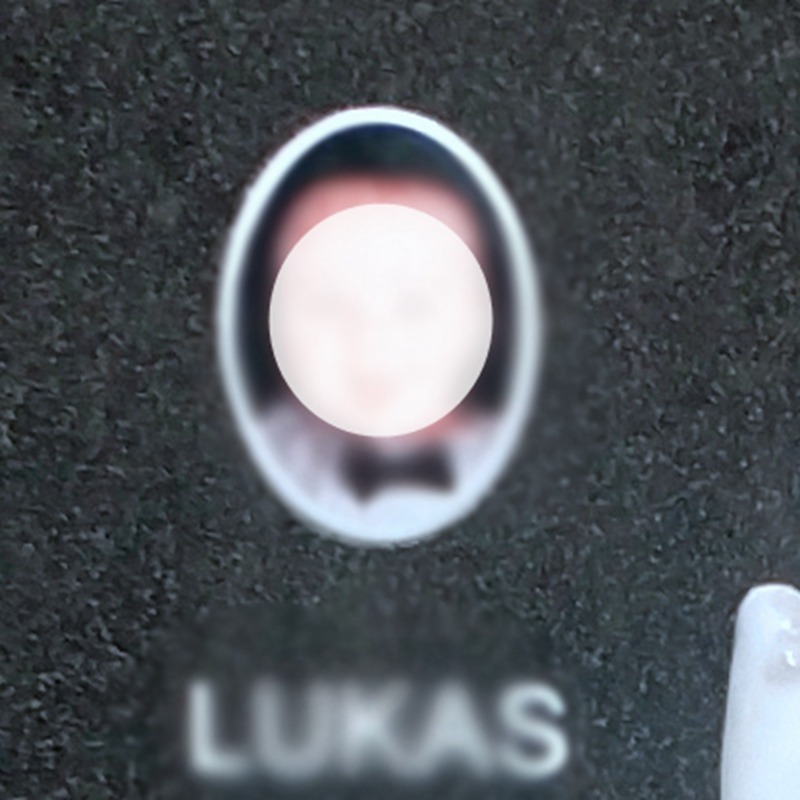 Rich Font Options:
We have a rich font library for you to choose from. Celtic Lettering, Times Roman Lettering, Script Lettering, Block Lettering, Old English Lettering, and many more fonts meet different needs and preferences.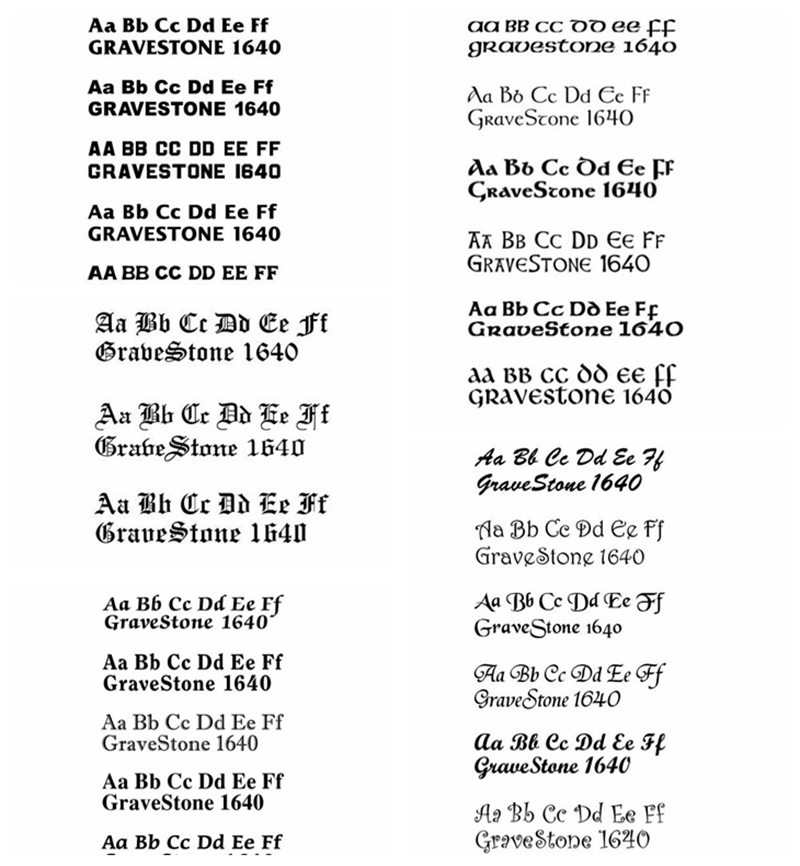 Gravestones with Laser-engraved Images:
Almost all contemporary headstones displaying laser-engraved pictures will appear on a highly polished black granite surface. Due to this "mirror-like" reflective surface an impressive contrast forms between the engraved picture and the black granite. With the introduction of new technologies such as laser etching, sacred images in stone and your own personal photographs can now be engraved with exceptional detail. The color could also be added to a portion of the image, thus further advancing the visual appearance of the etching.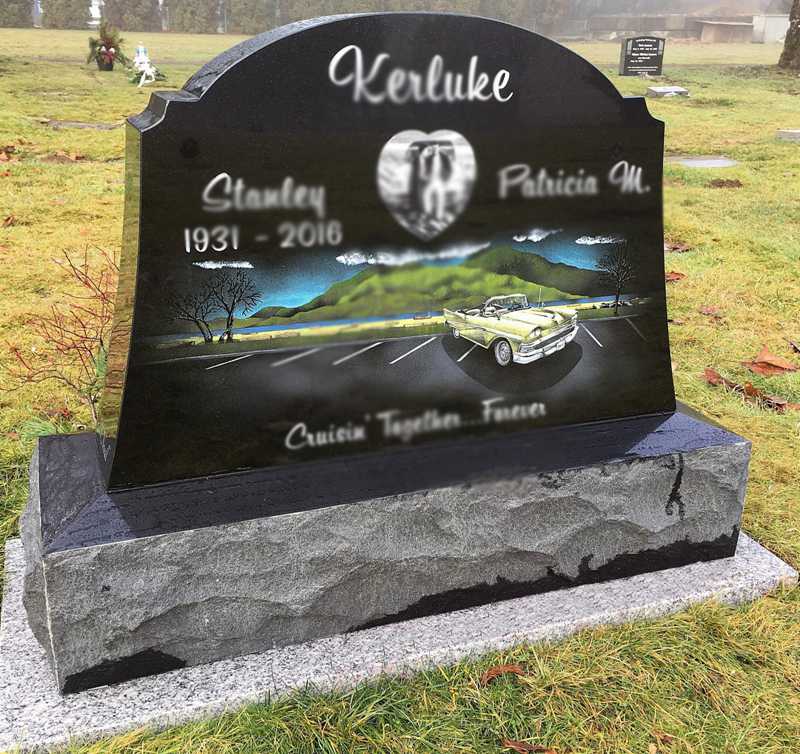 Why Buy Tombstones Online From YouFine?
Buy YouFine tombstones online and you will have more choices. We have many tombstone designs and also support custom designs. All YouFine tombstones are made of high-quality marble or granite, so the quality of our tombstones is top-notch. As a factory established in 1983, YouFine can help you commemorate your loved ones with the highest quality headstone or memorial plaque at an affordable price. The primary goal of our work is to meet the needs and expectations of our customers.