Large Saudi Urban Sculpture Project
Updated 11/29/2022 5:02 PM By lijingwen
Saudi Urban Sculpture Project Introduction:
You Fine has undertaken series of large urban stainless steel sculpture projects for our Saudi Arabia customers in recent years. All these large metal sculptures are more than five meters in height, usually ten meters. Installed in Riyadh(capital and political center) and Jeddah(business center) and other cities, they are perfect as local urban landmark sculptures.
And each large urban metal sculpture will be offered free design drawings by You Fine talented designers. Moreover, we also provide our clients with detailed installation drawings to help them install smoothly. And our professional installation team also offers our customers on-site installation guidance.
Our Sculpture Project Show: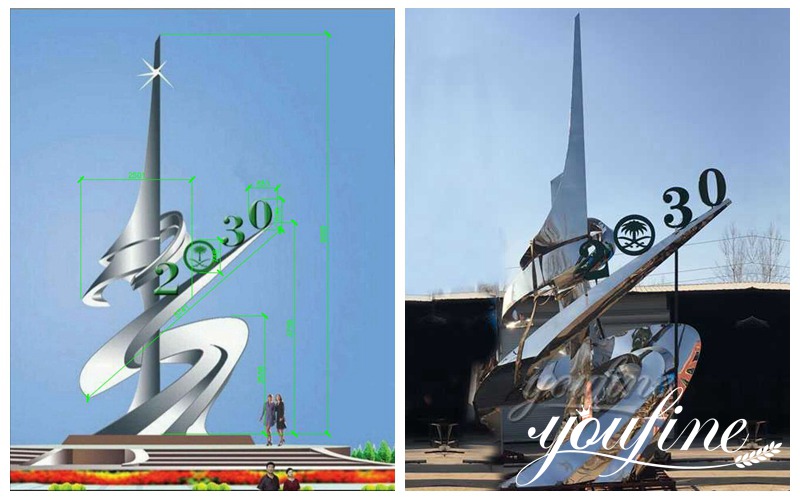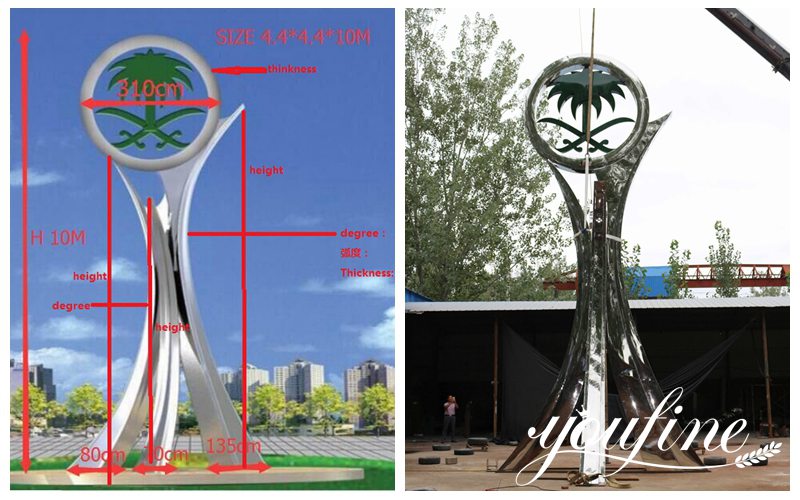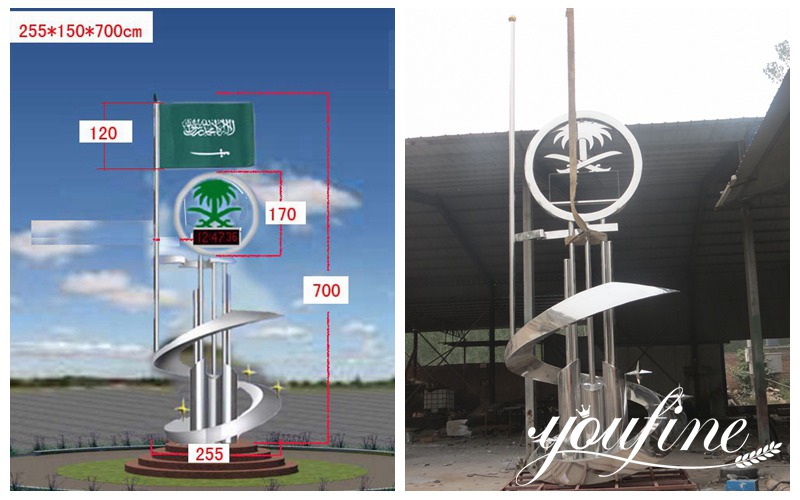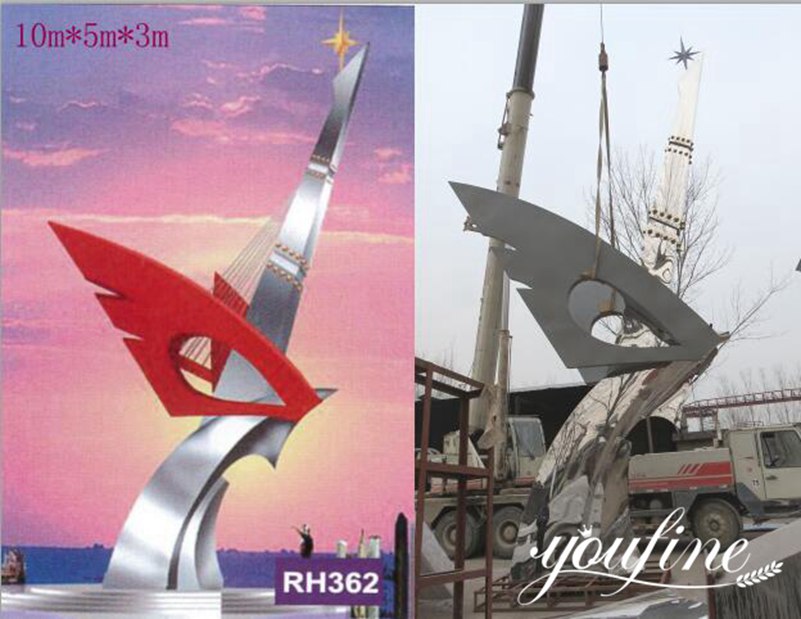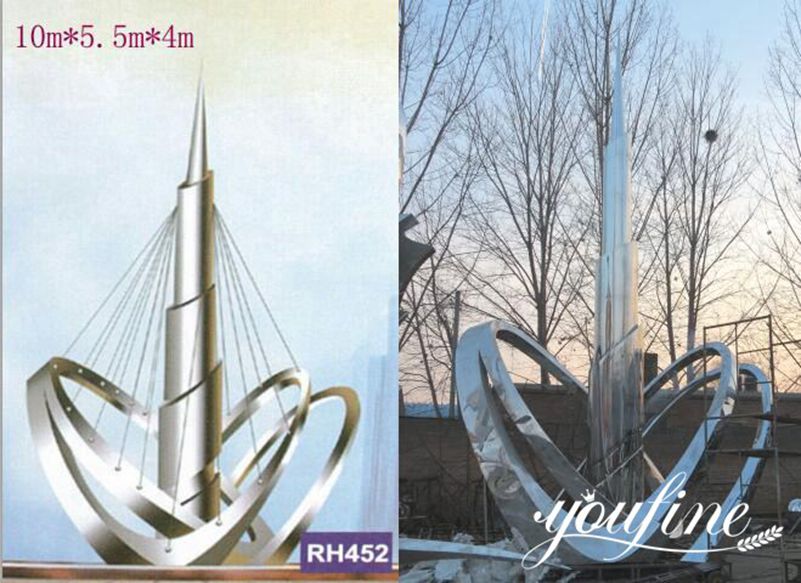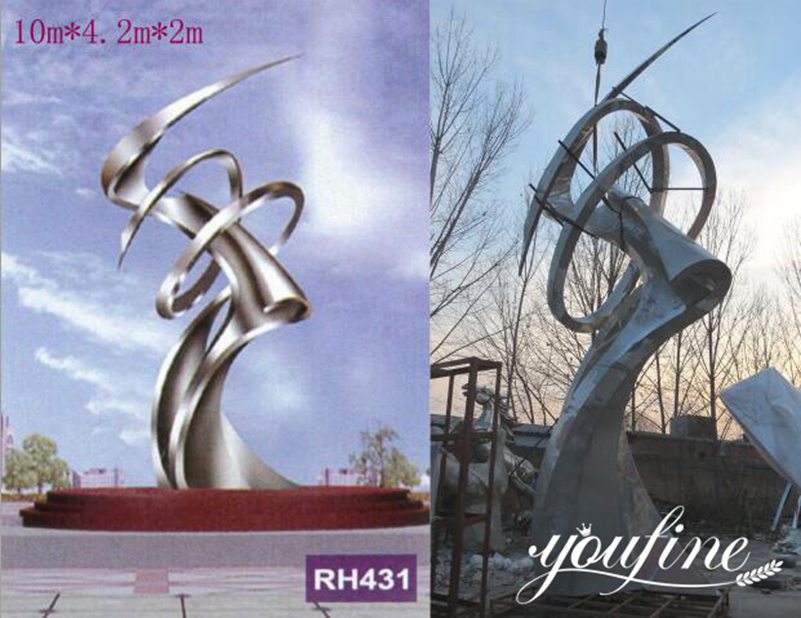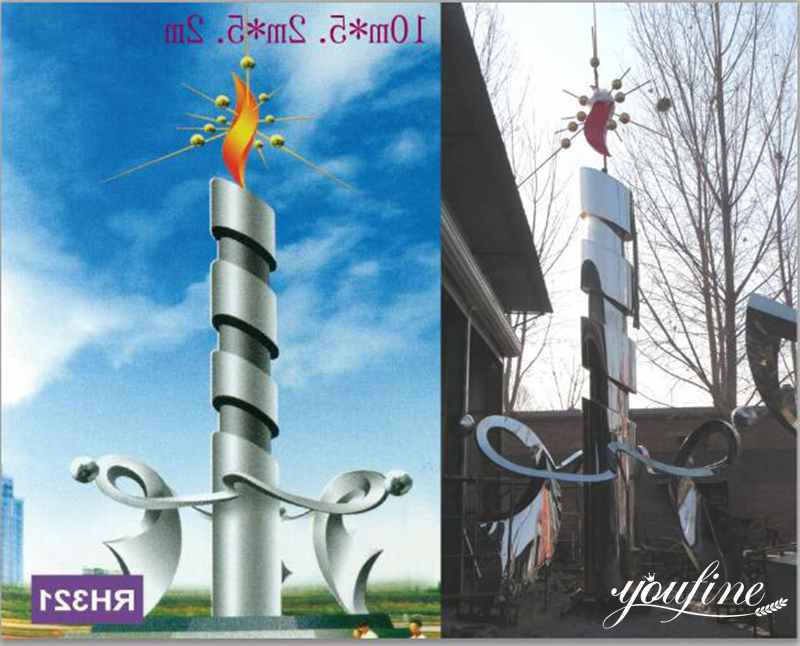 You Fine Offer Design Drawings:
Before making large urban metal sculptures, each of them will be offered detailed design drawings. When you confirm the designs, our professional craftsmen would start to produce sculptures based on your opinions.
Our professional designers could provide you with 3D drawings or CAD drawings. We would clearly mark every size detail of the sculpture according to the customer's size requirements for customers' reference.

You Fine could custom-made all kinds of large stainless steel sculptures with any Arabic style. Our experienced team makes each sculpture with heart and professionalism.
You Fine Provide High-Quality Sculptures:
Making built-in iron skeleton first:
Because it is necessary to ensure the firmness and safety of the large outdoor metal sculpture, the internal iron skeleton needs to be made first, before making all the large stainless steel sculptures. This step is very important, and our inner skeleton of the sculpture is very strong. Even in the Middle East and Saudi Arabia, where the wind and sand are very large, our large sculptures are safe and strong enough.
In addition, our professional craftsmen would do anti-rust treatment on the entire skeleton to ensure that the internal skeleton would not rust. As well as the base of the sculpture.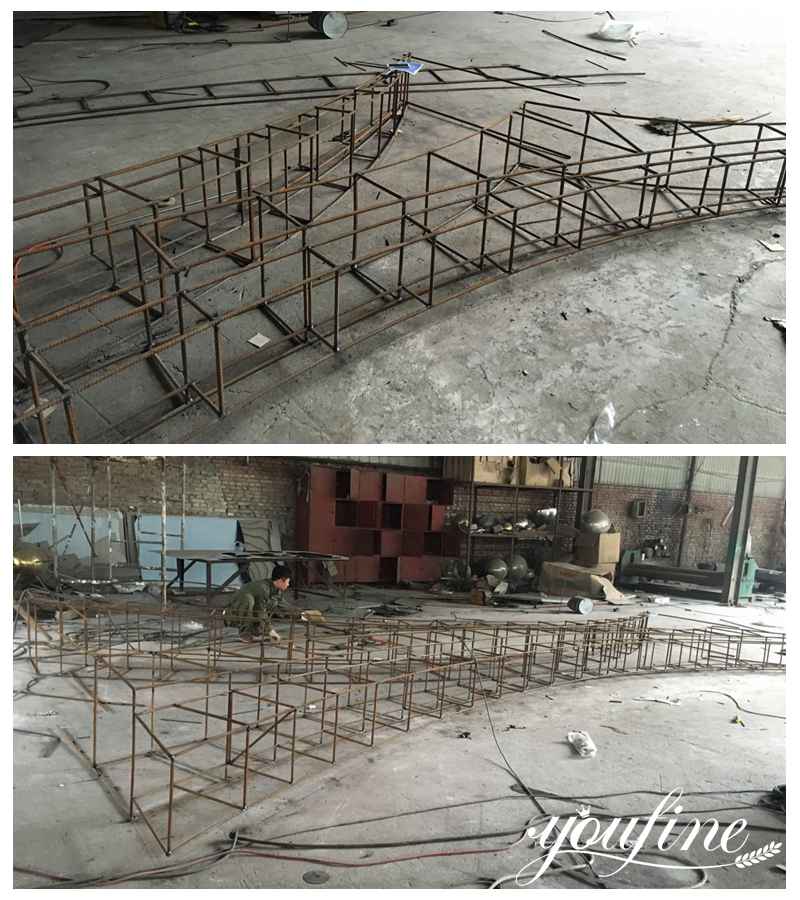 Professional craftsmen make sculptures:
After the internal skeleton is completed, the stainless steel sheet is welded to the skeleton.
You Fine is very strict in the selection and use of materials. All of our large stainless steel sculptures would be made of high-quality 304 materials, because it has good corrosion and heat resistance. And the thickness of the stainless steel plate is thick enough to ensure the firmness of the sculpture.
At the same time, You Fine control the production process of the sculpture very strictly. During the welding process, we would use welding wire of the same material to weld each part, and all of our welding is full welding not spot welding, make sure the sculpture is very strong.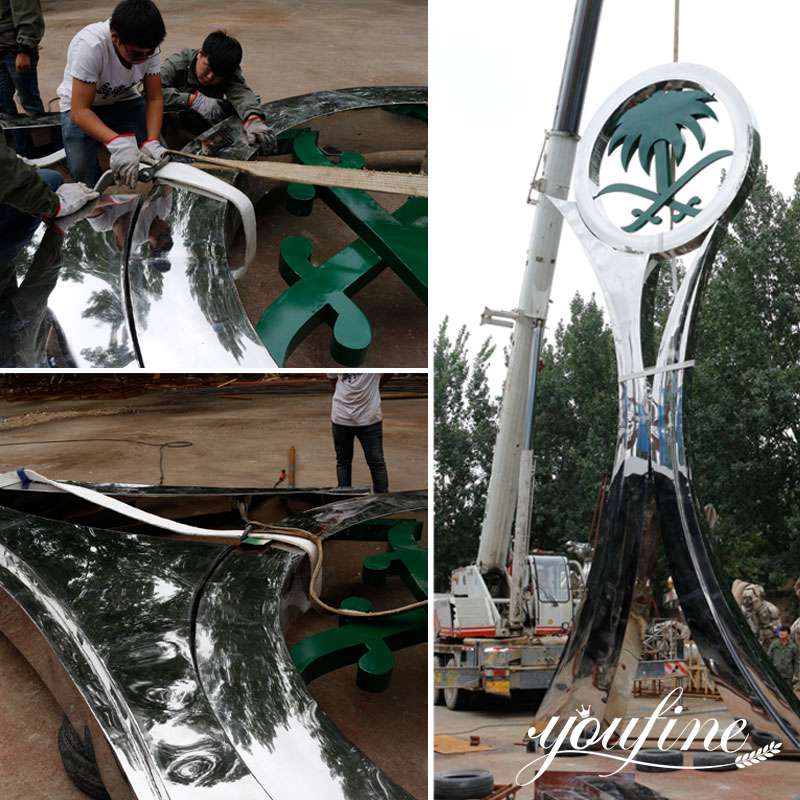 Perform A Trial Installation:
After the outdoor large metal sculptures are completed, You Fine would conduct a trial installation in our factory to ensure that there are no quality problems. And You Fine would provide our clients with detailed installation instructions and guidance. Finally, we would also send pictures of the installation process to the customer for confirmation.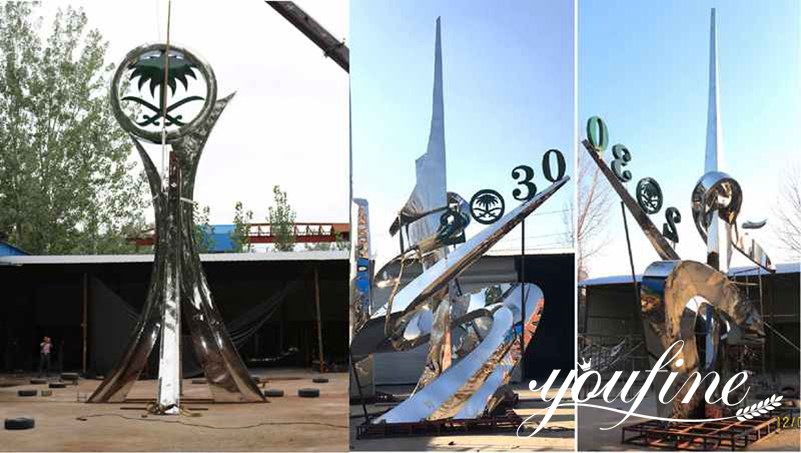 Offer Installation Drawings and Instructions:
A perfect large landmark metal sculpture is not only very important to the production, but also to the installation of the sculpture. Therefore, the first cement pouring and the second cement pouring of the large sculpture base are very important and must be very firm. If the sculpture is not installed firmly and successfully, it would not only affect the beauty of the sculpture but also cause a safety accident.
You Fine not only have a professional production team but also a professional installation guidance team to provide customers with detailed installation instructions. You Fine would use our professionalism and heart to serve each client.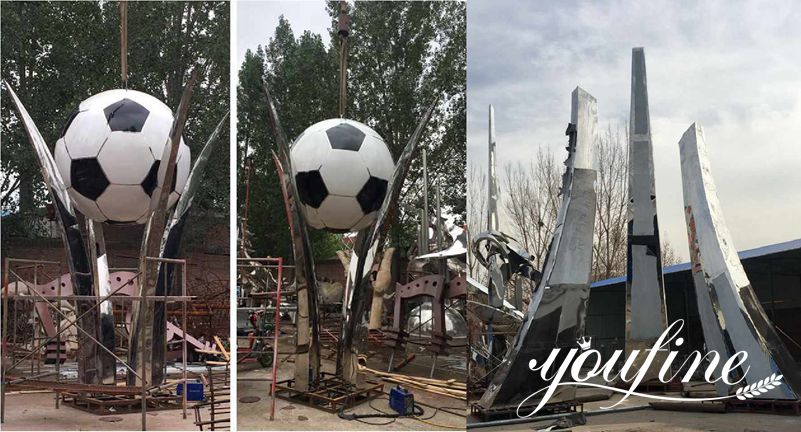 1. For large stainless steel sculptures, installation is also a very important part. Because safety and firmness need to be considered. So You Fine would provide clients with detailed installation instructions to ensure that clients could install them smoothly.
2. Before installing the sculpture, a concrete foundation needs to be made and then reinforced. Then install the sculpture from bottom to top.
3. Next, first put the sculpture iron base on the original cement base, weld it with the original steel bars, and finally cover the iron frame base with cement.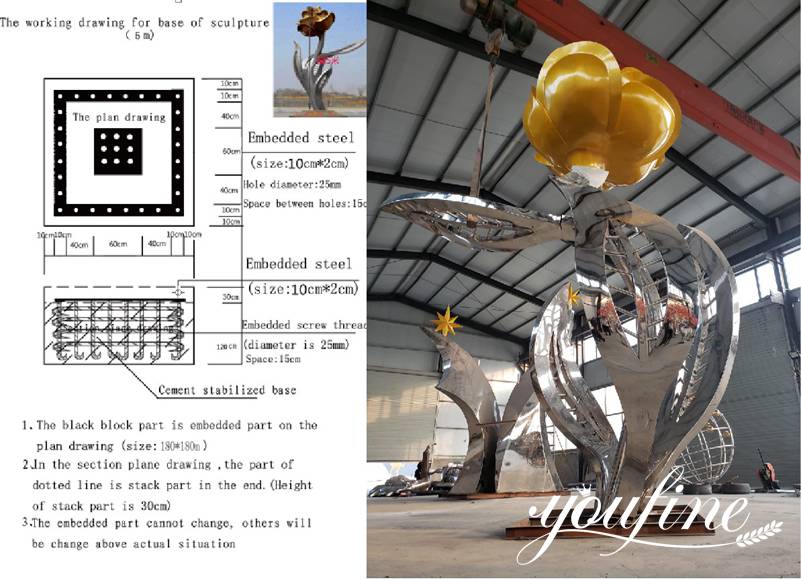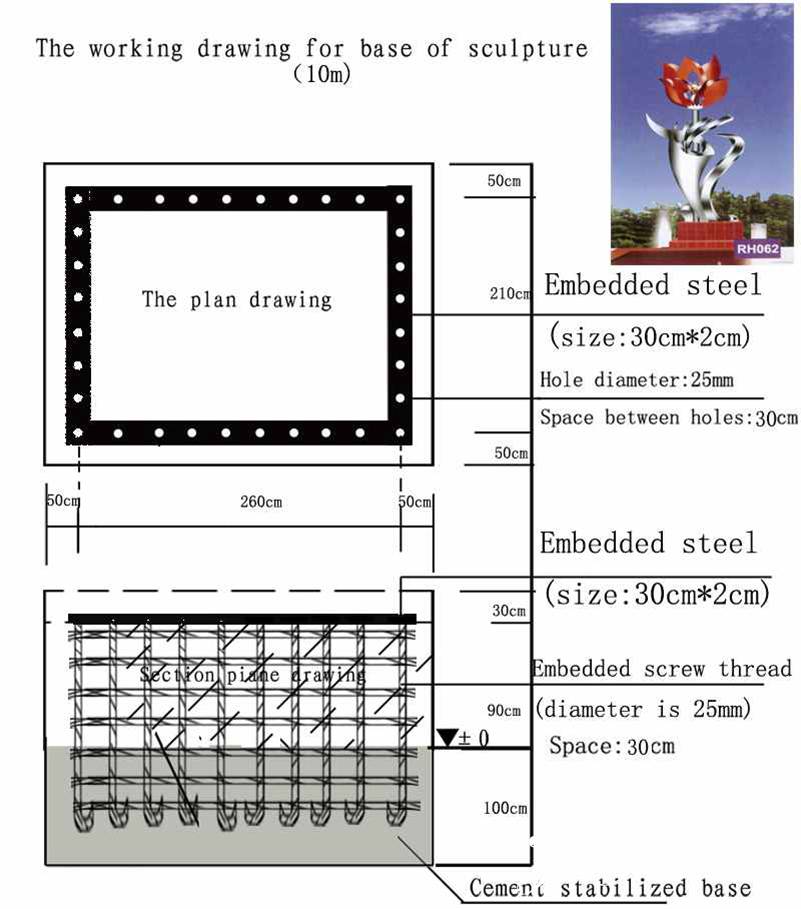 Customer Feedback:
These are pictures from our client who installed the sculpture locally. Based on our clients' affirmation of the quality of our products.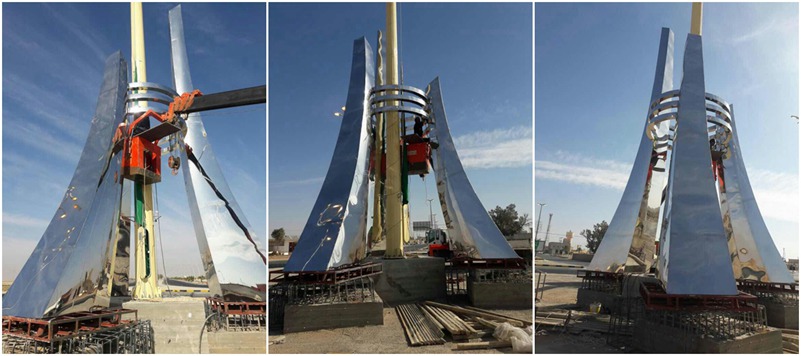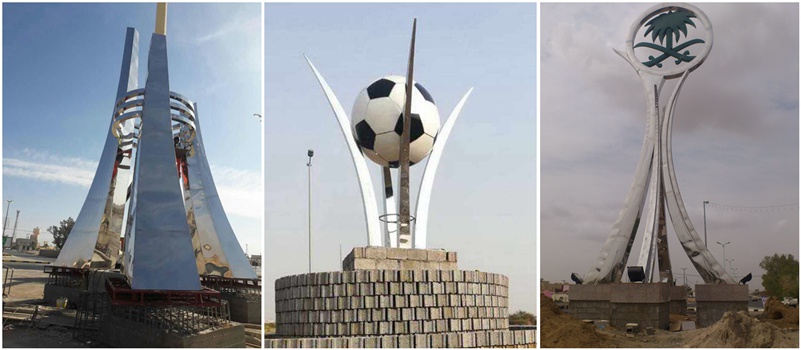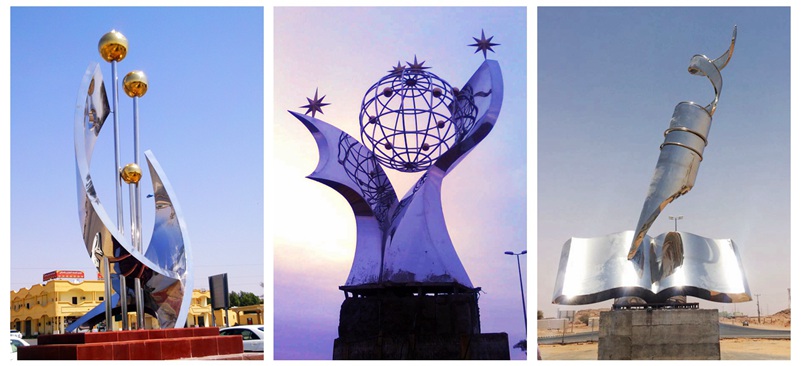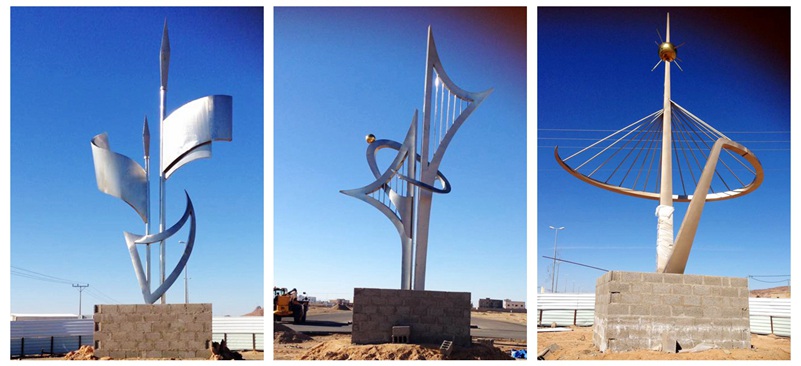 Everyone from You Fine regards quality as our life. You Fine is responsible for our products and all of our clients. So You Fine would provide our clients with the highest quality urban stainless steel sculptures at the best price. This is also the reason why our Saudi Arabia clients choose You Fine in the end. The quality of our products has won the trust of customers, and we have become a long-term partner.
Last Article
:
Abstract Modern Bronze Sculpture for Outdoor Garden Sea Side Decor for Sale BOKK-407
Next Article:
Hand Carved Life Size Marble Statue of The Lord Marble Jesus Statue