Large Singapore Church Decoration Project
Updated 11/29/2022 5:02 PM By lijingwen
Project Introduction:
This large Catholic church project comes from St Joseph's Church Bukit Timah in Singapore. You Fine Art Sculpture undertook this large church sculpture project in December 2017, and our clients received the goods and installed them in May of 2018.
The whole church project includes all classic Catholic marble statues. A set of Jesus and two angels marble statues, Fatima and the three children statues, Virgin Mary statue and Joseph statue, and two Corpus statues. There are also two marble pulpits, two marble altars, a marble baptistery, and 14 Stations of the Cross marble reliefs. These marble statues and church products are made of high-quality Grade-A marble materials according to our client's requirements.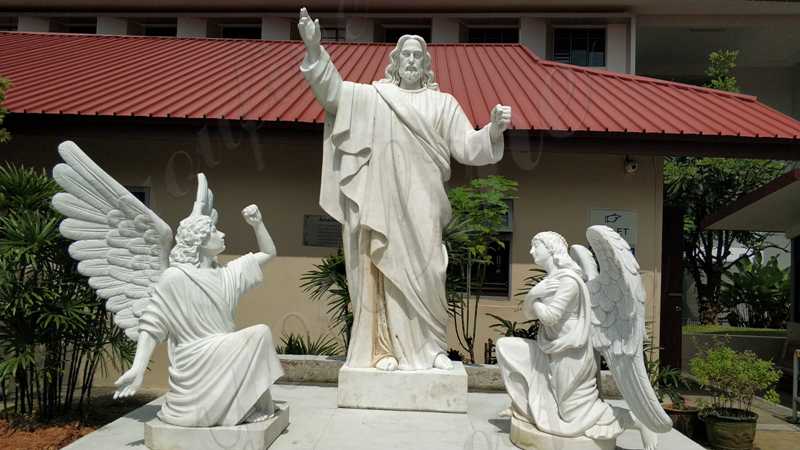 Project production process
Clay Models Details Show
In order to ensure that all these marble catholic sculptures have a higher degree of reduction and more vividness. All sculptures are made in 1:1 clay molds in our factory. You Fine factory has professional clay mold studios and clay mold artists. So all the clay molds are made based on a large number of pictures and modification suggestions provided by our church clients and priests of the church.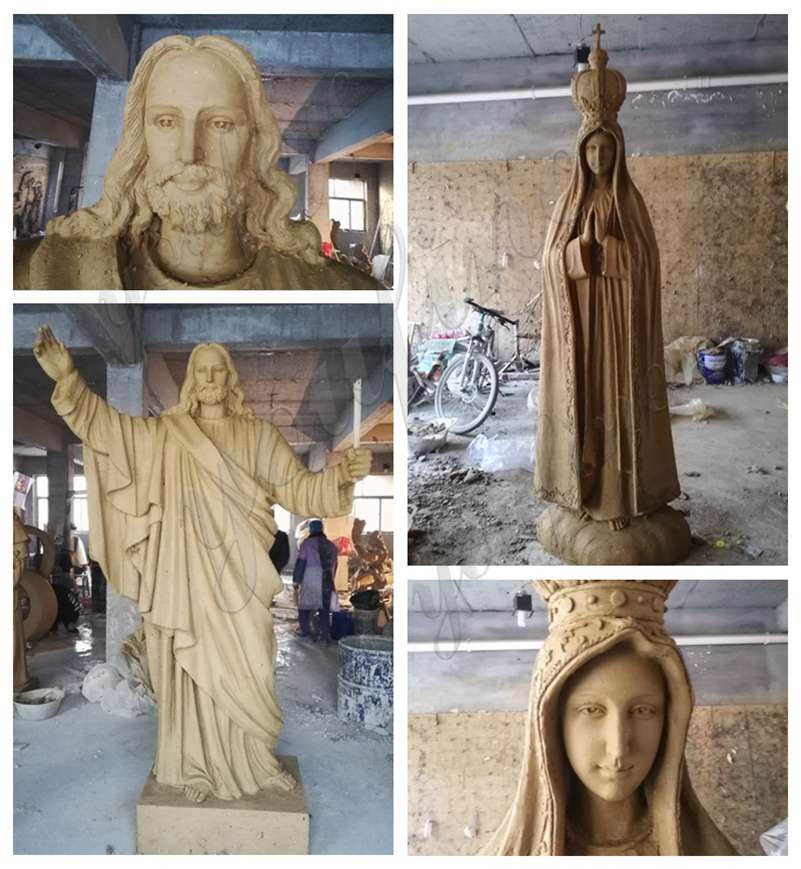 You could see that our clay molds of these catholic religious statues are very lifelike and vivid. Our clay mold artists from You Fine have decades of carving experience, and all the molds are handcrafted by our artists with heart.
After all the clay molds are finished, You Fine would show the pictures of all angles of the clay molds to our clients for confirmation. And our artist would modify the details of these clay molds according to the clients' request until our clients are satisfied.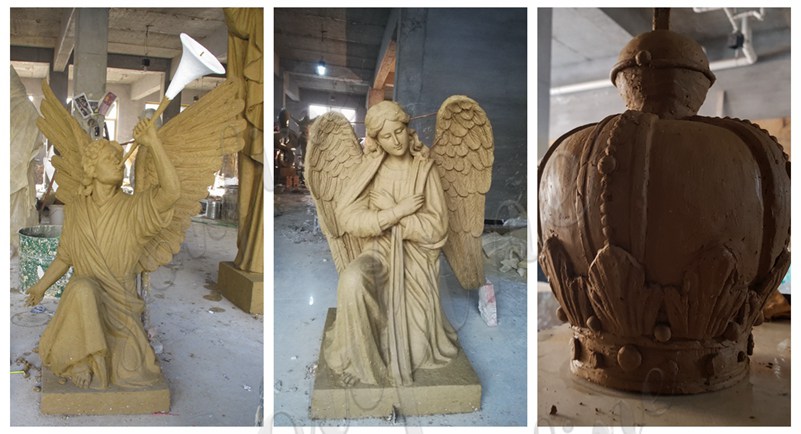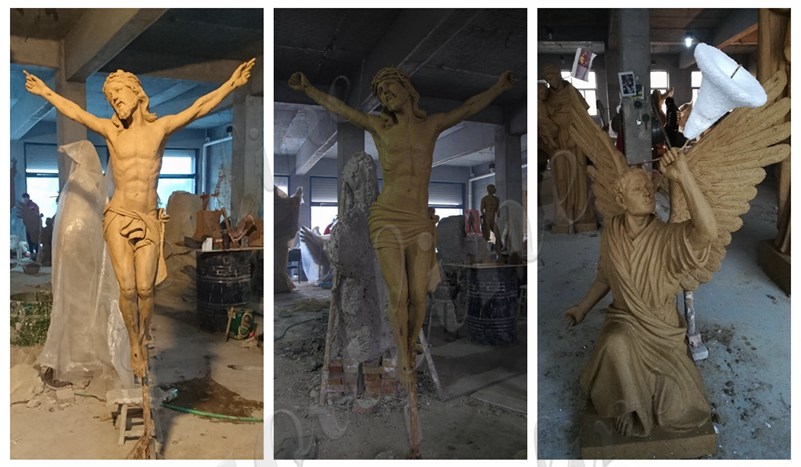 Corpus Clay Model Details Show
The following picture is the clay model making suggestions provided by our church clients. The finished clay model made by our professional clay mold artist, which is completely based on the suggestions of our clients.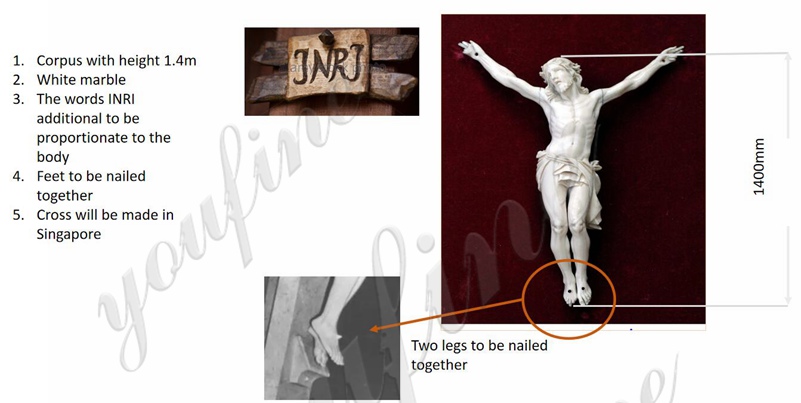 And other clay molds of the Corpus statues are also made according to the opinions of our church clients. You could see that all the details of the clay molds are 100% reduced as our clients' required.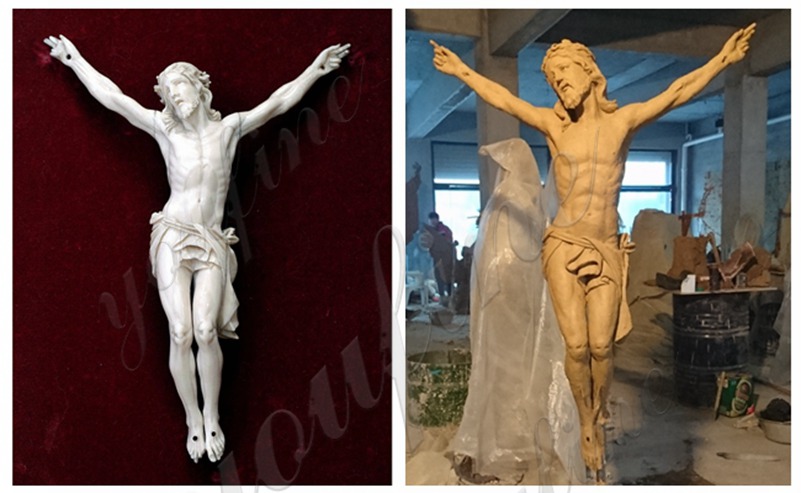 Church Marble Statues Process
Because our church clients have very high requirements for the quality of these church marble statues. Therefore, all these sculptures are made of high-quality Hunan white marble materials. This natural marble stone is also known as Chinese Carrara. The high-quality white marble has no impurities and gray patterns, so the carved figures are very delicate and vivid.
You Fine has a team of carving artists who specialize in carving church marble statues. After the clay molds were finished, these statues were all hand-carved by our top artist Yuan and his team. Our artist Yuan is also a devout Catholic believer, so he is very familiar with and understanding of religious figures.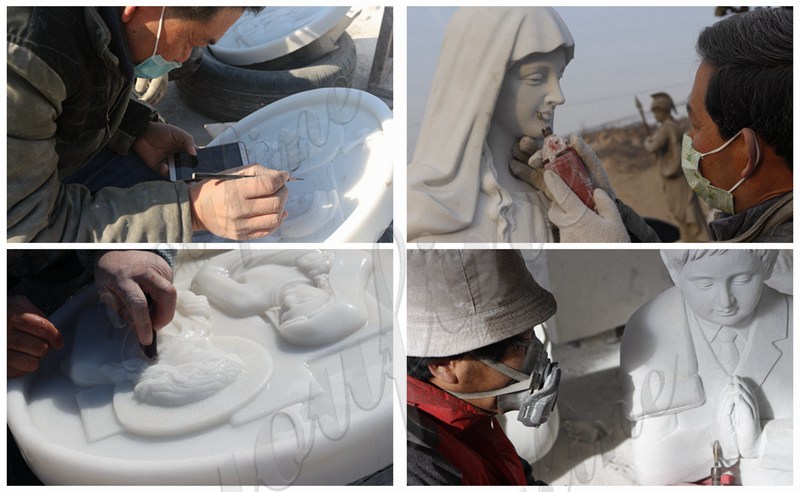 Finished Church Marble Statues Show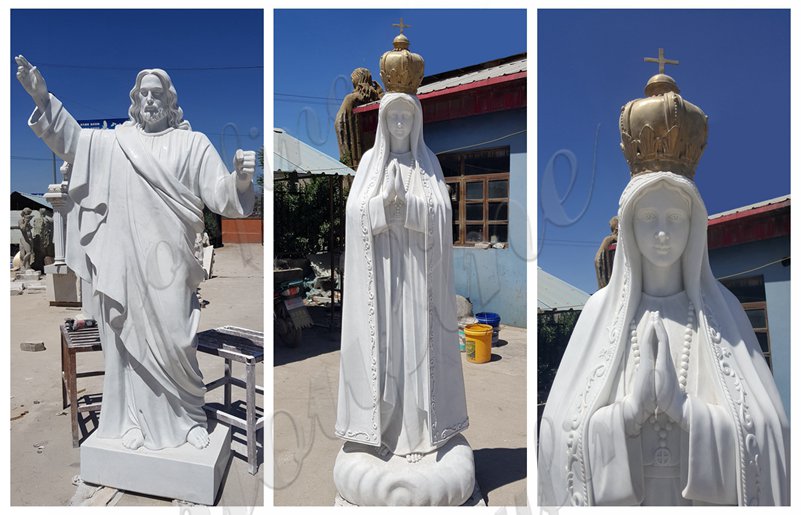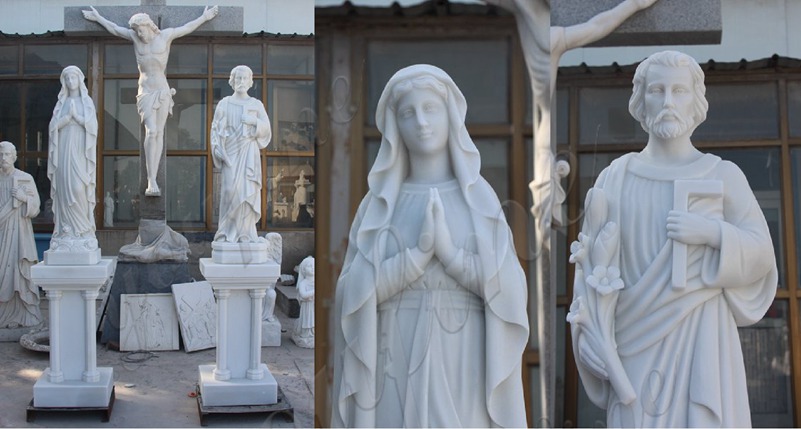 Finished Marble Reliefs Show
These 14 Stations of the Cross marble reliefs are all hand-carved by our artists according to the drawings provided by our clients. Similarly, these marble reliefs are also hand-carved using Hunan white marble materials.
Altar and Pulpit Details Show
Our church clients are very strict about all the details of these marble statues and church products. Therefore, our carving artists pay great attention to details during the production process.
During the process of all marble altars, pulpits, and baptistery, our artists will strictly follow the size requirements of our clients. And every step of the process will be accurately measured, to ensure that the error will not exceed 5 mm.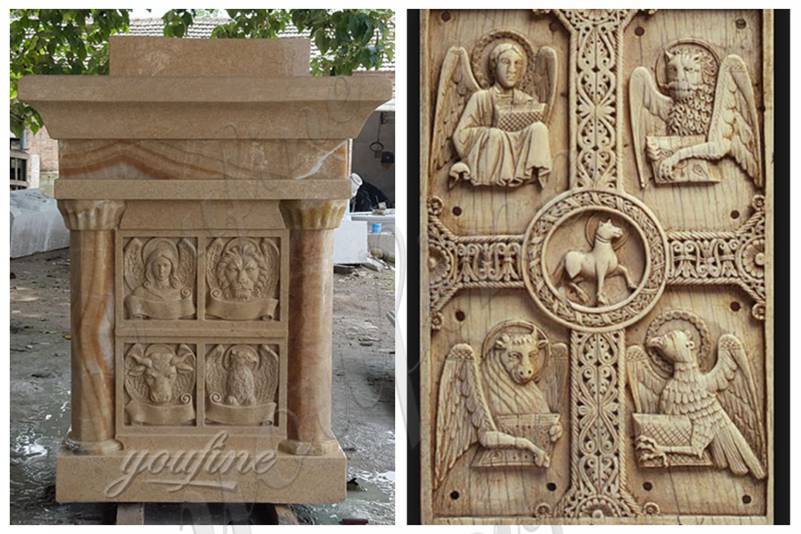 The details of each marble altar and pulpit are carefully confirmed by our professional sales staff and our church clients before being produced by our artists. The custom logos on these altars and pulpits are all hand-carved by our artists.
Clients Come to Visit Our Factory
After all these marble catholic religious statues are finished, our church clients come to our factory to inspect the quality of all the marble products. Our director Dora and sales welcomed them warmly and took them to taste delicious Chinese food. There is a photo of our director and clients.
When our clients saw this Mary statue carved by our top artist, our client was attracted by the face of the Virgin Mary. He liked our artist's artwork very much and was very satisfied with all our products.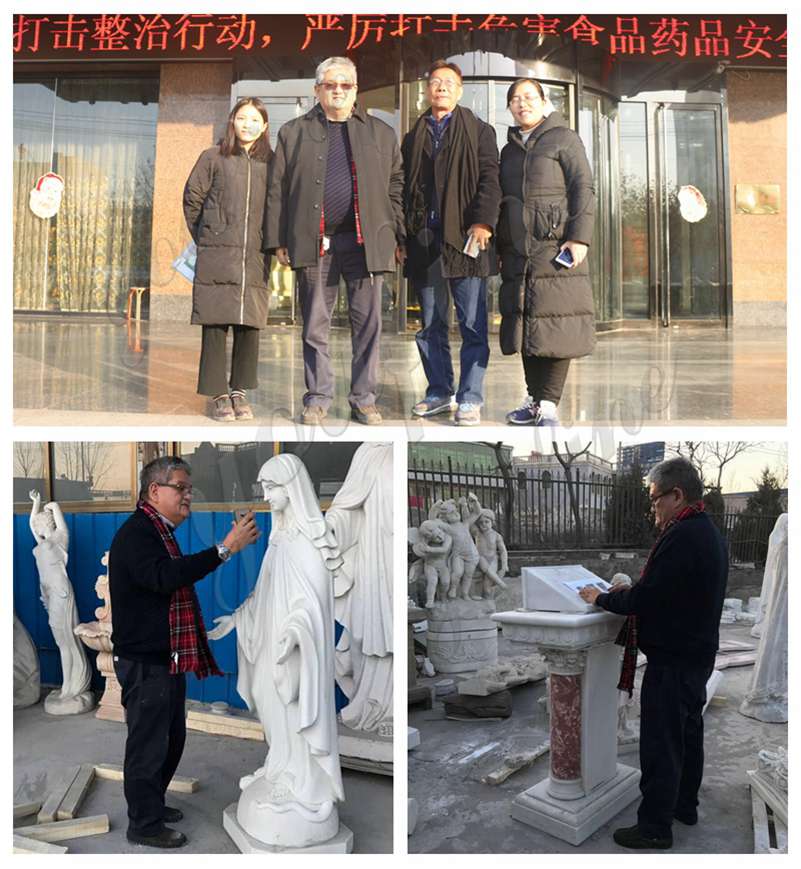 Our Clients Receive the Goods and Install Locally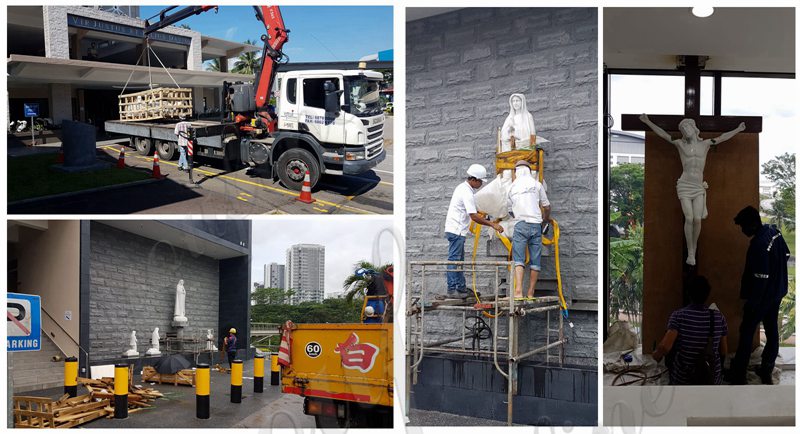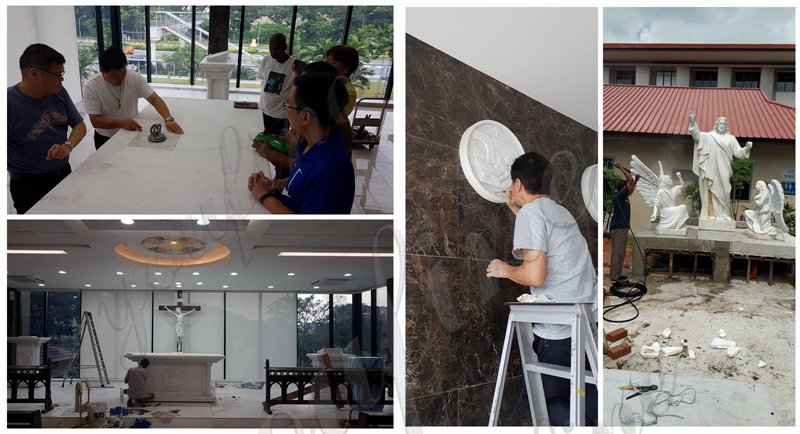 Feedback Pictures After Installation
After all the marble statues and church products were installed, the priest and staff of the church held a grand unveiling ceremony for these statues.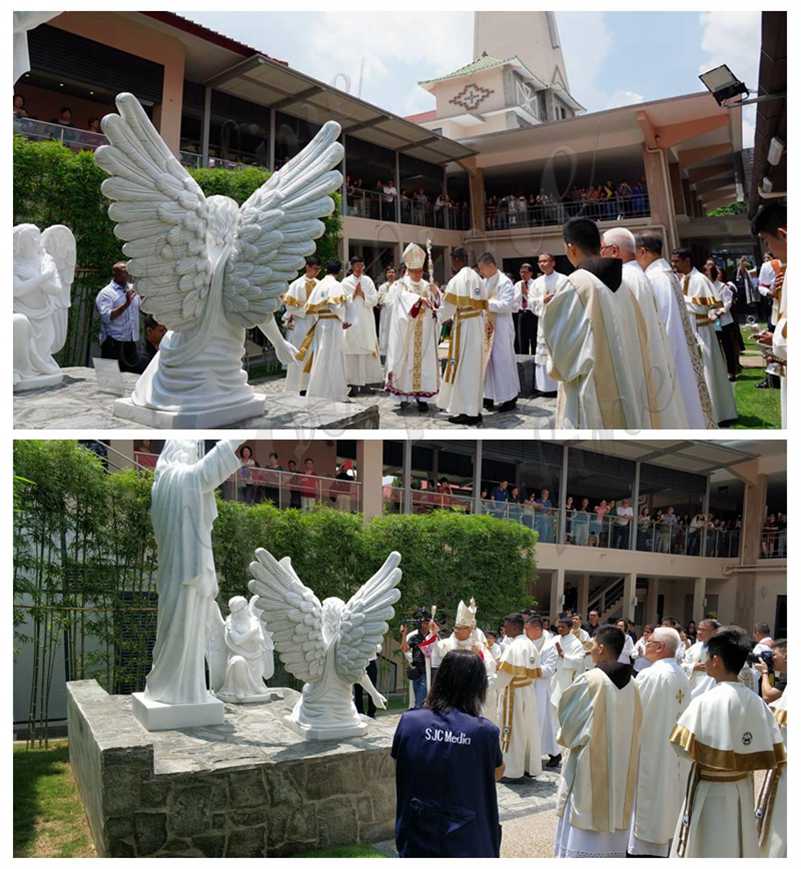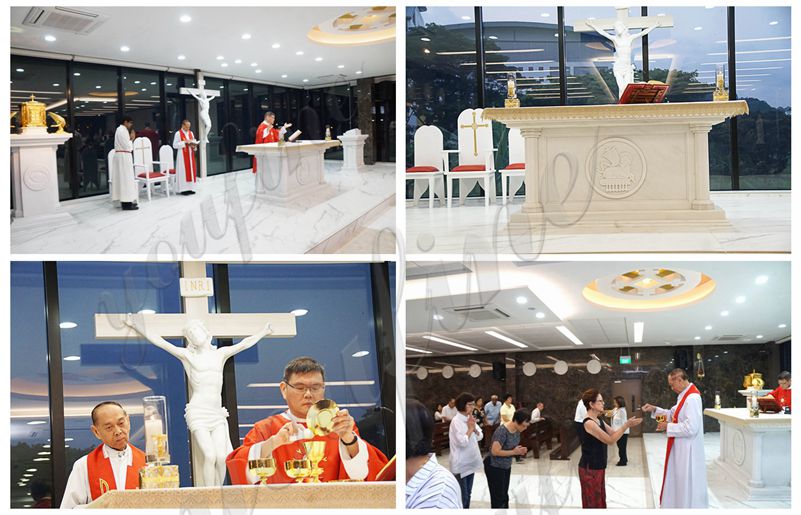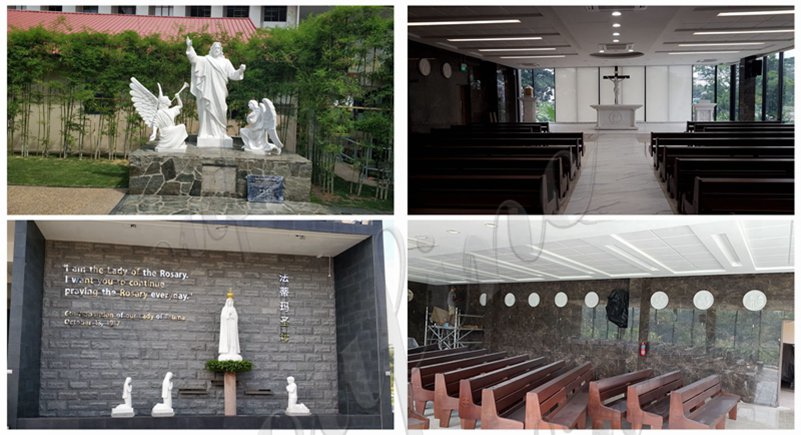 You Fine Goes to Singapore to Visit Client:
In June 2019, our director Dora accepted our client's invitation to visit the St Joseph's Church in Singapore. Our clients took our director Dora to see the overall design of the church and all the sculptures You Fine made. And they also warmly entertained us, took us to taste various delicious foods in Singapore as well as durian.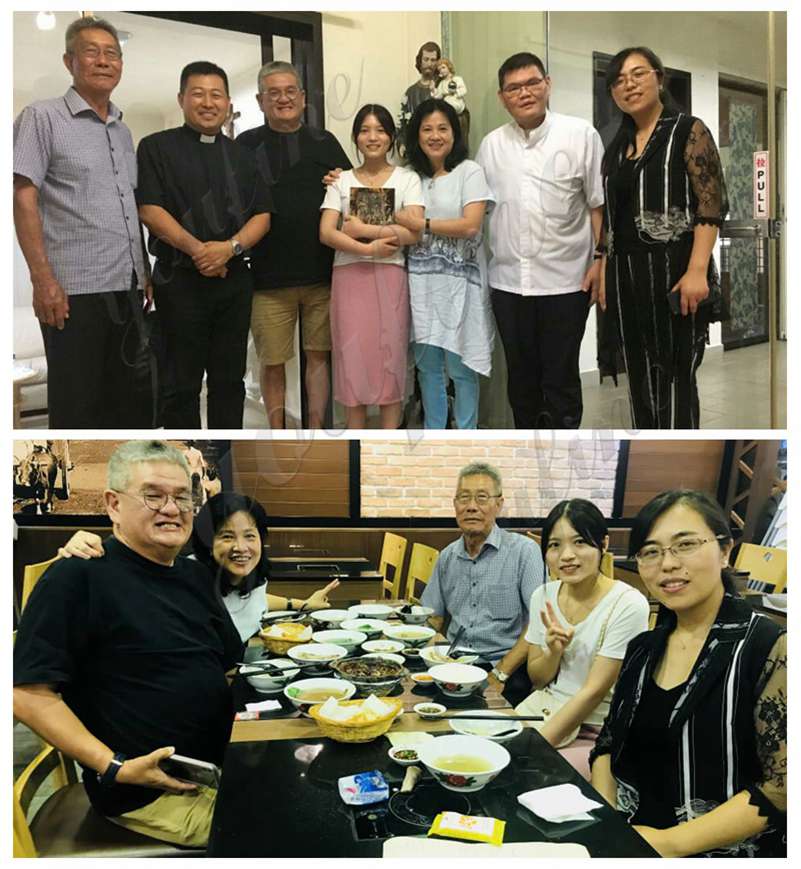 You Fine Is Your Best Choice:
If your catholic church needs to be renovated or any church statues are needed. Then You Fine Marble Factory is your best choice. With more than 38 years of carving experience, You Fine is sure to provide you with any Catholic marble statues and products that exceed your expectations.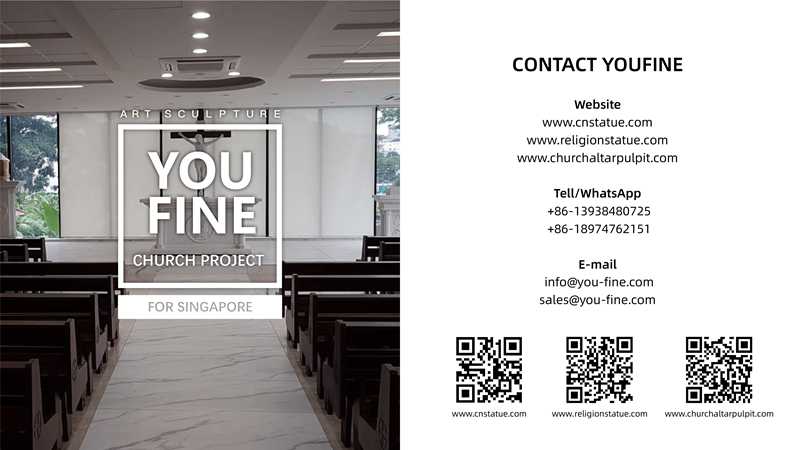 Last Article
:
Ancient Large Green Marble Gazebo for Villa Garden Decor for Sale MOKK-808
Next Article:
Life Size Bronze Bear and Figure Statue Zoo Decoration Supplier BOKK-294