Marble Bag Sculptures: Where Fashion Meets Art in Exquisite Harmony
Updated 06/15/2023 6:28 PM By Alice
Marble, with its rich history in the world of art and architecture, has now emerged as a remarkable medium for fashion accessories. The marriage of marble and Bag has resulted in exquisite creations that blend artistry, luxury, and functionality. In this blog, we would explore the seamless integration of marble into handbag design, celebrating its timeless beauty and the diverse range of captivating marble handbag sculptures.
Marble, a material that has fascinated civilizations for centuries, possesses an inherent allure. Its natural elegance, intricate veining, and captivating color variations have made it a preferred choice for artists and designers alike. Just as marble has stood the test of time in sculpture and architecture, it now graces the world of bags, adding a touch of sophistication and opulence to fashion.
Marble Bags are more than just fashionable accessories; they are embodiments of art and craftsmanship. These meticulously carved creations elevate the concept of a handbag to new heights, offering an intriguing blend of functionality and collectible beauty. Fashion enthusiasts and collectors appreciate the unique and rare nature of marble Bags, recognizing them as true masterpieces to be cherished and admired.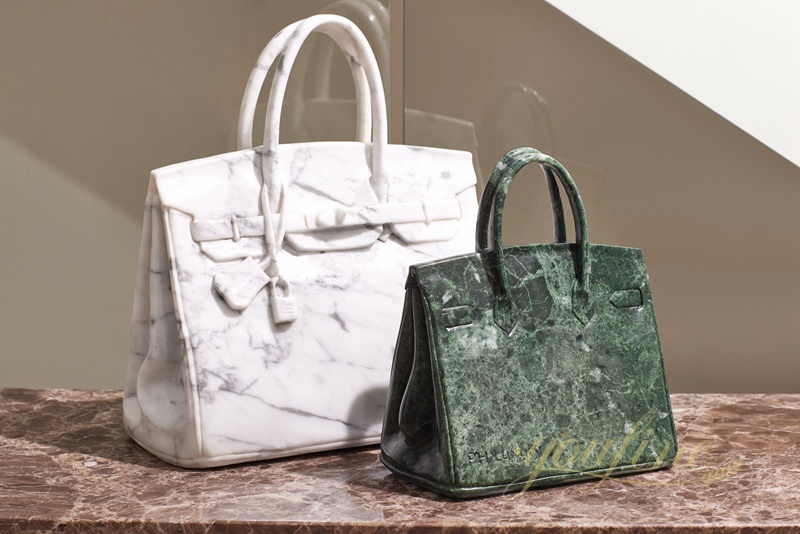 Unveiling Exquisite Marble Handbag Sculptures
Let us embark on a journey through the diverse world of marble handbag sculptures, where each piece is a testament to the skill and creativity of the artisans.
Classic Elegant Hermes Birkin Bag
The Enigmatic Black Birkin: A vision of elegance and luxury, this hand-carved masterpiece showcases the artistry involved in capturing the essence of a Birkin bag. The intricate details, from the delicate clasp to the meticulously crafted handles, exude a lifelike quality. The veins and patterns unique to each piece of marble lend a touch of individuality and create a truly mesmerizing work of art.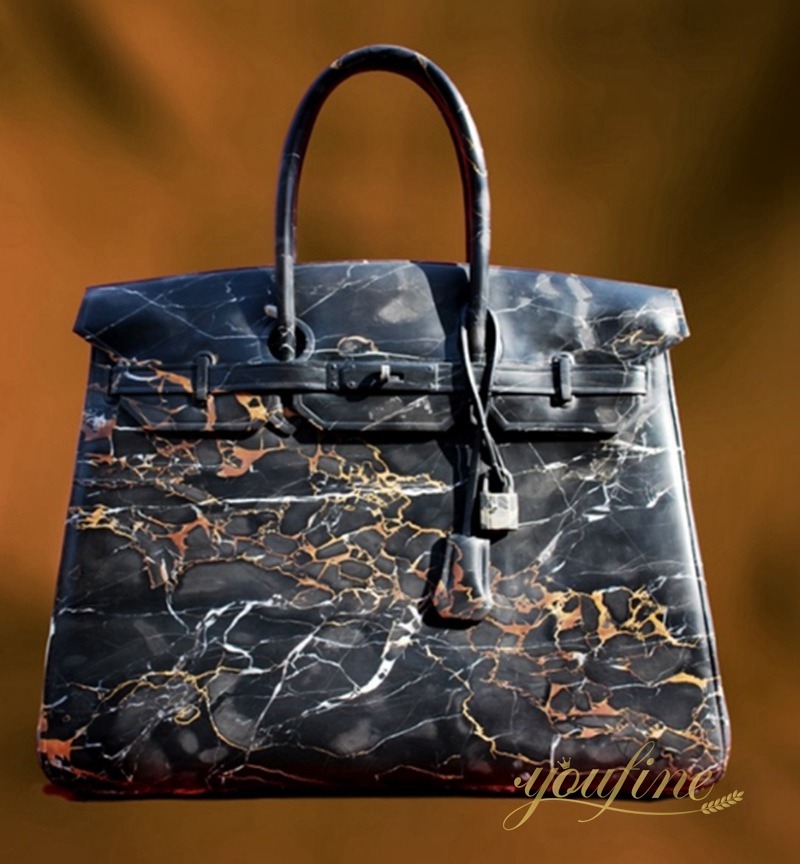 Continuing our exploration, we encounter the Evening Sunset Red Marble Birkin Bag, which beautifully captures the hues of a breathtaking sunset, creating a mesmerizing visual experience. The White Marble Birkin Bag, with its delicate and refined features, embodies timeless grace, while the Yellow Marble Birkin Bag captivates with its bold and distinctive charm.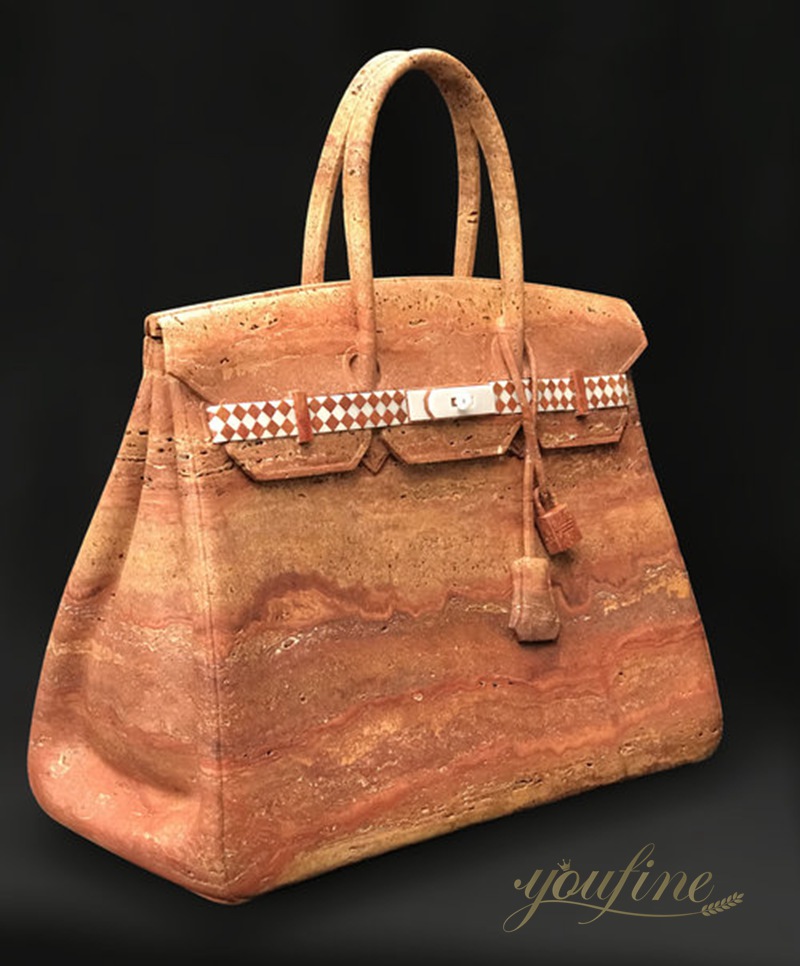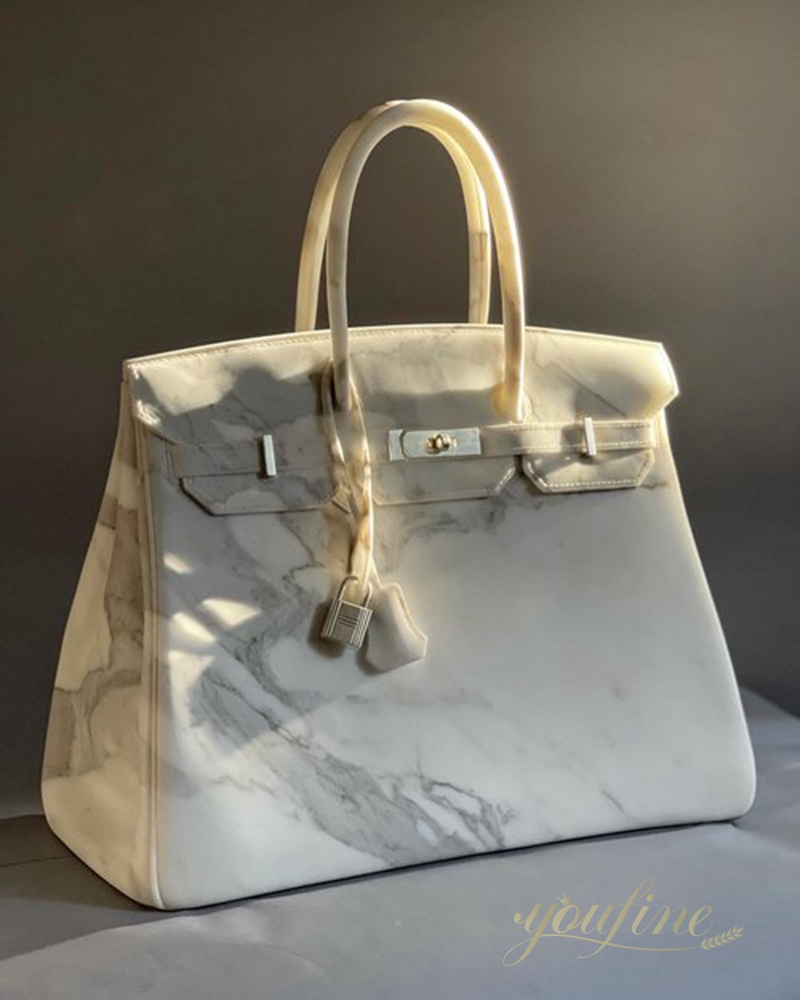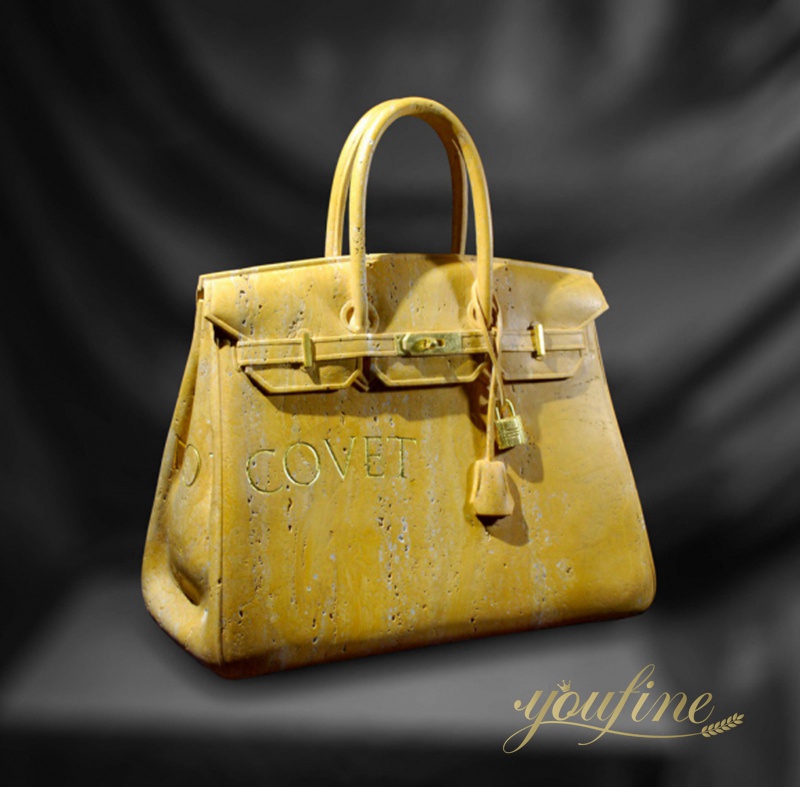 Also, there are many other colorful matching marble Birkin bag sculptures that are very charming.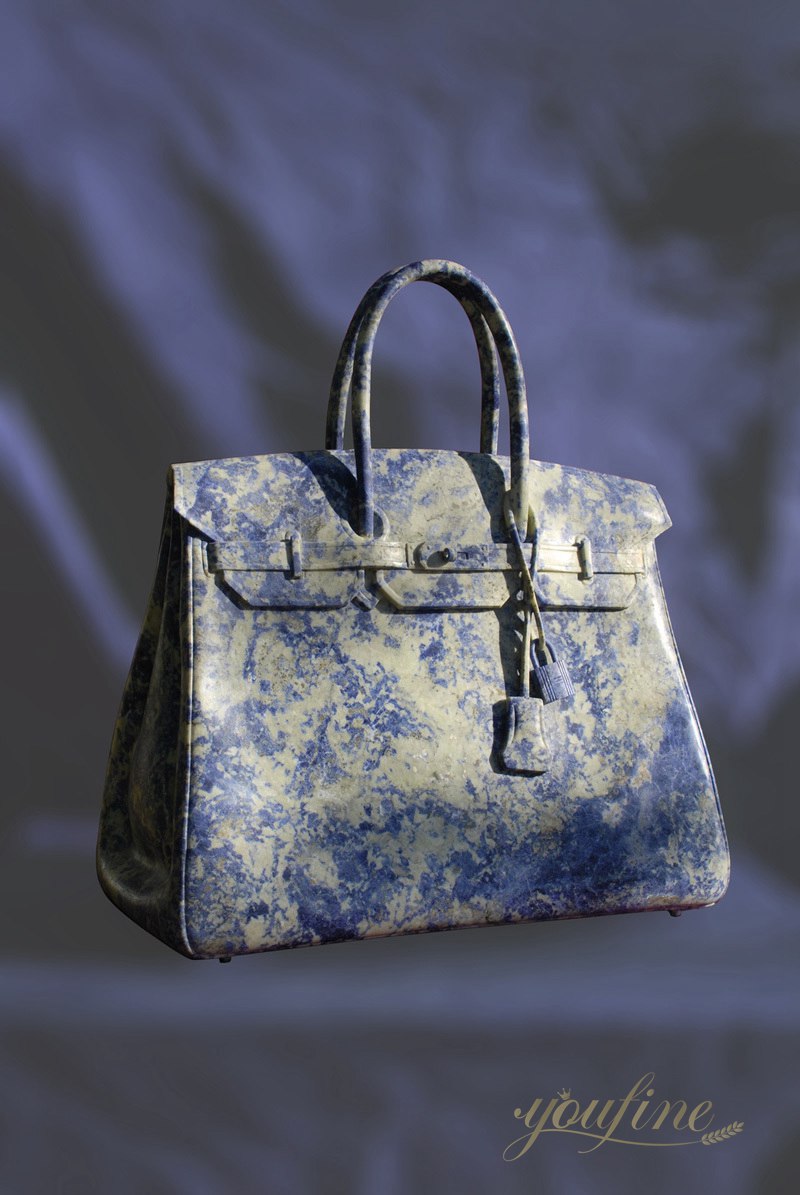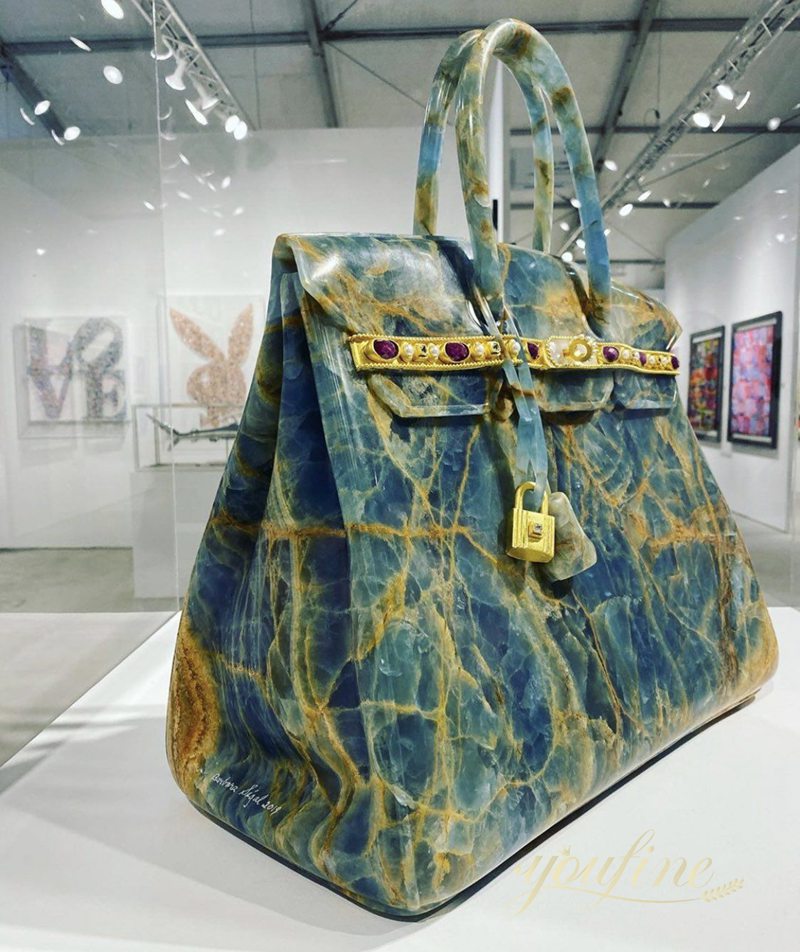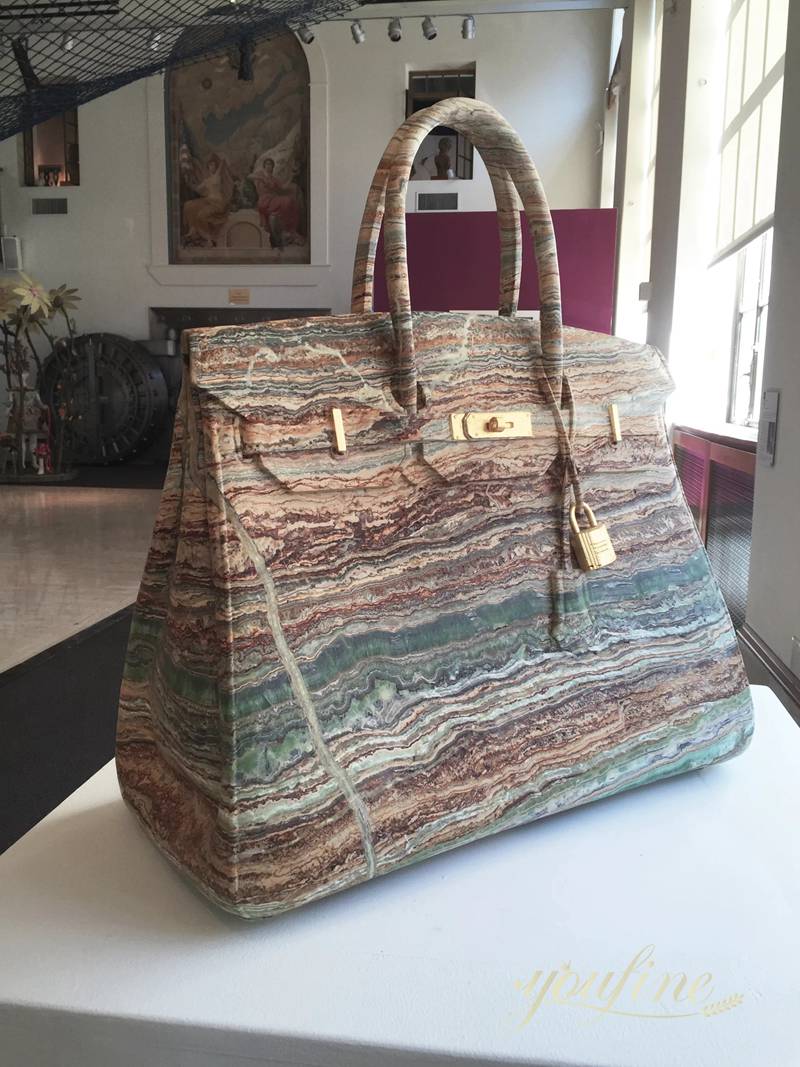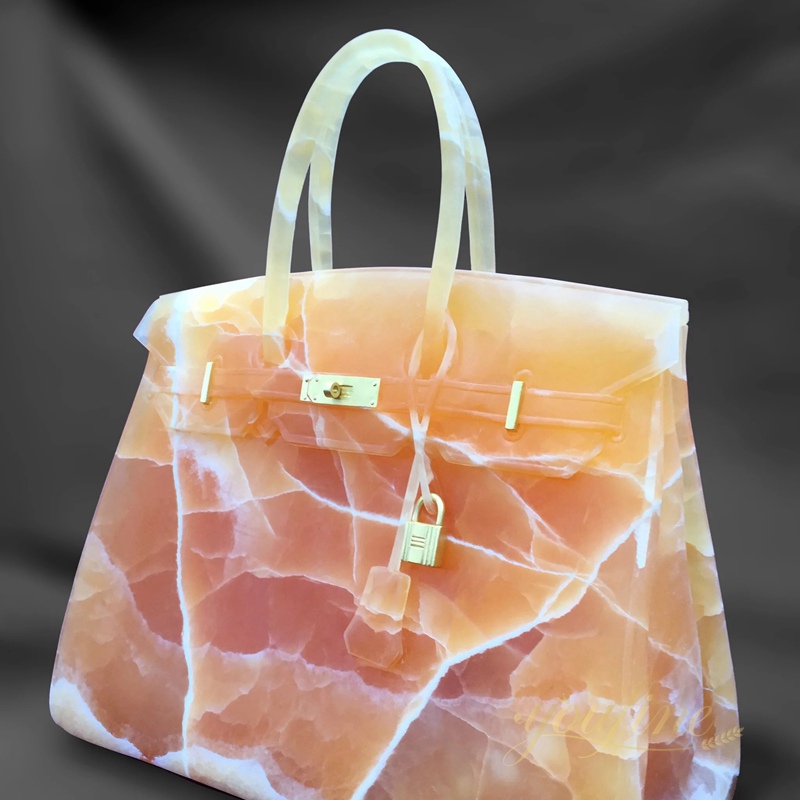 Effortless Sophistication Chanel Bag
The iconic Chanel handbag, meticulously carved from marble, transcends conventional boundaries, showcasing the artistic possibilities of this remarkable stone. The carved diamond patterns, interwoven chains, and immaculate attention to detail mirror the craftsmanship found in the world of high fashion. The marble medium breathes new life into the bag, infusing it with an ethereal and enchanting aura.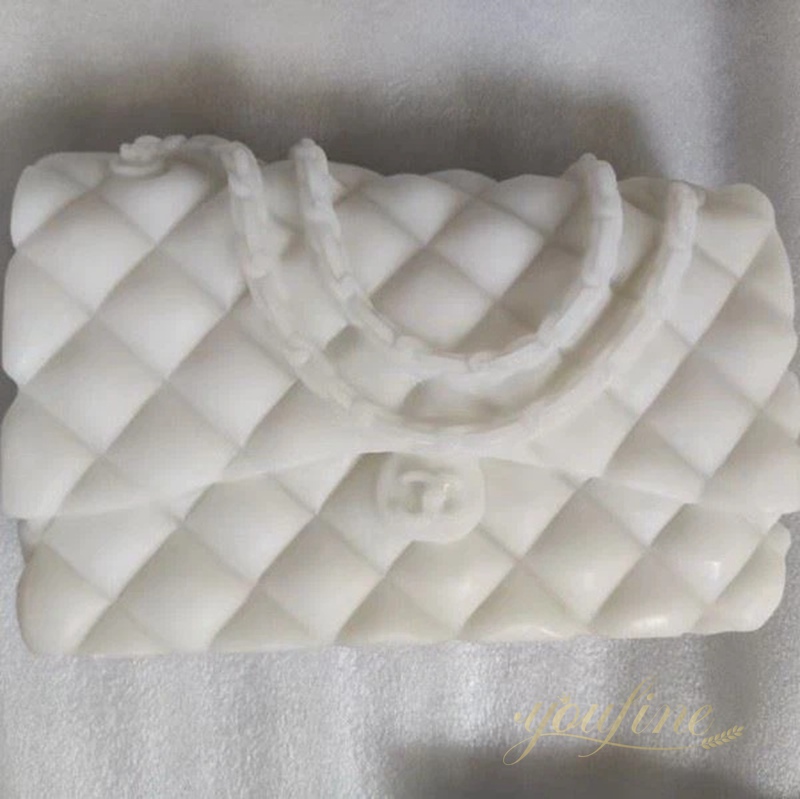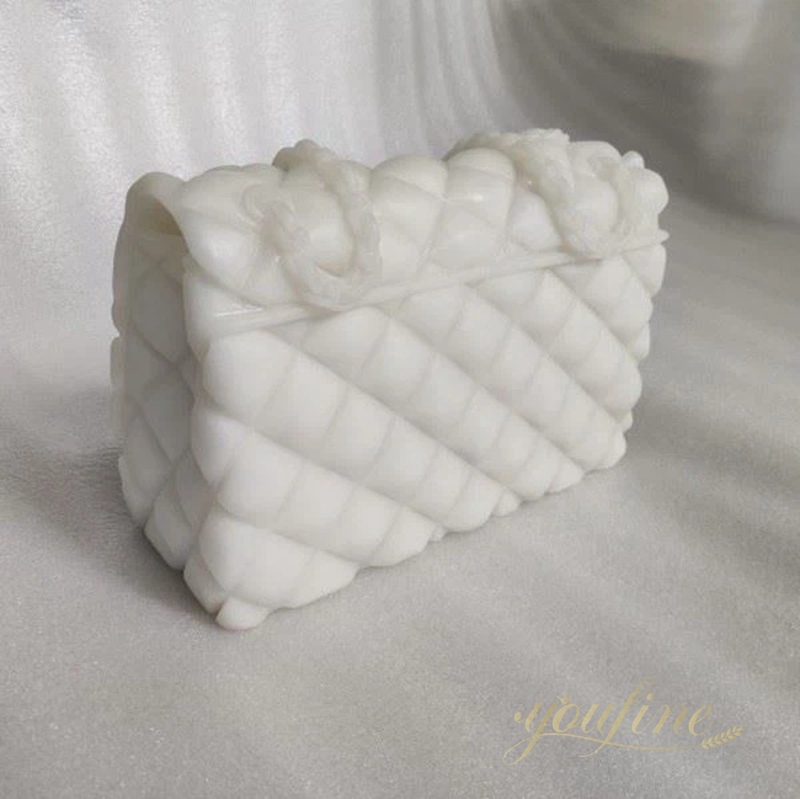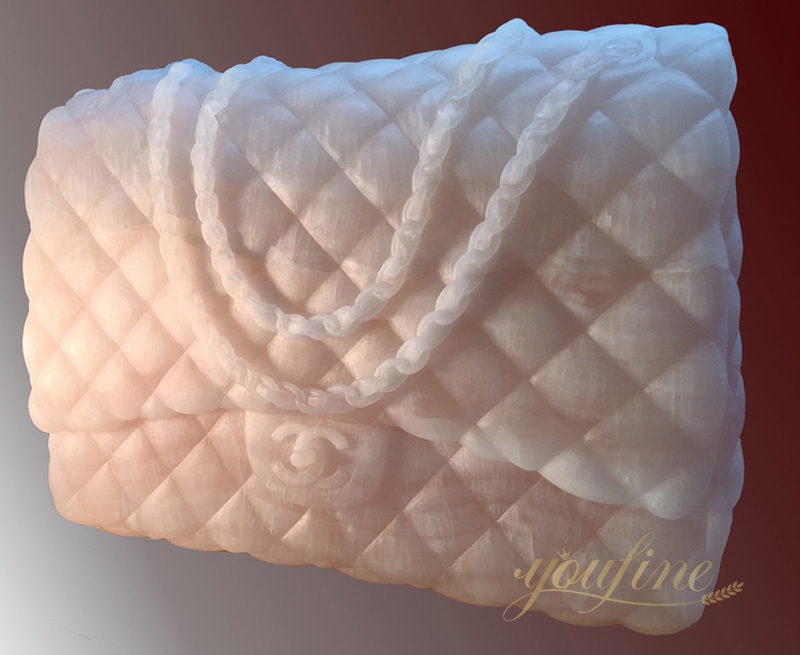 The other color CHANEL bag marble sculptures are attractive, too.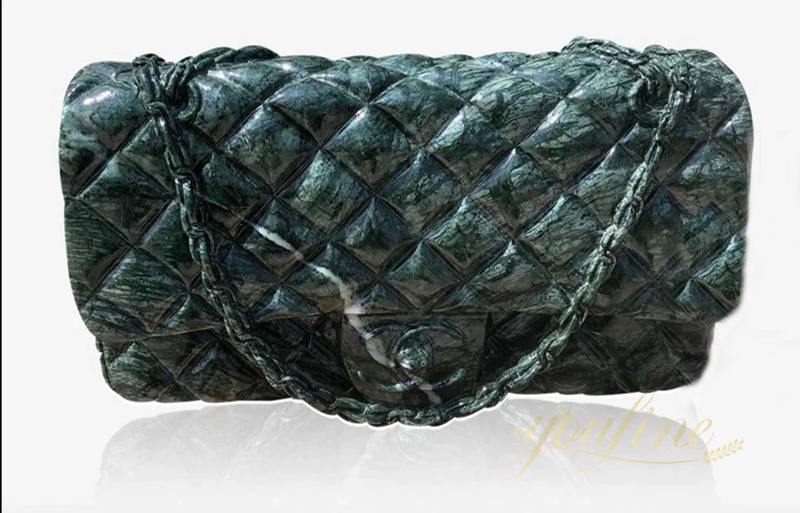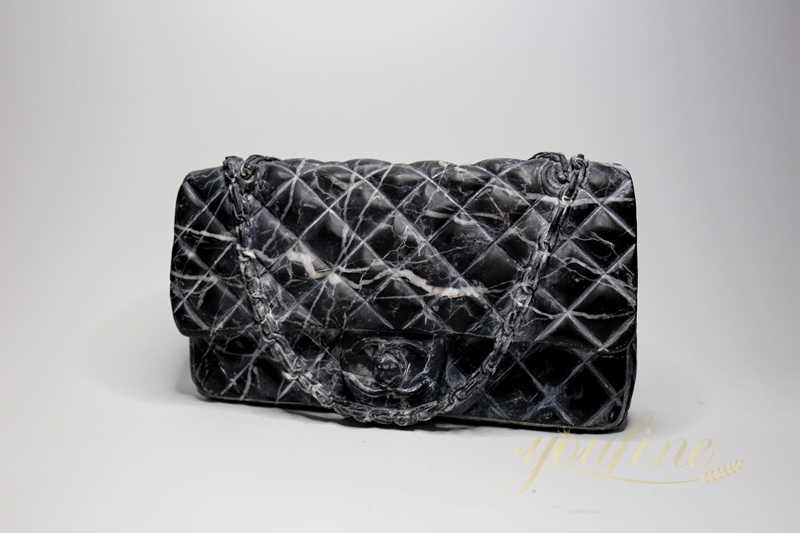 More Marble Handbag Designs
The realm of marble handbag sculptures knows no limits. Immerse yourself in a world of imagination, where white marble bags intertwine with green veins, evoking a sense of opulence and grandeur. Delight in the splendor of gemstone blue harmoniously blending with gentle shades of gray, resulting in handbag sculptures that are both visually striking and evocative.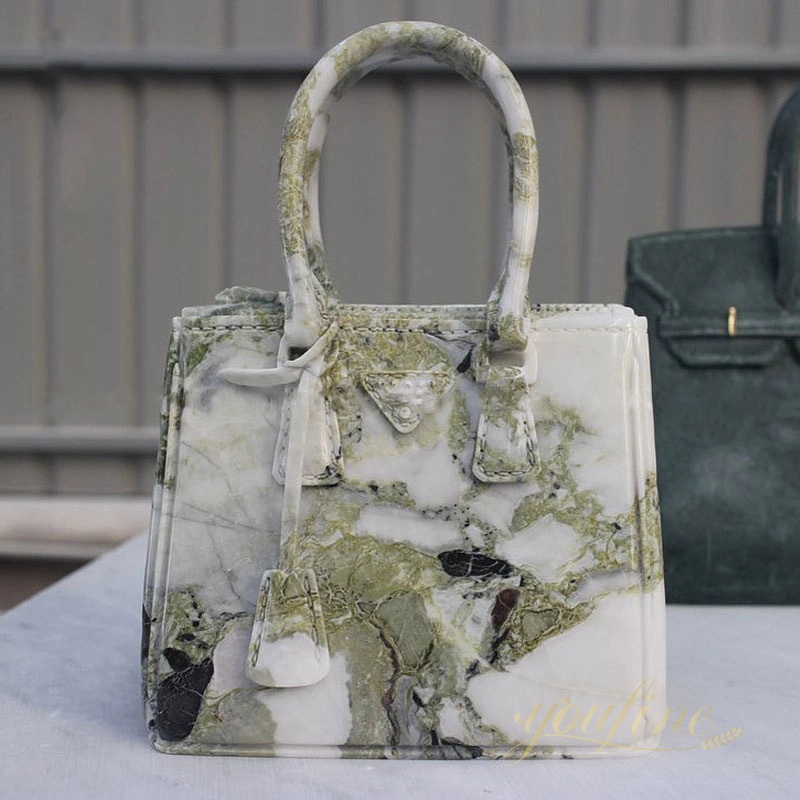 The Collectible Value of Marble Bag
Marble Bags are not just fleeting trends; they possess a lasting legacy and collectible value. Owning these sculptural treasures allows one to appreciate their inherent beauty and artistic expression, while also investing in a piece of history. As the years pass, the allure of these marble Bags would continue to grow, making them cherished heirlooms for future generations.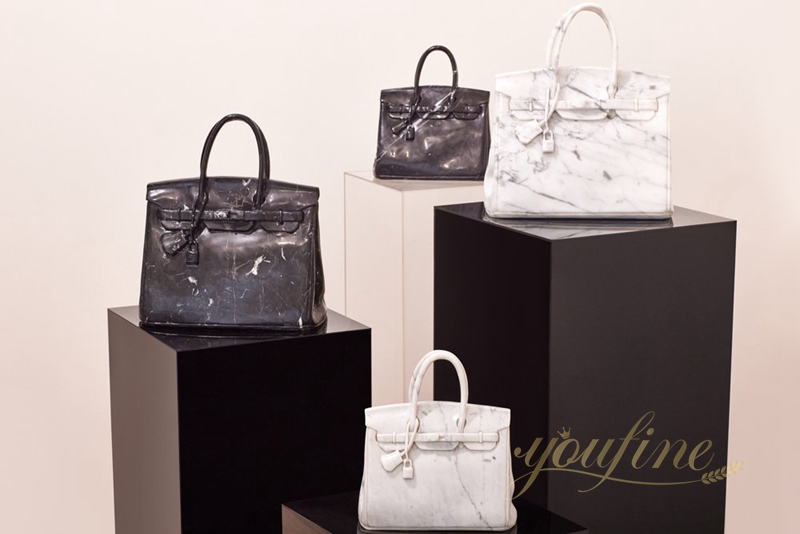 Elevating Interior Design:
Beyond being a fashion accessory, a marble bag could be a stunning addition to interior design. The elegant and timeless beauty of marble complements various decor styles, from minimalist to luxurious. Placing a marble bag strategically in a room instantly adds a touch of sophistication and becomes a conversation piece. Whether displayed in a well-curated gallery or incorporated into a contemporary living space, a marble bag elevates the overall aesthetic, reflecting your unique taste for artistic expression.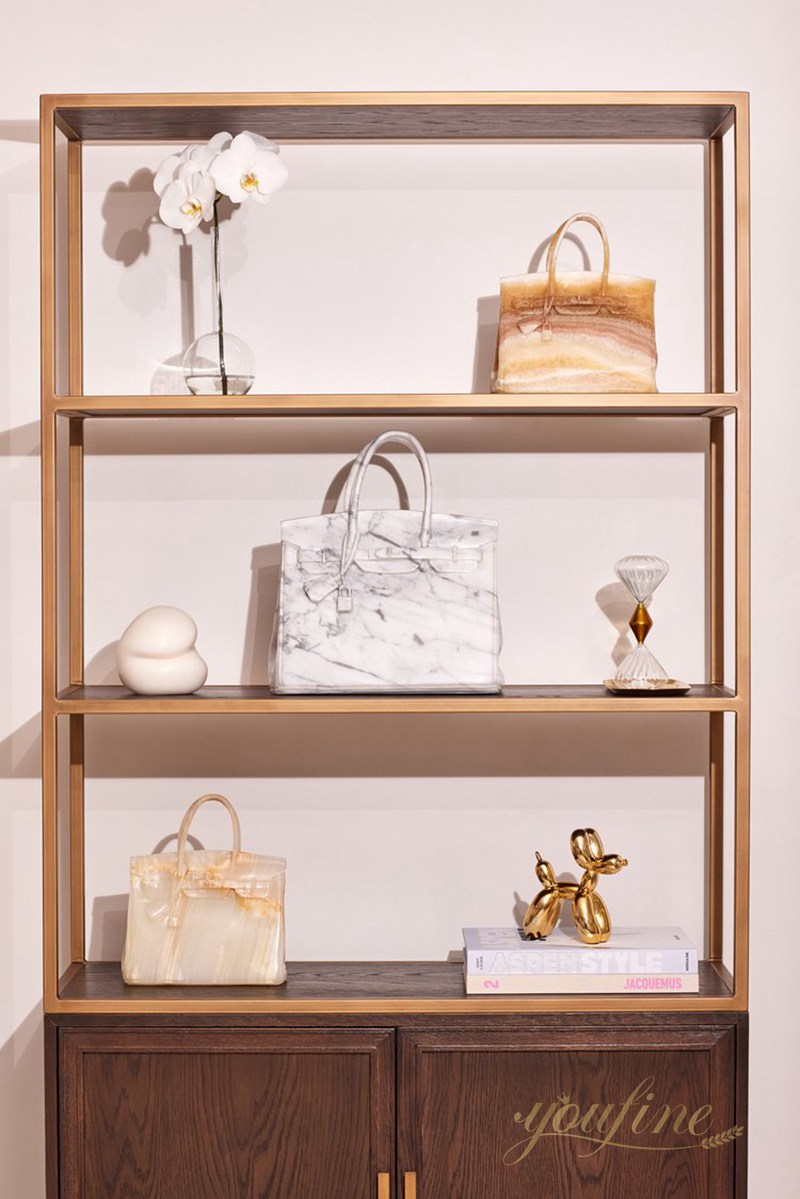 Imagine the sheer splendor of displaying marble Bags as focal points within your living space or on the shelves of a sophisticated boutique. These handcrafted marvels harmonize fashion and art, transforming any environment into a gallery-like setting that exudes elegance and refinement. Marble bags prioritize aesthetics over practicality, redefining the purpose of a handbag. These bags are not intended to hold everyday essentials or serve as functional accessories. Instead, they are meticulously crafted to be admired and displayed as objects of beauty. Placed on a shelf, a mantelpiece, or a coffee table, a marble bag becomes a focal point, enhancing the visual appeal of any space. The smooth, polished surface of marble reflects light, creating a mesmerizing interplay of shadows and highlights, drawing the viewer's attention.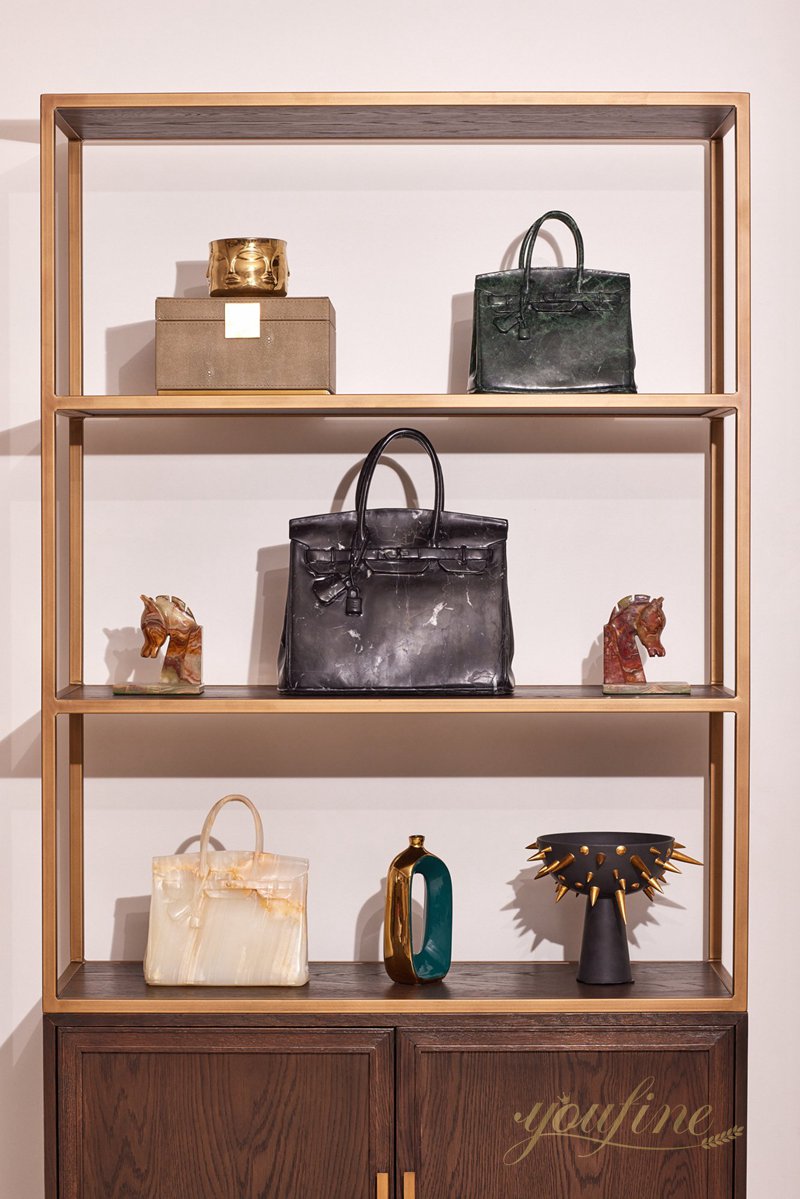 YouFine Sculpture Manufacturing Factory: Mastering the Art of Marble Bag
At YouFine Sculpture Manufacturing Factory, we pride ourselves on our unparalleled mastery of crafting marble handbag sculptures that epitomize luxury and artistry. Our highly skilled artisans dedicate their talents to breathing life into marble, transforming it into mesmerizing works of art. Allow us to showcase a few highlights from our extraordinary collection:
The Majestic Black Marble Birkin Bag: This grand masterpiece commands attention with its imposing presence. Crafted from solid black marble, it exudes an air of sophistication and opulence. The expertly carved details, meticulously replicating the iconic Birkin bag, showcase the fusion of fashion and sculpture. The smooth leather texture juxtaposed against the cool, solid marble structure creates a captivating contrast that draws the eye and ignites the imagination.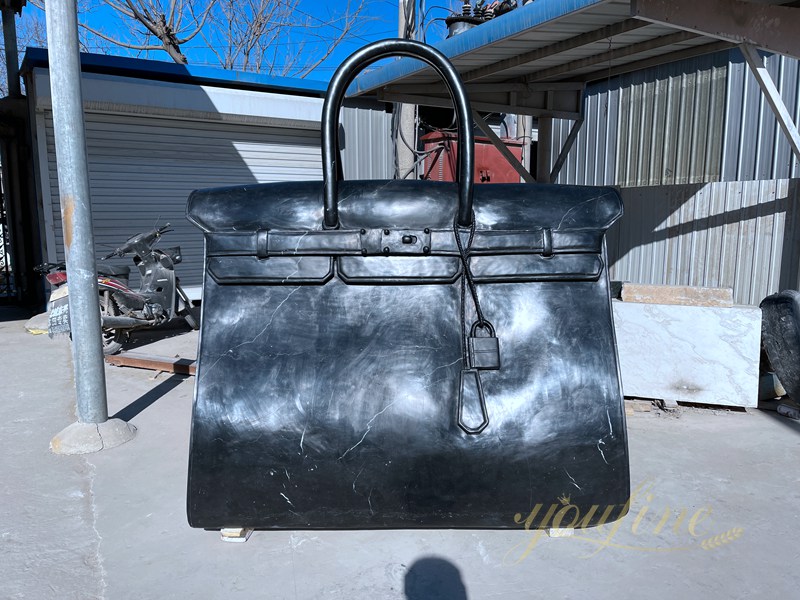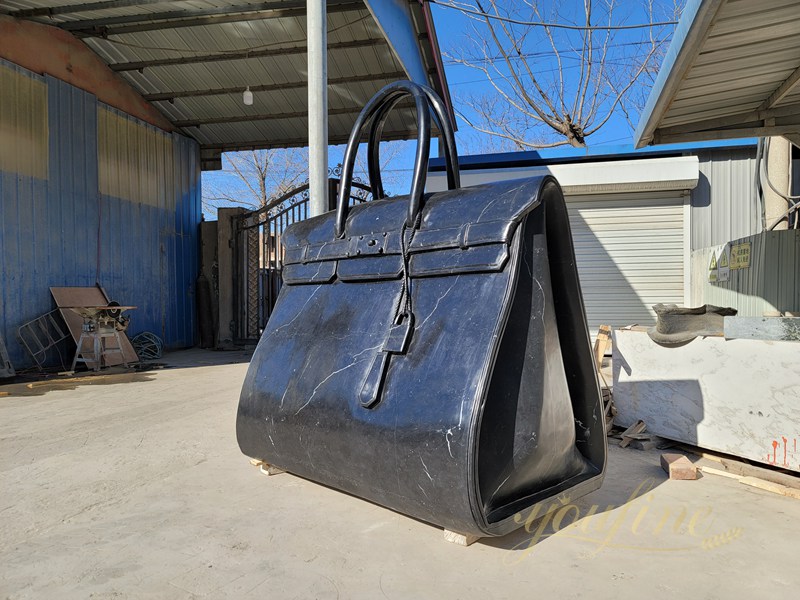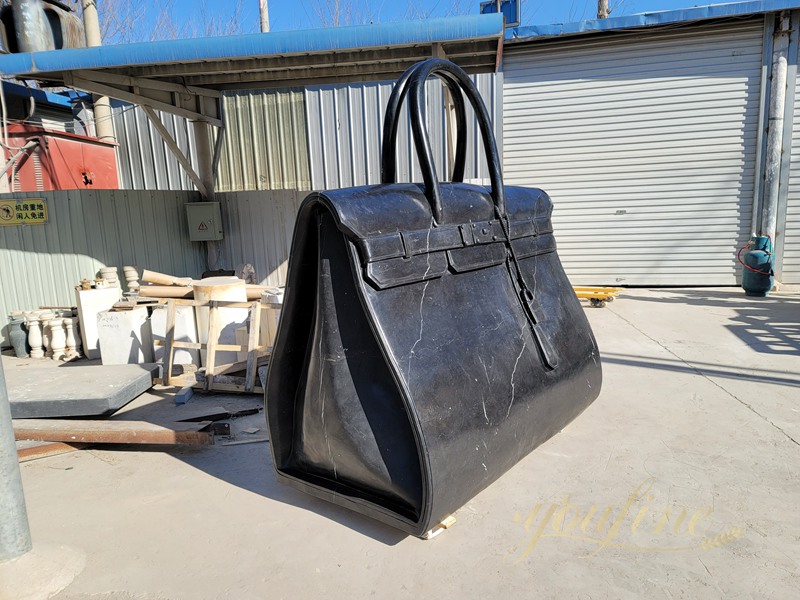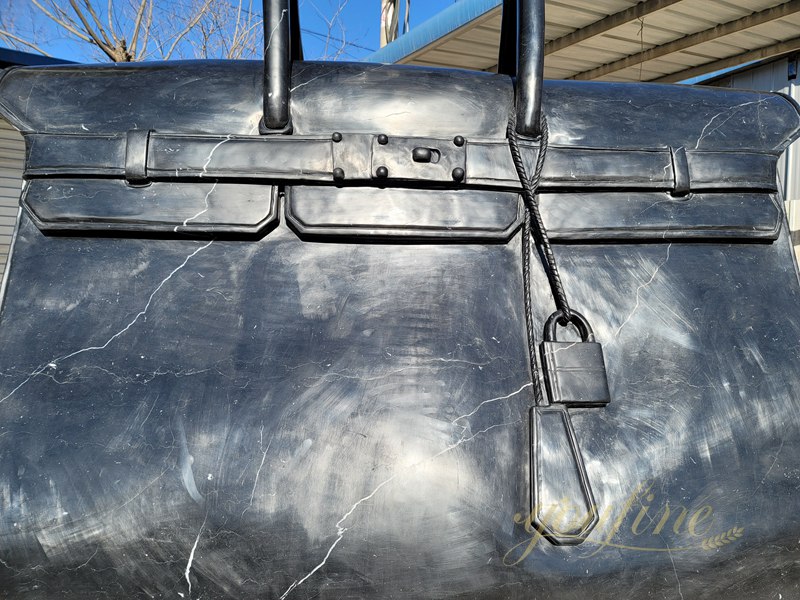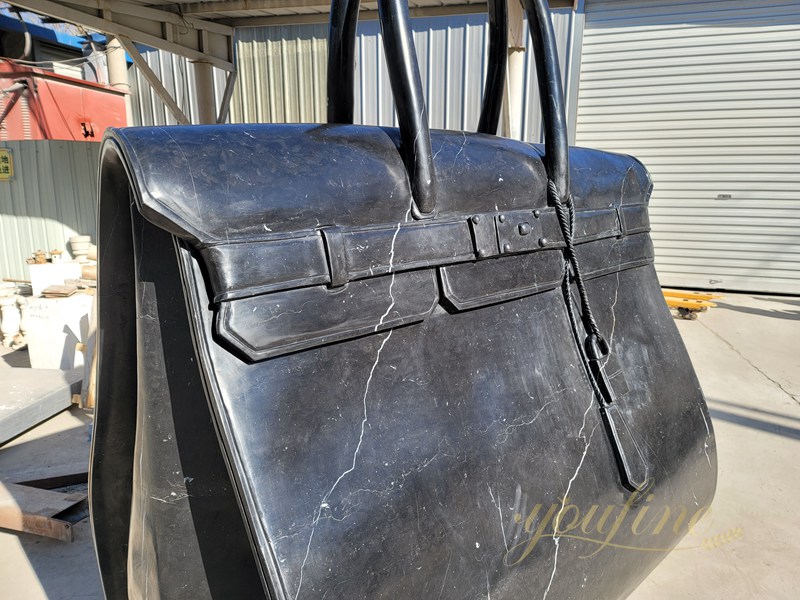 In addition to this The Majestic Black Marble Birkin Bag, YouFine has also produced a huge Bronze Hermes bag designed in white crocodile leather for customers, and the customers are also very satisfied.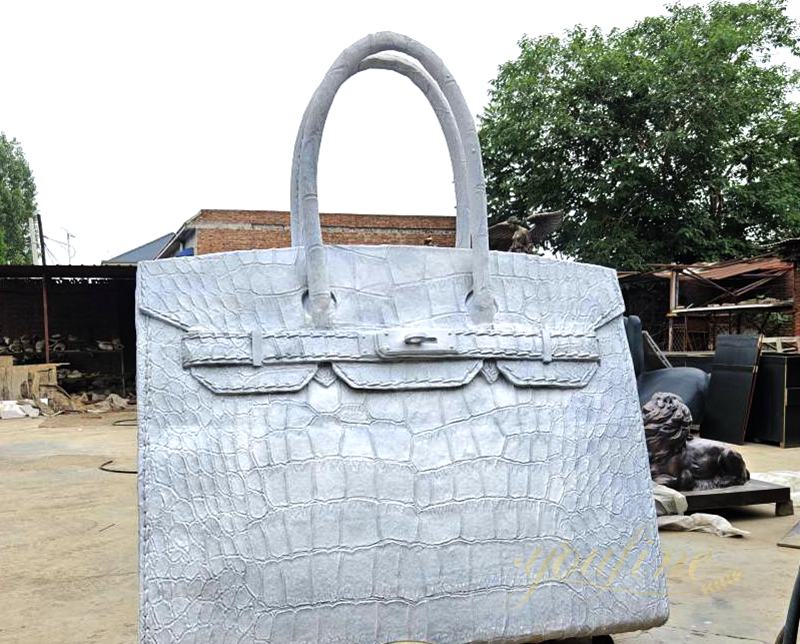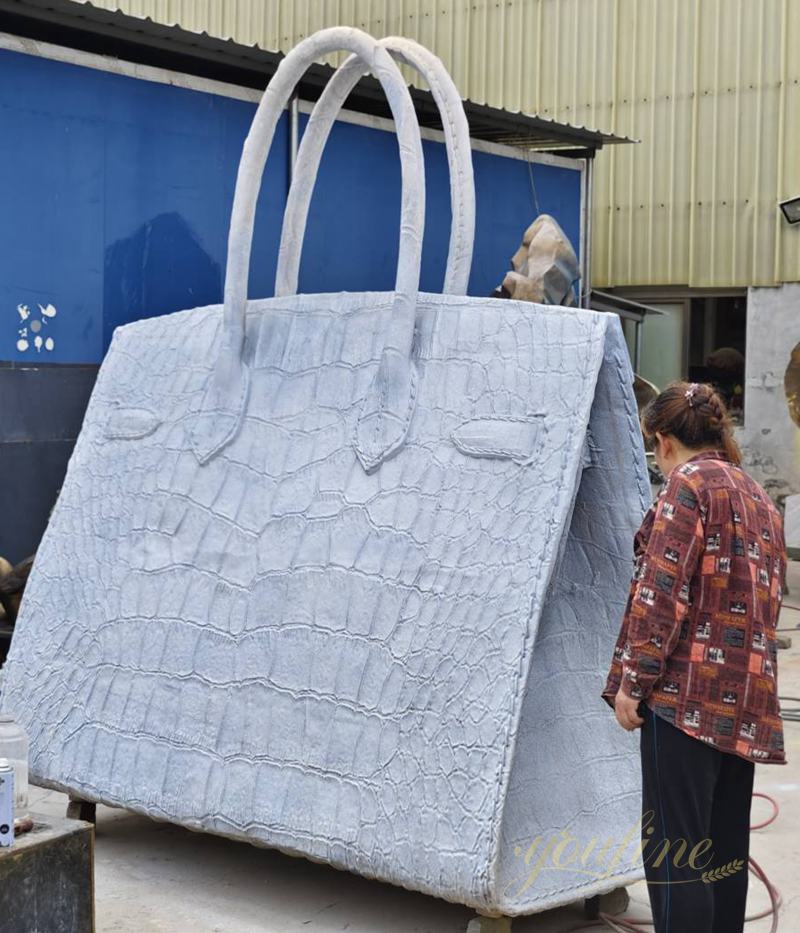 A Customized Set of Five Birkin Bags: Indulge in the luxury of personalized craftsmanship with our bespoke set of five Birkin bag sculptures. Each piece is individually tailored to meet the unique preferences of our discerning clients. Whether you desire a timeless black marble edition or a striking color variation, our artisans bring your vision to life. These handcrafted marvels, with their flawless execution and meticulous attention to detail, are destined to become treasured heirlooms that transcend trends and time.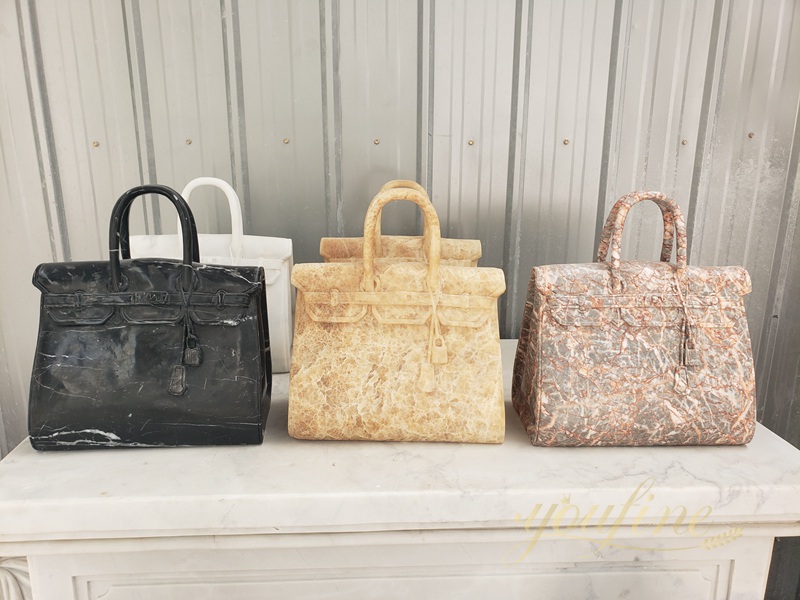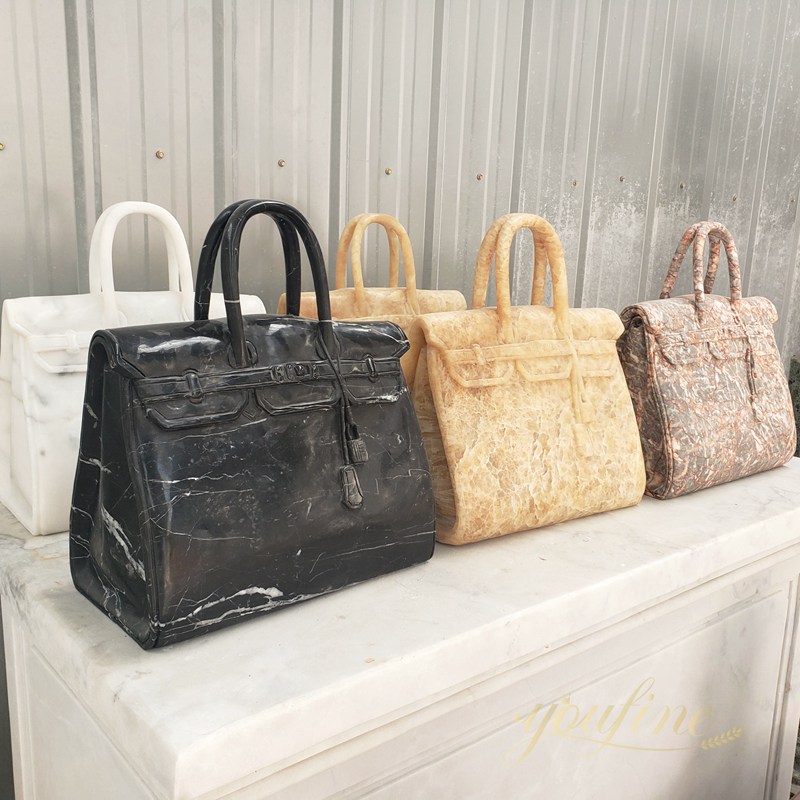 The Chanel Trilogy: Immerse yourself in the versatility of marble as we present a series of three distinct Chanel handbag sculptures. Each sculpture captures the essence of the renowned fashion house while infusing it with an artistic touch. From the timeless elegance of the classic designs to the bold interpretations of modern aesthetics, these sculptures pay homage to the iconic Chanel brand. The exquisite craftsmanship and intricate details faithfully recreate the iconic features of these coveted bags, ensuring that they become captivating art pieces that transcend the boundaries of fashion.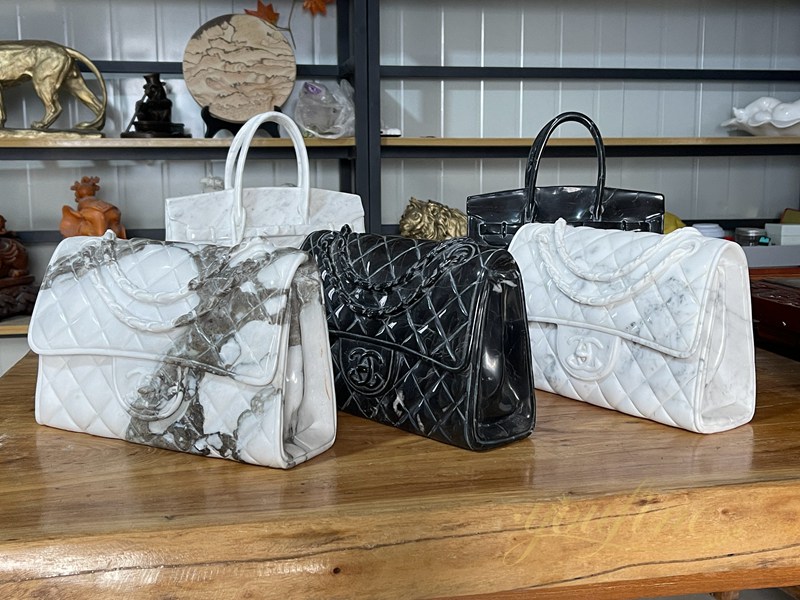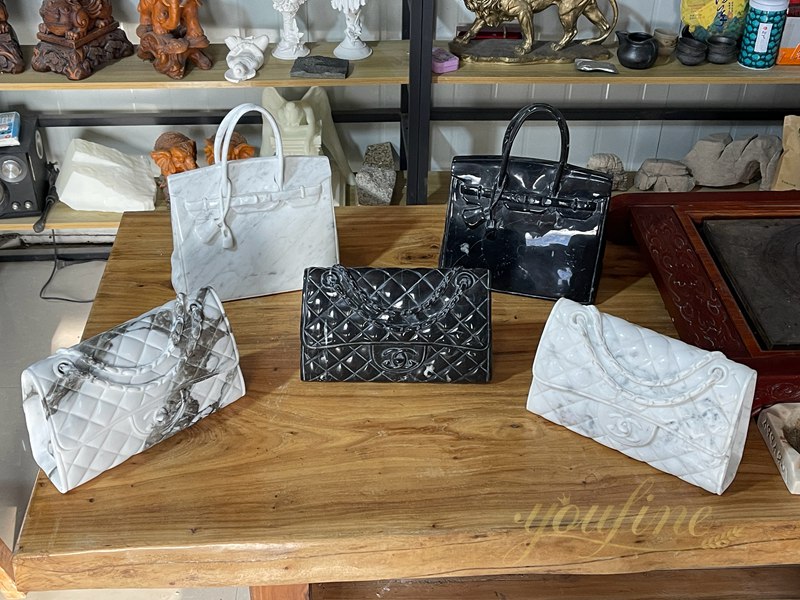 Discover our extensive range of ready-made marble handbag sculptures, meticulously crafted by our artisans and available for immediate purchase. With a seamless blend of fashion and art, these sculptures offer a unique opportunity to acquire exquisite works of art effortlessly. Each piece in our collection is a testament to our commitment to craftsmanship, beauty, and the enduring allure of marble.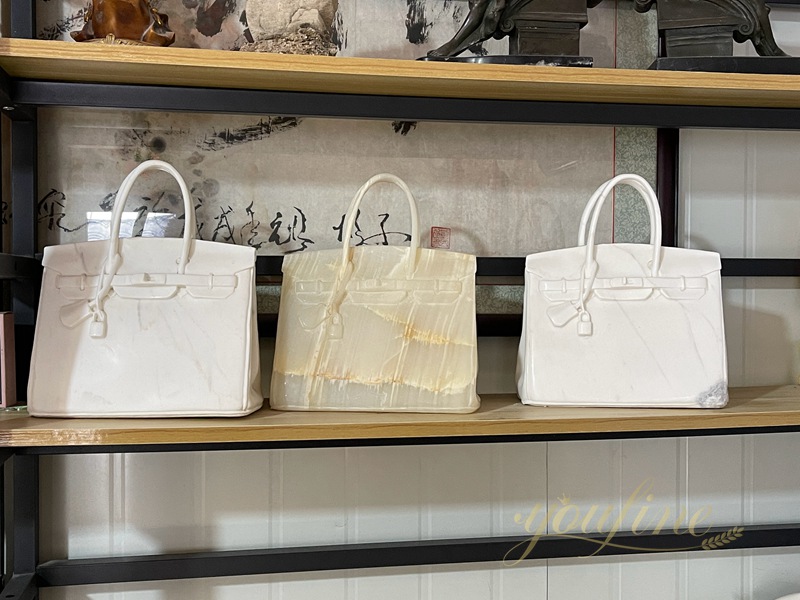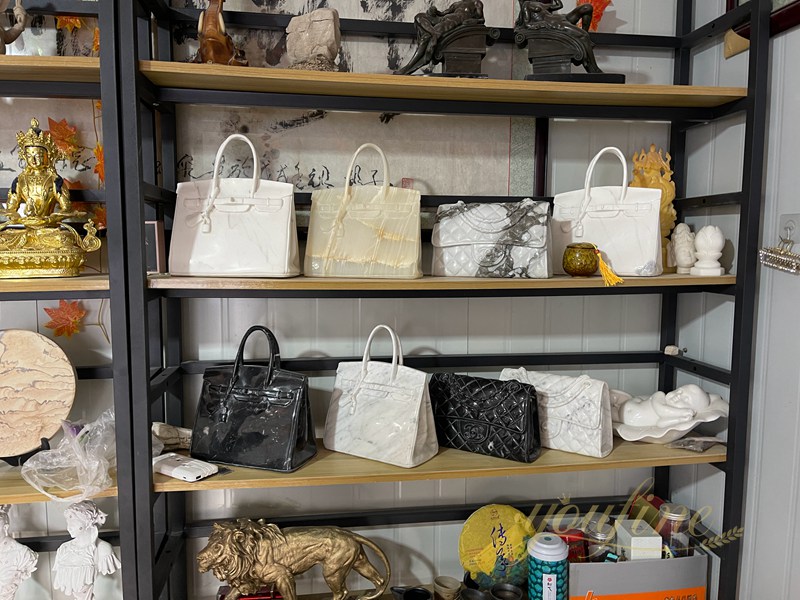 Indulge in the beauty and sophistication of our marble handbag sculptures, where artistry meets functionality and luxury meets timelessness. Explore the world of YouFine Sculpture Manufacturing Factory and experience the magic that unfolds when marble is transformed into wearable art.
Marble Bag stands at the intersection of art and fashion, embodying timeless beauty, impeccable craftsmanship, and the allure of luxury. As fashion evolves and artistic boundaries are pushed, marble bags continue to captivate with their intricate designs and enduring appeal. By embracing the artistry of marble handbag sculptures, we invite you to revel in the extraordinary beauty that emerges when fashion and art unite in perfect harmony.
FAQs about Marble Bag Sculptures:
Are marble bags practical for everyday use?
Marble bags are primarily designed as artistic and collectible pieces rather than practical accessories for everyday use. Due to the delicate nature of marble, they are more suited for display purposes or special occasions rather than carrying everyday essentials.
Could marble bags be customized?
Yes, marble bags could be customized to a certain extent. Skilled artisans could create bespoke designs based on the preferences and specifications of individual clients. This allows for personalized variations in color, pattern, and overall design, resulting in a unique and one-of-a-kind marble bag sculpture.
Could marble bags be used for interior decoration?
Yes, marble bags could be used as unique and eye-catching elements in interior decoration. Their elegant and timeless beauty could complement various decor styles, from minimalist to luxurious. Placing a marble bag strategically in a room could add a touch of sophistication and become a conversation piece, enhancing the overall aesthetic.
How do I care for a marble bag sculpture?
To care for a marble bag sculpture, it is essential to handle it gently and avoid dropping or knocking it against hard surfaces. Regularly dusting the bag with a soft cloth is recommended. Avoid using harsh chemicals or abrasive materials that could damage the marble's surface. Additionally, it is best to store the bag in a safe and secure place when not on display.
Are marble bag sculptures considered collectible items?
Yes, marble bag sculptures are often regarded as collectible items due to their artistic value, limited availability, and enduring appeal. Owning a marble bag sculpture allows one to appreciate its inherent beauty and artistic expression while also investing in a unique piece of art that could potentially increase in value over time.
Are marble bags heavy to carry?
Marble bags tend to be heavier compared to traditional handbags made from lightweight materials. The weight of a marble bag depends on the size, thickness, and type of marble used. It is important to consider the weight of the bag when deciding to carry it for longer periods.
Could marble bag sculptures be repaired if damaged?
In the event of damage to a marble bag sculpture, repairs may be possible depending on the extent and nature of the damage. It is recommended to consult an experienced artisan or restorer specializing in marble to assess and determine the feasibility of repairs.
Are there different types of marble used for bag sculptures?
Yes, various types of marble could be used for bag sculptures, each with its unique characteristics and appearance. Some popular types include Carrara marble, Calacatta marble, Nero Marquina marble, and Statuario marble. The choice of marble could significantly impact the overall aesthetic and design of the bag sculpture.
Could marble bags be considered sustainable or eco-friendly?
Marble itself is a natural material, but the process of extracting and processing it has environmental impacts. However, marble bags could be considered more sustainable than mass-produced synthetic bags if they are handcrafted by artisans using locally sourced marble. Opting for ethically sourced materials and supporting artisans who prioritize sustainable practices could contribute to a more eco-friendly approach.
Could marble bag sculptures be passed down as heirlooms?
Yes, marble bag sculptures have the potential to become cherished heirlooms. Due to their enduring beauty and artistic value, they could be passed down through generations as unique and valuable pieces of art, adding to their collectible and sentimental significance.
Are there any cultural or historical influences on marble bag sculptures?
Marble has been an integral part of art and architecture for centuries, and its use in bag sculptures reflects its cultural and historical significance. The craftsmanship and design of marble bag sculptures may draw inspiration from various artistic movements, historical periods, or cultural influences, showcasing a fusion of tradition and contemporary fashion.
Could I commission a custom marble bag sculpture?
Yes, many artisans and manufacturers offer the option to commission custom marble bag sculptures. This allows individuals to collaborate with the artist or designer to create a one-of-a-kind piece tailored to their preferences and specifications. Custom commissions offer a unique opportunity to own a truly personalized marble bag sculpture.
Are marble bag sculptures suitable as gifts?
Marble bag sculptures could make exceptional gifts for art enthusiasts, collectors, or individuals with a penchant for unique and luxurious items. They are thoughtful and distinctive presents that showcase a combination of artistic expression, craftsmanship, and beauty, making them memorable and cherished gifts for special occasions.
Last Article
:
Natural Marble Large Outdoor Gazebo for Garden MOK1-179
Next Article: