4 Steps to Selecting High-Quality Marble Benches
Updated 07/25/2023 11:35 AM By Alice
Marble benches have become a popular choice for outdoor landscapes due to their timeless elegance and durability. Whether you want to enhance the beauty of your garden, courtyard, or any other outdoor space, marble benches can serve as stunning focal points. In this blog, we will explore various aspects of marble benches, address common questions, and provide valuable insights to help you make informed decisions when purchasing a marble bench.
The Importance of Marble Benches in Outdoor Landscapes
Marble benches play a crucial role in outdoor garden and landscape designs. They not only provide practical seating options but also add aesthetics and sophistication to the overall ambiance. Well-placed marble benches can become focal points, capturing people's attention towards specific areas of the outdoor space and inviting them to relax and enjoy the surroundings. For example, you can place a marble bench under a tree to create a serene and shaded resting area, or position one near a flower bed for visitors to admire vibrant colors and fragrances. The functionality and visual appeal of marble benches make them an integral part of any outdoor landscape design.
In addition to visual impact, marble benches also offer practical utility. They provide comfortable seating solutions for individuals and groups, making them ideal for social gatherings or simply enjoying solitary moments in nature. The cool surface of marble can alleviate hot summer days, and its durability ensures that the bench can withstand the test of time and weather conditions.
So, how do we go about choosing high-quality marble benches?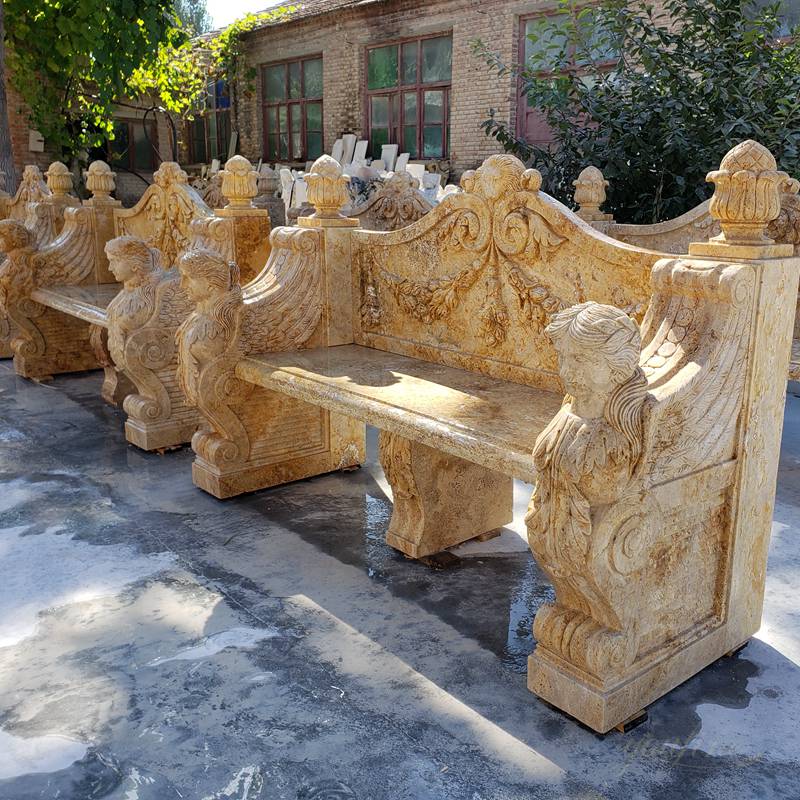 Check Out: yellow marble bench
Step 1: Understanding the Ideal Thickness of Marble Benches
Several factors should be considered when determining the appropriate thickness of a marble bench. The intended use and placement of the bench play a significant role in determining its thickness. For instance, if the bench will be placed in a high-traffic area or subject to frequent use, it is advisable to choose thicker slabs to enhance its durability. On average, a thickness of 1.5 to 2 inches (3.8 to 5 centimeters) suits most applications, striking a balance between functionality and aesthetics. However, some suppliers may offer benches with increased thickness of around 3 inches (7 centimeters) and may even incorporate beautiful carvings on the bench to showcase artistry.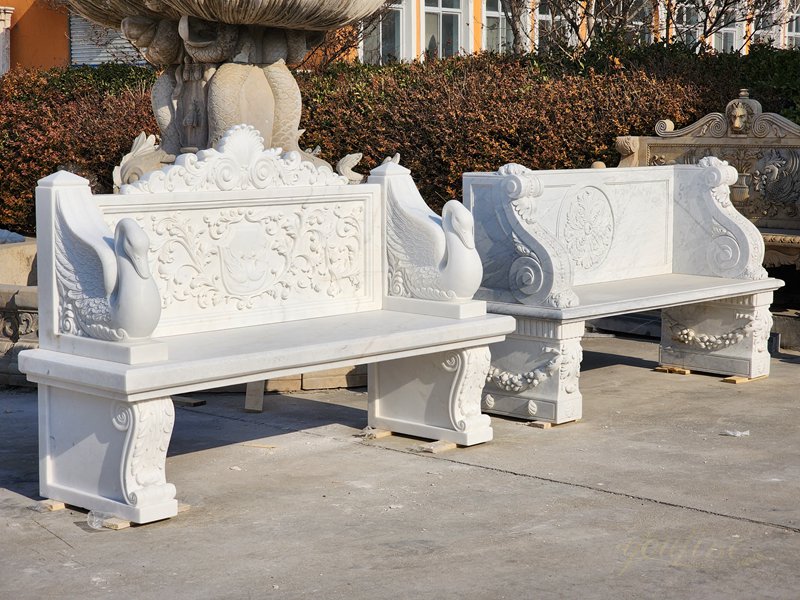 Check Out: Hand Carved Outdoor White Marble Garden Bench
Step 2: Familiarizing Yourself with the Common Heights of Marble Benches
The height of marble benches is an important consideration to ensure maximum comfort and usability. The standard bench height varies depending on its intended use and location. Generally, outdoor benches have a height of 18 to 20 inches (45 to 50 centimeters), providing a comfortable sitting posture for most people. On the other hand, indoor benches, such as those used in entryways or dining areas, typically have a height of around 16 to 18 inches (40 to 45 centimeters), aligning with standard seat heights.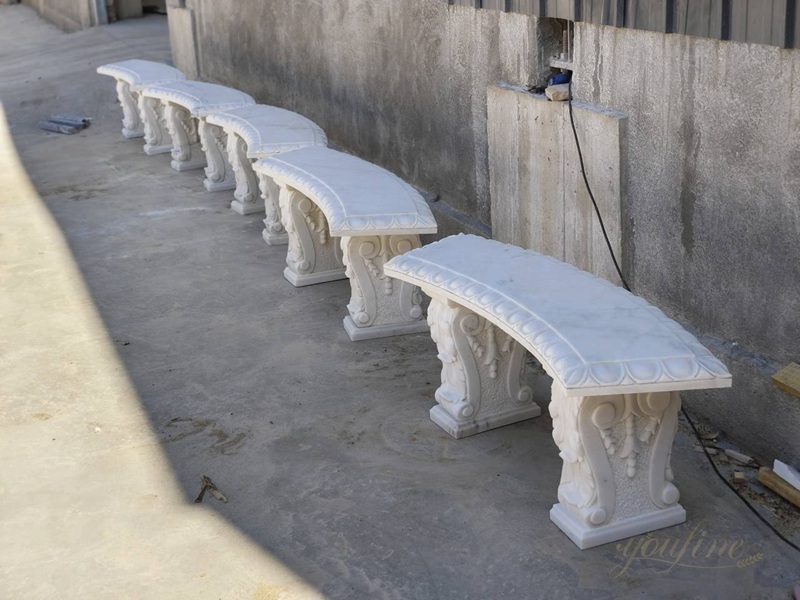 Check Out: Gorgeous Outdoor Marble Side Table
Step 3: Identifying Whether a Marble Bench Is Made from Genuine Natural Marble
Visual Appearance: Examine the bench closely to assess its visual characteristics. Genuine marble will exhibit unique patterns, veining, and color variations that are inherent to the natural stone. Look for a consistent and harmonious distribution of these features across the bench's surface. Be cautious if the patterns appear too uniform or artificial, as this may indicate the use of synthetic materials.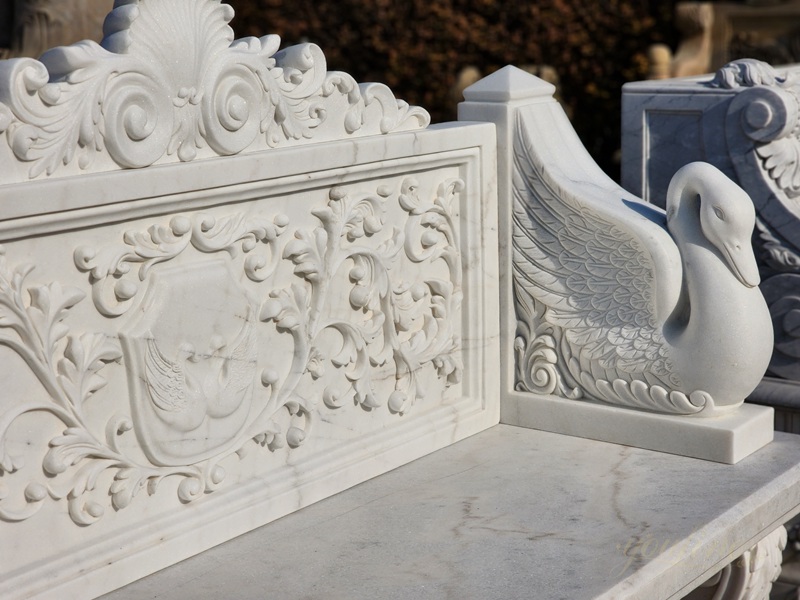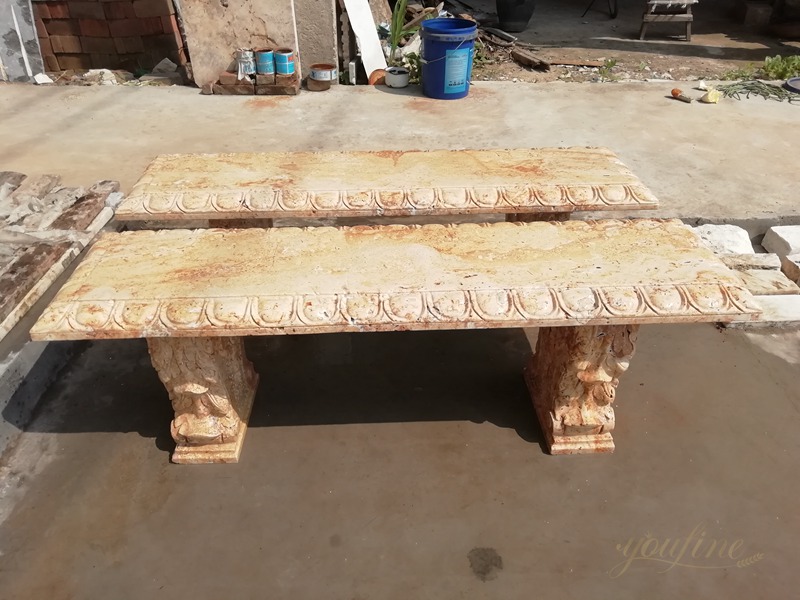 Texture and Finish: Run your hand over the surface of the bench to feel its texture. High-quality marble will have a smooth and polished finish. Check for any rough patches, unevenness, or irregularities that could indicate poor craftsmanship or the presence of lower-grade materials.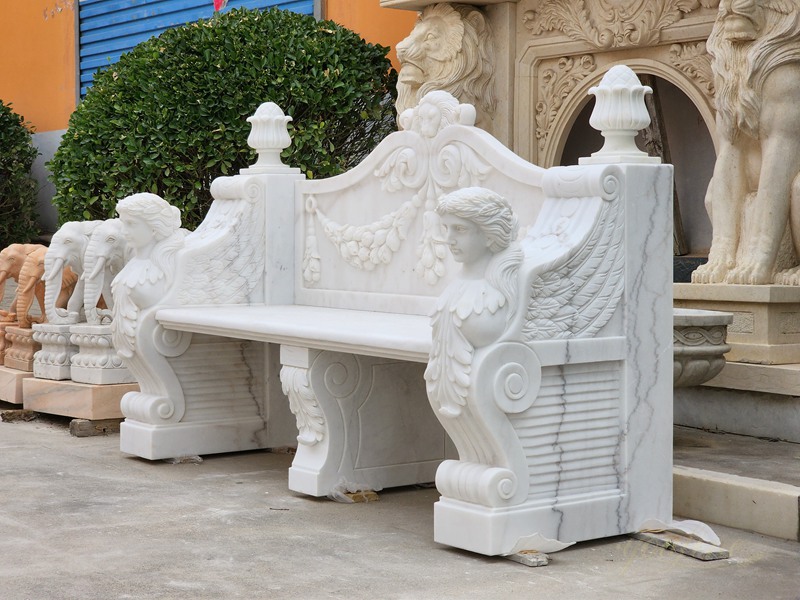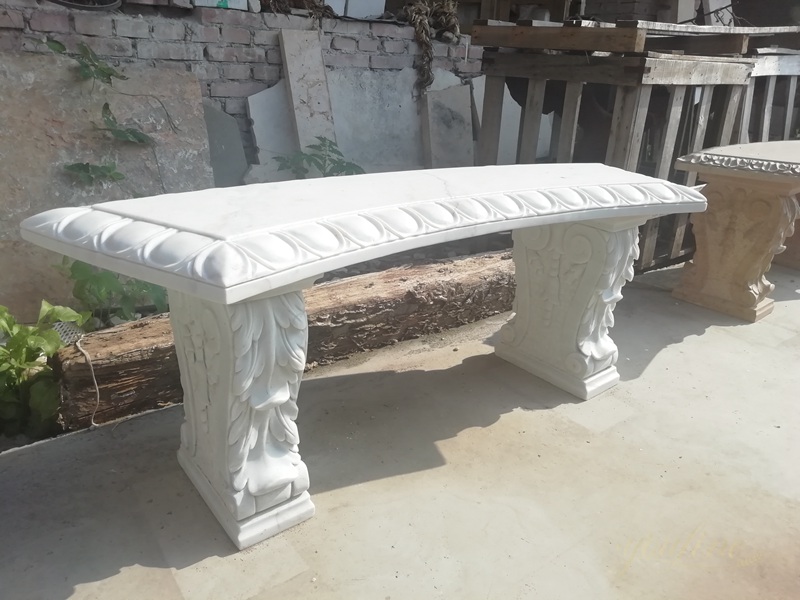 Weight and Density: Marble is a dense and heavy material. Lift the bench or apply pressure to assess its weight and solidity. A genuine marble bench should feel substantial and sturdy. If the bench feels unusually light or lacks the expected density, it may indicate the use of alternative materials or a lower quality marble composite.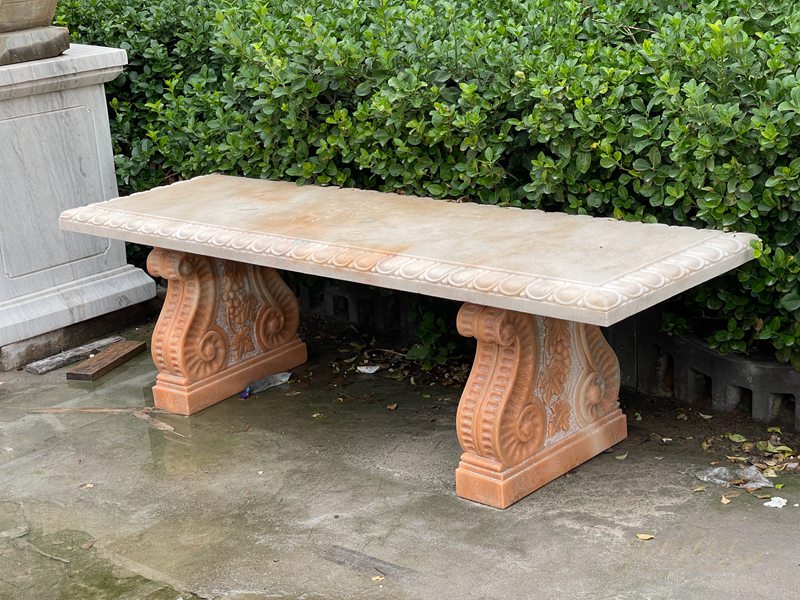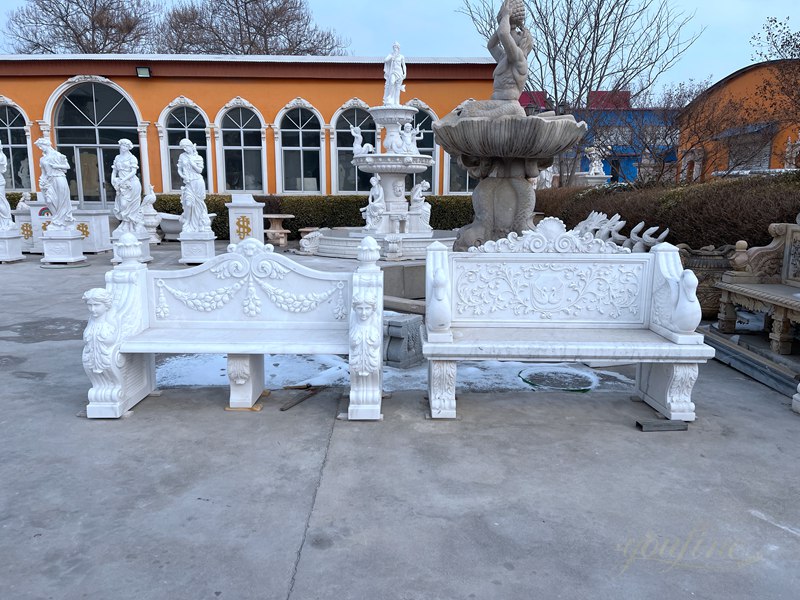 Step 4: Exploring Channels to Find Cost-Effective Marble Benches
While marble benches can be expensive, there are various ways to find affordable options without compromising on quality. Here are some specific examples that can help you in your search:
Online Marketplaces: Explore online marketplaces dedicated to furniture and home decor. These platforms typically offer marble benches at different price points. Compare prices, read customer reviews, and look for sellers offering competitive deals. You could also choose marble artwork manufacturer who specialize in carving artworks and have ample marble resources, as they can provide customized designs for your marble bench.
Direct Sales from Manufacturers or Clearance Sales: Keep an eye out for direct sales or clearance events by reputable marble bench manufacturers. These activities often offer discounted prices for excess inventory or discontinued models, providing an opportunity to find high-quality benches at more affordable prices.
By following these steps and conducting thorough research, you can find high-quality marble benches that fit your budget and meet your expectations.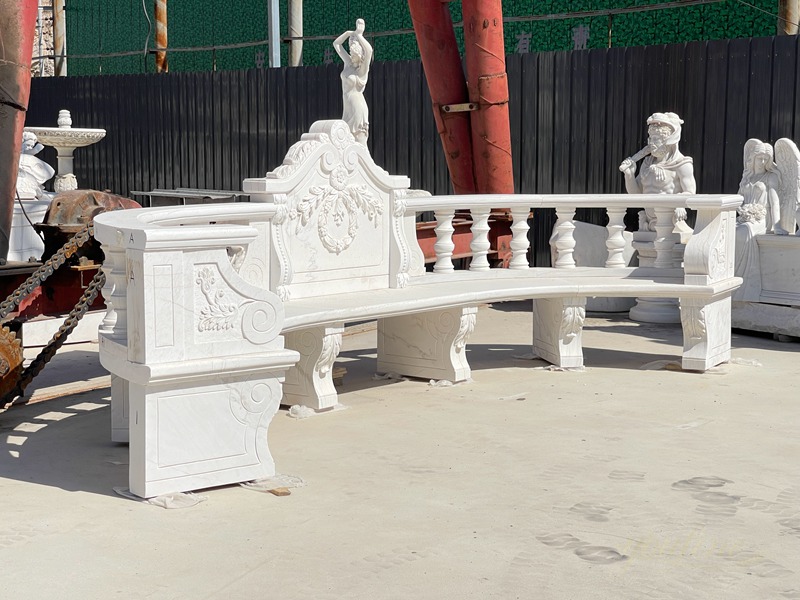 Is Marble Difficult to Maintain?
While marble is a stunning natural stone, it does require proper care and maintenance to preserve its beauty. However, with the right practices, maintaining a marble bench can be relatively simple. Here are some tips to help keep your marble bench in optimal condition:
Regular Cleaning: Wipe the bench's surface with a soft, damp cloth to remove dust and debris. Avoid using abrasive cleansers or harsh chemicals as they can damage the marble.
Preventing Stains: Marble is porous and can absorb liquids, potentially leading to stains. To prevent this, promptly clean up any spills or stains using a gentle, pH-neutral cleaner designed for marble.
Sealing: Applying a high-quality sealer to the surface of the marble can help protect it from stains and enhance its moisture resistance. It is recommended to reseal the bench periodically according to the manufacturer's guidelines.
Avoid Direct Sunlight: Prolonged exposure to direct sunlight can cause the color of marble to fade over time. If possible, place the marble bench in a shaded area to maintain its vibrancy.
By following these maintenance practices, you could enjoy the beauty of your marble bench for years to come.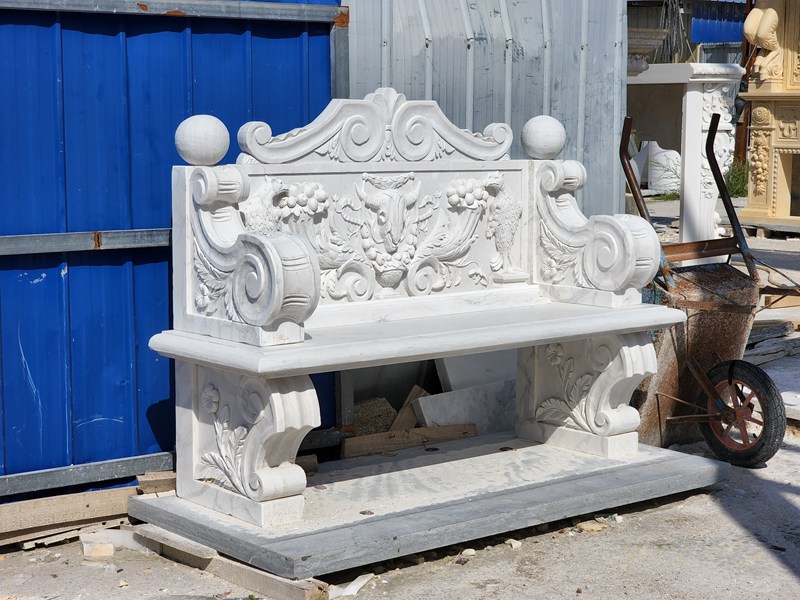 Marble benches bring elegance and sophistication to outdoor landscapes. Their versatility, durability, and aesthetics make them an excellent choice for anyone looking to enhance their outdoor space. By understanding the importance of bench thickness, height, maintenance, and cost factors, you can make informed decisions when selecting a marble bench. Remember to choose the appropriate thickness and height based on your specific needs and follow proper maintenance practices to preserve its beauty. A carefully chosen marble bench can create a captivating outdoor environment where you can relax and appreciate the beauty of nature.
Last Article
:
Balcony Beige Marble Balustrade Railing Factory Sale
Next Article: