4 Tips to Choose the Perfect Saint Michael the Archangel Statue for Your Space
Updated 10/16/2023 4:32 PM By Alice
Selecting the ideal Saint Michael the Archangel statue is a meaningful endeavor, as this revered figure is a symbol of protection, courage, and divine intervention. Whether for spiritual inspiration or decorative purposes, choosing the right statue involves considerations of material, symbolism, available space, budget, and the reliability of the supplier. In this guide, we will explore these key factors to help you make an informed decision when selecting a statue that aligns with your style and preferences.
1.Material: The Foundation of Meaning
The choice of material for your Saint Michael statue is a decision of great significance, as it profoundly influences both the aesthetics and the symbolism of the sculpture. Each material offers a unique character and meaning, allowing you to tailor the statue to your specific preferences and the ambiance of your space.
Timeless Elegance with Marble
Classic and enduring, marble is a material that exudes timeless elegance. Saint Michael statues crafted from marble carry an air of tradition and reverence. The veined texture of marble lends a sense of nobility to the sculpture, making it a perfect choice for those seeking a portrayal of the archangel that embodies a profound sense of history and classical beauty.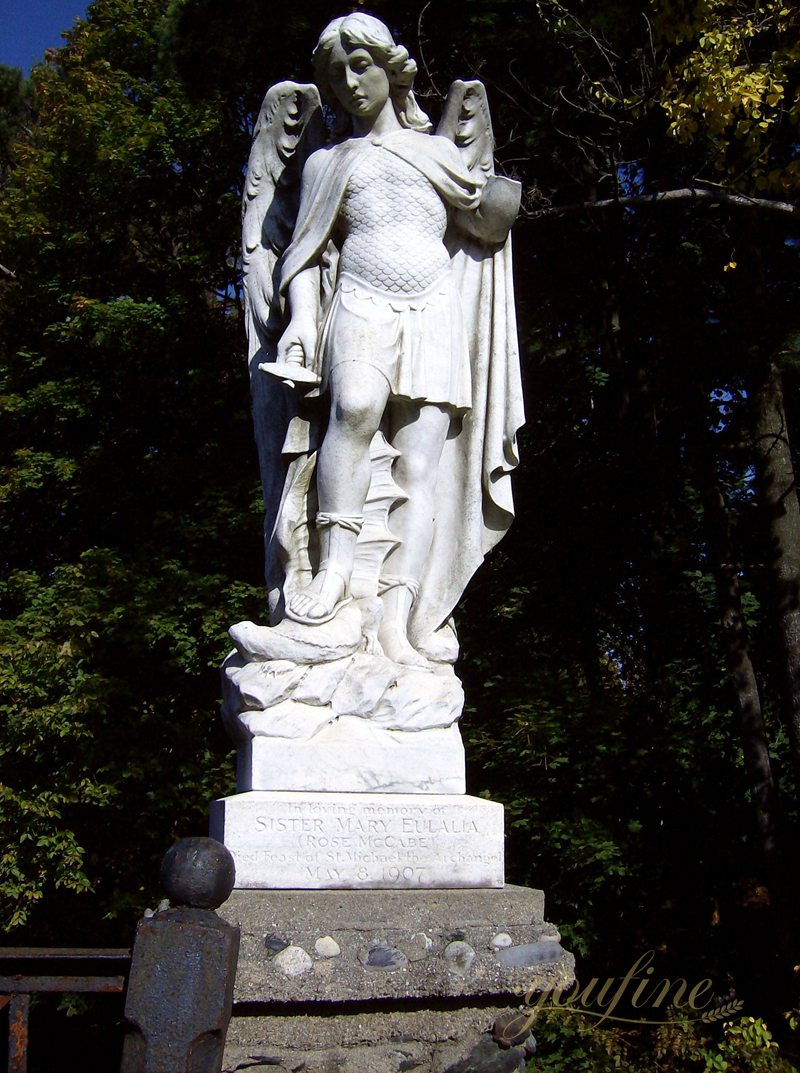 Antique Charm with Bronze
Bronze, with its warm and inviting patina, imparts an antique charm to Saint Michael statues. This material choice adds character and a sense of the past to the sculpture. The natural aging process of copper ensures that your statue will evolve and gain character over time, making it a remarkable choice for those who appreciate the beauty of history.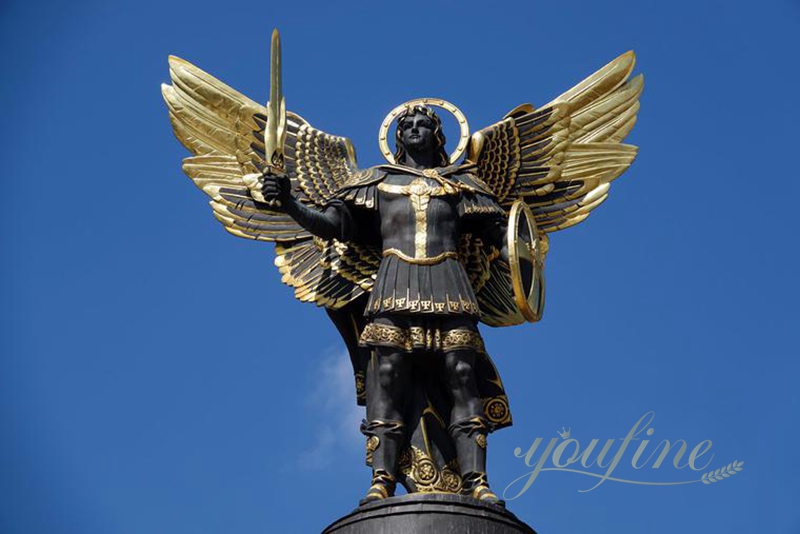 Versatility and Durability with Fiberglass
Fiberglass offers a unique combination of versatility and durability. Saint Michael statues crafted from fiberglass can take on various finishes and are resistant to the elements, making them suitable for both indoor and outdoor settings. This material choice allows for a wide range of artistic interpretations and can be customized to meet your specific design preferences.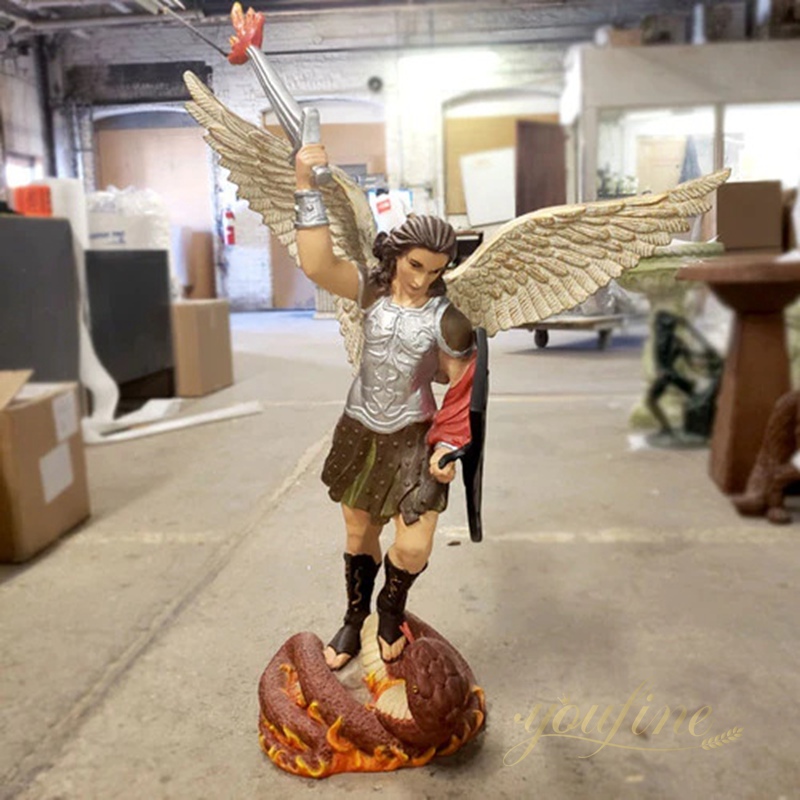 Selecting the right material is not only about aesthetics but also about the symbolism and character you want your Saint Michael statue to exude. Whether you prefer the timeless elegance of marble, the antique charm of copper, or the contemporary flair of stainless steel, the material should align with your style and the ambiance of your space.
2.Symbolism: Selecting the Right Pose
When choosing a Saint Michael the Archangel statue, the pose is a critical aspect that defines the symbolism and message it conveys. Each pose offers a unique representation of the archangel's attributes and purpose, allowing you to select the one that best aligns with your personal connection or the intended meaning for your space.
Wings Outstretched, Defeating Evil
An Archangel with outstretched wings, standing with a sword poised against Satan, is a powerful and iconic pose. This depiction symbolizes Saint Michael's role as a protector and a triumphant force against evil. It represents courage, strength, and the ability to overcome adversity. Choosing this pose communicates a clear message of divine protection and the ultimate triumph of good over evil.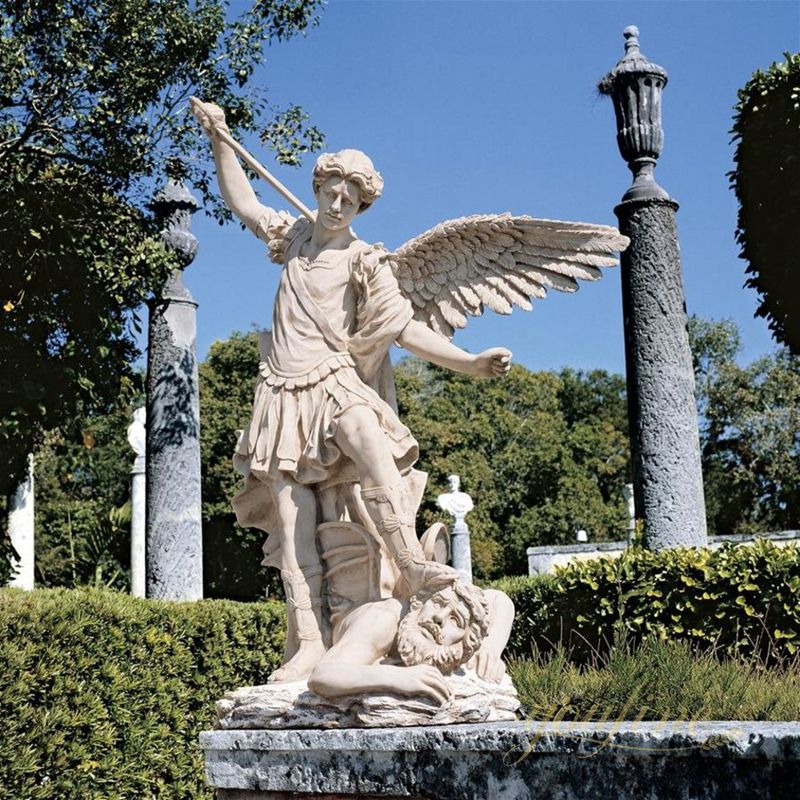 Wings Folded, Ready for Battle
Another popular pose features Saint Michael with his wings folded and a shield and sword in hand. This pose emphasizes his readiness for battle and his role as a defender against malevolent forces. It conveys a sense of vigilant protection and unwavering courage. If your intent is to depict Saint Michael as a guardian and a symbol of unwavering faith, this pose is an excellent choice.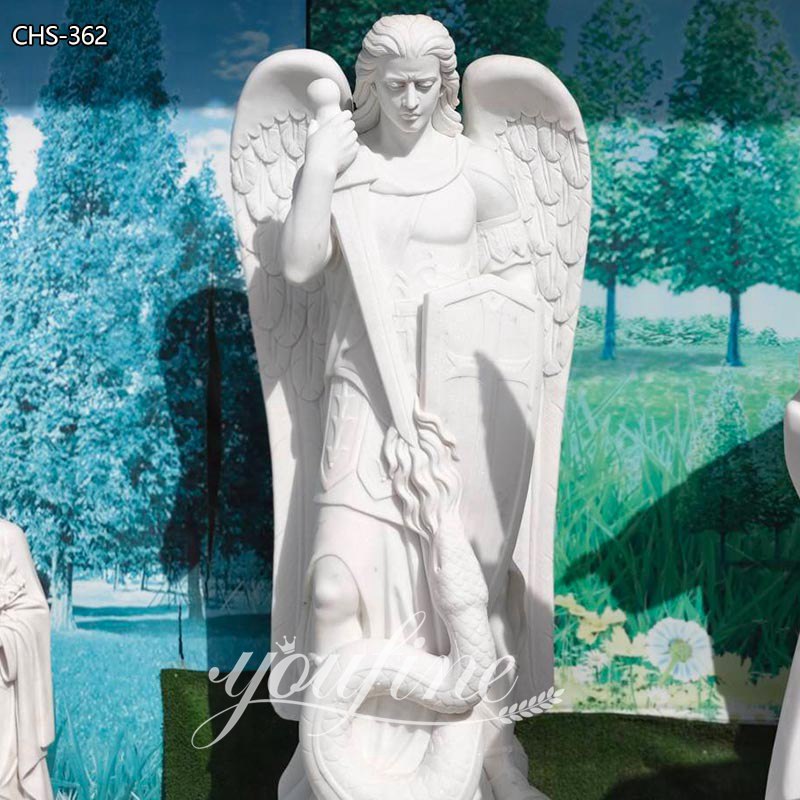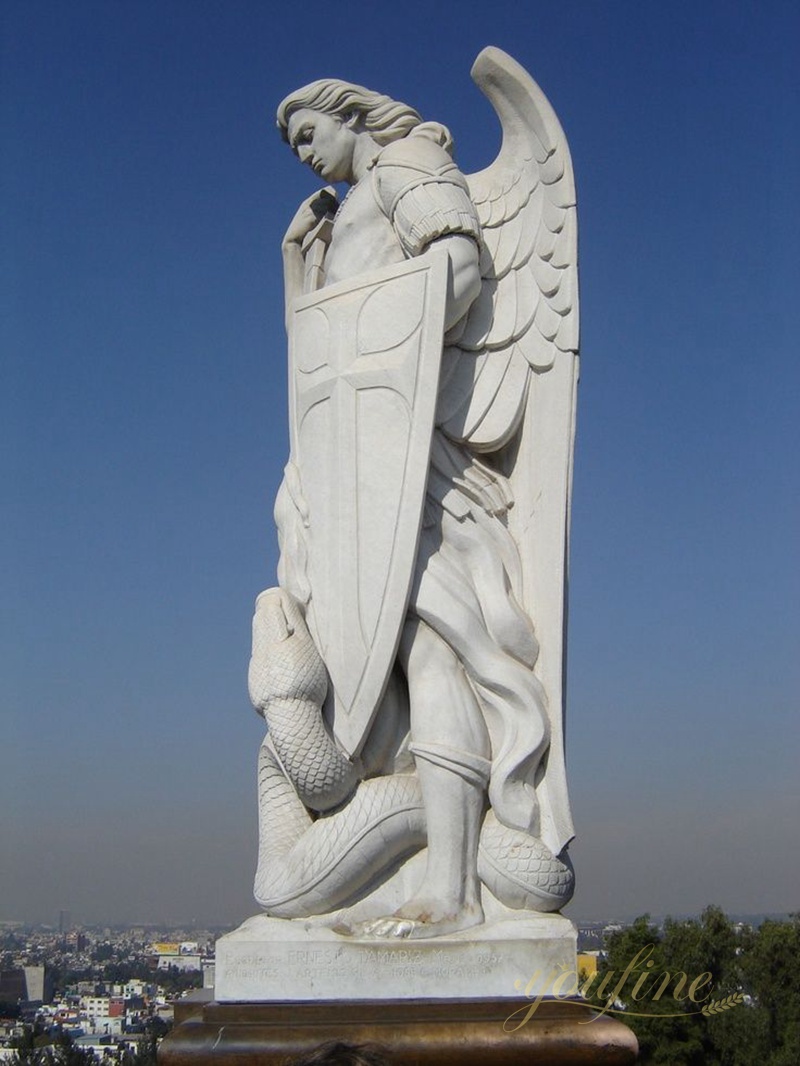 Standing Tall with Sword and Shield
In this pose, Saint Michael stands tall with a sword in one hand and a shield in the other. This representation underscores his role as a warrior and protector of the faithful. The presence of both the sword and shield symbolizes the archangel's dual roles: to defend and to vanquish evil. It is an ideal choice for those seeking a balanced representation of Saint Michael's attributes.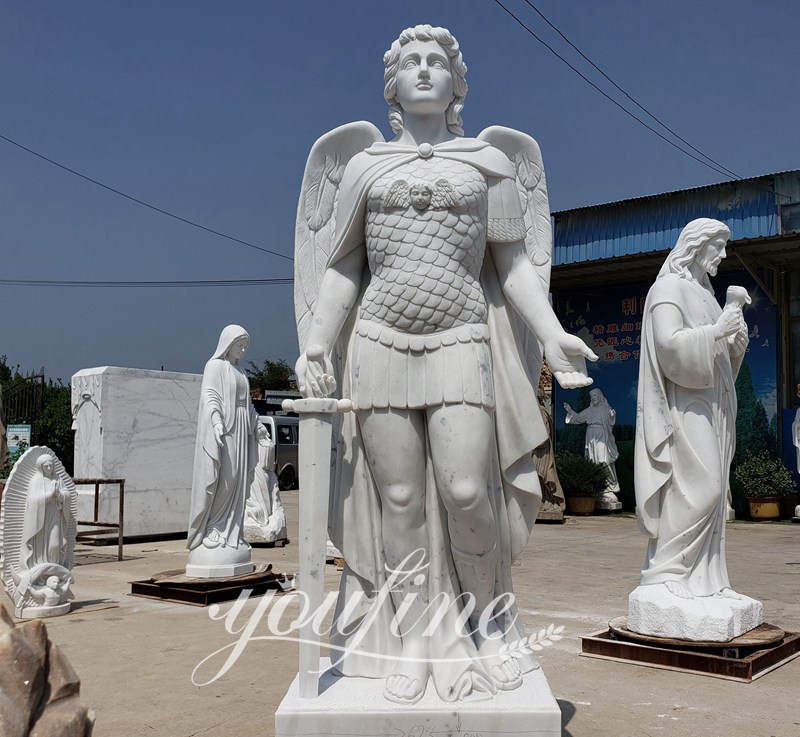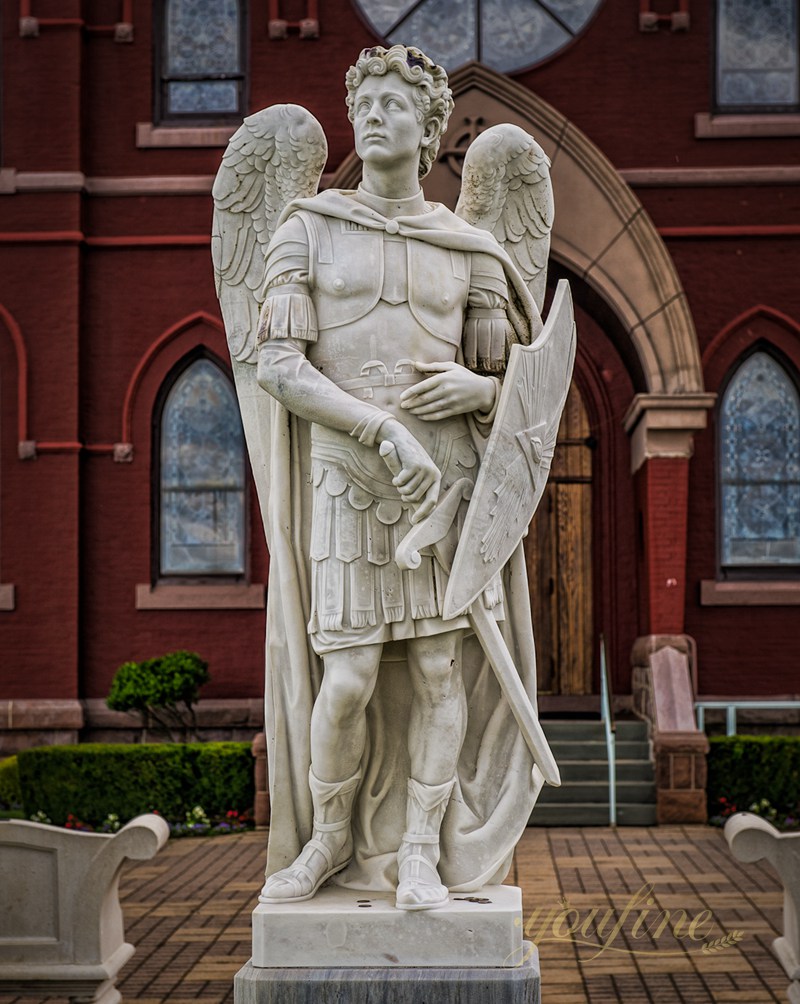 A Celestial Warrior on a Chariot
For a more dramatic and symbolic portrayal, some statues depict Saint Michael on a chariot, evoking the image of a celestial warrior. This pose emphasizes his celestial and transcendent nature. It conveys the archangel's role as a divine and formidable force, ready to combat darkness and lead the forces of good. If you wish to emphasize Saint Michael's heavenly and authoritative character, this pose is an excellent option.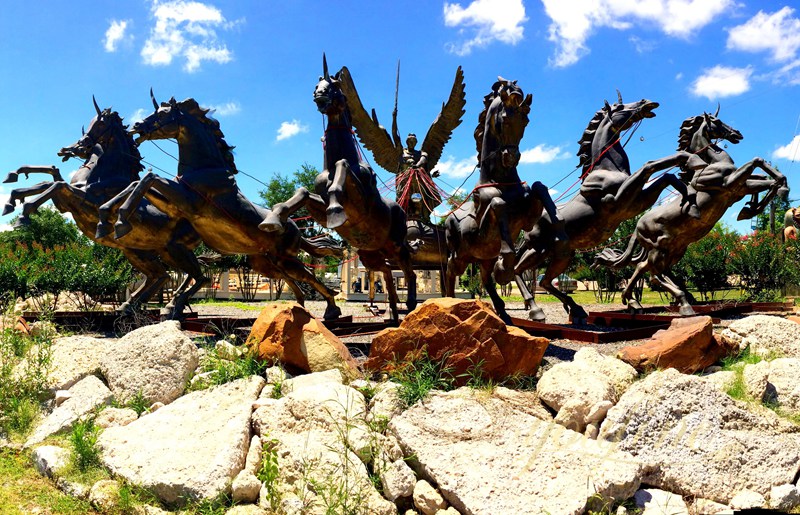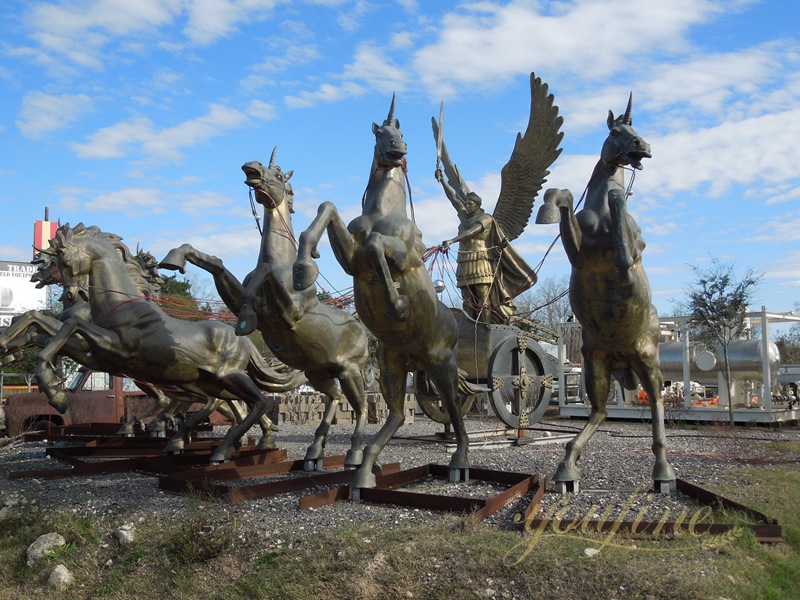 The symbolism of the statue's pose should align with the message you wish to convey and the spiritual or decorative purpose of your space. Carefully consider the attributes and symbolism associated with each pose to select the one that resonates with your intentions.
3.Reserved Space: Finding the Perfect Fit
Choosing the right St. Michael statue requires more than just size to be considered. Material selection is equally important, and certain materials are more suitable for specific settings. When choosing a statue for different spaces, size and materials must be considered to ensure optimal fit and durability.
Small statues for indoor spaces
In indoor settings where space is limited, a smaller statue of St. Michael is a suitable choice. In indoor settings, where space may be limited, consider smaller Saint Michael statues. These compact sculptures can be placed on mantels, shelves, or as part of a tabletop display. Their smaller size allows for a subtle and intimate connection with the archangel's symbolism. These statues are ideal for personal shrines, offices, or living rooms, where their presence adds a touch of spirituality without overwhelming the space. You have a variety of options for these indoor locations. Both marble and bronze are great options for adding elegance and grandeur to your interior spaces. These materials are known for their timeless appeal and artistic details. Additionally, fiberglass is a practical choice for indoor use due to its lightweight properties and ability to withstand indoor conditions.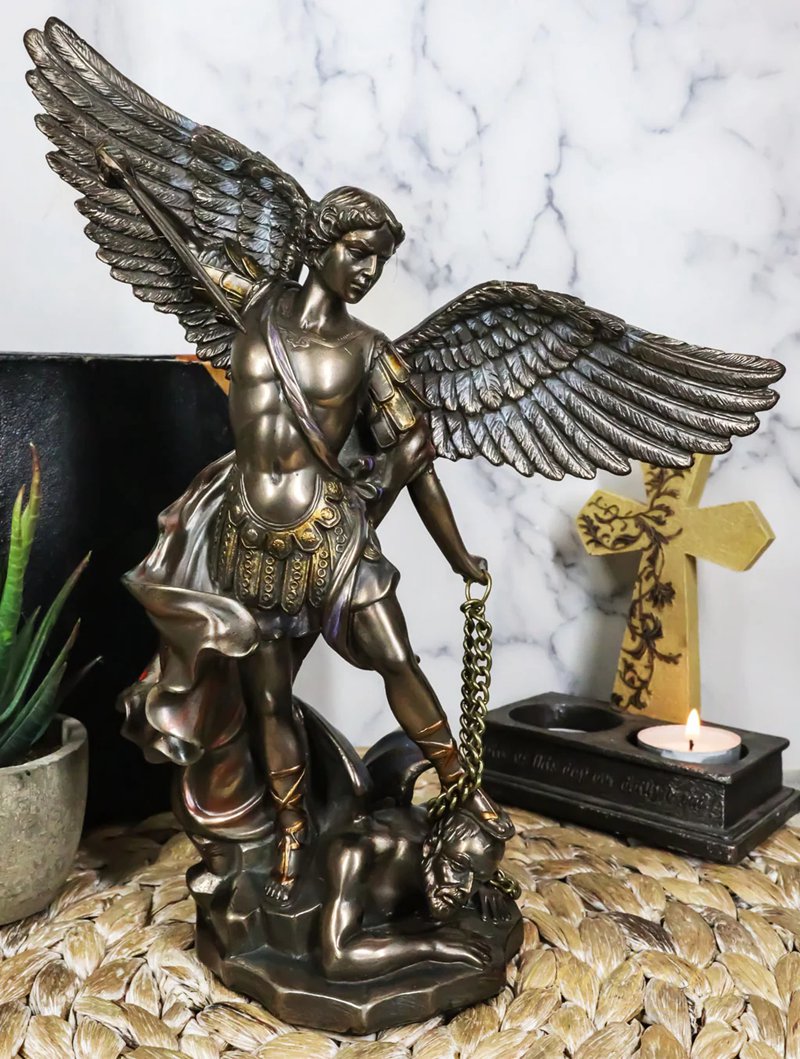 Indoor life-size statues
For larger indoor spaces where you want to create a grand and awe-inspiring atmosphere, a life-size statue of St. Michael is an excellent choice. For a more grand and impactful presence in indoor settings, opt for life-size Saint Michael statues. Life-size sculptures offer a striking representation of the archangel and serve as a powerful focal point. These statues are well-suited for churches, cathedrals, or larger indoor spaces where their size can create a profound and awe-inspiring ambiance. Marble exudes timeless elegance while bronze adds antique charm, both are perfect choices for interior grandeur. If the budget is low indoors, fiberglass is also a good choice, but it cannot be passed down forever like bronze and marble. This is where materials like marble and bronze really shine.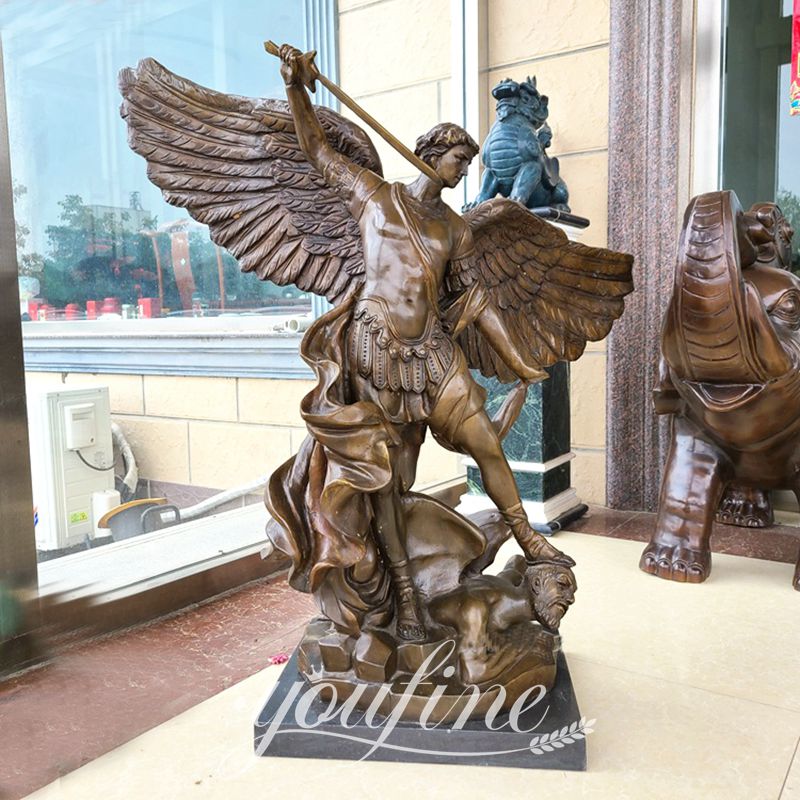 Outdoor statues for gardens and courtyards
When adorning your garden, courtyard, or outdoor spaces, opt for Saint Michael statues that are specifically designed for outdoor use. These statues are often more robust and resistant to the elements. Their dimensions can vary, allowing you to choose a size that suits your garden's layout. Whether you prefer a smaller statue nestled among the plants or a larger one as a prominent garden centerpiece, outdoor statues bring an air of divine protection to your open-air environments.
Materials that can withstand outdoor conditions generally include marble and bronze. They are relatively durable materials and can even last you and your family for more than a hundred years with occasional maintenance.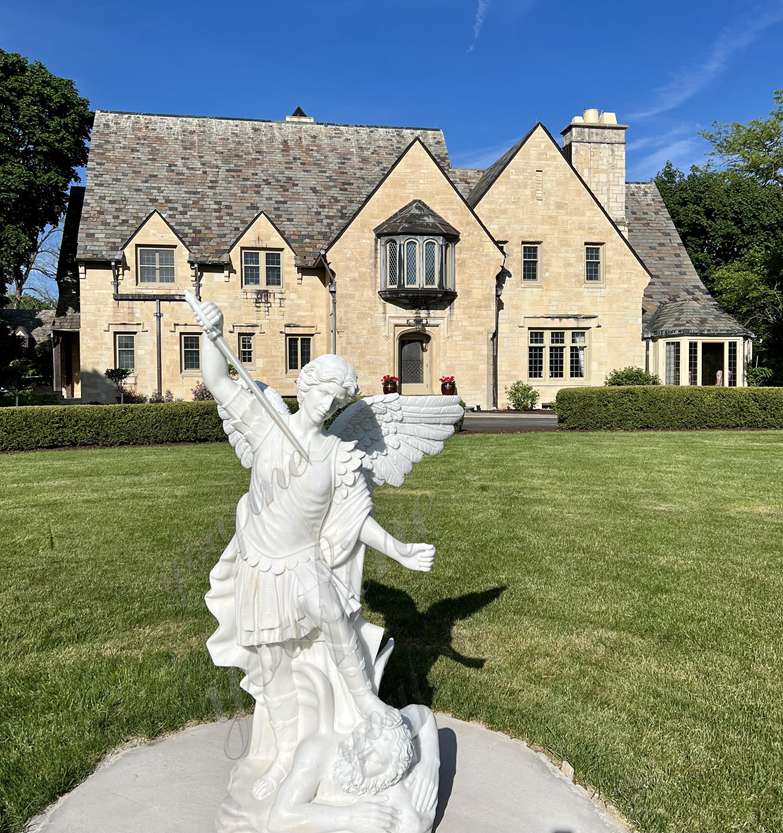 Large statues in public spaces
For larger public spaces, such as churches, plazas, or public parks, consider grandiose Saint Michael statues. These statues, often monumental in size, serve as powerful symbols of faith and protection. Their commanding presence makes them suitable as focal points in prominent locations, and they can be customized to align with the scale of the surroundings.
When considering materials, choose ones that can withstand the elements outdoors. Bronze and marble can be used with appropriate protective coatings.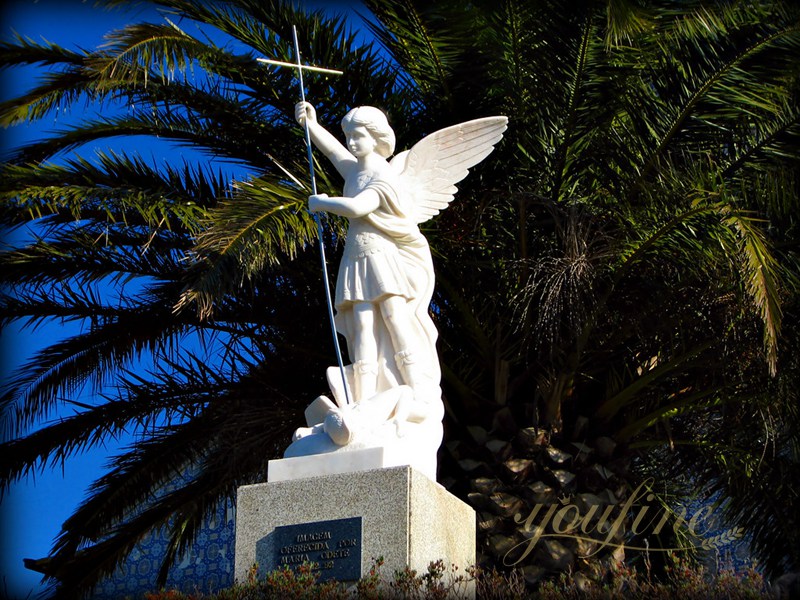 The key is to ensure that the materials fit the space requirements, and provide durability and aesthetics. Whether you choose a small indoor, life-size indoor, outdoor, or larger public space statue, careful consideration of size and materials will help you find the one that best suits your intended environment.
4.Budget: Balancing Design and Cost
When it comes to choosing a Saint Michael statue, budget considerations are a crucial factor. The design, material, and size of the statue will all influence its cost. Here's how to balance design and cost while making your selection:
Define Your Budget
To make an informed decision, start by defining your budget early in the selection process. Clearly outline the amount you are willing to invest in your Saint Michael statue. This step is essential as it will help you narrow down your choices and ensure that you stay within your financial plan.
Explore Options That Match Your Budget
With your budget in mind, explore the available options. Different materials, designs, and sizes come with varying price points. It's important to note that higher-quality materials and more intricate designs can lead to a higher initial cost. However, these investments often pay off in the long run with a longer-lasting and more authentic statue.
Prioritize Quality
While cost is a crucial factor, it's equally important to prioritize quality. A well-crafted Saint Michael statue not only looks more impressive but also ensures longevity. Investing in quality means that your statue will remain a cherished piece for years to come. Sacrificing quality for a lower cost may result in a less durable and less authentic representation.
In summary, budget considerations are an integral part of your decision-making process. By defining your budget, exploring options within that range, and prioritizing quality, you can find a Saint Michael statue that strikes the perfect balance between design and cost. Remember that quality should always be a priority, as it ensures the longevity and authenticity of your chosen statue.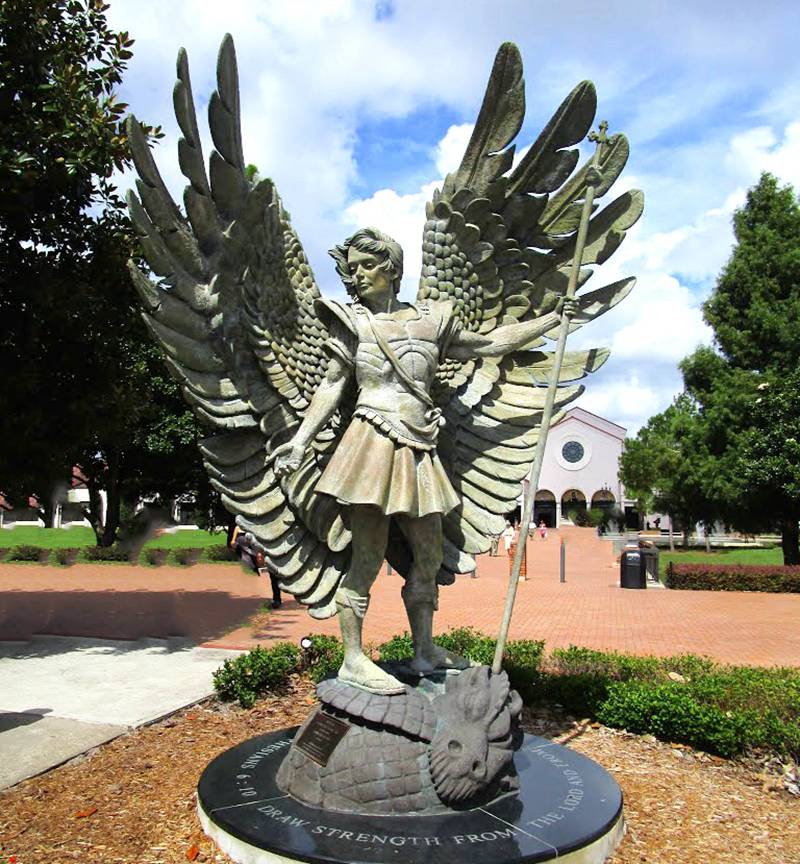 Quality Supplier YouFine — Trusting the Craftsmanship
Choosing a reputable supplier is of paramount importance when acquiring a Saint Michael statue. It's the supplier's craftsmanship and expertise that can truly bring the archangel to life. Here's why selecting the right supplier matters:
A Legacy of Craftsmanship
Established in 1983, YouFine stands as a sculpture production factory with a rich legacy of craftsmanship. Our long-standing experience is a testament to our dedication to the art of sculpture. Over the years, we have honed our skills and techniques, becoming a trusted name in the industry.
Variety of Materials and Professionalism
YouFine offers a wide range of materials to choose from, including marble, copper, stainless steel, and more. This diversity of materials allows us to cater to diverse preferences and styles, ensuring that you can select the material that best suits your vision.
Craftsmanship and Authenticity
Our professional team of artisans and craftsmen brings Saint Michael to life with intricate details and lifelike representations. We understand the importance of authenticity in religious statues and take pride in our ability to craft pieces that resonate with your beliefs and emotions.
Meeting Your Expectations
A trusted supplier ensures that your chosen statue meets your expectations in terms of craftsmanship, authenticity, and quality. YouFine is dedicated to delivering not only a sculpture but also an embodiment of faith and artistry that will stand the test of time.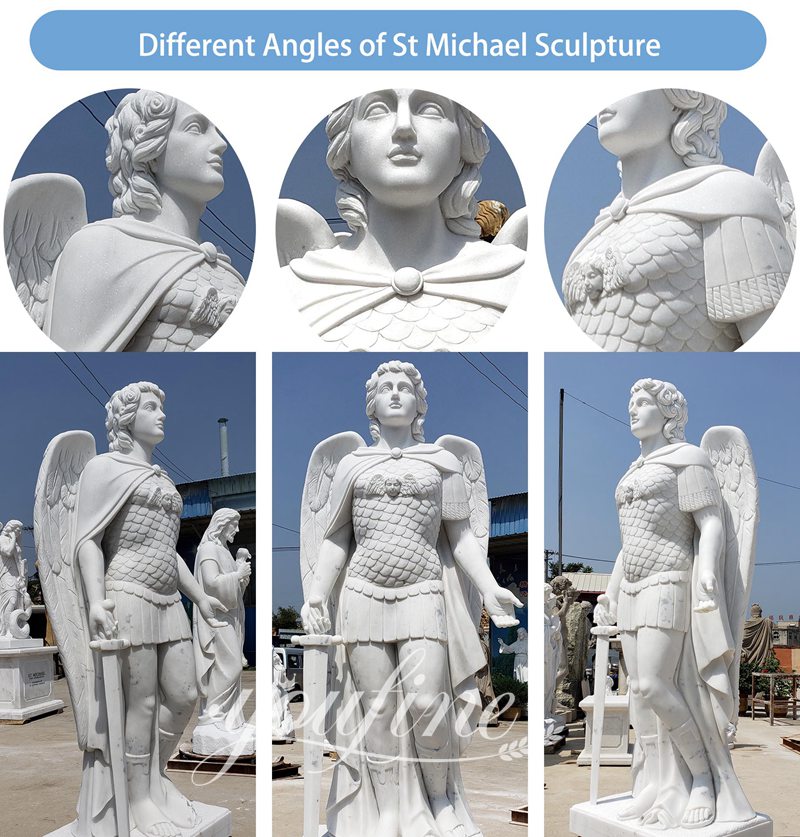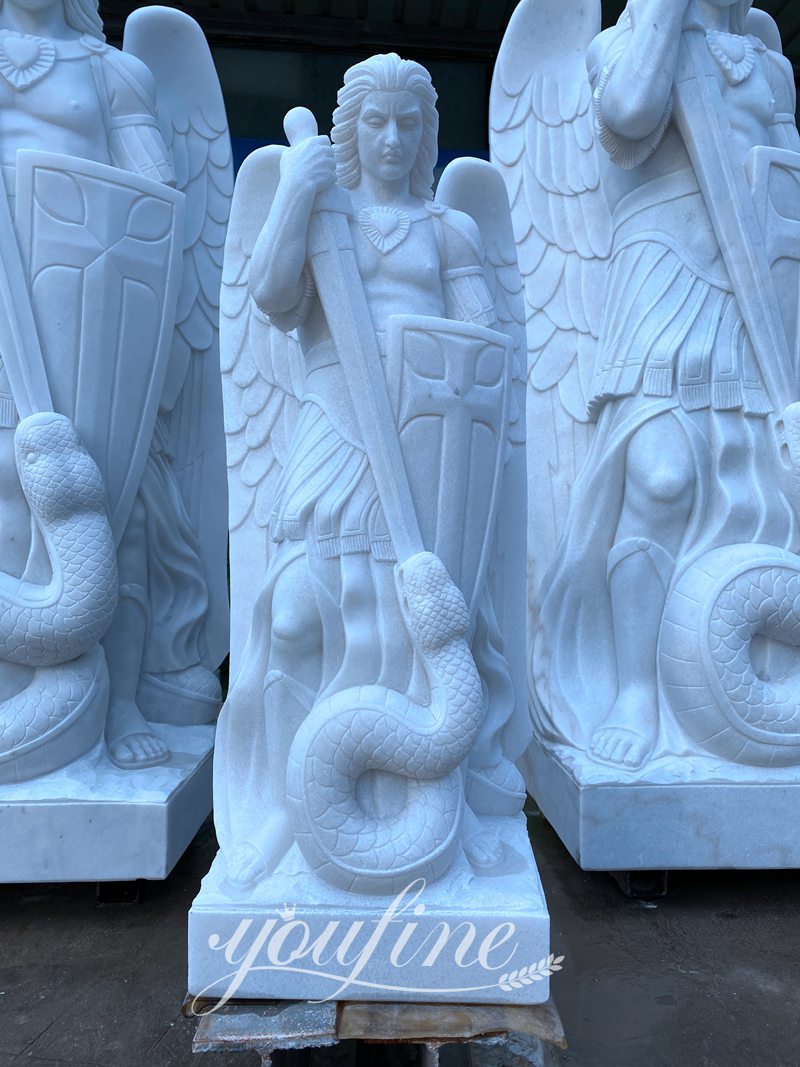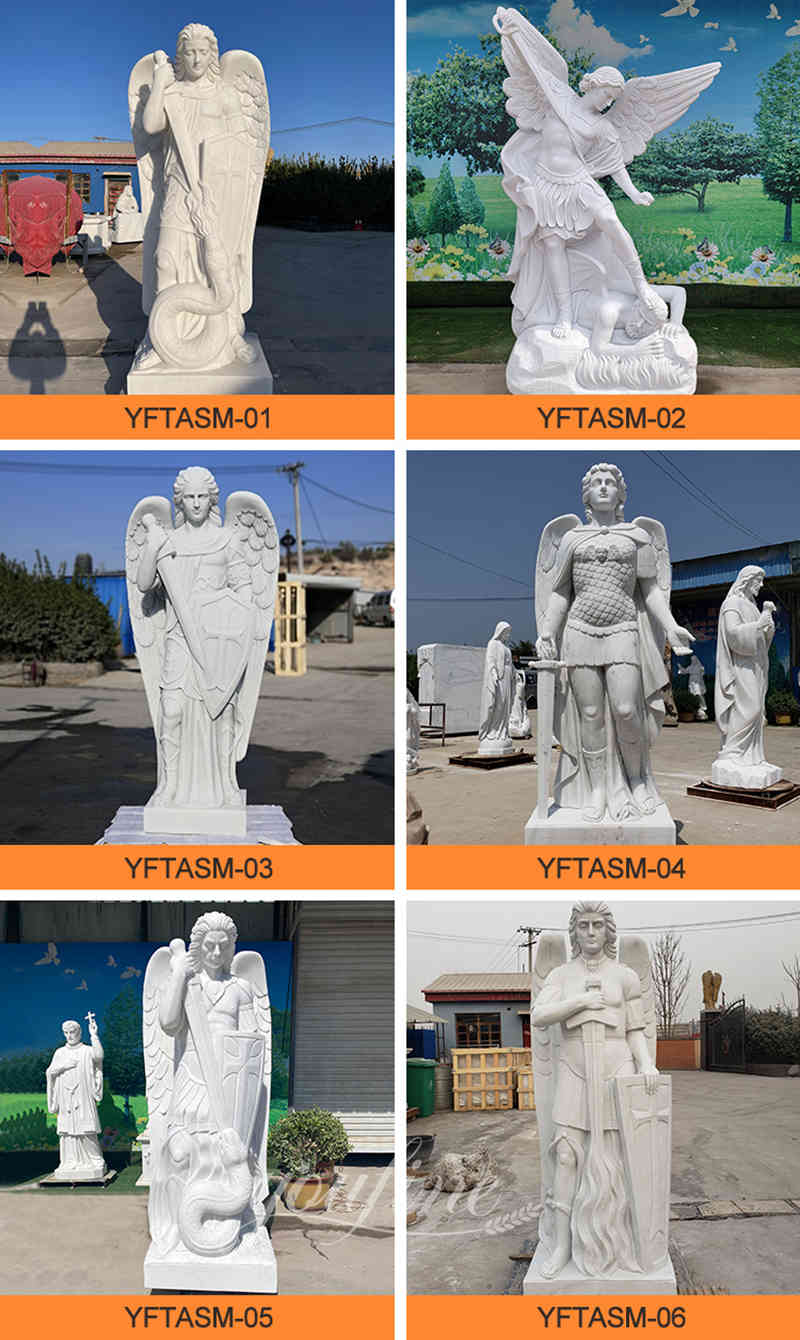 Selecting a quality supplier like YouFine is a guarantee of craftsmanship and authenticity. Our commitment to delivering lifelike and high-quality Saint Michael statues, along with our professional approach and variety of materials, ensures that your chosen statue will not only meet but exceed your expectations. Trust the craftsmanship, and let the archangel's presence grace your space.
Last Article
:
Abstract Figure Modern Marble Sculpture for Sale MOK1-237
Next Article:
Large Free Standing Metal Tree Sculpture Outdoor Art CSS-334