How Do You Secure a Gazebo to a Stone Patio
Updated 11/3/2023 3:01 PM By Alice
Installing a marble gazebo can be a great way to add architectural interest and elegance to your outdoor living space. However, with its weight and smooth surface, properly securing it to your stone patio is crucial for safety and stability. Here are some tips for securely anchoring your marble gazebo to a stone patio.
Start by Choosing the Right Location
Take time to decide on the ideal spot to place your marble gazebo. Consider how the location will impact sun exposure, views, and accessibility. Also, examine the patio surface. Make sure the stones are level and free of cracks or weak points that could undermine the gazebo's stability. Having a solid foundation is key.
Prepare the Patio Surface
Once you've selected the location, prepare the patio area. Carefully remove any dirt, debris, or weeds between stones. Use a wire brush to scrub away any grime or discoloration. Check for loose or uneven stones and re-secure or replace them as needed. Thoroughly cleaning and evening out the surface will allow the gazebo to sit flat and prevent wobbling.
Add Support Pads
For maximum stability, install concrete support pads at the points where the gazebo legs will sit. First mark the exact leg locations. Then cut out squares in those spots, dig down several inches, and fill with fresh concrete. Let it fully cure according to package directions. These pads will provide reinforced bases for the gazebo legs to stand on.
Drill Guide Holes
Before lowering the gazebo onto the patio, use a masonry drill bit to bore guide holes into the support pads. These holes will allow you to insert anchors bolts that attach to the gazebo. Choose a drill bit width that matches your anchor bolt size. Drill down at least 2-3 inches into the concrete for the most holding power.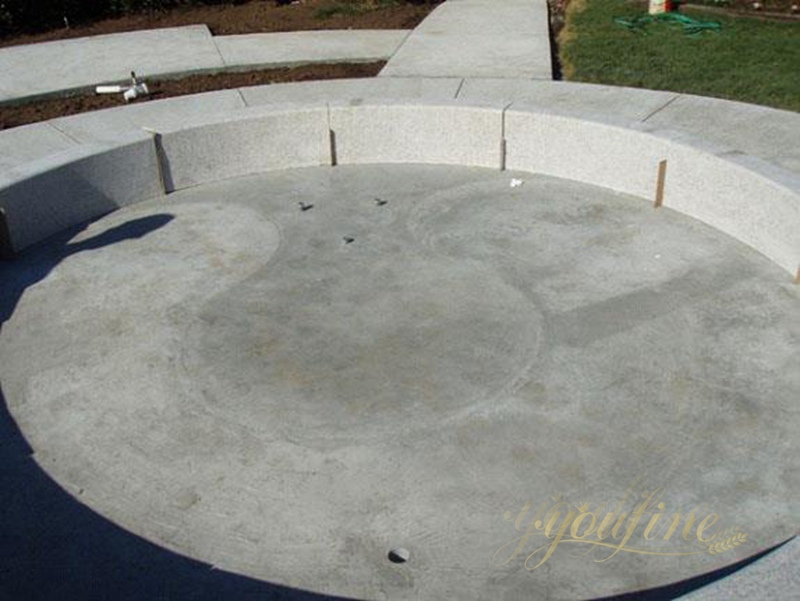 Lower the Gazebo into Place
With a friend or using a crane, carefully lift and position the marble gazebo frame onto the patio. Align the legs with support pads and guide holes. Temporarily brace or shim the structure if needed while you secure it. Be extremely cautious when lowering to avoid cracks or chips in the marble.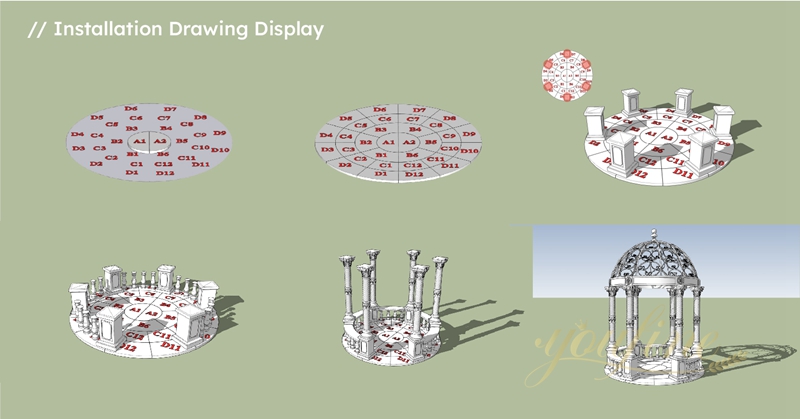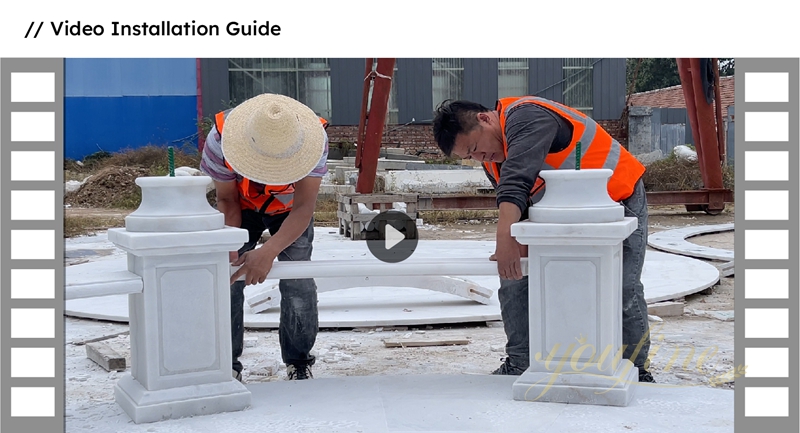 Check for Level and Plumb
Examine the gazebo from all angles to ensure it is properly level and plumb. If needed, use shims to adjust the legs that are unbalanced. Proper alignment is not only visually appealing but also important for the smooth operation of the doors and roof.
Caulk the Leg Bases
Once positioned correctly, run a bead of waterproof caulk around each gazebo leg where it meets the stone patio. This will create a seal that prevents moisture from seeping below and destabilizing the structure over time. Allow the caulk to fully cure before use.
Consider Secondary Supports
For additional reinforcement, you may opt to install secondary support rods. Attach one end to the outer roof rafters, run the rods down the gazebo legs, and anchor them into the concrete pads. This bracing offers further resistance against strong winds.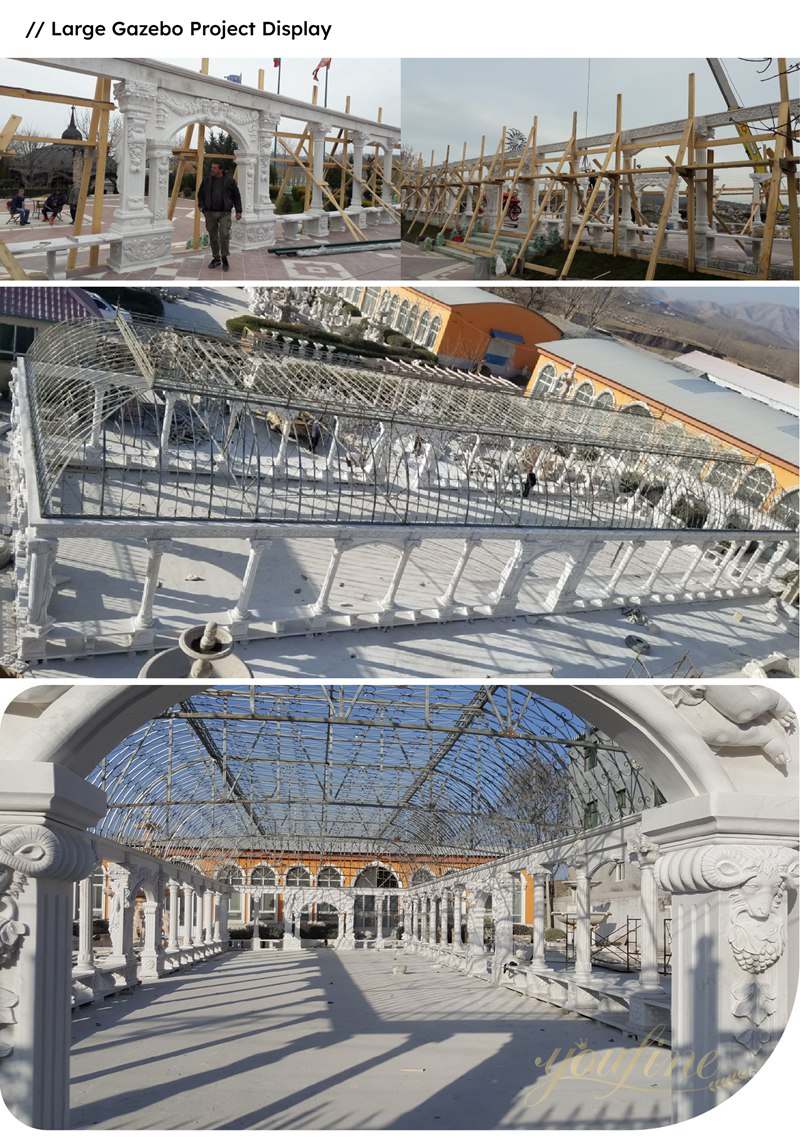 Keep an Eye on Fittings
Check fittings like nuts and bolts periodically to make sure they remain tight and secure. It's also a good idea to seal the anchor points with additional caulk each year or after major storms. Address any cracks in the concrete pads right away before they expand.
With proper installation techniques, your marble gazebo can stay safely anchored to its stone patio for many years of elegant outdoor enjoyment. Just be sure to follow anchoring best practices tailored to your specific model. And maintain stability by keeping components in top condition. With careful attention, your gazebo can gracefully withstand the elements.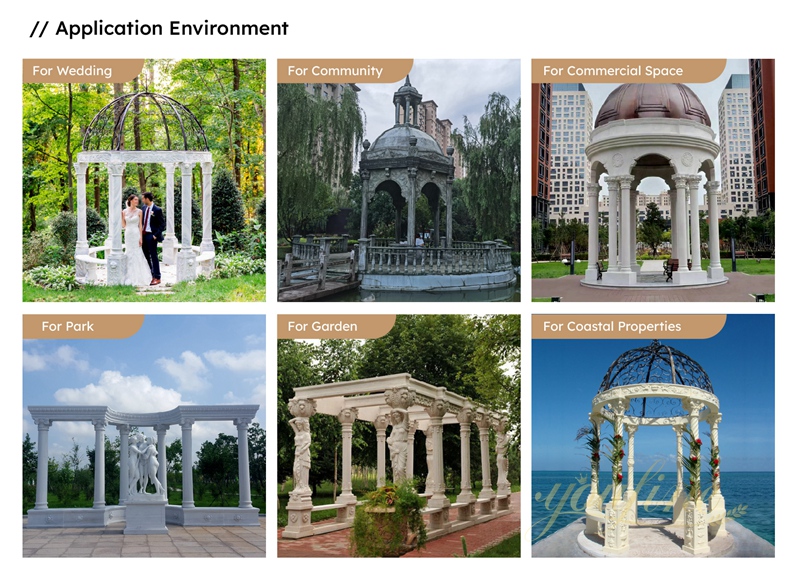 Advantages of Choosing YouFine:
If you want to buy a marble gazebo, YouFine would be a good choice for you.
Complete customizability – Have the gazebo designed exactly how you envision it. Customize the roof style, number and style of columns, bas-relief carvings, and every detail.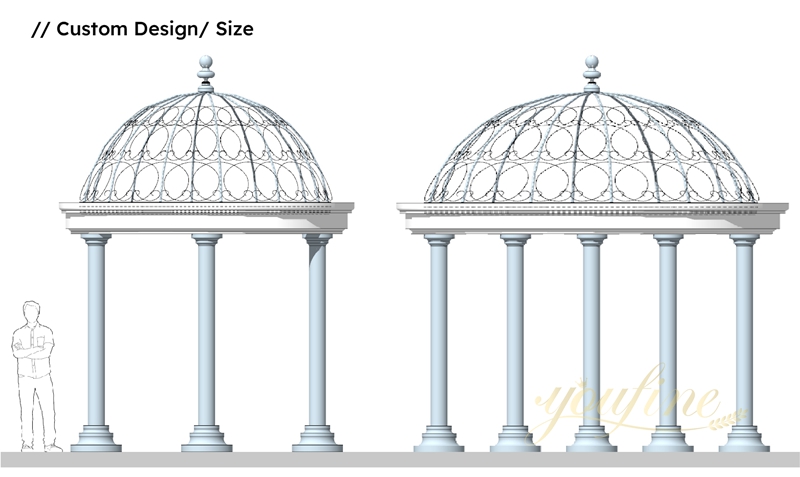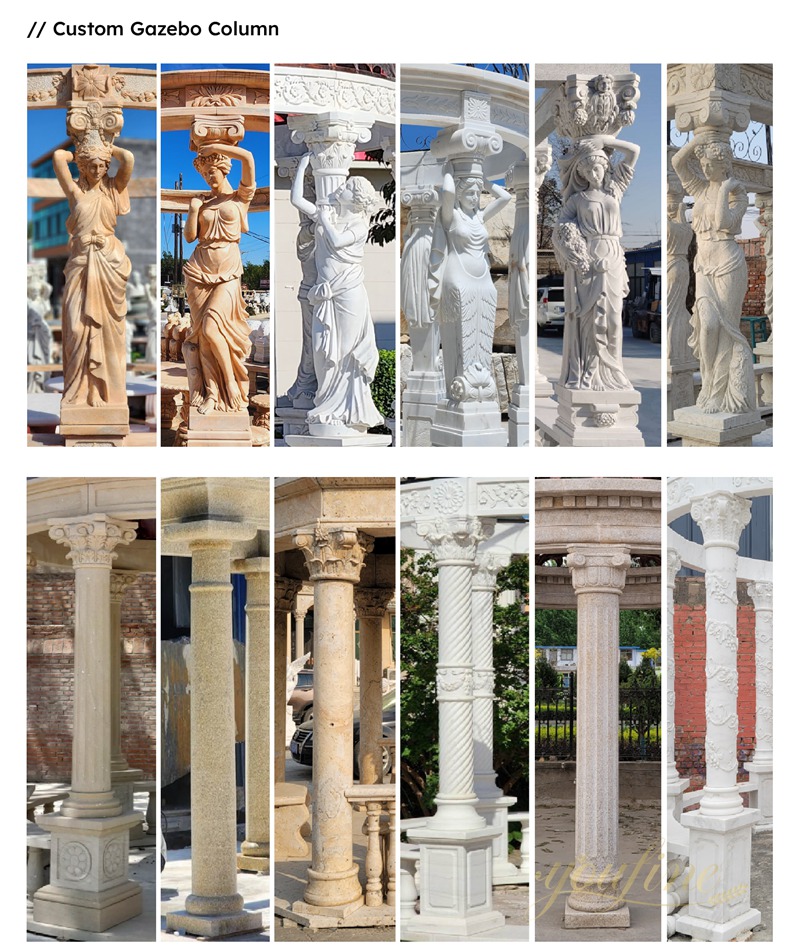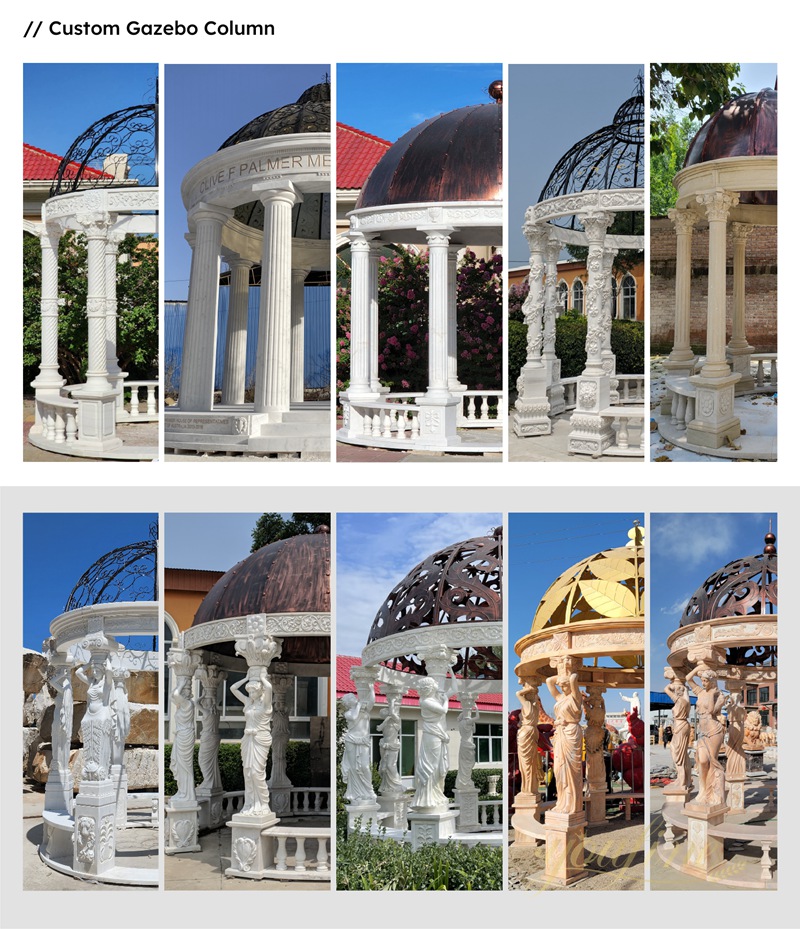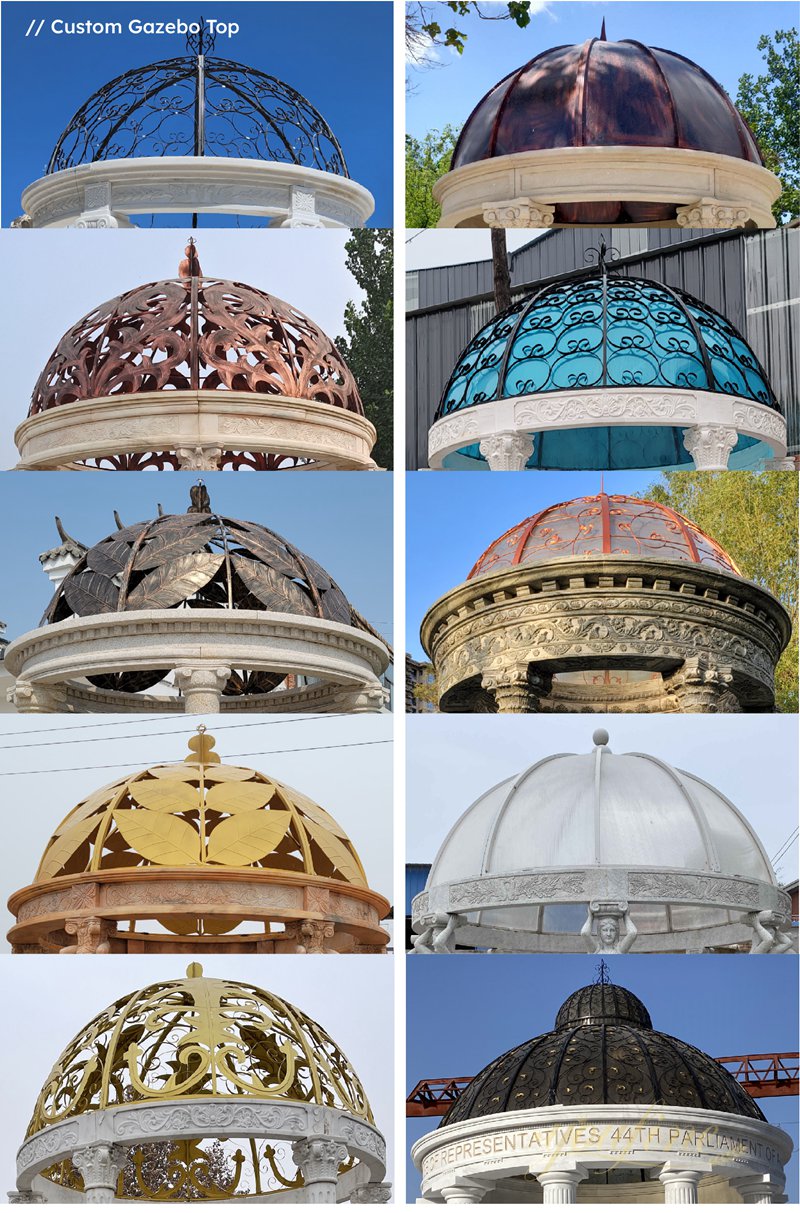 Hand-carved detail – Skilled artisans patiently carve elegant designs into the solid marble by hand. Floral motifs, geometric patterns, animals, landscapes and more can be incorporated per your wishes.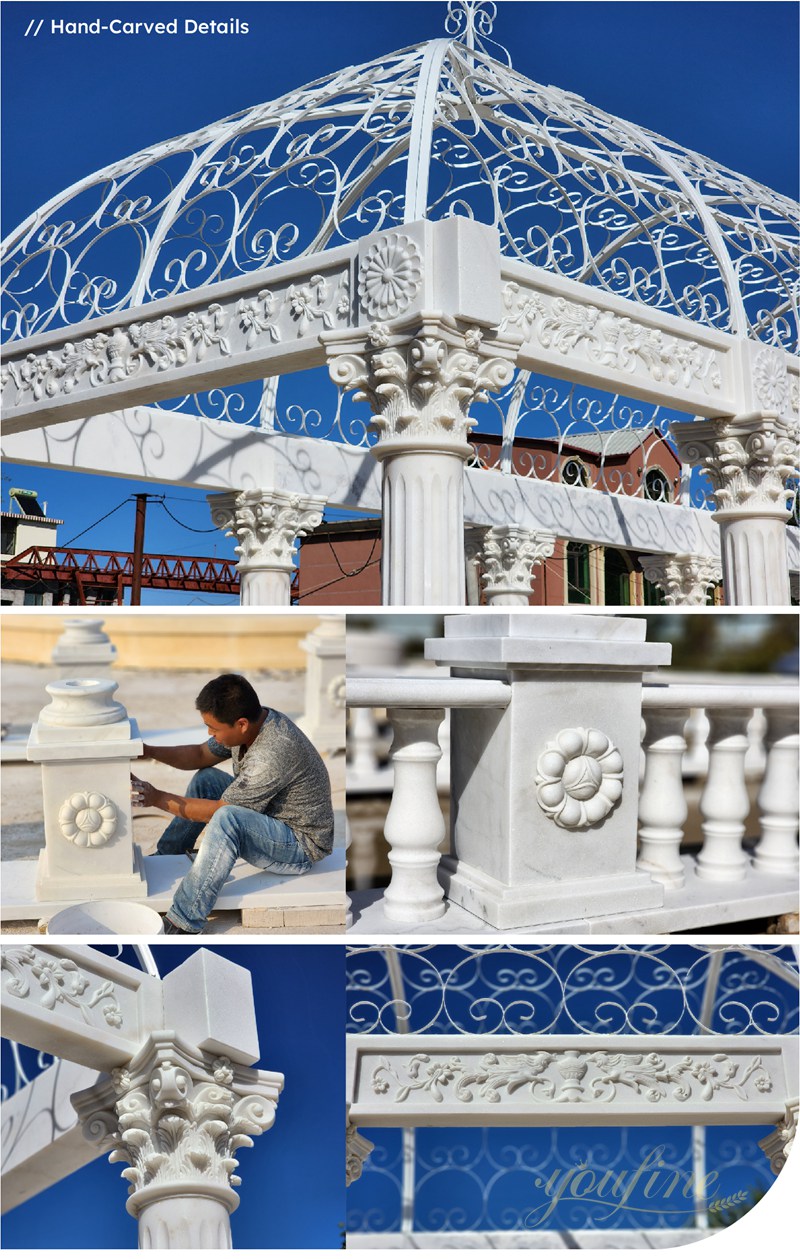 Material selection – Choose from a wide variety of natural marbles, each with unique veining, tones, and textures. Marbles from our quarries include white, gray, pink, green, red, and black.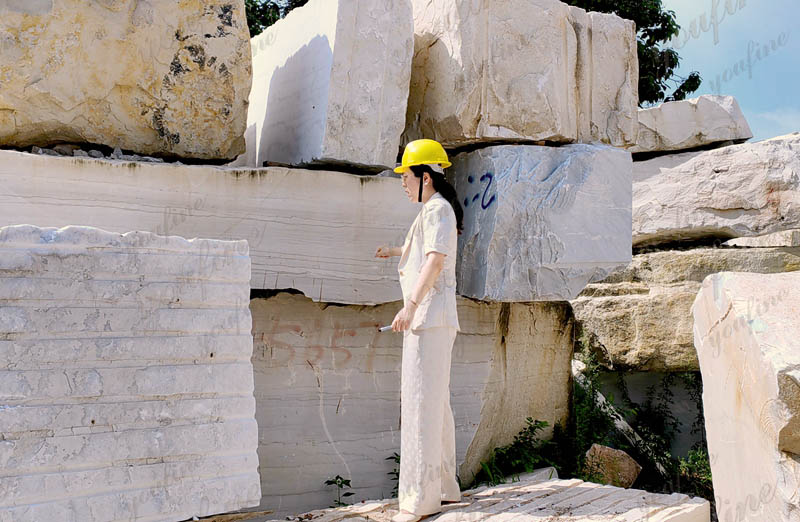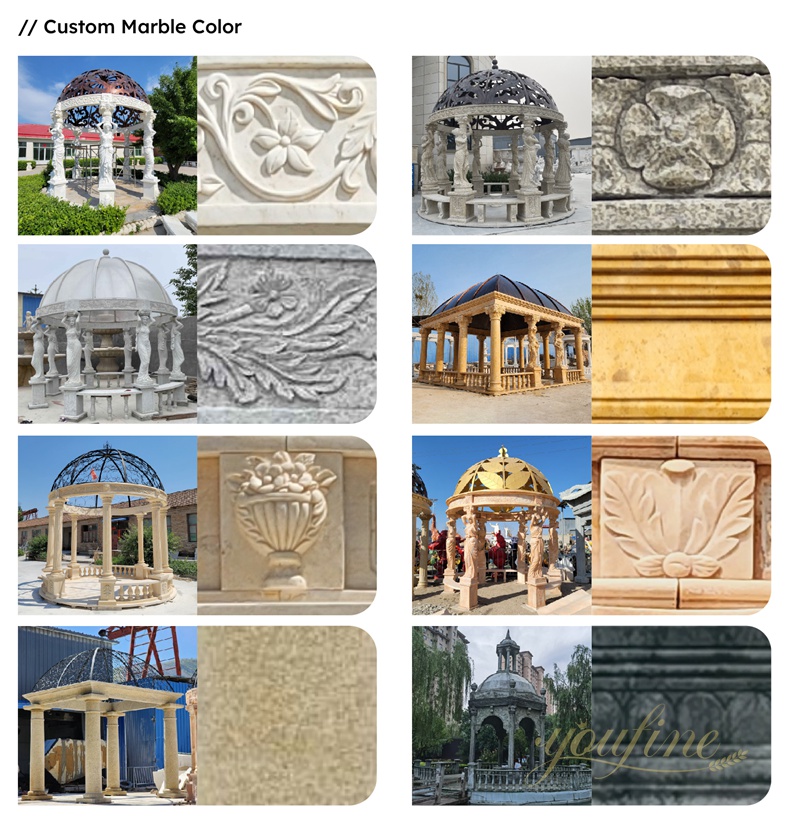 Structural durability – Marble's density and hardness provide excellent weather resistance and structural integrity. Our interlocking block construction withstands weathering and seismic activity.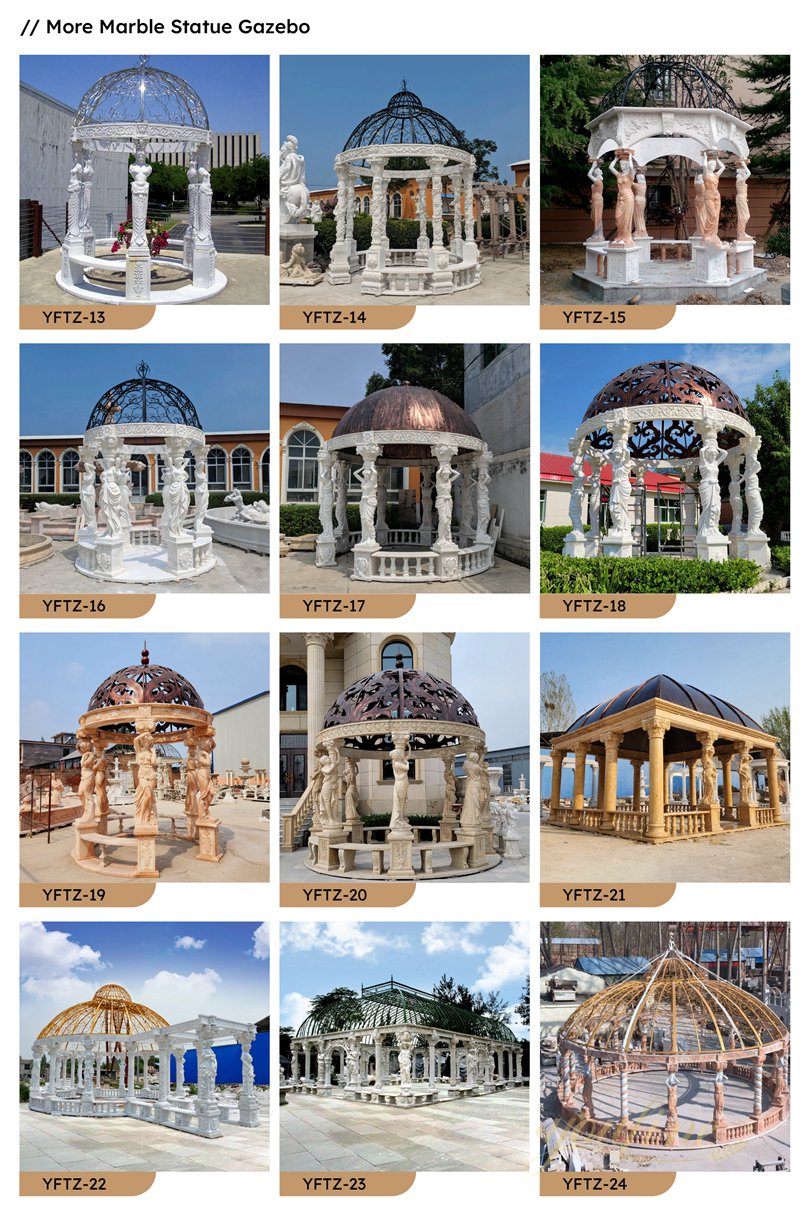 Local installation – We provide diagrams and instructions for on-site assembly. The carved marble pieces are carefully shipped to your location for construction.
In-stock availability – Along with fully custom gazebos, we also offer a selection of pre-made design options available for immediate purchase.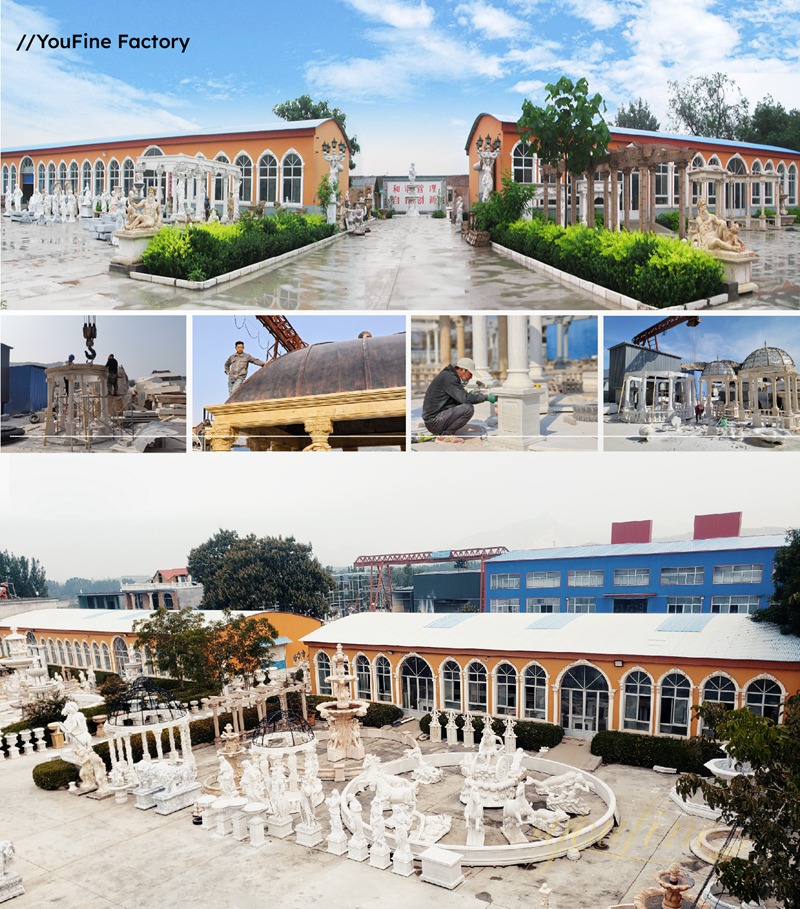 Last Article
:
Marble Greek Male Garden Philopemen Statue from Factory Supplier
Next Article:
Couch Monster Bronze Elephant Sculpture Toronto Brian Jungen Art