Top 10 Large Garden Marble Fountains for Your Villa
Updated 09/12/2023 7:11 PM By Guo, Judy
Marble, renowned for its timeless elegance, stands as the ultimate choice for large garden fountains. Its allure lies not only in its natural beauty but also in its versatility. There exists a multitude of marble types, each possessing distinct characteristics that cater to various villa aesthetics and locations.
YouFine Large Marble Fountains
From the pure, pristine white of Carrara marble to the regal richness of Emperador Dark marble, and the earthy, warm tones of Crema Marfil marble, the diversity of options ensures a perfect match for your villa's decor and setting. At YouFine, we pride ourselves on carving specific marble types tailored to your villa's unique characteristics. Our goal is to provide you with a garden large marble fountain that not only complements your villa's surroundings but also becomes a stunning focal point in its own right.
Top 10 Marble Fountains for Your Villa
Top 1 Large Marble Horse Statue Fountain
This white marble pony fountain is one of the most popular choices for villa gardens in our factory. At its center, you'll find four sculpted ponies, with half of their bodies extending outside of the fountain and the other half merging with the central column of the fountain. Above the pony sculptures, there are three-tiered fountain basins, each decreasing in size from bottom to top, creating a harmonious and visually pleasing structure. Surrounding the large pool of the fountain, you'll also find exquisite seashell-shaped basins. The size of this fountain could be customized to fit the specific needs of our customers, including selecting different marble colors and designing various dimensions.
For More Information Check Out: Marble Water Horse Fountain
Top 2 Hippocampus and Column Fountain
The most distinctive feature of this large white fountain is the Hippocampus sculpture. Hippocampi were often portrayed as the steeds of sea gods and were known for their role in drawing the chariots of these deities across the sea. They symbolized the connection between land and sea, as well as the power of water. Therefore, the combination of this Hippocampus sculpture and the pillar creates a grand and majestic large fountain. Especially with a sizable pool, it could perfectly complement the charm of your villa.
Top 3 Trevi Fountain
At YouFine, the Trevi Fountain replica is a testament to our dedication to precision and artistry. One of the standout features of our Trevi Fountain is the central sculpture of Oceanus, the sea god. This intricately carved masterpiece captures the essence of the original with remarkable attention to detail. Oceanus is surrounded by Tritons and sea horses, all painstakingly carved from exquisite white marble. Our sculptors are highly skilled and experienced, ensuring that every curve, expression, and ornament is faithfully recreated, replicating the grandeur of the original Trevi Fountain.
For More Information Check Out: Marble Trevi Fountain
Furthermore, we understand that every estate is unique. That's why we offer customization options for our Trevi Fountain. Whether your villa is grand or modest in size, our team could tailor the dimensions of the fountain to perfectly suit your property. This ensures that our Trevi Fountain seamlessly integrates into your estate's landscape, creating a stunning focal point that reflects your individual style and taste.
Top 4 Female Figure Sculpture Fountain
The prominent feature of this large female figure sculpture fountain is the presence of goddess sculptures positioned around the fountain's columns, each holding symbolic items representing the four seasons, making them unmistakably the Four Seasons Goddesses. Additionally, at the very top of the fountain, there stands another goddess sculpture holding a decorative floral motif.
For More Information Check Out: Large Outdoor Water Fountain
In the center of this fountain, you'll also find several small infant sculptures, all seated on charming carp fish, creating intricate and luxurious carvings. Of course, the most detailed work could be observed in the various patterns intricately carved around the columns. This beautiful marble figure fountain is an exquisite choice for decorating the central courtyard of a villa, exuding a sense of opulence and sophistication.
Top 5 Grand Marble Angel Fountain
Our grand marble fountain features an exquisite angel sculpture atop its structure, inspired by Central Park's Bethesda Terrace Angel Fountain in New York. the Angel is customized to feature a female figure. The base and tiered basins maintain the New York bronze fountain's style, adorned with ornate pillars, and intricate basin designs. Charming baby sculptures embellish the central column, while floral and foliage decorations adorn the surrounding columns. Our artists pay meticulous attention to detail, ensuring both lifelike human sculptures and basin intricacies. This fountain beautifully combines classical elegance and customizable options, capturing your unique vision.
Top 6 Poseidon and Chimera Sculpture Fountain
The large Sunset Red marble sea god fountain is truly magnificent. At its center, a Triton sculpture from Greek mythology supports the spirited horse sculpture that leaps forth. The Chimera sculpture, with wings and a mermaid's tail, boasts an impressive presence with its wide-open jaws. In the middle of the fountain, stands a Koi fish sculpture symbolizing auspiciousness. At the fountain's pinnacle, a sea god brandishes a trident, exuding a powerful aura as the master of the seas. This fountain is a splendid amalgamation of mythological elements and artistic craftsmanship, sure to grace any setting with grandeur and beauty.
Top 7 Marble Apollo Chariot Fountain
This stunning Marble Apollo Chariot Fountain masterpiece features a chariot drawn by spirited marble horses, meticulously carved to capture every nuance of their form. The intricate details of the chariot and the lifelike expressions of the horses showcase our sculpting expertise.
But what truly sets this fountain apart is the mesmerizing water flow. Water gracefully dances from various points of the chariot, creating a symphony of liquid artistry. The precision of the water jets and the enchanting way they complement the sculpture highlight our commitment to delivering not just beautiful sculptures, but also captivating water features. It's a masterpiece that seamlessly blends art and engineering, making it a centerpiece of awe and wonder.
Top 8 Fontaines de la Concorde
YouFine Art proudly presents our magnificent marble fountain inspired by La Fontaine des Fleuves et de la Navigation. Our artisans have meticulously recreated the grandeur of the original masterpiece. At its core, our fountain features two exquisite marble statues representing the Rivers Seine and Rhône, capturing their majestic flow. Surrounding them are intricately carved allegorical sculptures, each detail expertly crafted to symbolize the essence of French commerce and navigation. Every element, from the flowing water to the delicate expressions, is faithfully reproduced, making this fountain a true work of art. With utmost attention to detail, we offer a stunning replica that embodies the essence of the iconic Parisian landmark.
For More Information Check Out: Marble Water Fountain
Top 9 Egyptian Beige Marble Lion Fountain
The Egyptian beige marble lion sculpture, combined with the pillars, creates an atmosphere of elegance. This is one of our most popular cream marble fountains. The Egyptian cream marble material offers a refined and pure quality that could bring a sense of tranquility to your villa surroundings. Water flows gracefully from the mouths of the lions surrounding the pillars. The columns, spiraling upwards in perfect alignment, exude a sense of precision and sophistication.
For More Information Check Out: Outdoor Water Fountain
Top 10 Large Lion and Maiden Sculpture Fountain
The Large Lion and Maiden Sculpture Fountain leaves a lasting impression with its majestic lions and the regal aura of the Lion King. The lions, in grand proportions, display powerful, muscular forms and lifelike fur that reflect our skilled artists' deep understanding of lion anatomy and behavior.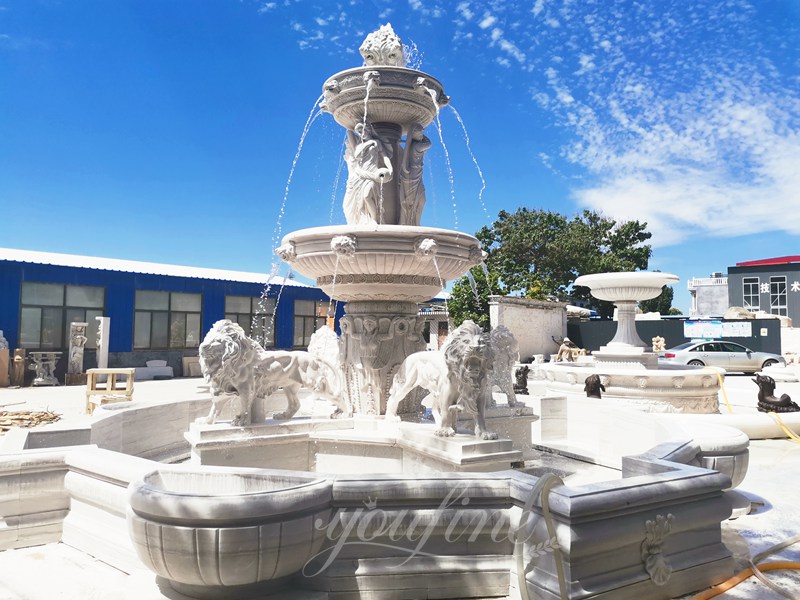 For More Information Check Out: Marble Outdoor Lion Fountain
Our craftsmen have dedicated years to studying the intricacies of lion physiology and habits, and it shows in the remarkable artistry of these sculptures. Adorning the columns are intricate reliefs of enigmatic female figures, adding a touch of mystique to the fountain.
At the fountain's center, four life-sized sculptures of women cradle urns from which water gracefully flows. Additionally, four large lion heads crown the fountain, serving as outlets for cascading water. The flow of water is a testament to our fountain's engineering excellence, a blend of artistry and functionality. A masterpiece of marble craftsmanship, this fountain is an impressive addition to any elegant villa. Trust in our expertise and bring the grandeur of a marble masterpiece to your beautiful estate.
Customizing Your Villa Perfect Marble Fountain with YouFine
At YouFine, we understand that every villa is unique, and your outdoor space should reflect your individual taste and style. That's why we offer a wide range of customization options for our marble fountains, ensuring they seamlessly blend with your villa's landscape and cater to your preferences.
Expert Design Services: Our journey towards crafting your dream marble fountain begins with a comprehensive design process. Our team of skilled artisans and designers works closely with you to create detailed drawings and renderings that bring your vision to life. Whether you have a specific idea in mind or need creative inspiration, we're here to guide you through the design phase.
Tailored Dimensions: We understand that no two villa landscapes are alike. YouFine provides the flexibility to adjust the size and scale of your marble fountain, ensuring it fits perfectly within your outdoor space, whether it's a grand courtyard or a more intimate garden.
Vast Material Selection: Choose from an extensive range of marble types and colors to harmonize with your villa's architectural aesthetics. From classic white Carrara marble to richly veined varieties, we offer materials that cater to various styles and preferences.
Unique Statuary and Details: Elevate your marble fountain's design with statuary, figurines, or ornamental details that hold personal significance or align with your villa's theme. Our artisans could bring your unique ideas to life, resulting in a truly one-of-a-kind masterpiece.
Water Features Customization: Customize the water flow, pattern, and pressure to create the desired ambiance. Whether you prefer a serene trickle or a dramatic cascade, we could tailor the water features to suit your preferences.
Professional Installation: YouFine offers full-service installation to ensure that your customized marble fountain is seamlessly integrated into your villa's landscape. Our team handles plumbing, electrical work, and all installation aspects, guaranteeing a hassle-free process.
Complete Customer Engagement: Throughout the entire journey, we're committed to offering comprehensive customer service. From the initial design consultation to the final installation, we're with you every step of the way. We value your input and are dedicated to bringing your dream fountain to life.
At YouFine, we take pride in our ability to transform your villa's outdoor space into a personalized oasis. Our marble fountains, tailored to your unique specifications, not only enhance the beauty of your villa but also reflect your individuality and preferences. Trust us to be your partner in crafting the perfect marble fountain that would stand as a testament to your style and taste.
People Also Ask
How to Install a Large Marble Fountain?
Preparation: Ensure the installation site is level, and all utilities are marked to avoid any interference.
Foundation: Create a sturdy concrete foundation that could support the fountain's weight. This may involve excavation and rebar installation.
Water Supply: Set up the water supply, plumbing, and electrical connections if the fountain has lighting or pumps.
Positioning: Carefully position the fountain on the foundation, ensuring it's level and secure.
Connection: Connect the fountain to the water supply and electrical source as needed.
Testing: Test the fountain to check for proper water flow, lighting, and overall functionality.
Landscaping: Surround the fountain with appropriate landscaping, such as plants and decorative gravel.
Maintenance: Implement a maintenance plan to keep the fountain clean and in optimal condition.
At YouFine, we not only craft exquisite marble fountains but also provide installation services. Our experienced team ensures that your fountain is expertly installed, so you could enjoy its beauty worry-free.
Check Out: The Ultimate Guide to Install a Large Marble Fountain
How to Choose a Marble Fountain?
Available Space: Assess the available area in your garden or outdoor space. Ensure the fountain's size and dimensions fit comfortably within the designated spot.
Style and Aesthetics: Select a fountain style that complements your garden's overall design. Consider whether you prefer a classic, modern, or ornate design that aligns with your aesthetic preferences.
Material: Fountains come in various materials such as marble, stone, cast concrete, and metal. Choose a material that suits your style, durability requirements, and maintenance preferences.
Maintenance: Be realistic about the maintenance commitment. Some fountains require regular cleaning, water treatment, and winterization. Ensure you're prepared for the upkeep.
Water Source: Check if your garden has a suitable water source for the fountain. Some fountains require a constant water supply, while others recirculate water.
Budget: Set a budget that includes not only the cost of the fountain but also any necessary landscaping, installation, and maintenance expenses.
Local Regulations: Research local regulations or homeowner association rules that may govern the installation of large fountains in your area.
Installation: Consider whether you'll install the fountain yourself or hire professionals. Large fountains often require specialized installation.
Water Features: Decide if you want additional features like lighting, water jets, or sound effects to enhance the fountain's visual and auditory appeal.
Longevity: Invest in a high-quality fountain that could withstand the elements and last for years without significant deterioration.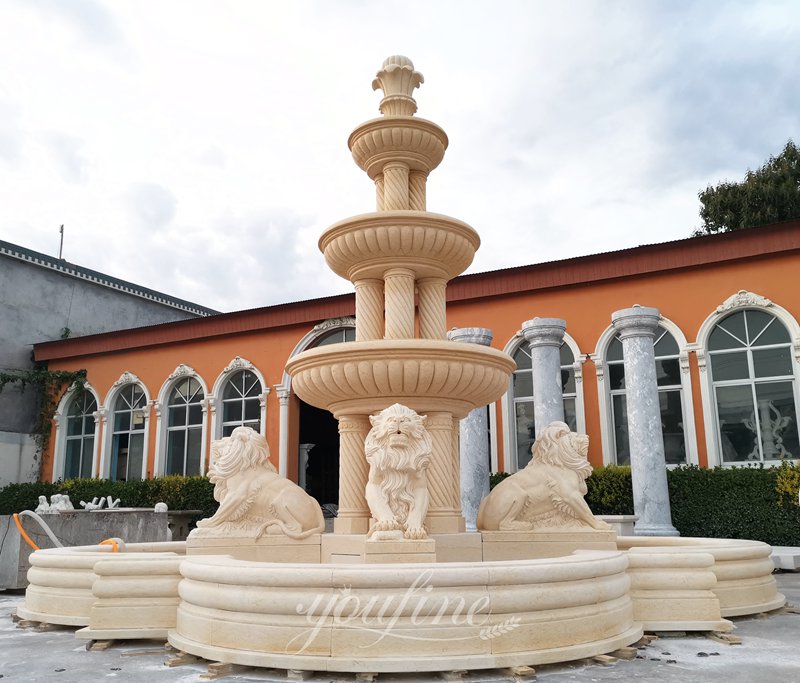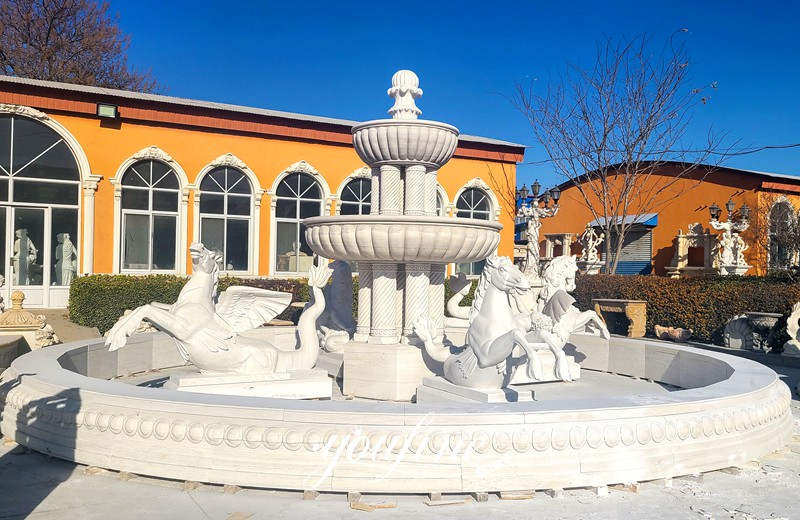 Check Out: How to Choose a Suitable Material for Outdoor Water Fountains
YouFine offers not only exceptional craftsmanship but also a commitment to delivering the perfect large marble fountain for your villa's outdoor space. We provide a comprehensive selection service that begins with detailed discussions about your vision, style preferences, and available space. Our experienced team could assist you in choosing the ideal fountain design, size, and materials that complement your villa's aesthetics.
Last Article
:
The Advantages of Natural Marble Water Fountain Vs Cast Marble Water Fountain
Next Article:
Hotel Decoration Large Bronze Wings Lion Statue for Sale BOKK-251