How to Install the Modern White Marble Gazebo?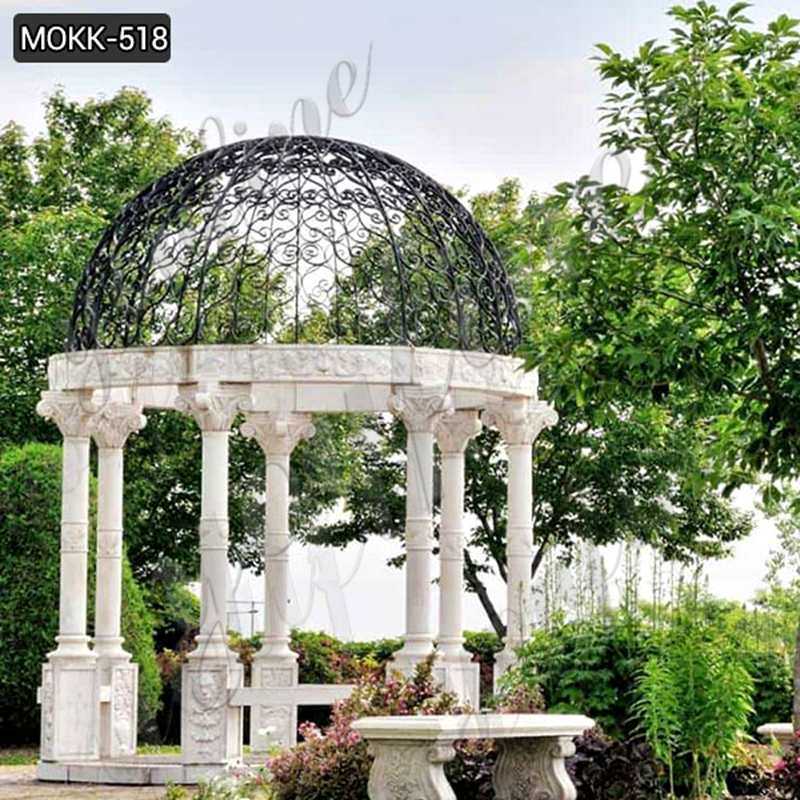 After the preparatory work for the Modern White Marble Gazebo installation is completed, we could start the step by step installation of the gazebo.
The process of Modern White Marble Gazebo Installation:
1. When you receive the goods, do not rush to install, you need to open all the packaging boxes firstly, check the goods for damage.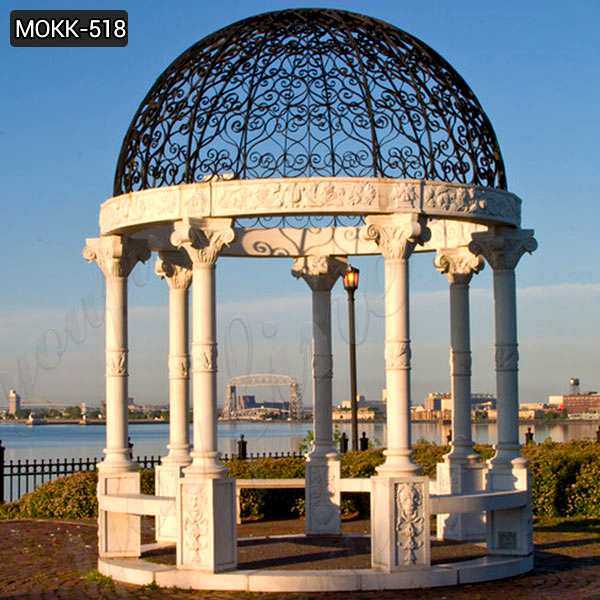 2. After confirming that there is no damage, you need to study the installation drawings we have provided for the pavilion, and then check the goods again to confirm if there have missing items according to the installation drawings.
3. After the inspection, the customer needs to prepare the following tools: cement, lime, forklift, bandage, waterproof coating, marble glue, etc., and need to arrange 3-5 workers to install the pavilion.
4. The preliminary work is ready, we have to start installing the pavilion. Firstly, according to the installation drawings, the floor tiles are regularly placed on the installation site according to the number. The workers lay a thin layer of cement on the concrete floor, and then the floor tiles are laid out on the concrete floor according to the number.
5. After the floor tile has been hardened, you must use a level ruler to measure the floor plan. Make sure that the floor is laid on the same level.
6. After the floor is completed, start the installation on the pavilion: first place the base in the approximate position, then connect the seat plate of the pavilion to make the pavilion round.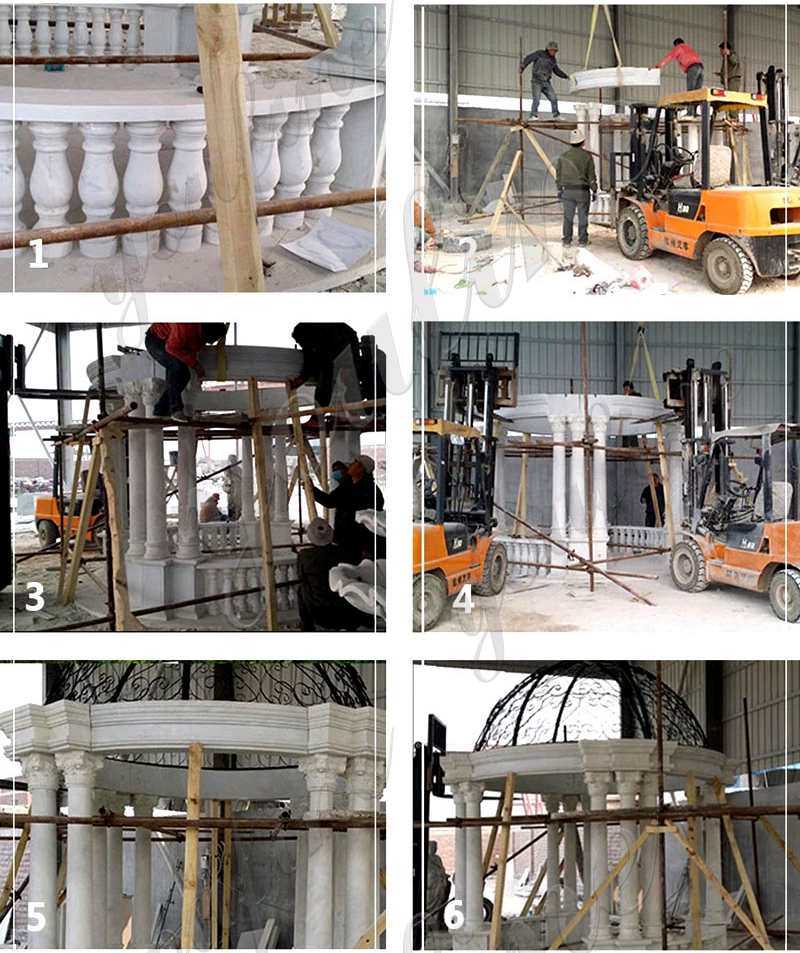 7. We have U-shaped steel and steel bars for each pavilion. After the base position is confirmed, we use a forklift and a bandage to lift the column and slowly install it on the base.
8. Then install the column in order and install the column head (the link between the column head and the column is also inserted into the steel bar)
9. Install the ring beam, the beam between the beam have a card slot diameter. After the ring beam is installed, the U-shaped steel bars are reinforced between each two beams to prevent earthquakes and storms.
10. After the installation of the equal beam is completed, we need to install the baffle. The function of the baffle is to cover the joint between the beam and the beam.
11. Finally install the pavilion hat: the pavilion hat is installed with screws, etc., then the entire pavilion hat is lifted and placed on the pavilion.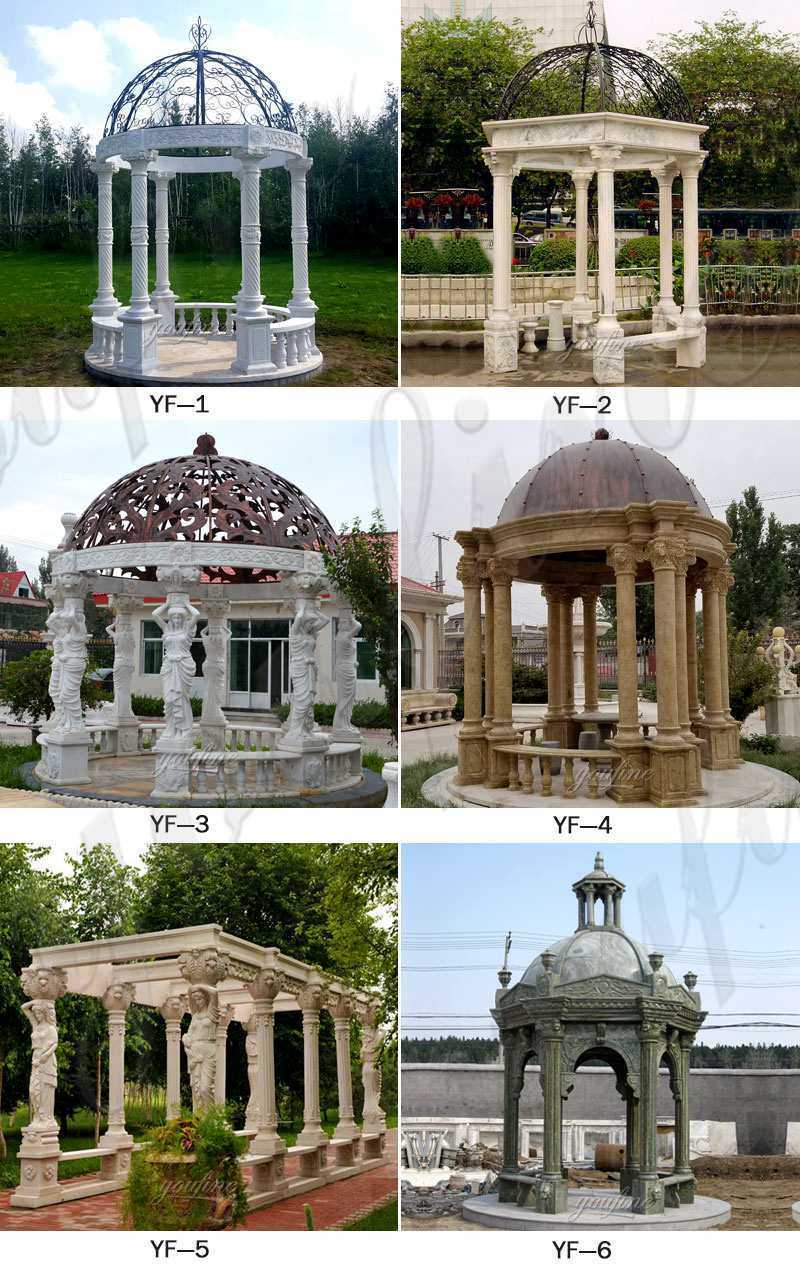 In this way, your Modern White Marble Gazebo would be installed smoothly, and you would be very fulfilled when you install your favorite pavilion. So start to enjoy the joy that the beautiful gazebo brings to you.
Last Article
:
Life Size Saint Peter Chanel Statue Catholic Sculpture for Garden Decoration CHS-754
Next Article:
Life Size Marble Four Goddesses of the Seasons Statues for Garden Decor MOKK-399