Top 15 Most Famous Bronze Football Players Statues
Updated 11/13/2023 8:39 PM By Guo, Judy
The creation of a famous football player statue is often a collaborative effort between artists, sculptors, and designers. The design process typically involves extensive research into the player's life and career, as well as consultations with experts and stakeholders to ensure that the final product is a fitting tribute to the player's legacy.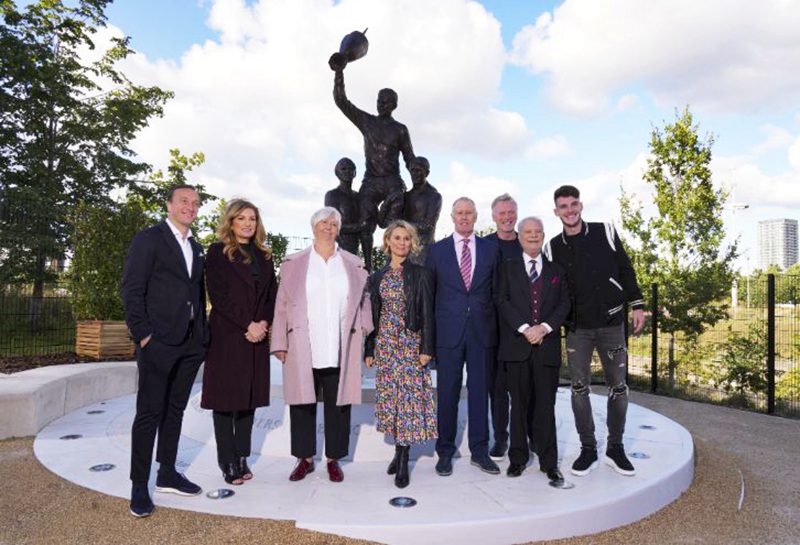 Top 1 The Champions: The World Cup Sculpture
The World Cup Sculpture, also known as The Champions, is an awe-inspiring bronze statue located near the historic Boleyn Ground (Upton Park) stadium in the London Borough of Newham, England. This remarkable sculpture immortalizes a pivotal moment in football history – the iconic victory of the England national football team in the 1966 World Cup Final. The sculpture captures a famous scene that was captured in a photograph after the final match, which took place at the legendary old Wembley Stadium in London.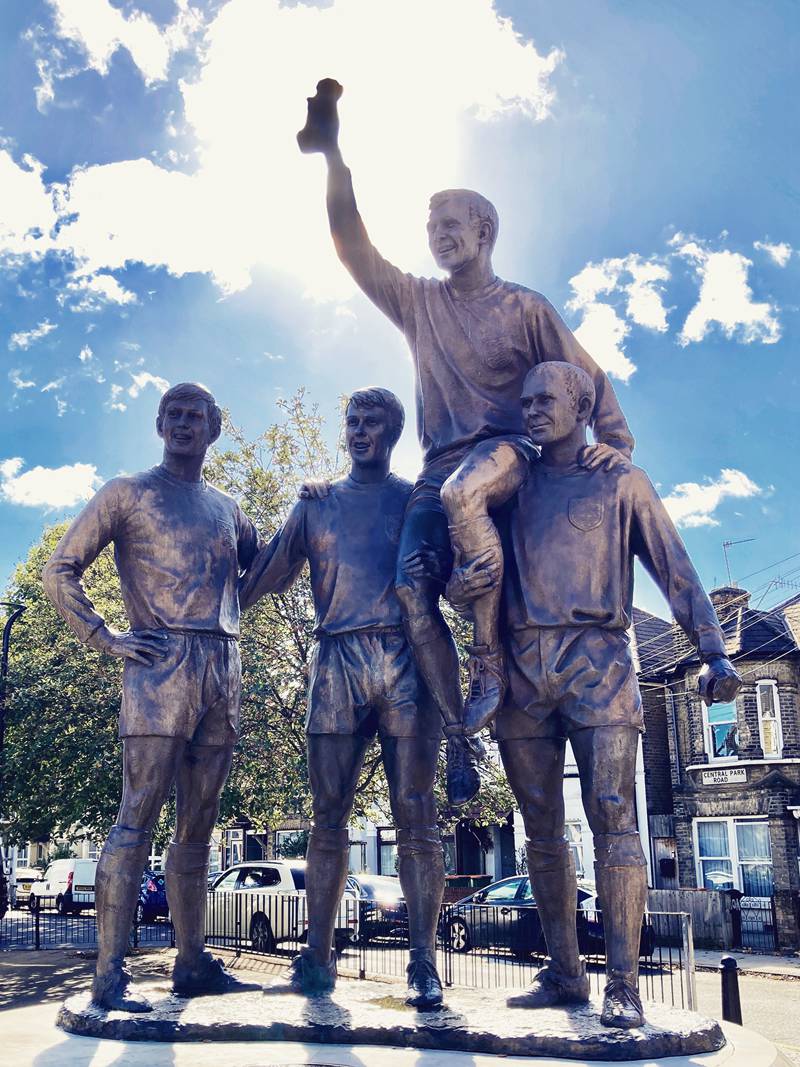 The sculpture portrays the triumphant English players Bobby Moore, Geoff Hurst, Martin Peters, and Ray Wilson. It depicts the unforgettable moment when they lifted the Jules Rimet Trophy, marking the first and only time that the England national football team has clinched the World Cup title. In this scene, Captain Bobby Moore is held high on his colleagues' shoulders, displaying the trophy to a jubilant crowd.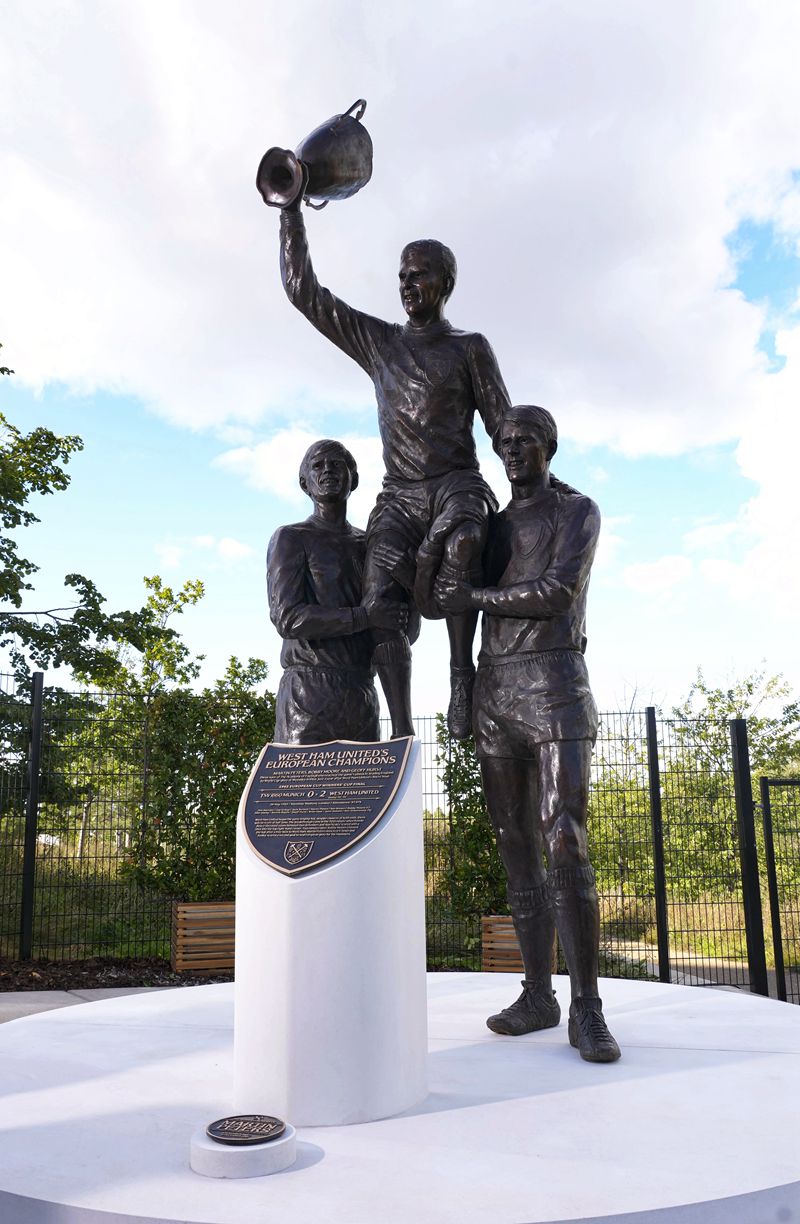 This World Cup Sculpture serves as a powerful reminder of the historic achievement and national pride associated with England's World Cup victory. It stands as a tribute to the remarkable skill, teamwork, and determination displayed by the players during that memorable tournament. This sculpture not only honors the players but also symbolizes the indelible mark they left on football history and the inspiration they continue to provide to future generations of players and fans alike.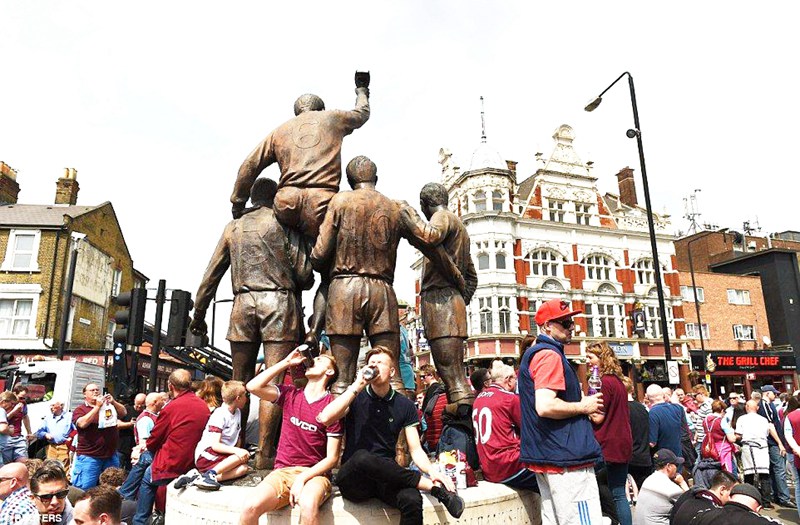 Top 2 Dixie Dean Everton's Greatest Goal Machine
Everton's Greatest Goal Machine statue is a magnificent tribute to one of football's greatest legends, William Ralph "Dixie" Dean. Situated outside Everton Football Club's Goodison Park stadium in Liverpool, England, this statue immortalizes Dean's extraordinary goal-scoring prowess and his profound impact on the club's history.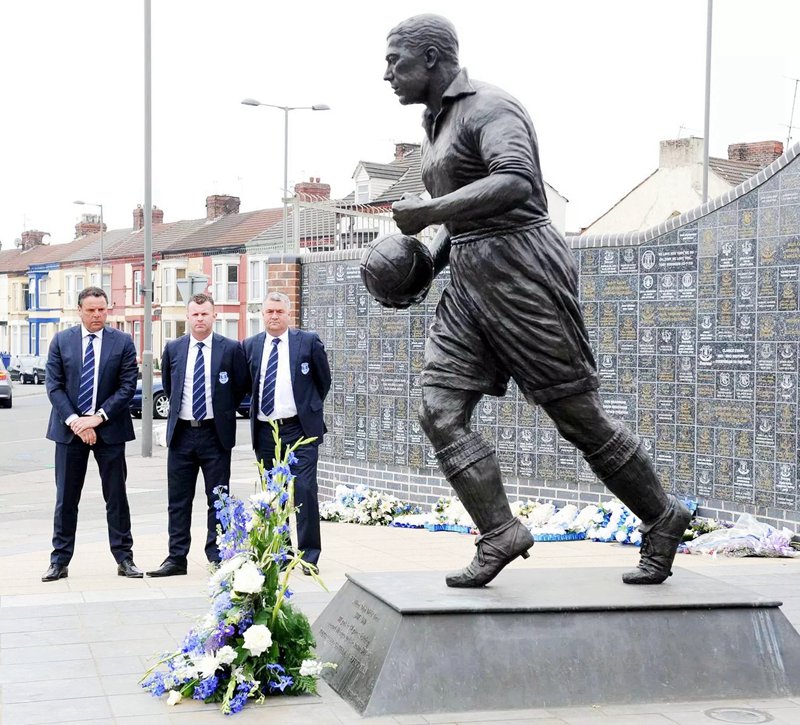 The statue showcases Dixie Dean in his iconic Everton kit, capturing his dynamic and powerful presence on the field. Standing at 9 feet tall, the bronze sculpture depicts Dean in mid-stride, ready to strike the ball with precision and accuracy. The attention to detail in capturing his facial expression, muscular physique, and distinctive hairstyle pays homage to his unique character and style of play.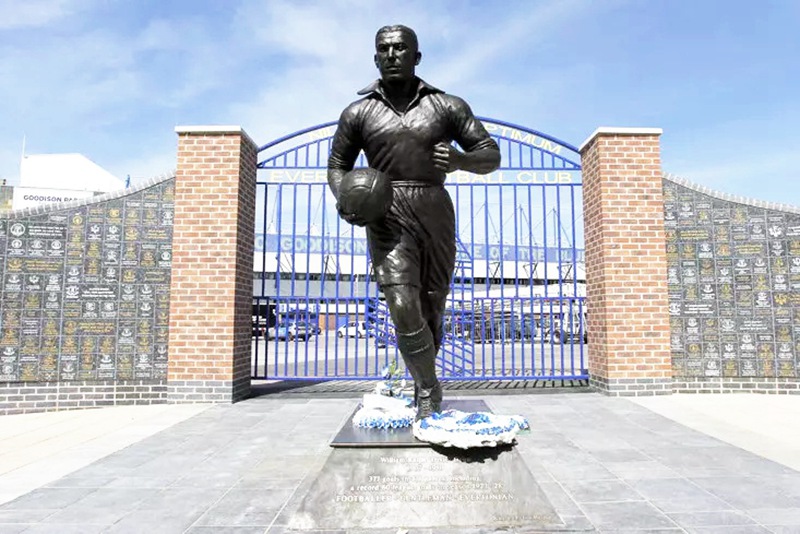 Top 3 Bobby Moore O.B.E
The Bobby Moore O.B.E statue is a magnificent tribute to one of England's greatest footballers and a true footballing icon, Bobby Moore. Located outside the iconic Wembley Stadium in London, England, this statue immortalizes Moore's exceptional talent, leadership, and his significant contribution to English football.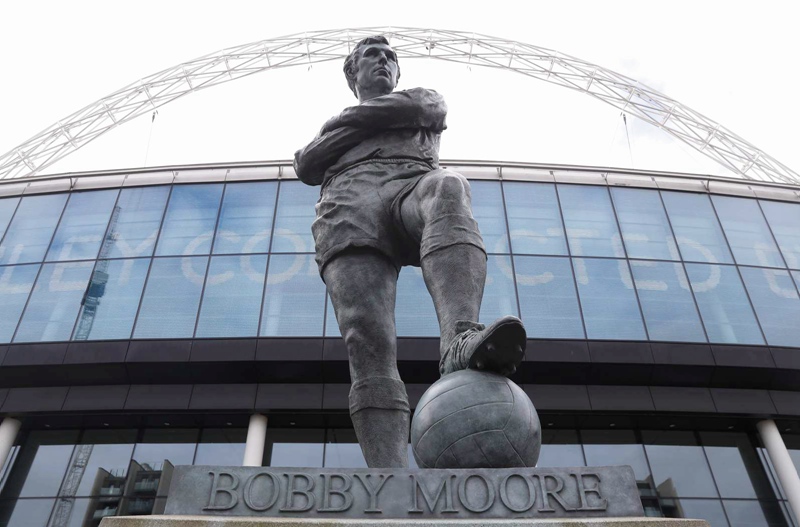 The statue portrays Bobby Moore in his iconic England national team kit, capturing his grace, poise, and elegance on the football field. Standing at over 20 feet tall, the bronze sculpture depicts Moore holding the Jules Rimet Trophy aloft, a symbol of England's historic victory in the 1966 FIFA World Cup. The attention to detail in capturing his facial features, the intricate folds of his kit, and his striking pose showcase the artistry and craftsmanship involved in creating this remarkable sculpture.
Top 4 Johnny Haynes Statue
The Johnny Haynes statue is located at Craven Cottage, the home stadium of Fulham Football Club in London. It is a tribute to Johnny Haynes, one of Fulham's most iconic players. The statue was created by artist Douglas Jennings.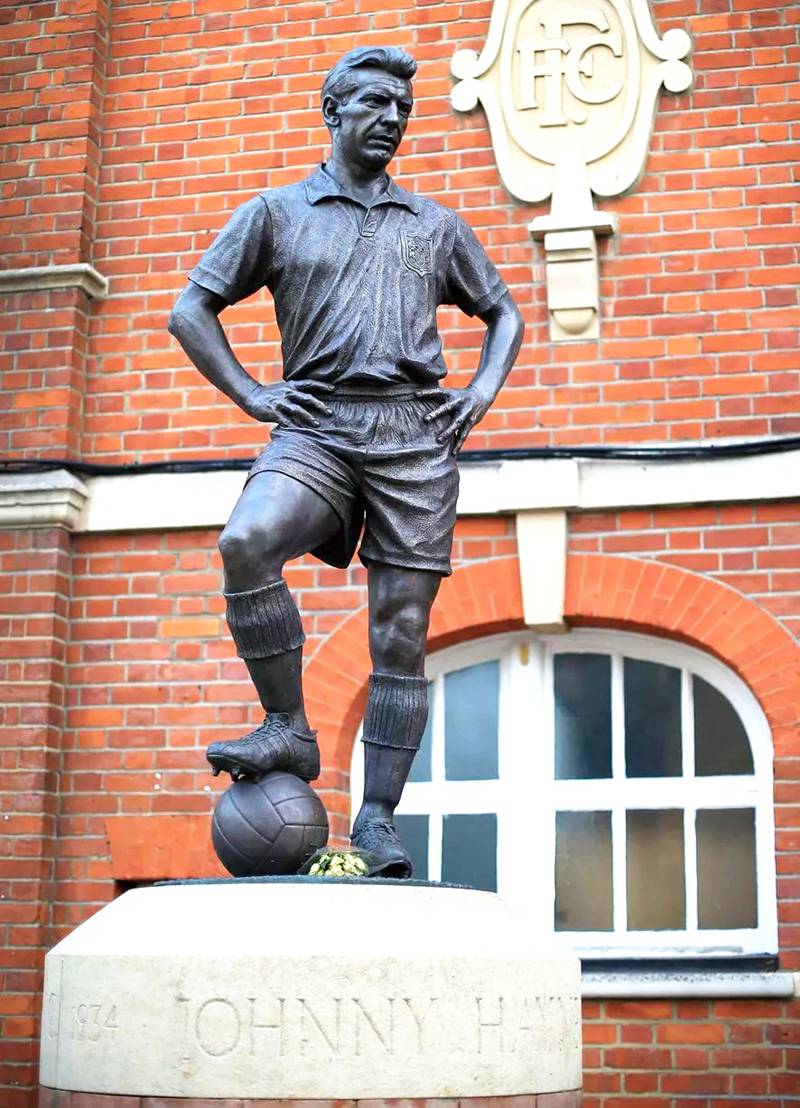 The statue depicts Johnny Haynes in action, capturing his dynamic playing style and skill on the field. It serves as a lasting tribute to his significant contributions to Fulham FC and his impact on English football as a whole. Haynes, known as "Mr. Fulham," played for the club for his entire professional career from 1950 to 1970. He was the first footballer in England to earn a weekly wage of £100, and he captained both Fulham and the England national team during his career.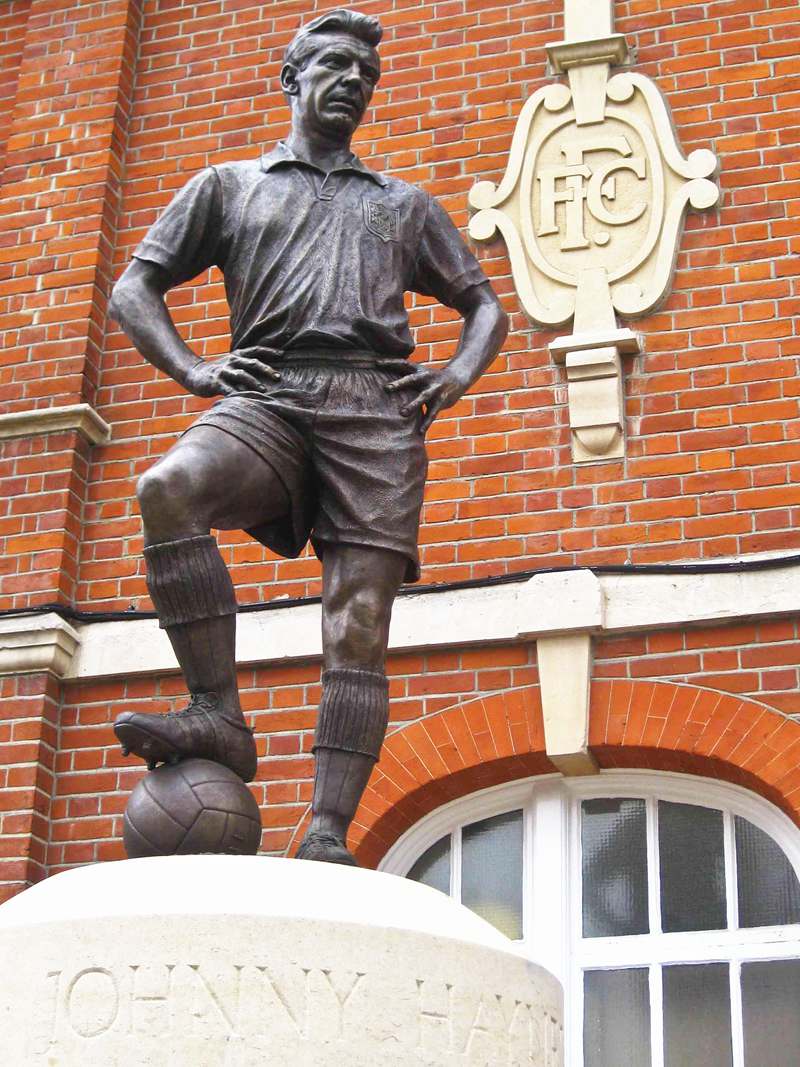 Top 5 Sir Billy Wright of Wolverhampton Wanderers
Wright's impact on Wolverhampton Wanderers and English football as a whole is commemorated by the Sir Billy Wright statue, located outside Molineux Stadium, the home ground of Wolves. The statue, unveiled in 2008, portrays Wright in his playing days, capturing his elegance, athleticism, and dedication to the sport.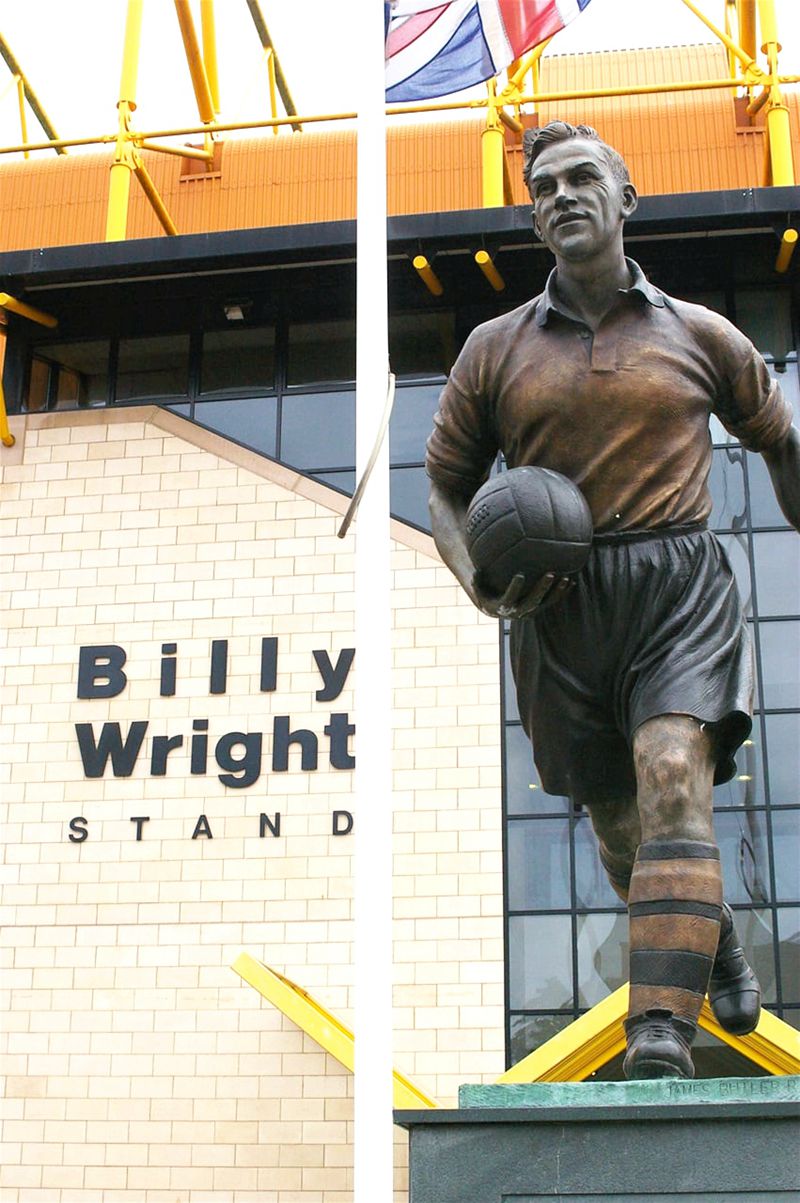 He had a tall and lean physique, standing at 6 feet tall (183 cm), which was considered quite tall for a footballer of that era. He had a strong and chiseled jawline that added to his commanding presence on the field. His deep-set eyes were often described as intense and focused, reflecting his determination and leadership qualities.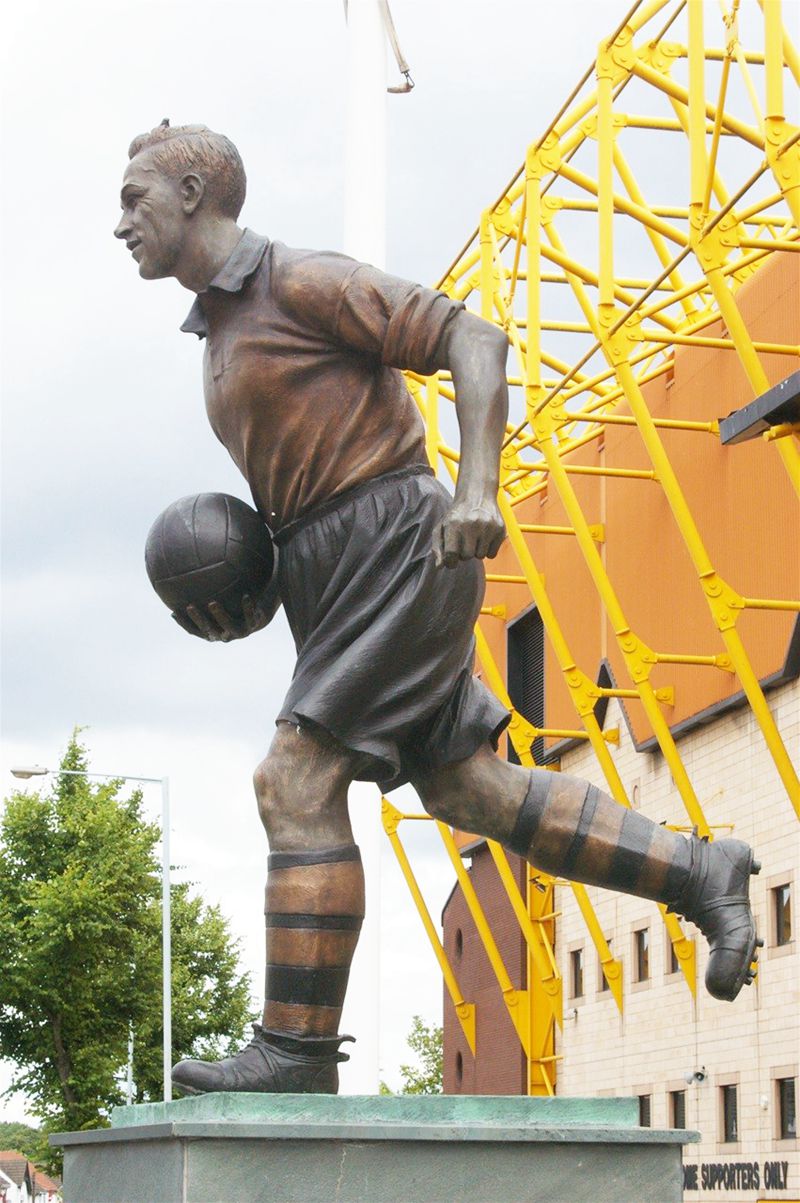 Top 6 Tony Adams: Mr. Arsenal
The statue of Tony Adams, M.B.E., was indeed sculpted by MDM Ltd. It stands proudly outside the Emirates Stadium, the home ground of Arsenal Football Club in London. The statue was unveiled in 2011 by Arsenal Chairman Peter Hill-Wood, honoring Tony Adams' incredible career and his immense contribution to the club.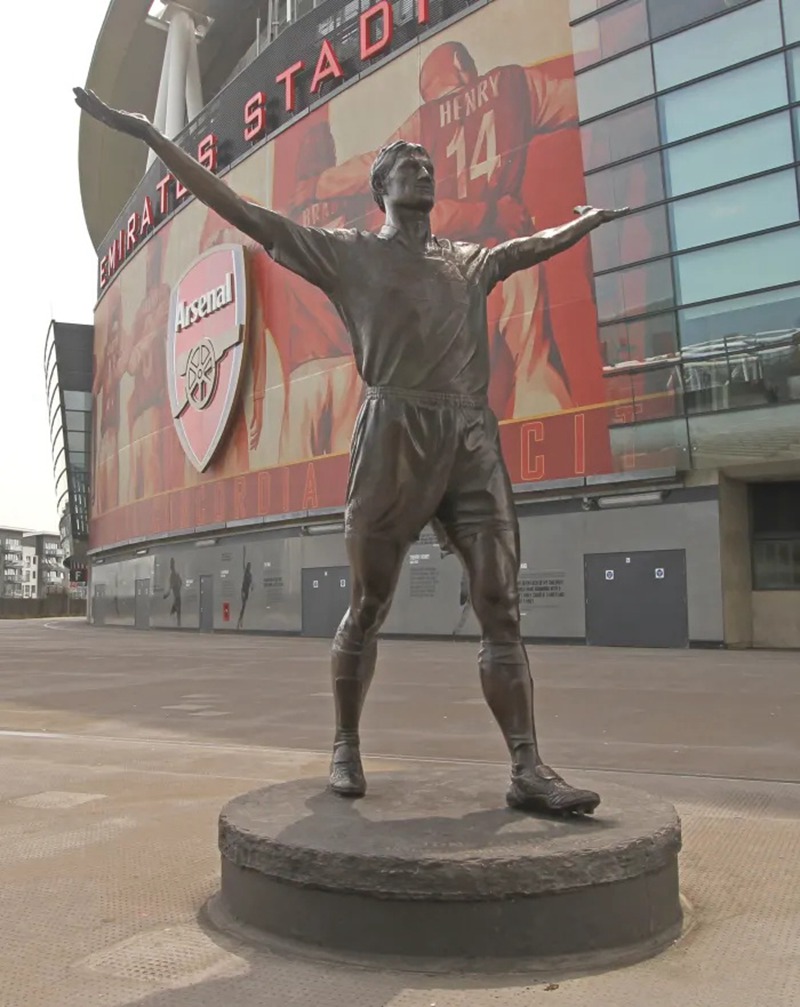 The statue depicts Tony Adams in his iconic defensive stance, capturing his strength, determination, and leadership qualities on the field. It serves as a lasting tribute to his unwavering loyalty to Arsenal, his exceptional skills as a defender, and his influential role as the team's captain.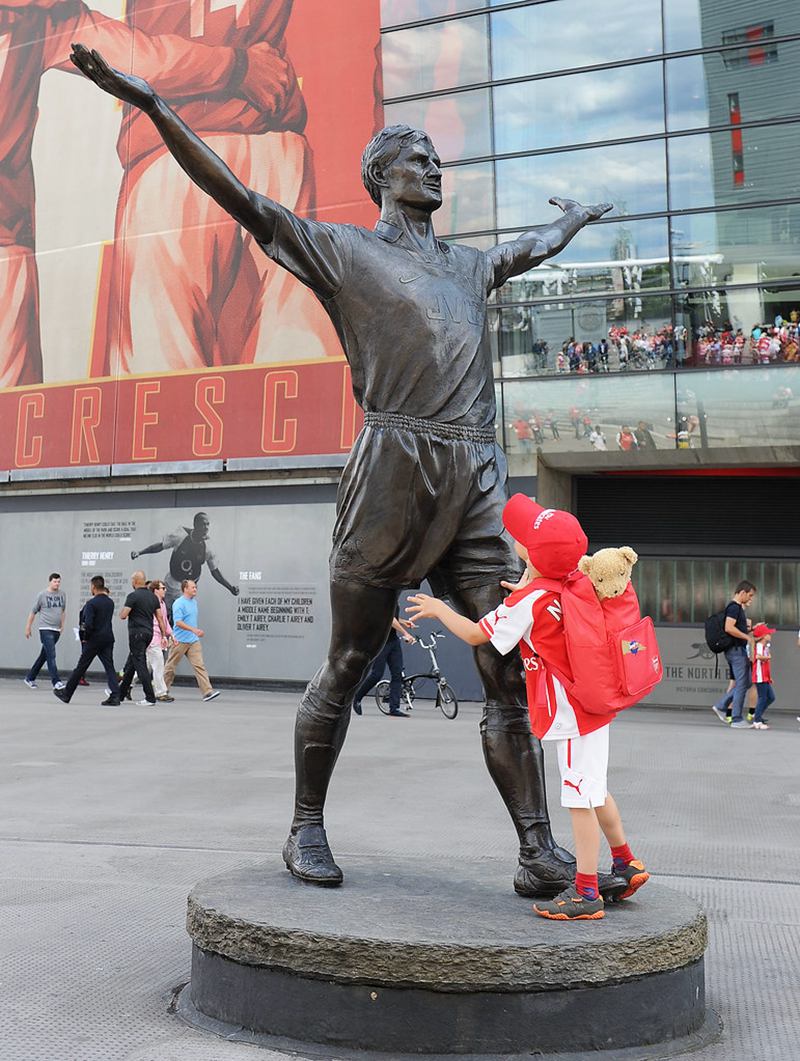 Tony Adams' achievements and impact on Arsenal are celebrated through this statue, which stands as a symbol of his remarkable career and his status as one of the club's greatest players. It is a beloved landmark for fans, a reminder of Arsenal's rich history, and a testament to the lasting legacy of Tony Adams.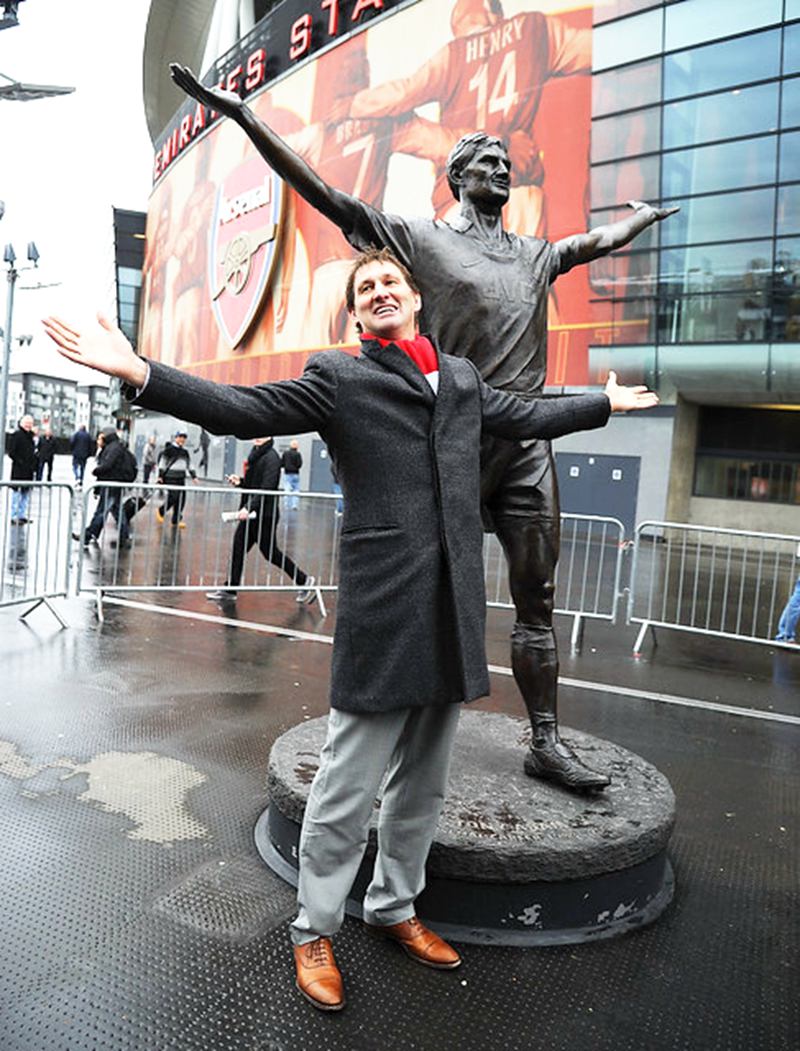 Top 7 Wilf Mannion
The statue of Wilf Mannion, sculpted by Tom Maley, stands at the Riverside Stadium, the home ground of Middlesbrough Football Club. The statue was unveiled in 2000, following Mannion's passing earlier that year. It serves as a tribute to his exceptional career and his significant contributions to Middlesbrough and English football.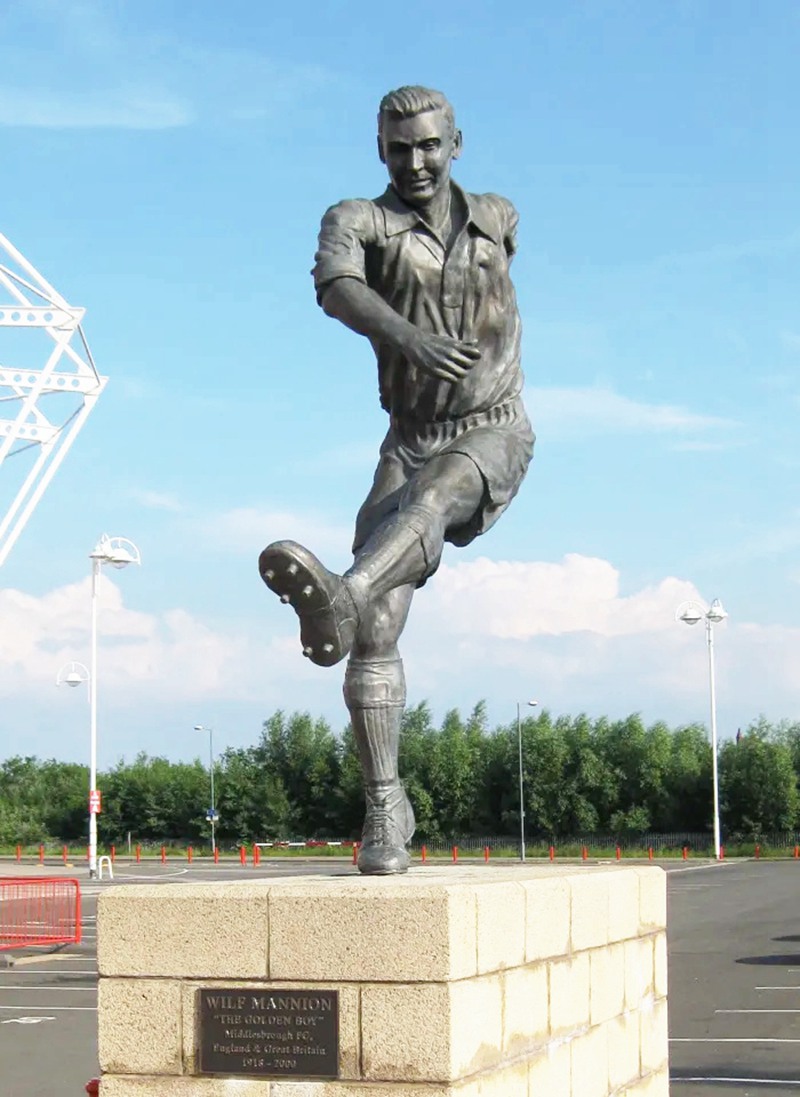 The statue depicts Wilf Mannion in a dynamic pose, capturing his skill, elegance, and impact on the field. It stands as a fitting memorial to his achievements and his status as one of Middlesbrough's greatest players. The statue of Wilf Mannion at the Riverside Stadium serves as a reminder of his remarkable career, his influence on Middlesbrough Football Club, and his contribution to the broader footballing community. It stands as a cherished landmark for fans and a symbol of Mannion's enduring legacy.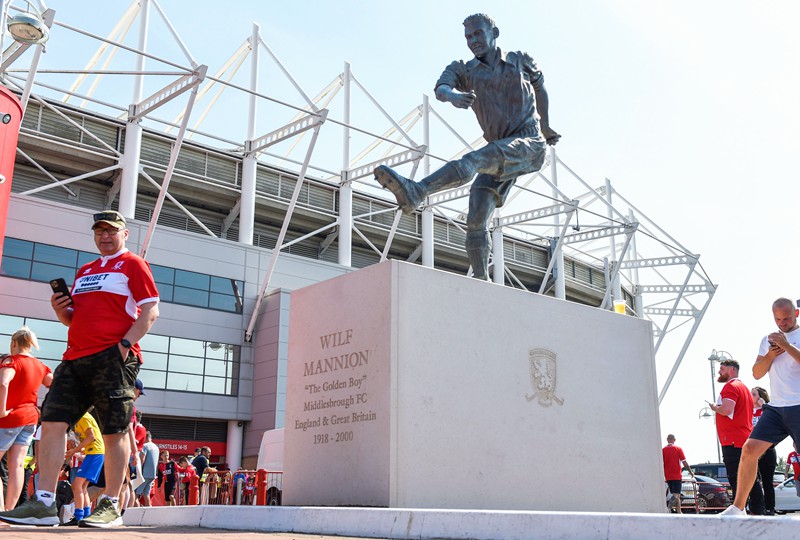 Top 8 Stan Mortensen
To honor Mortensen's achievements and his contribution to Blackpool F.C., a statue was sculpted by Peter Hodgkinson. The statue was unveiled on August 23, 2005, behind the North Stand of Bloomfield Road, the home ground of Blackpool F.C. The unveiling ceremony was attended by Mortensen's widow, Jean, as well as former player Jimmy Armfield.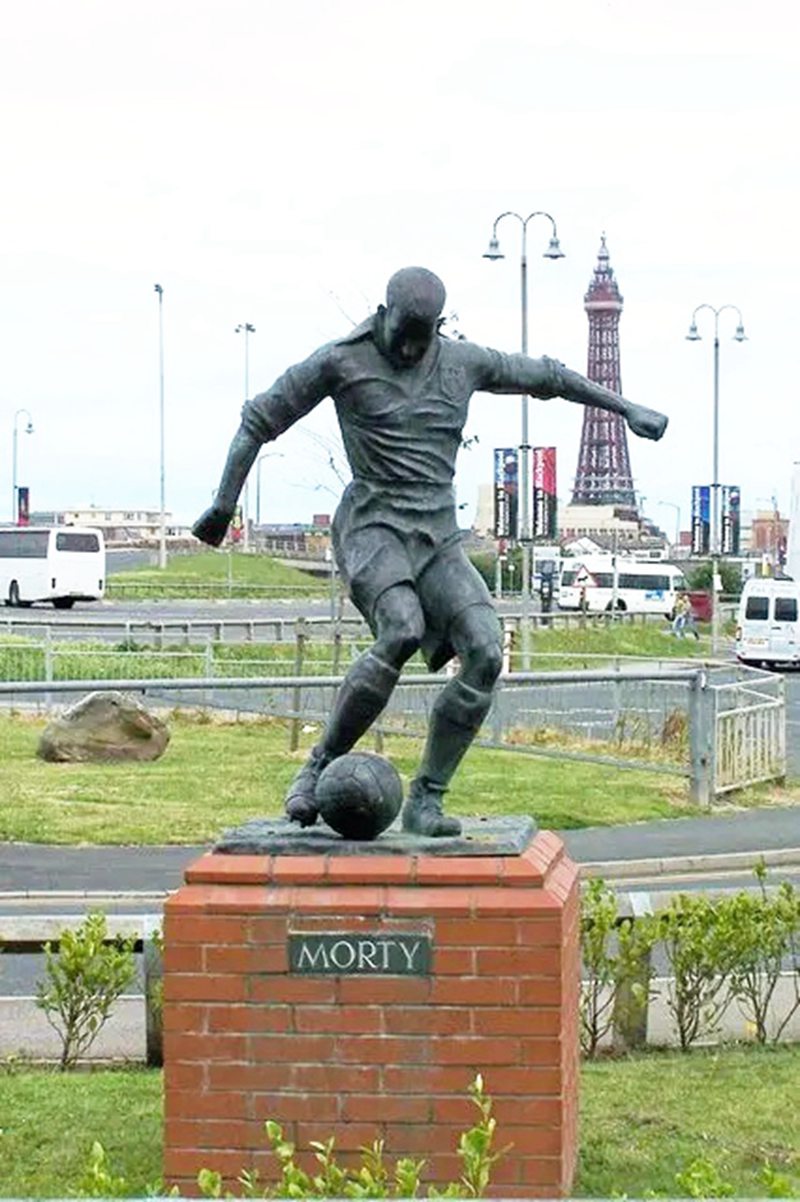 The statue serves as a lasting tribute to Mortensen's remarkable career and his unforgettable performance in the 1953 FA Cup Final. It stands as a reminder of his skill, talent, and the impact he had on Blackpool Football Club. The North Stand of Bloomfield Road also bears his name, further honoring his legacy within the club.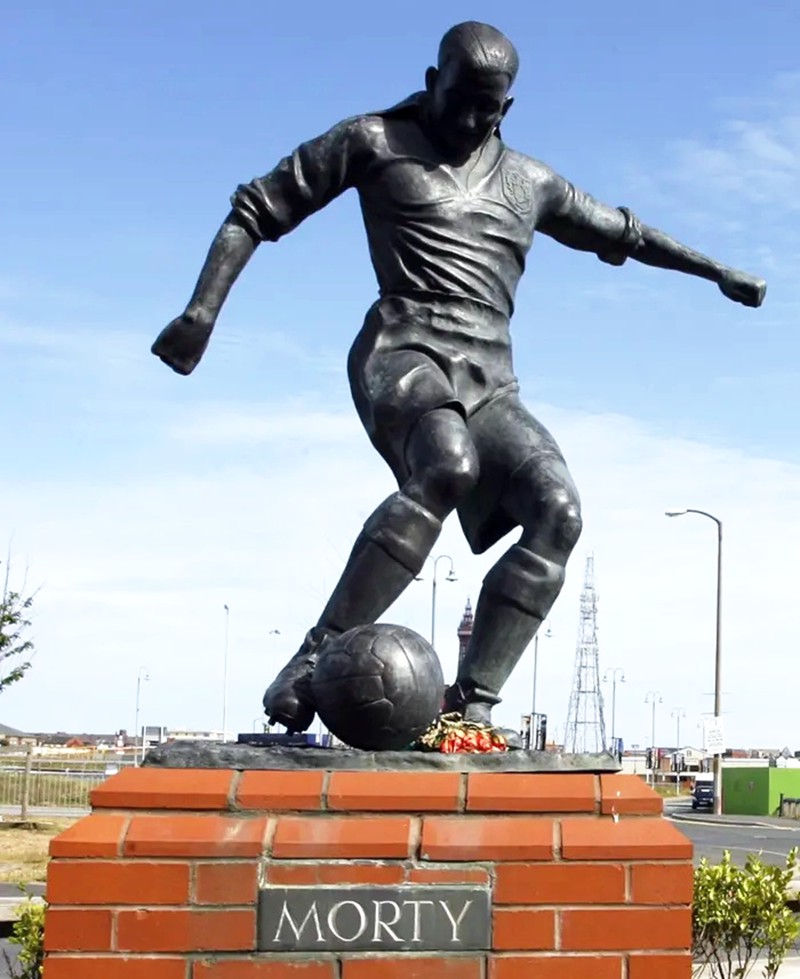 Top 9 Henrik Larsson
The location overlooking the sea along the Strandvägen sounds like a beautiful setting for the statue, providing a scenic backdrop to honor Larsson's achievements. From your description, it seems that the statue captures Larsson in a dynamic pose, displaying his focus and determination as he kicks a ball towards the North Sea. It's great to know that Larsson's statue has been well-maintained and remains in beautiful condition, serving as a lasting tribute to his remarkable career and his impact on Swedish football.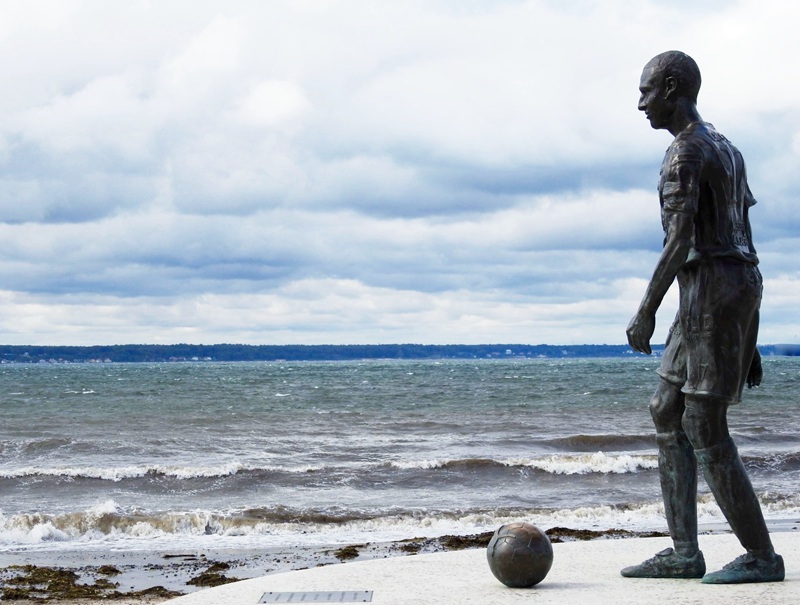 Henrik Larsson's contributions to both club football, with successful spells at clubs like Celtic and Barcelona, and the Swedish national team have undoubtedly left a lasting legacy. It's fitting that he is celebrated in his hometown with a statue that honors his achievements and reminds future generations of his greatness.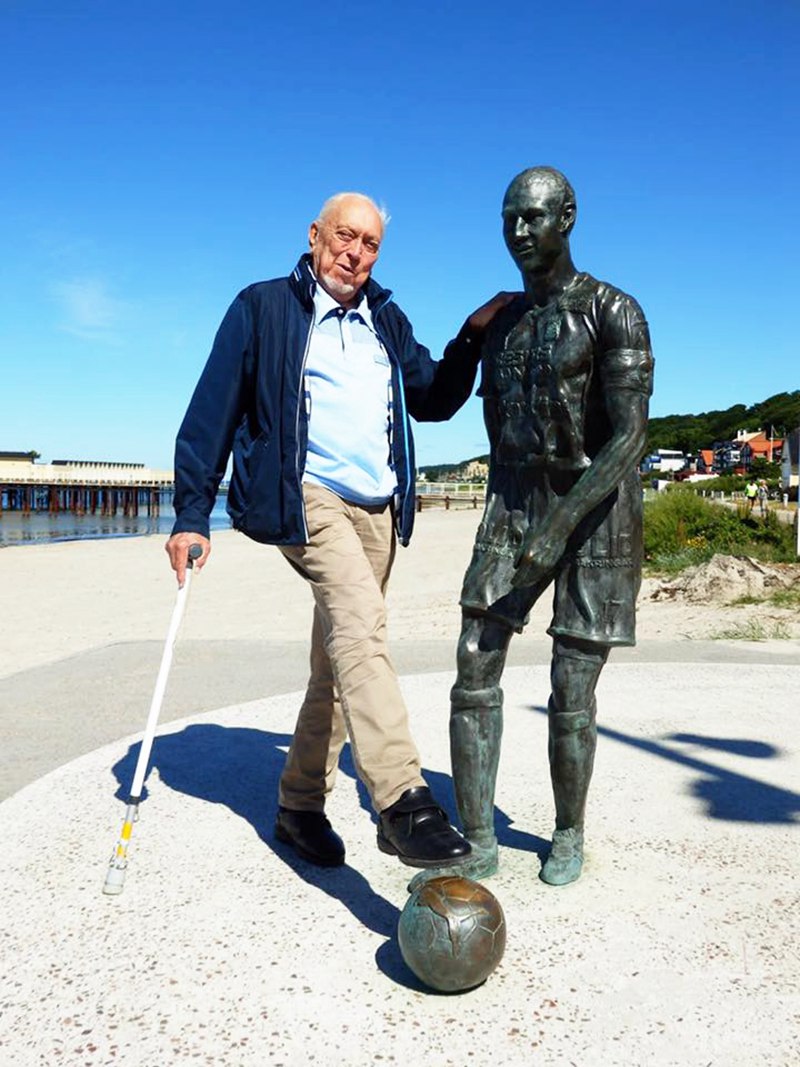 Top 10 Materazzi Zidane
The statue, famously known as "Headbutt," was initially unveiled in Pietrasanta, Italy, in the region of Tuscany. It was later relocated to Lake Geneva, but its intended permanent location is in front of the Centre Pompidou in Paris. This striking sculpture, standing at five meters tall, was created by Algerian artist Abdel Abdessemed. The artwork evokes strong emotions due to its imposing size and the dark hue in which it was painted. As expected, it has sparked a significant amount of controversy as it portrays a clear unsportsmanlike gesture, making it a subject of debate regarding its suitability for public exhibition. Despite this, the sculpture has gained widespread attention through television and display, reaching a wide audience.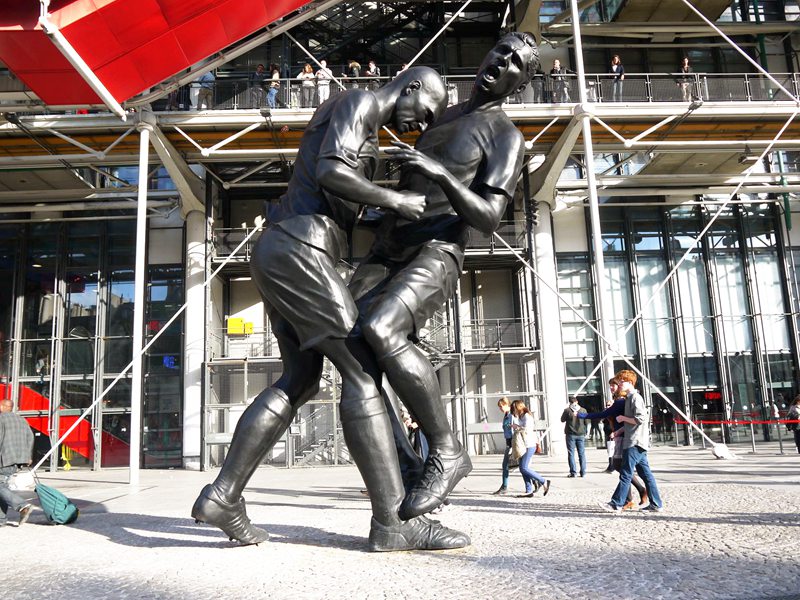 Top 11 The United Trinity statue
George Best, Bobby Charlton, and Matthew Law are revered as the top three heroes of Manchester United. As the victors of the English club's inaugural Champions League (European Cup), they formed the Holy Trinity, a term inspired by the Catholic Holy Trinity. To honor their legacy, a magnificent statue was erected in front of the Sir Alex Ferguson Stand, making it one of the most aesthetically pleasing sculptures in England. The surrounding area also boasts several other statues commemorating significant figures in the club's illustrious history. Renowned artist Philip Jackson, known for creating the statue of Bobby Moore in London, was entrusted with crafting this remarkable piece dedicated to the trio. These three individuals played a pivotal role in shaping the iconic status of football stars, leaving an indelible mark on the sport.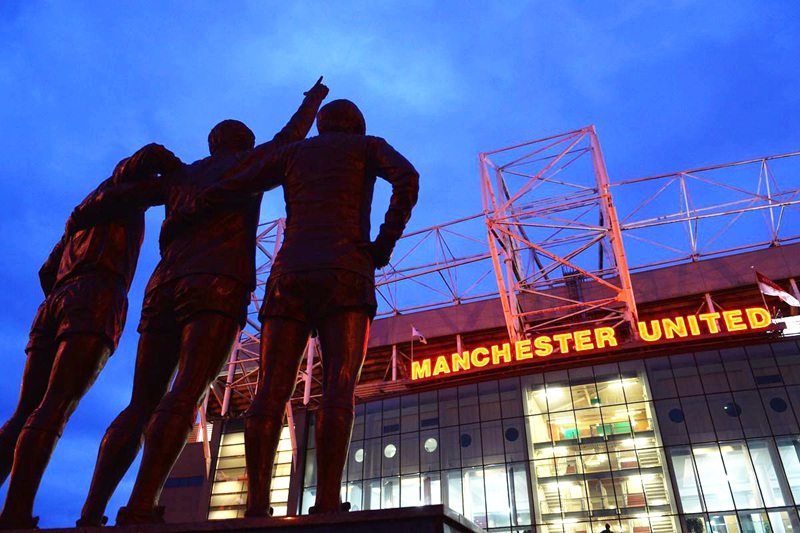 Top 12 Tofik Bakhramov statue
Tofik Bakhramov, though considered a "Mr. Nobody" to some, holds great significance for both the Azeris and the British. He gained prominence as the linesman during the 1966 World Cup final, a match famously won by England. This final witnessed one of the most memorable incidents in the history of the tournament. During overtime, a disputed goal occurred, leading the referee to seek Bakhramov's input to make a crucial decision. Remarkably, Bakhramov, an Azerbaijani and also a match director, confidently asserted that the ball had crossed the line, despite the referee's lack of visibility. This incident, which coined the term "phantom goal," had far-reaching consequences and sparked endless debates. Bakhramov's actions elevated him to national hero status, and in his honor, a 6-meter-tall statue was erected at the stadium bearing his name.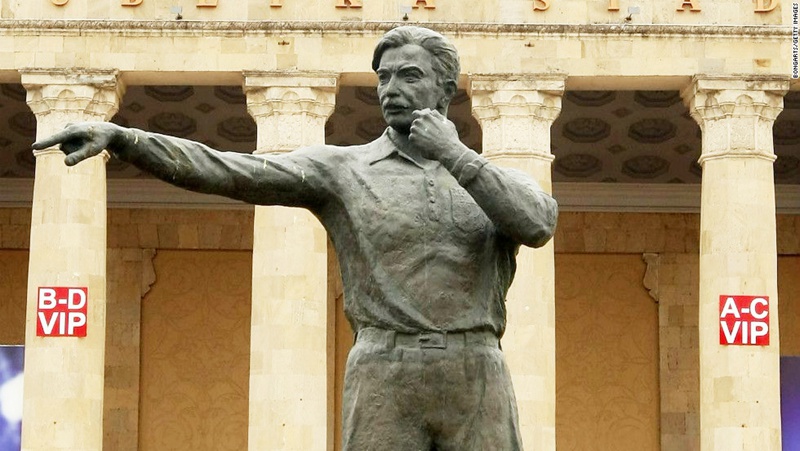 The Tofik Bakhramov statue stands in honor of Tofik Bakhramov, the linesman who played a significant role in the 1966 World Cup final. The statue is located at a stadium named after him, though the specific location is not provided in the given information. Standing at 6 meters in height, the statue captures the essence of Bakhramov's legacy. It serves as a lasting tribute to his pivotal role in one of the most memorable incidents in World Cup history.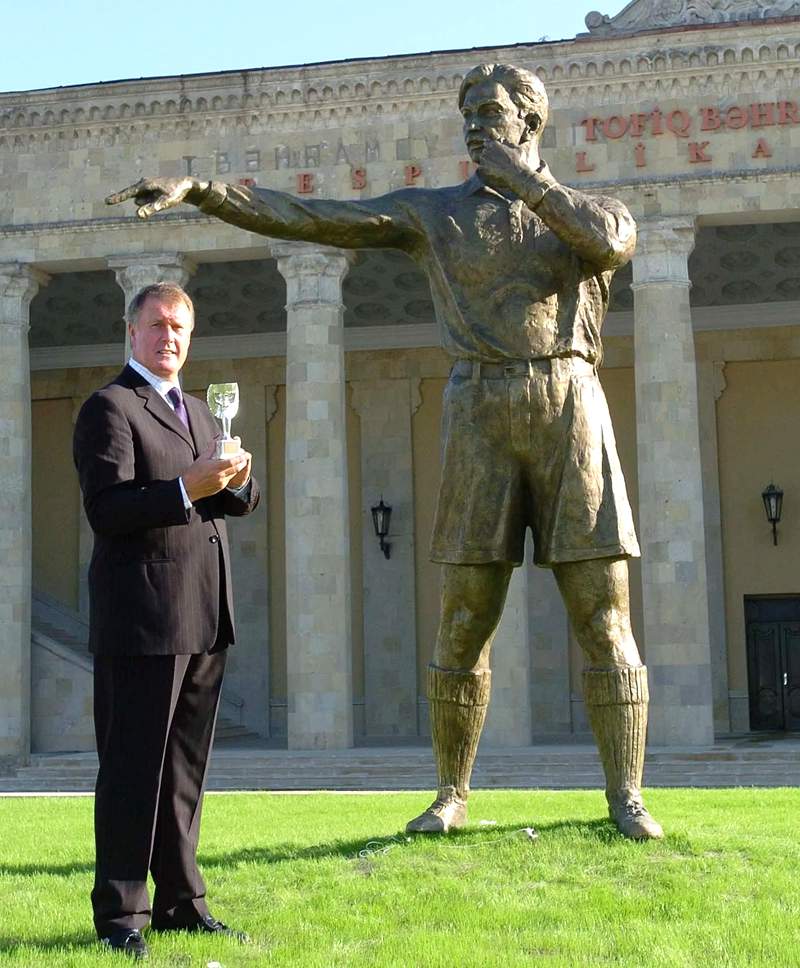 Top 13 Barry Sanders Statue
The Barry Sanders Statue is an impressive eight-foot-tall monument that perfectly embodies the dynamic spirit of the NFL legend. It depicts Sanders in a classic juke move, showcasing his agility and skill on the football field. The sculpture is meticulously crafted, capturing every detail, from the iconic cut-off gloves that Sanders wore during his playing days to his intense, focused gaze, reflecting his unwavering determination. This statue serves as a powerful testament to Sanders' lasting impact, not only on the city of Detroit but also on the world of football. As the first-of-its-kind monument located outside the stadium, it immortalizes Sanders as a true icon of the game, celebrating his remarkable career and record-breaking achievements that have solidified his place in football history.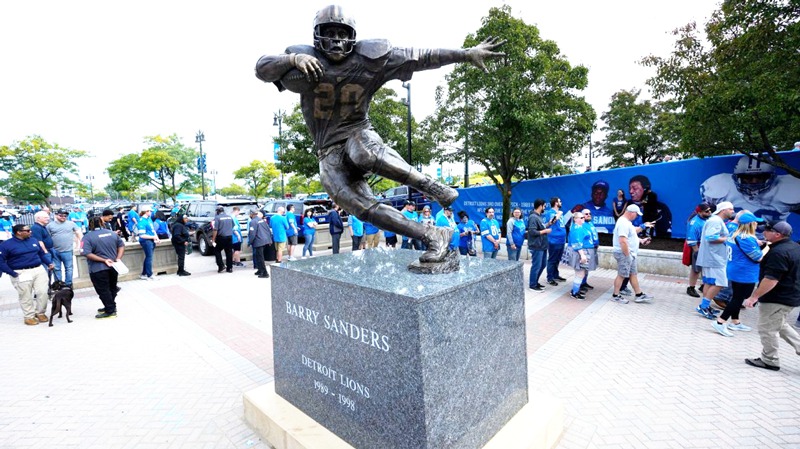 Top 14 Nick Foles Statue
The Nick Foles and Doug Pederson Statue encapsulate the extraordinary connection between quarterback Nick Foles and coach Doug Pederson during the iconic Super Bowl 52 moment. Crafted with mastery, this bronze statue beautifully captures the essence of that thrilling underdog victory, which captivated fans around the world. The sculpture portrays Foles and Pederson locked in an embrace of triumph, symbolizing the remarkable teamwork, unwavering determination, and ultimate triumph against overwhelming odds. Beyond its artistic merit, this statue stands as a powerful testament to sports history, etching itself into the hearts of all who cherish the unforgettable moments of that game.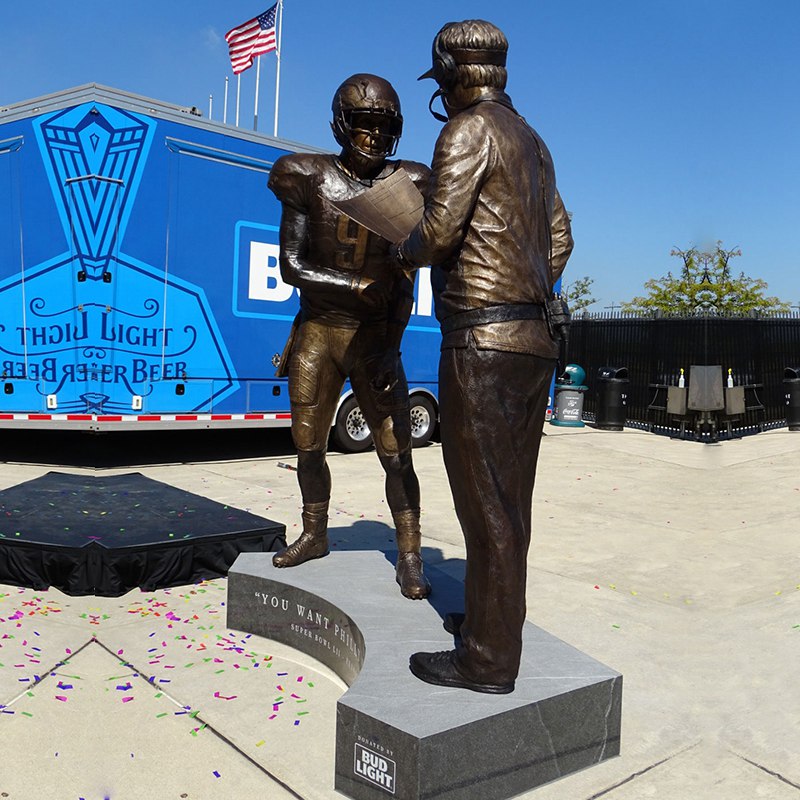 More Information Check Out: Bronze Nick Foles Statue
Top 15 Wenger Statue
The Wenger Statue stands as a tribute to the exceptional legacy of Arsène Wenger, one of the most renowned football minds in history. This meticulously crafted statue, made from enduring bronze, captures the essence of Wenger's influential presence. It serves as a symbol of his remarkable leadership and enduring impact on both the sport of football and the Arsenal Football Club. Wenger's tenure at Arsenal marked a transformative era, characterized by a captivating style of play and an unwavering commitment to excellence. For football enthusiasts and devoted Arsenal fans, this statue stands as a powerful reminder of Wenger's legendary contributions to the beautiful game.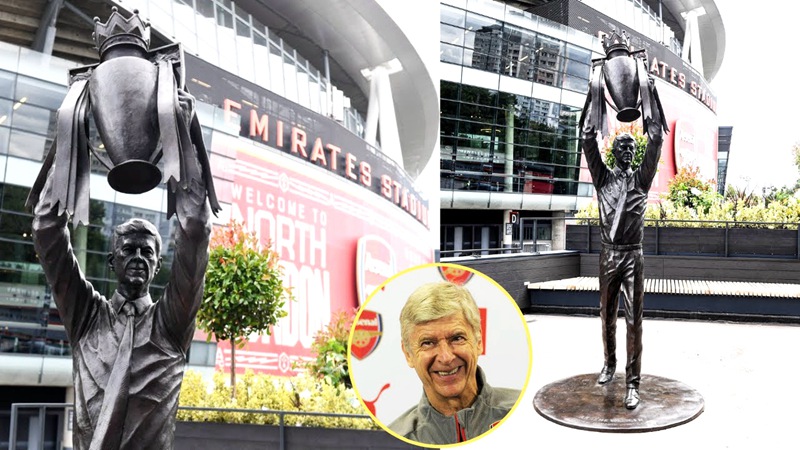 Statues of famous football players have become increasingly popular in recent years, with many cities and towns commissioning new statues to honor their local heroes. In addition to their cultural and artistic value, these statues also serve as tourist attractions and points of interest, drawing visitors from around the world to come and pay tribute to some of the greatest players to ever grace the field.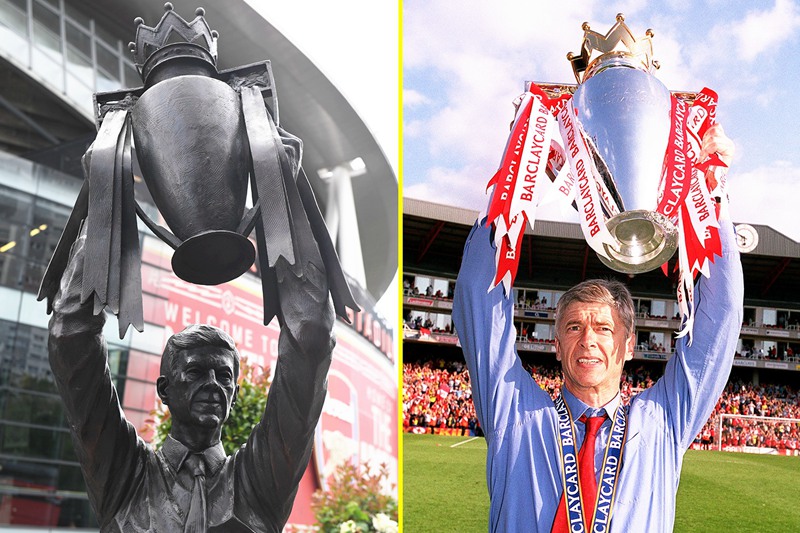 More Information Check Out: Famous Wenger Statue
YouFine Bronze Football Player Statue Advantages:
First and foremost, bronze is a durable and long-lasting material that can withstand the test of time and maintain its beautiful appearance. This makes bronze sculptures an ideal choice to permanently commemorate and honor the achievements and contributions of football players.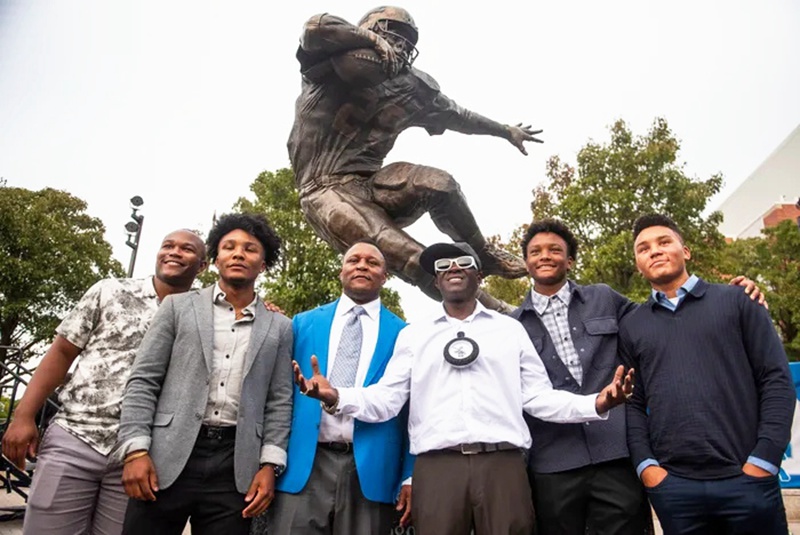 Secondly, bronze sculptures have extraordinary detail expression. In the casting process, YouFine artists capture the athlete's muscle lines, facial expressions, and equipment details with precision. This gives the sculpture a lifelike appearance, allowing viewers to truly feel the power and passion of the athletes.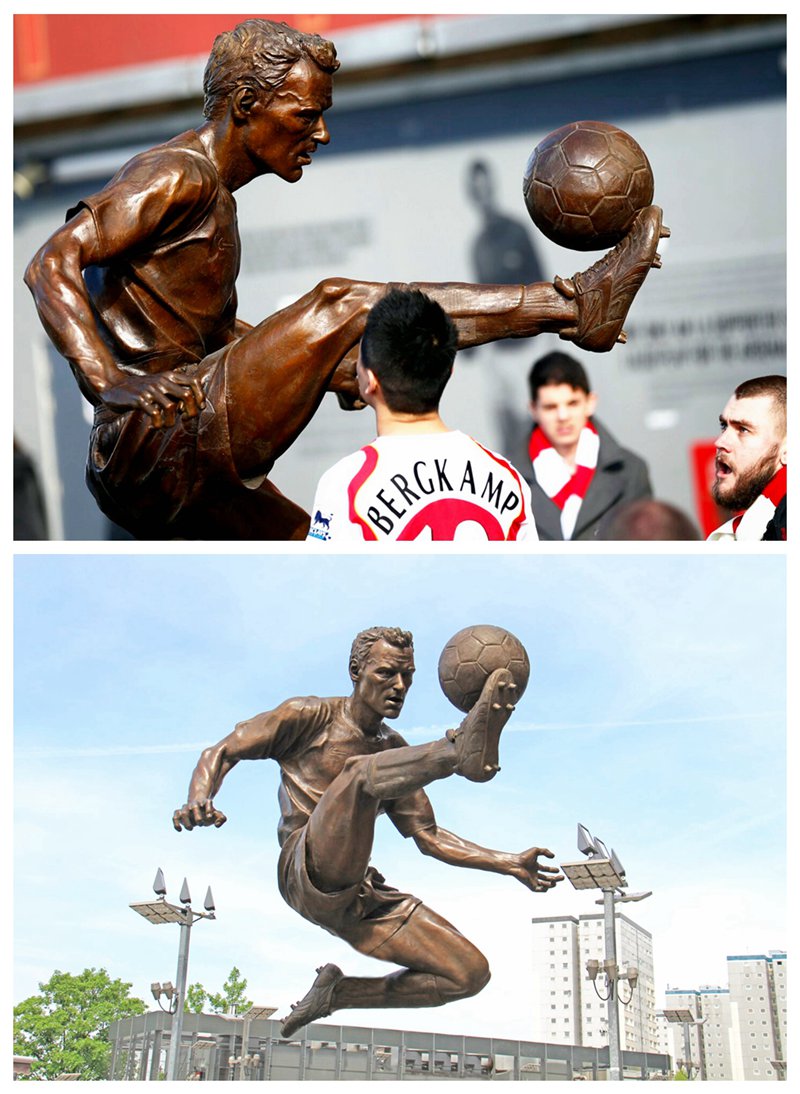 In addition, bronze sculptures have a unique texture and luster. Its dark tone and metallic sheen give the sculpture a noble and precious feel. This texture and sheen allow the sculpture to change in different lights, adding to its visual appeal.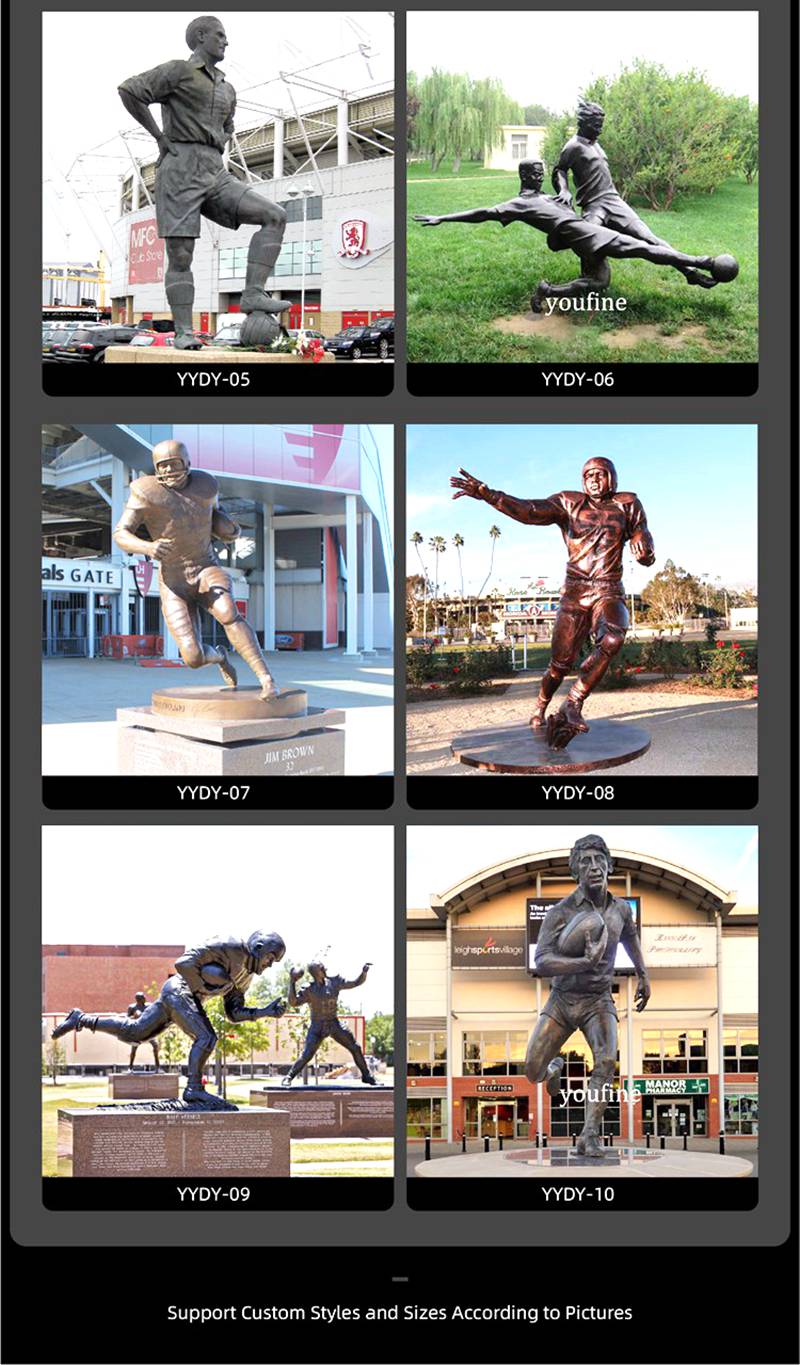 More Information Check Out: Sport Statue
In summary, the durability, detail, unique texture, and adaptability of YouFine cast bronze football player sculptures make them an ideal choice for permanently commemorating and honoring football players' outstanding achievements.
Last Article
:
Life Size Sitting Bronze Lion Statue Outdoor Decor for Sale
Next Article: