Top15 Popular Fernando Botero Sculptures
Updated 10/21/2022 5:20 PM By Guo, Judy
Fernando Botero Angulo (born in 1932) is a Colombian figurative artist and sculptor. His signature style is known as Boterismo. The Botero sculpture depicts figures in large and exaggerated volumes. Also, some statues could represent political criticism or humor, depending on the piece. Botero's work has concentrated on situational portraiture.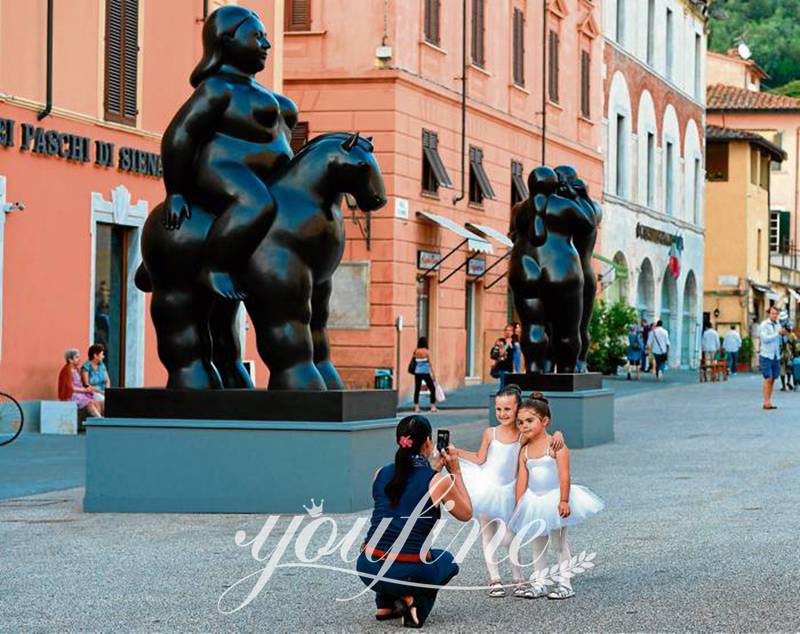 His paintings and sculptures are united by their proportionally exaggerated, or "fat" figures, as he once referred to them. Botero is an abstract artist choosing colors, shapes, and proportions based on his intuitive aesthetic style. YouFine, a professional bronze foundry for 39 years, is able to cast for you a series of replicas of Fernando Botero Sculptures. Our experienced artists would surely be able to cast a bronze Botero statue to your satisfaction.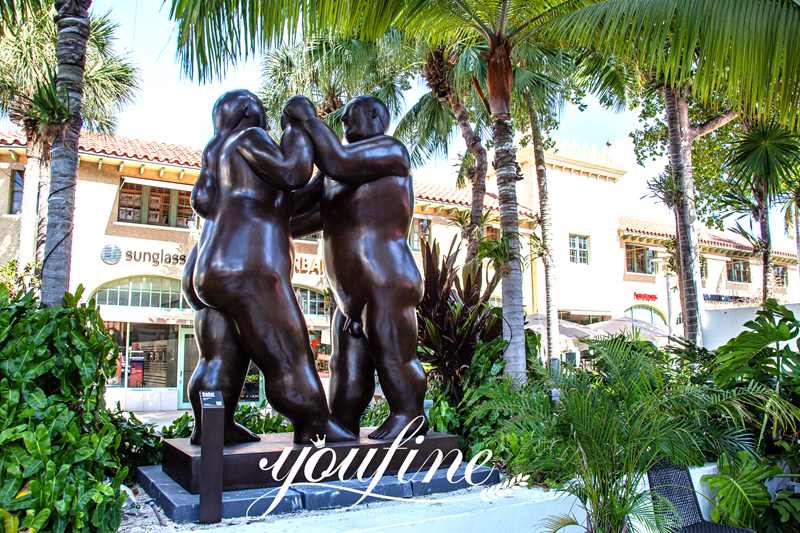 Top1 Fernando Botero Horse
This gigantic equestrian horse sculpture retouched the deep brown patina and gave the bronze a fresh coat of wax. Among his inventory of bronze animal figures that include birds, dogs, and cats, the fat horses are arguably the most majestic. An acknowledged lover of form and volume. Botero's Horse highlights the artist's study of these effects in the paintings of Renaissance masters.
Like his other massive bronze works, Horse has a powerful presence that is underscored not only by the volumes of the animal's form but also by the scale. Monumental, the horse stands erect, completely still. The head, nearly dwarfed by these powerful forms, extends the elegant line of the body forward and down.
Top2 El Pajaro or The Bird Sculpture
Since 1990, the sculpture "El Pajaro" or "The bird", as it is known in Singapore, has been on display at the entrance to the United Overseas Bank headquarters facing the Singapore River. This work seeks to embody the joy of living and the power of optimism through the peace that a dove represents. Also, the hometown of the master Botero, where we also find the work "The bird". It is next to its identical one, installed in 1995 and which was destroyed in a terrorist attack.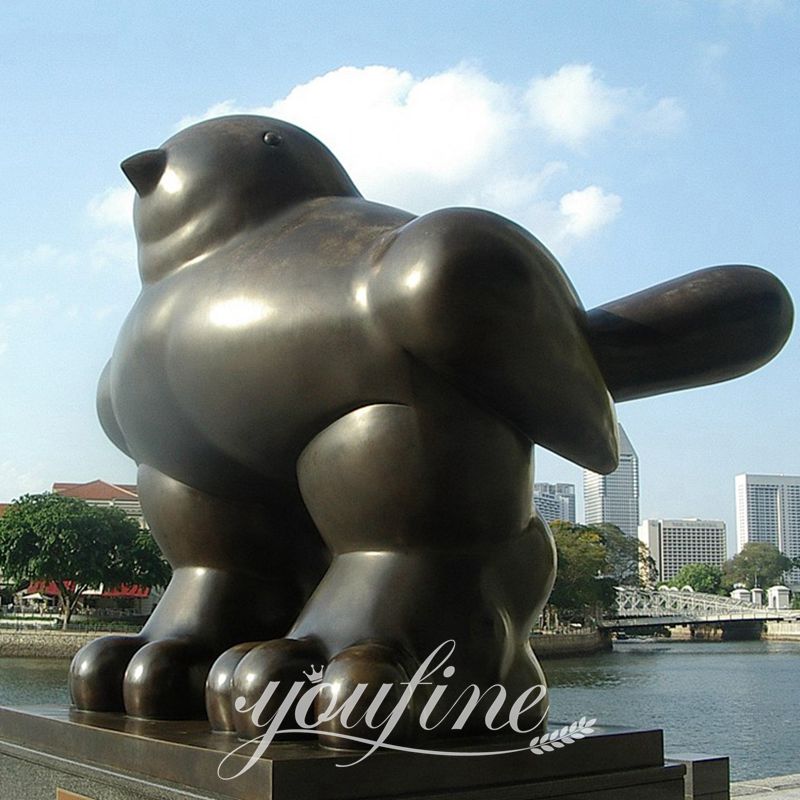 The old piece was not replaced, it is a monument to the victims and a testament to the resilience of the city. This piece was symbolically named "The Bird of Peace". In addition to Singapore and Medellin, there is also another sculpture of "The Bird" outside the airport in Florence, Italy.
Top3 Man on Horse Sculpture
This sculpture is just one of many resting before the public – that typically are in private collections, museums, national parks, or corporate lobbies.  This horseman sculpture depicts a figure sitting on the body of a fat horse. And their images are all fat, giving us a different feeling. Unlike other horse riders who always give a running state. This horseman is more of a fun and realistic reaction to the body of a real person.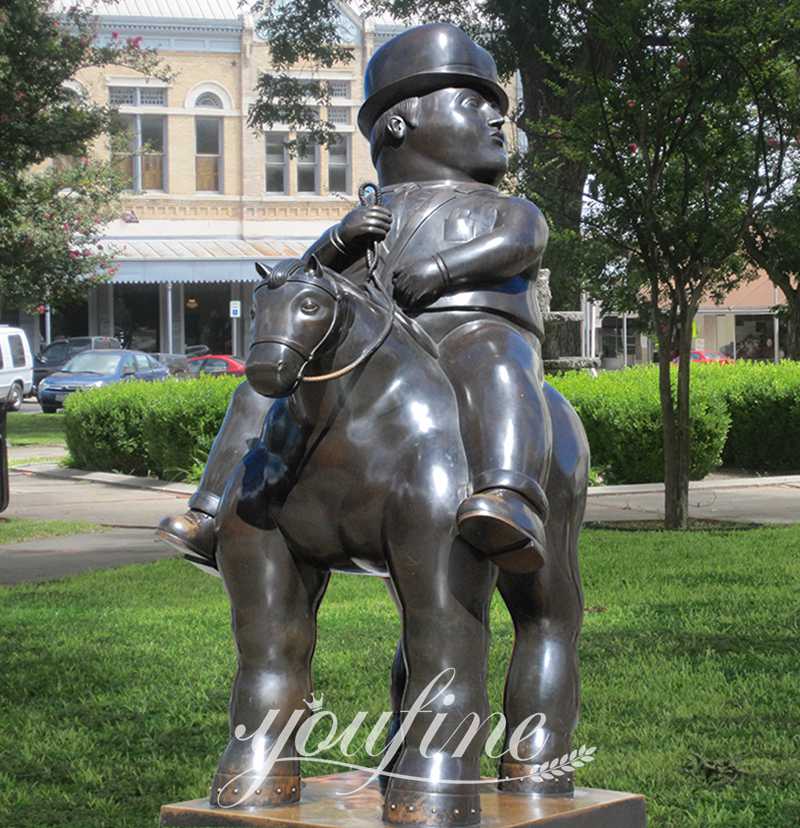 Top4 Sphinx Sculpture
The renowned artist Fernando Botero's visually striking, eight-foot-tall Sphinx statue is now on display at 14th Street Square through April 19. With characteristic wit and joyous play of volumes, Botero interprets the classical creature with a head of a human, the body of a lion, and the wings of a falcon, common to Egyptian, Greek, and Central Asian traditions. With characteristic wit and joyous play of volumes, Botero interprets the classical creature with a head of a human, the body of a lion, and the wings of a falcon, common to Egyptian, Greek, and Central Asian traditions.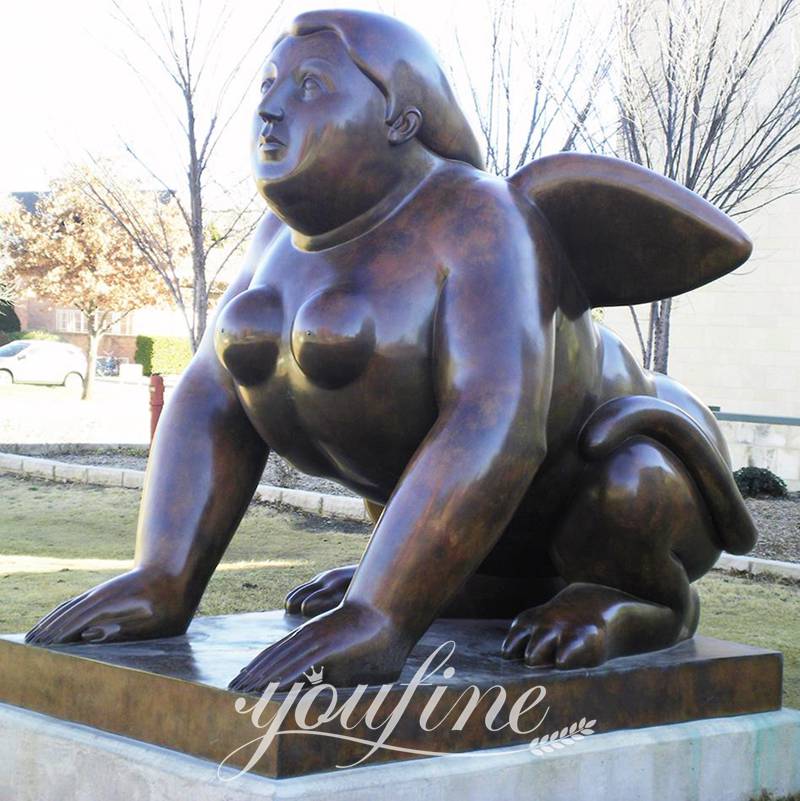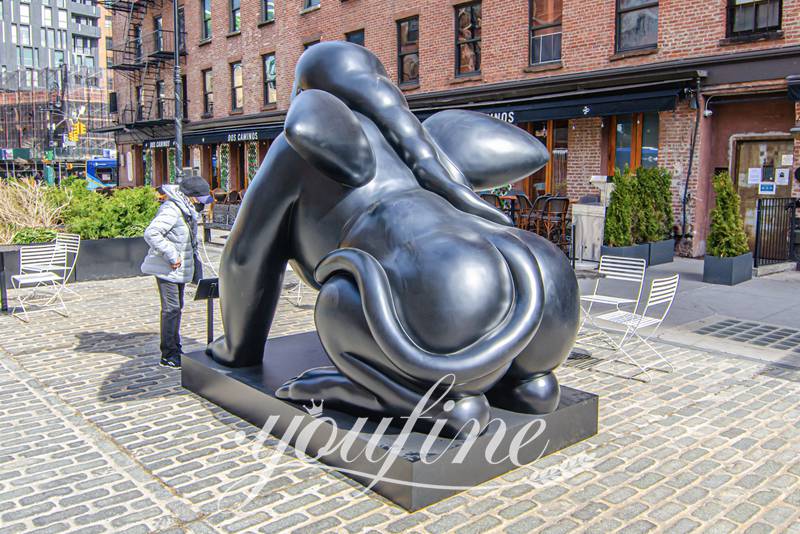 Top5 Standing Woman Sculpture
Standing Woman is one of the Sculpture Walk's most identifiable and accessible works. She's over 10 feet high in her high-heeled shoes and could not be missed with her full, rounded figure, clutch purse, and tiny hat. The statue was created in 1989 and was donated to the park by Joyce and Avrum Gray and their family in memory of their parents, Mae and Joseph Gray.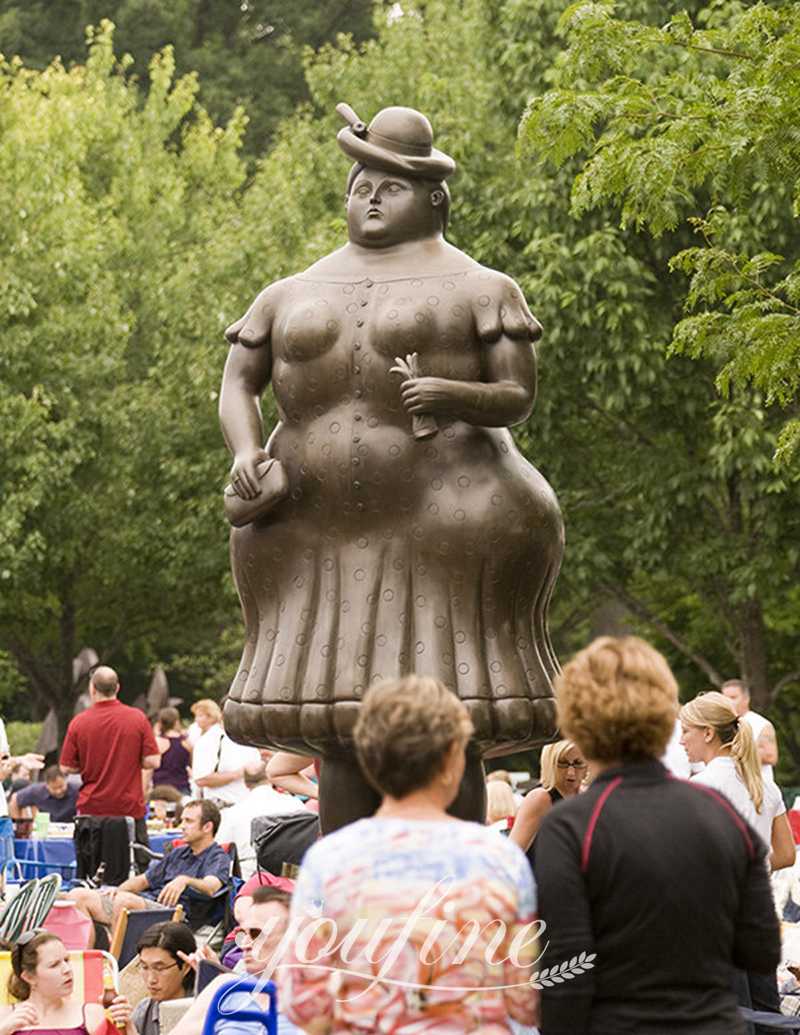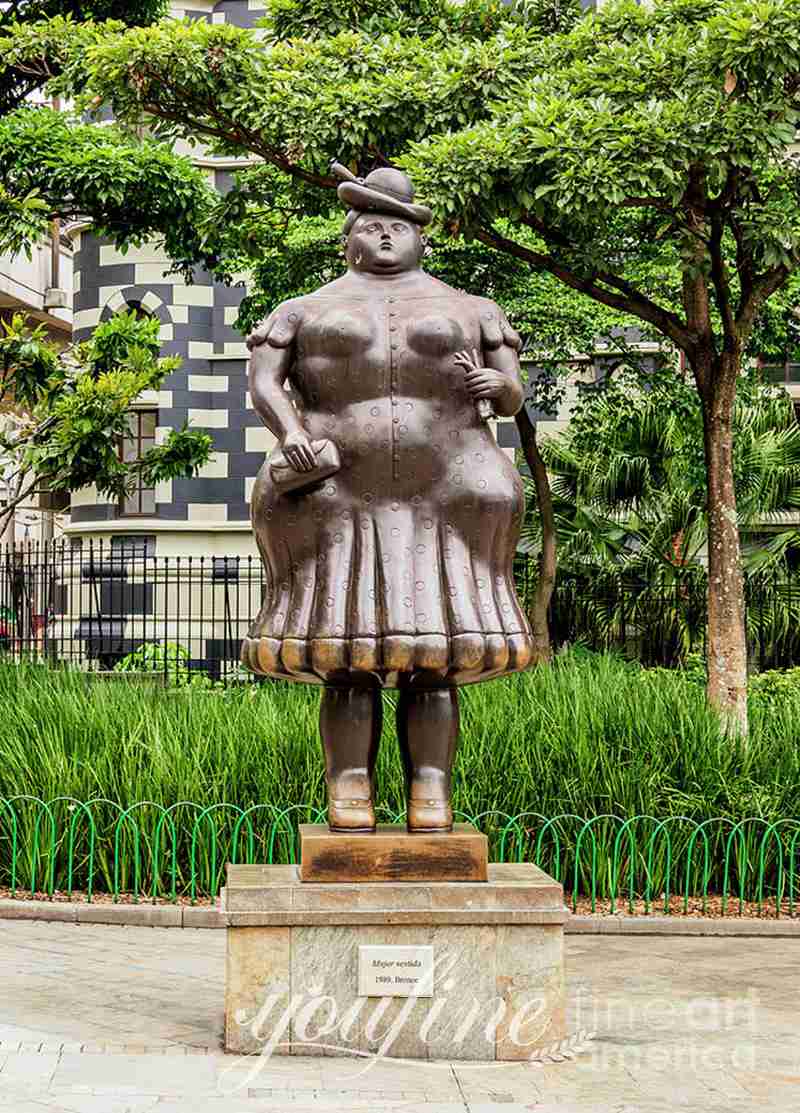 Top6  Maternidade Sculpture
"Maternidade", a work by Botero in which a seated woman holds a child on her left thigh. She was chosen by the people of Lisbon to be part of the Amália Rodrigues Park, a space in the capital of Portugal dedicated to the fado singer Amália Rodrigues.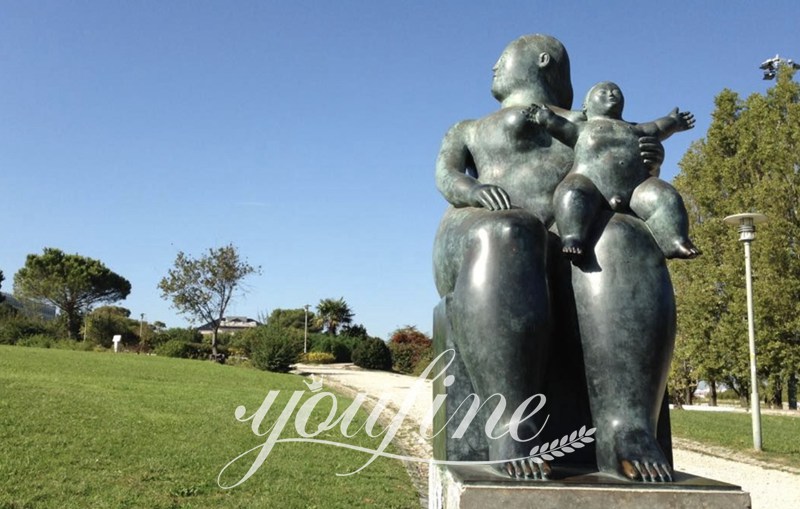 Top7 The Dancers Sculpture
Botero's "The Dancers" depicts a couple in a subliminal dancing pose. What is possibly most striking about The Dancers are their voluptuous dimensions – a trademark of the Columbian artists. The sculpture, installed in 2003, is one of three castings throughout the world. The Dancers are two bronze figurative human sculptures, one male, and one female, about 10 feet 5 inches tall have a dark brown patina covering them. That's all that covers them, too. The plump nudes are posed in a dancing posture.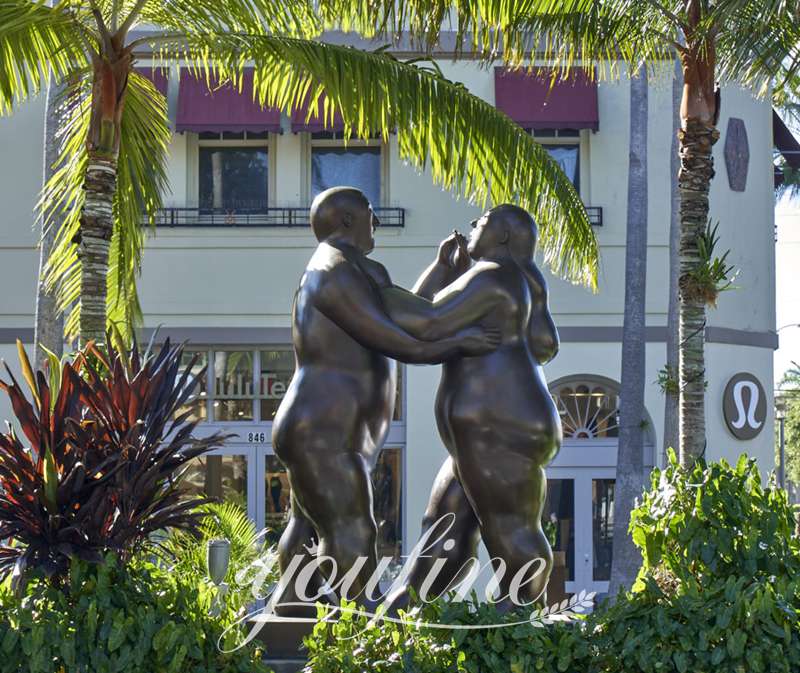 Fernando Botero's artwork could be found in museums and cities throughout the world – cities like Singapore, Madrid, New York, and Rome. It's amazing to ponder that such a rare piece by such a renowned artist stands hidden in the heartland.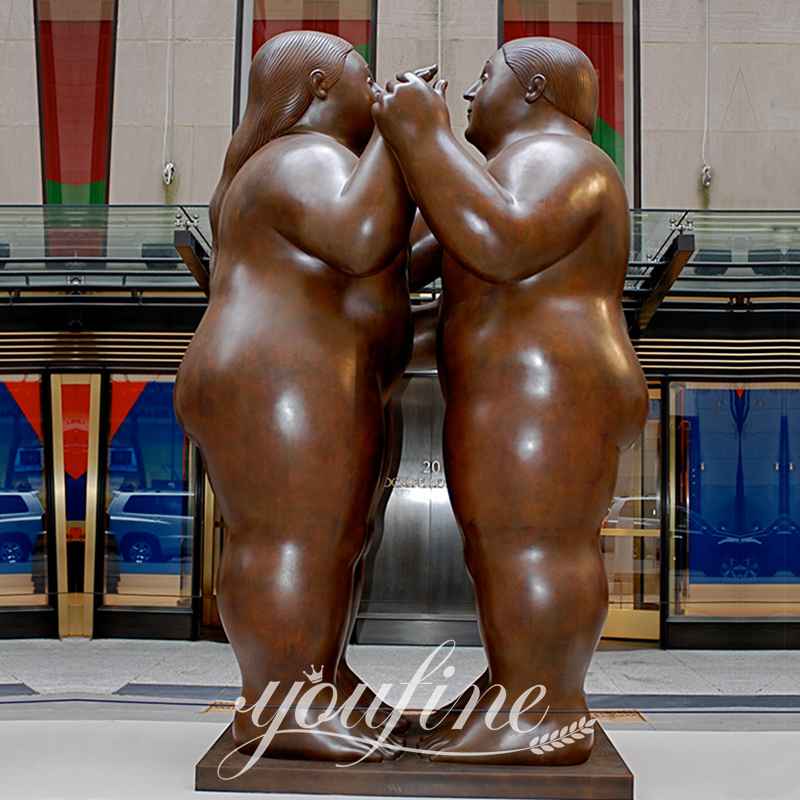 Top8 La Gordita Sculpture
This bronze fat lady sculpture (La Gordita) by Colombia-born Fernando Boleto sits in Plaza Santo Domingo in Centro Cartagena's old town. It was a gift to the city in 2000 and came from Florence Italy. The work of the Colombian Fernando Botero, born in Medellin in 1932, is instantly recognizable by its smooth, inflated shapes and unnatural proportions of bodies and objects. Botero uses a number of set themes. Often voluptuous women or men are the subjects of his work.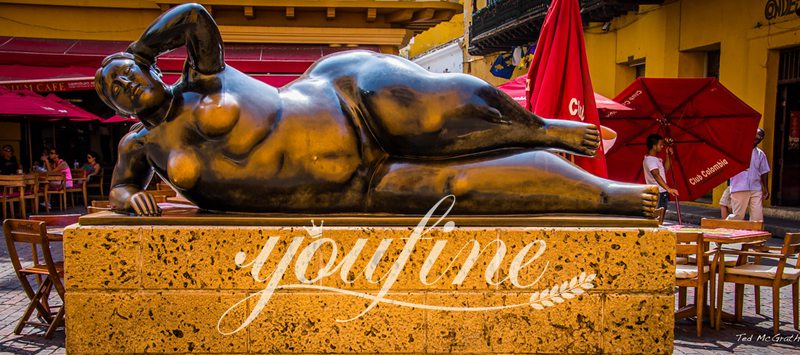 Top9 Woman with Fruit by Fernando Botero
Woman with Fruit," sculpture by Fernando Botero, is at Bamberg on the Heumarkt, where she is lying on her front, eating a fruit. The statue represents a full figure of a naked woman. She was first exhibited in 1998 as part of an exhibition of 15 sculptures by Botero. Enough citizens were captivated by this art so they collected enough funds to purchase this piece and gave it a permanent home. She has now become a significant tourist attraction for the town. The sculpture sits on a pedestal and is part of the sculpture trail in the city.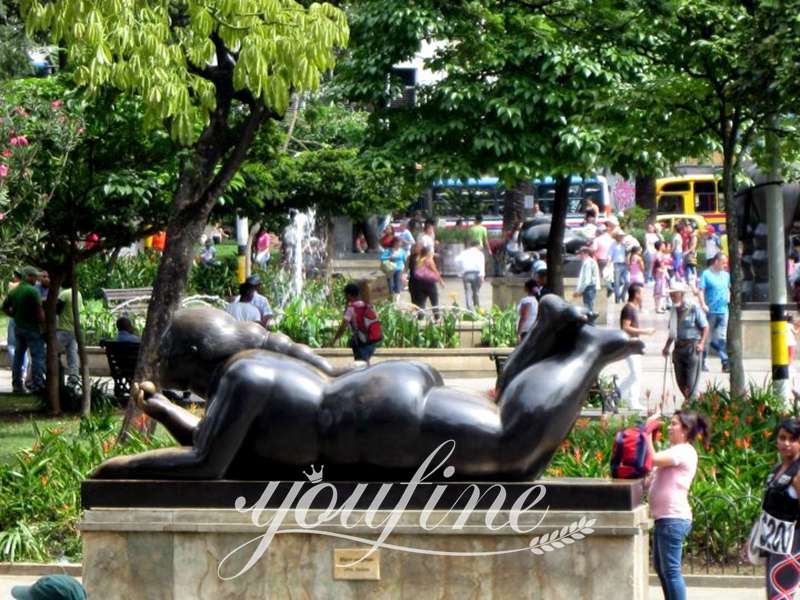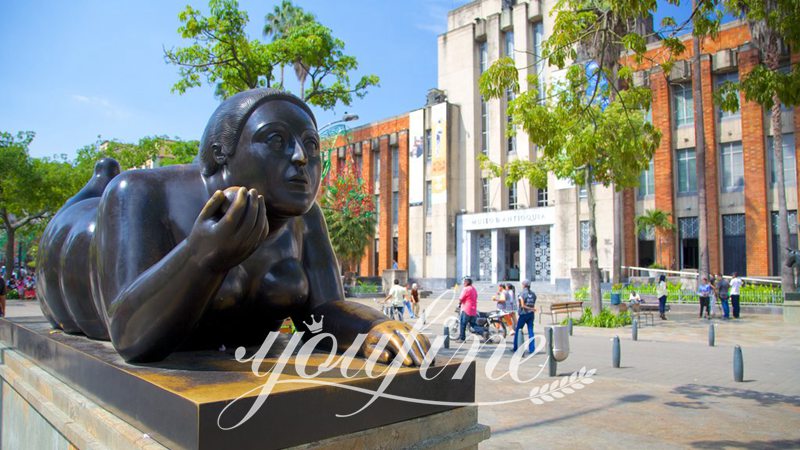 Top10  Plaza Botero – Woman with Mirror Sculpture
Woman with Mirror is a 1987 bronze sculpture in Madrid, Spain, by the Colombian sculptor Fernando Botero. The 1,000-kilogram (2,200 lb) sculpture is of a nude woman with a large figure lying on her front; this body shape is a trademark of the sculptor.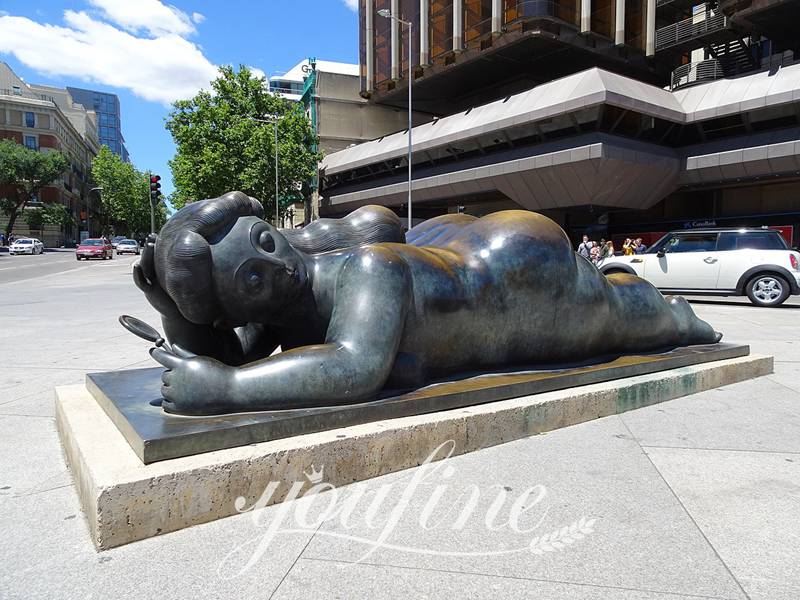 Top11 Broadgate Venus Sculpture
In the heart of the financial district and located behind Liverpool Street station in London, is "Broadgate Venus", the voluptuous piece by Botero that always conquers locals and visitors with its curves and volumes. The Venus is an example of "Boterismo", a style developed by Colombian artist Fernando Botero which depicts people and figures in large exaggerated forms for political or humorous effect.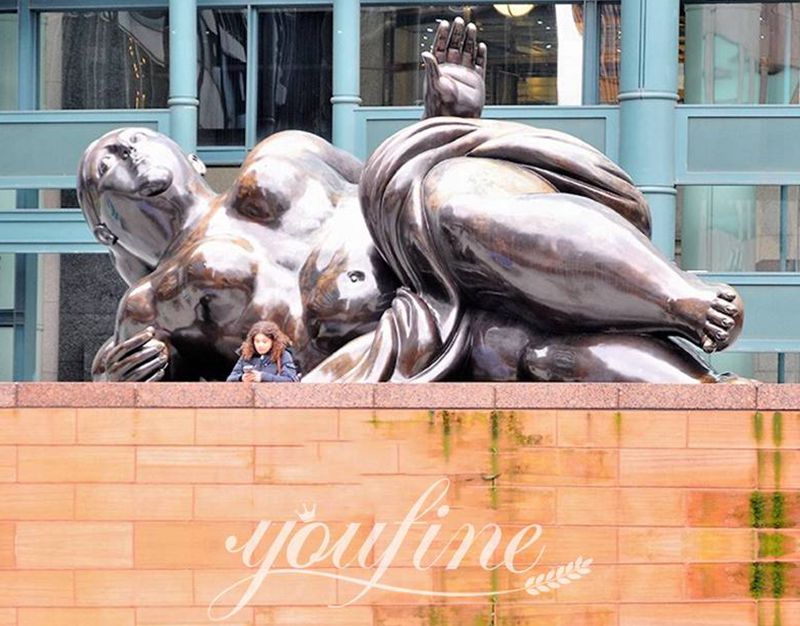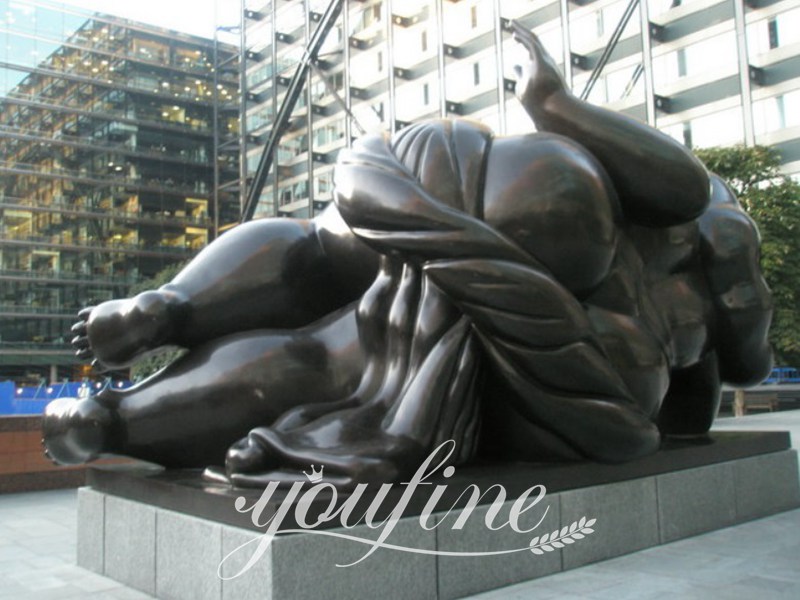 Top12 Women Smoking A Cigarette
She's a Big Gal: Fernando Botero's "Woman Smoking a Cigarette or A Woman with a Cigarette. This greatly oversized bronze figure, created in 1987, is called Women Smoking a Cigarette. She is magnificent as are all of his sculptures. A smoking Woman weighs approximately 2,500 pounds! You've just got to love her. One of the first sculptures on our way is a lady of magnificent form who seems to be lying down on the green grass and thinking about eternity with a cigarette, lit up. The sculpture is the creation of Fernando Botero, an 86-year-old Colombian painter, and sculptor.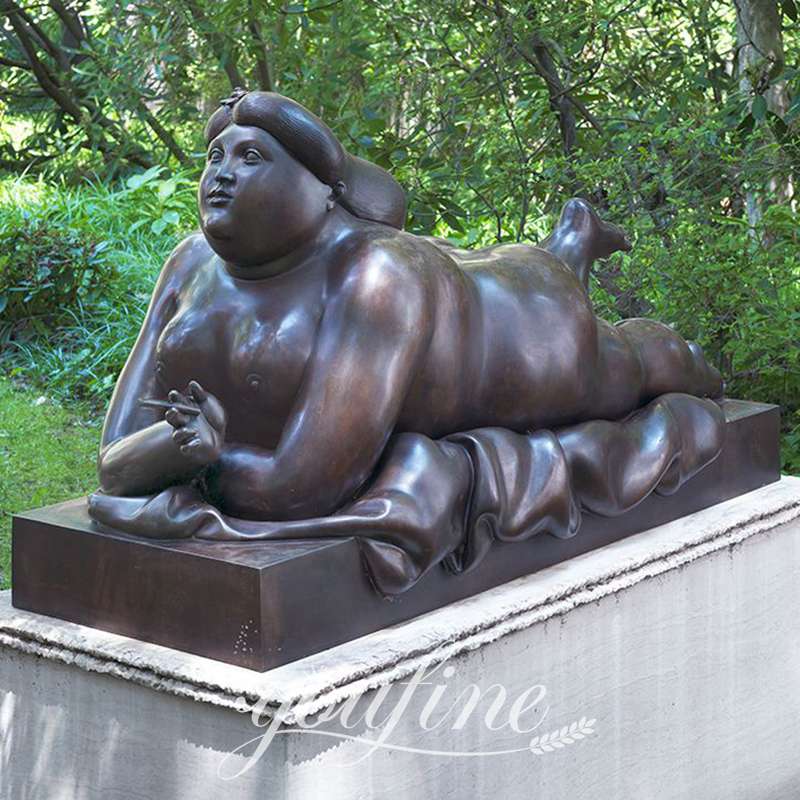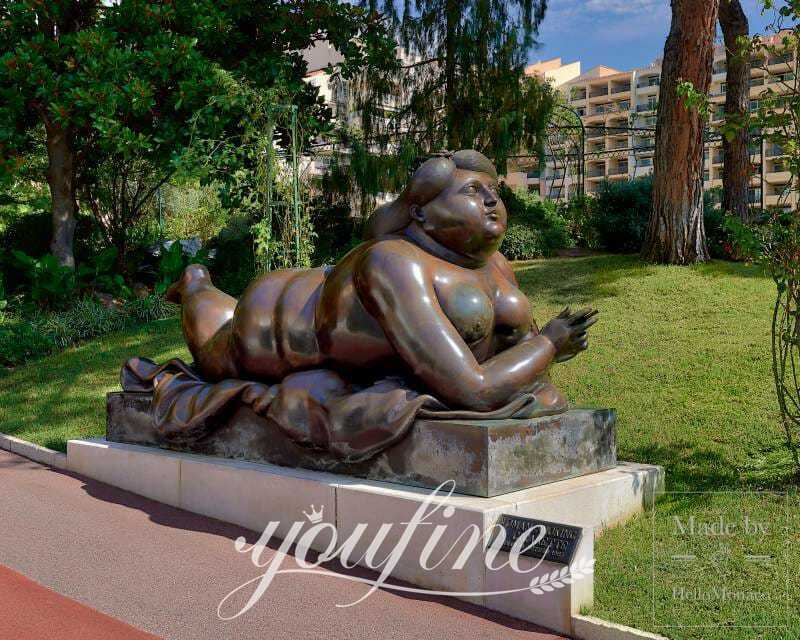 Top13 Rape of Europa Sculpture
This is the statue of Fernando Botero named Rape of Europa. Standing over nine feet tall, Rape of Europa is a unique interpretation of this mythological theme. The nude maiden reclines on her side on the back of the massive bull, balanced, with one hand supporting her head and another outstretched. The figure is poised in a relaxed manner as the strong bull supports her.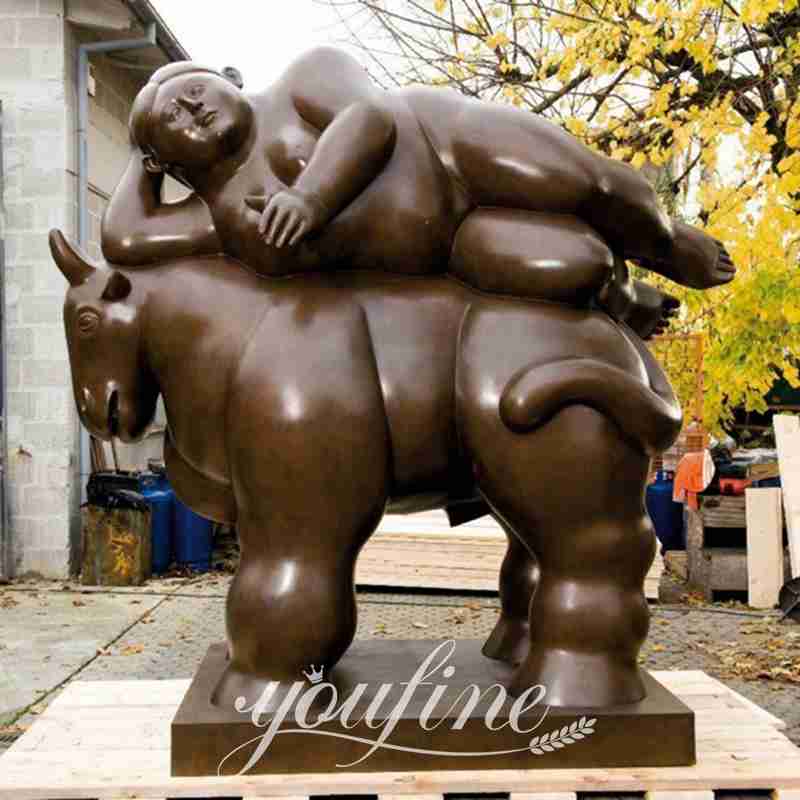 The serenity of the pair is in contrast to the dynamic, shifting elements of Europa's story as related by Ovid. Here, Botero depicts a languid Europa, with no trace of fear as described in Metamorphoses. Jupiter as the bull is attentive and his curled tail implies a degree of domesticity: Europa seems to have tamed him completely.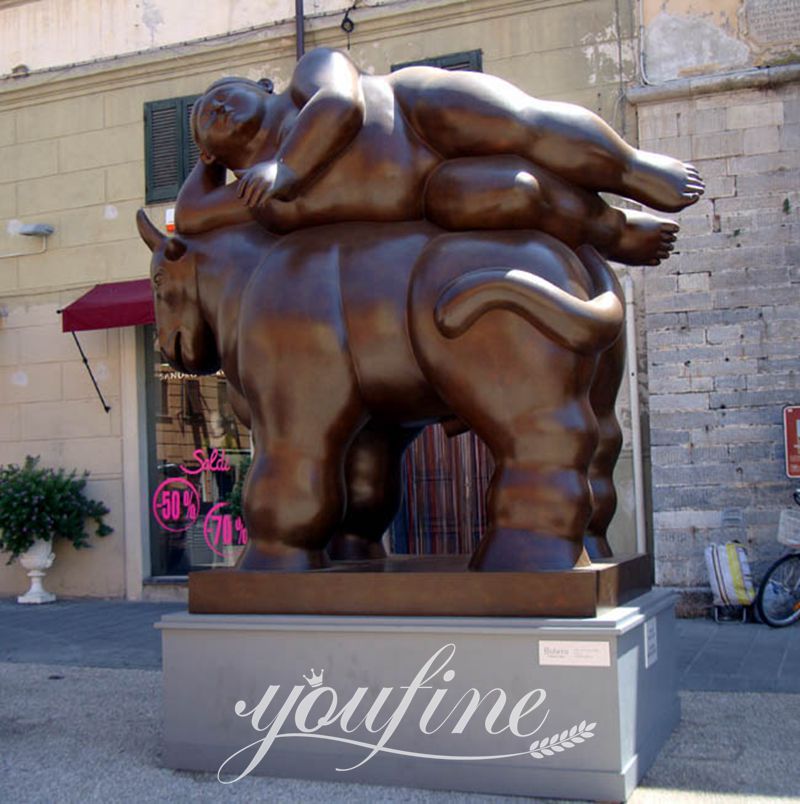 Top14 Leda and the Swan Sculpture
Botero's sculptural Leda and the Swan works effectively reflect his rounded style in expressive, even sensual bronzes, Here, he captures the dramatic moment in Greek mythology when the Olympian god Jupiter in the form of a swan is about to kiss Leda, the wife of the ruler of Sparta. A masterful play of volumes on a monumental scale, Leda is marked by the sensual patina, geometric harmony, and sardonic wit for which his sculpture is celebrated around the world. Imbued with characteristic Boterian humor, this Leda and the Swan is an iconic example of the artist's mature sculptural practice.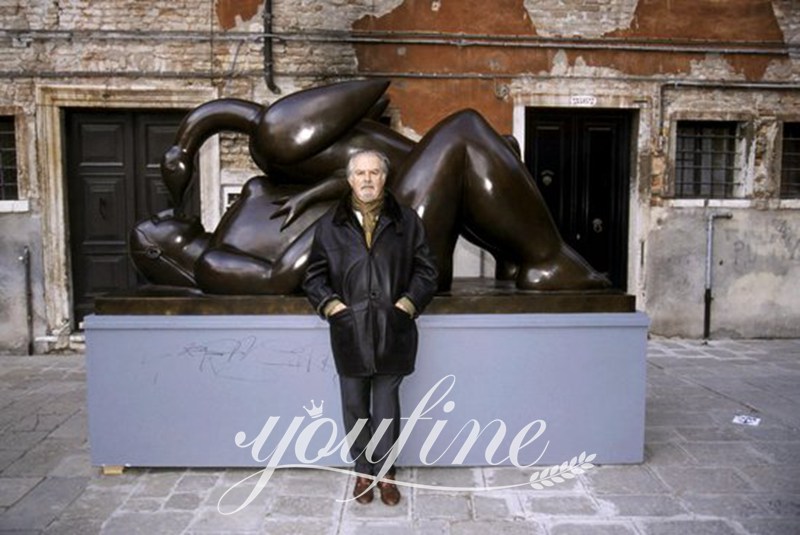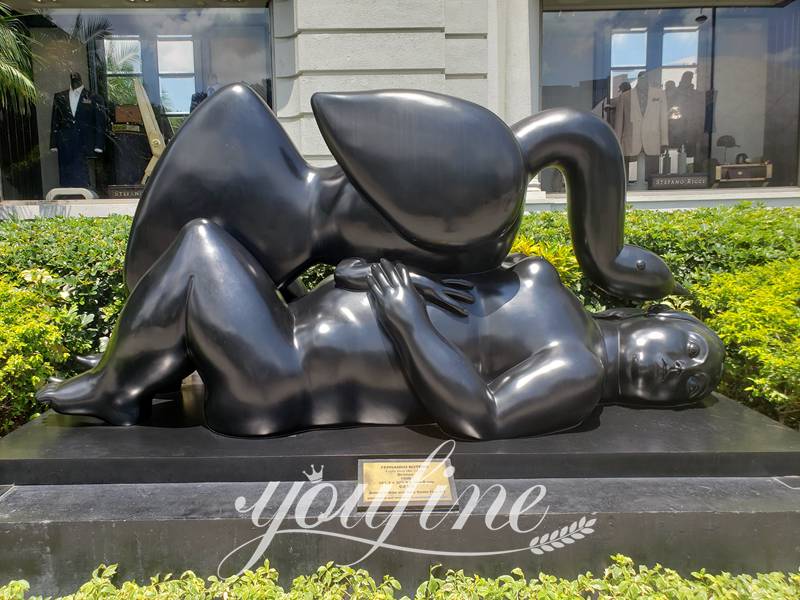 Top15 The Raval Cat (El Gato de Raval)
Although there are several works that could be found in different cities of Spain, "El Gato". In one of Botero's most famous works, he gracefully perches on the Rambla del Raval in Barcelona, where he is also considered a point of reference and meets, a character famous in the neighborhood.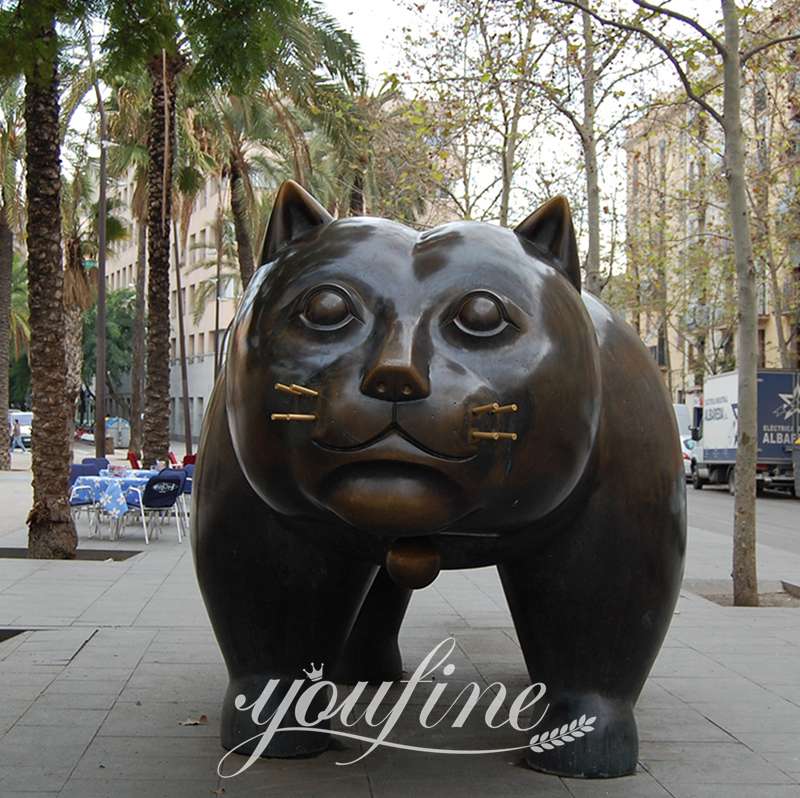 Among his favorite subjects were still lifes and female nudes. In addition, his sculptures are very large. YouFine As a professional bronze foundry, we could cast a range of Fernando Botero for you. Of course, our artists cast these massive bronze Botero sculptures for you using the traditional lost wax method.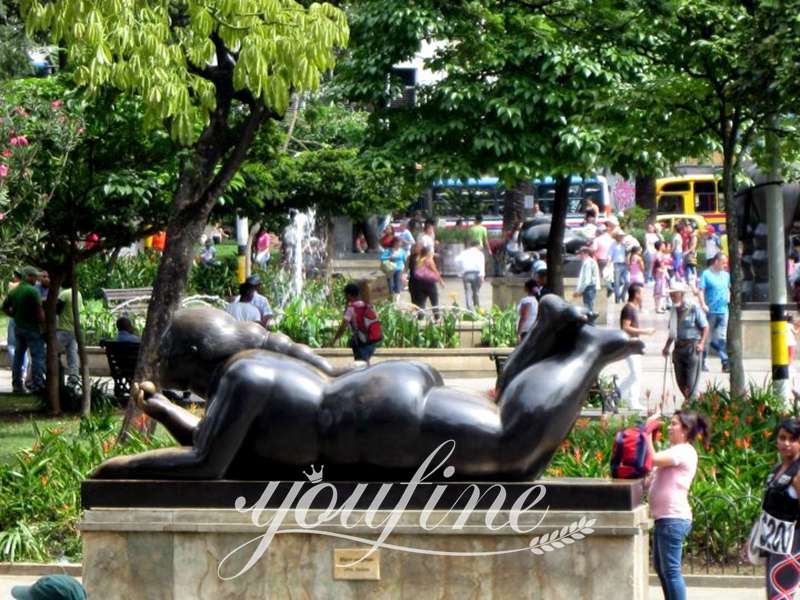 Please feel free to contact us if you want these exquisite sculptures. YouFine could provide you with professional sculpture shopping guidance and satisfactory service.
Last Article
:
Life Size Garden Bronze English Bulldog Statue BOKK-145
Next Article: