10 Gorgeous Marble Garden Outdoor Fountain Design Ideas for Architects and Designers
Updated 10/12/2023 7:50 PM By Guo, Judy
Using marble garden outdoor fountains in architectural and landscape design is a timeless concept that adds elegance and beauty to outdoor spaces. These outdoor fountains' designs serve both aesthetic and functional purposes, creating a focal point while also providing soothing sounds and a sense of tranquility. Marble, with its classic appeal and durability, offers a wide range of design possibilities, making it a favored choice for architects and designers looking to enhance the aesthetics of gardens, courtyards, parks, and various outdoor settings. The choice of marble as a material symbolizes luxury, sophistication, and a connection to the grand traditions of architecture and artistry.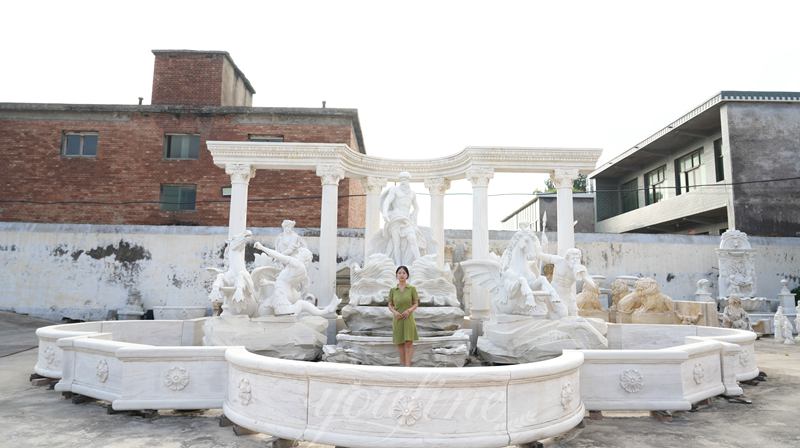 10 Gorgeous Marble Garden Outdoor Fountain Design
Top 1 Classic Large Trevi Elegance Fountain
Classic marble Trevi large fountain designs draw inspiration from the grandeur of ancient Greek and Roman architecture. These fountains pay homage to the timeless beauty and sophistication of these historical civilizations. With their neoclassical motifs, intricate carvings, and graceful statues, these fountains capture the essence of classical artistry.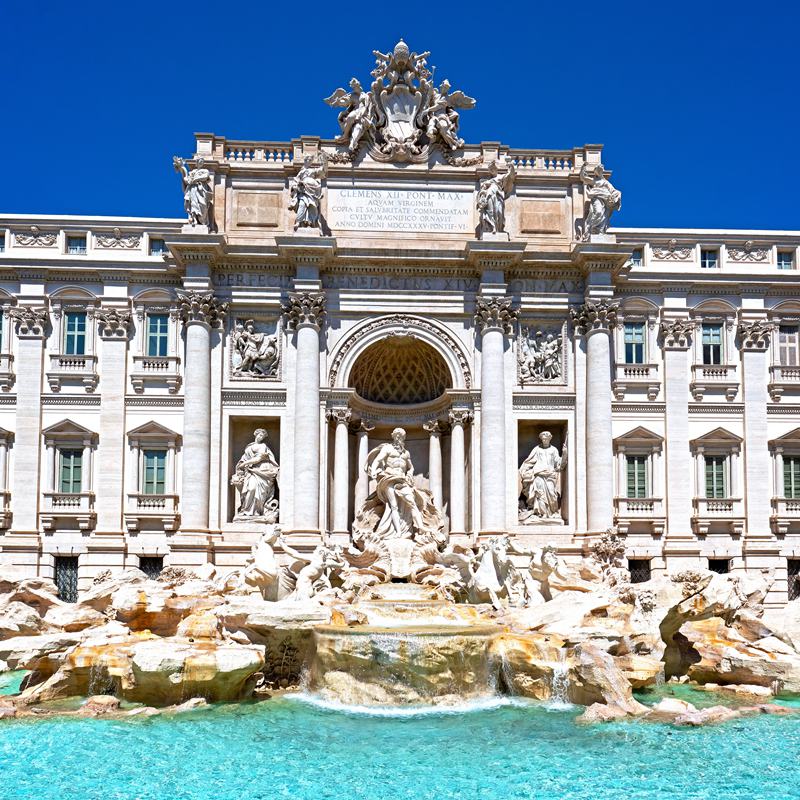 These designs often feature elements such as Greek or Roman gods and goddesses, mythological creatures, and elegant water features like tiered basins and ornate spouts. The use of high-quality marble ensures both aesthetic grandeur and long-lasting durability, making them perfect for adorning gardens, plazas, and public spaces, evoking a sense of classical elegance and history.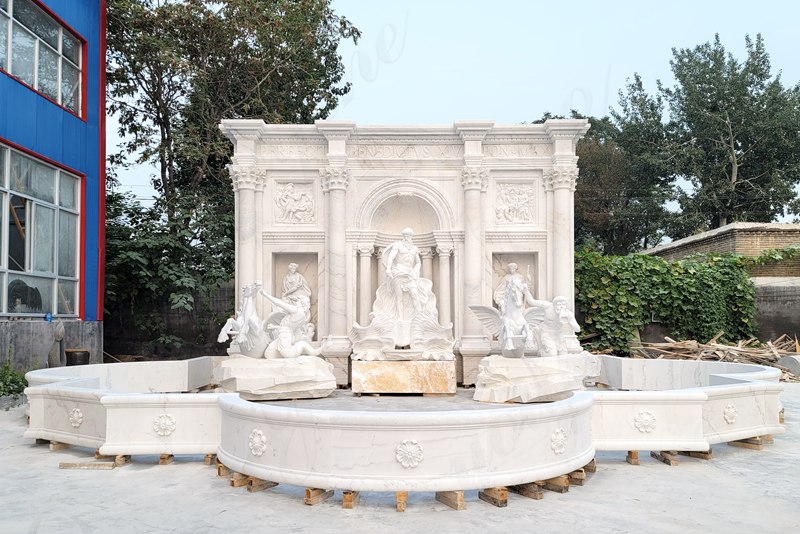 Top 2 Poseidon Sculpture Marble Fountain
Poseidon, the formidable Greek god of the sea, commands the waters with his mighty trident, making him an emblem of power, mystique, and maritime adventure. Poseidon's sculpture marble fountains bring this captivating deity to life, transforming your garden or courtyard into a realm of myth and wonder. Poseidon, the deity of the deep, stands as an enduring symbol of Greek mythology. A Poseidon sculpture marble fountain weaves this mythology into your outdoor space, evoking tales of gods and heroes while imparting a sense of awe. The dynamic element of water is integral to Poseidon's essence. These outdoor fountains design ingeniously incorporate flowing water into the sculpture, often cascading from Poseidon's trident. The play of water creates a mesmerizing spectacle and lends an enchanting soundscape to your garden.
Top 3 Female Figure Sculpture Fountain
Female figure sculpture fountains are a celebration of beauty, grace, and artistry. These exquisite marble creations have the power to transform any garden or courtyard into a place of timeless elegance. Each female figure sculpture fountain is a testament to the skill and creativity of the artist. The craftsmanship involved in sculpting these graceful forms from marble is awe-inspiring. From flowing drapery to intricate facial expressions, every detail exudes sophistication. Placing a female figure sculpture fountain at the heart of your garden or courtyard instantly elevates the space. These fountains seamlessly blend with their surroundings. Whether nestled amidst greenery, surrounded by vibrant blooms, or set against a backdrop of architectural elements, the female figure sculpture fountain adds a touch of aesthetic harmony to the landscape.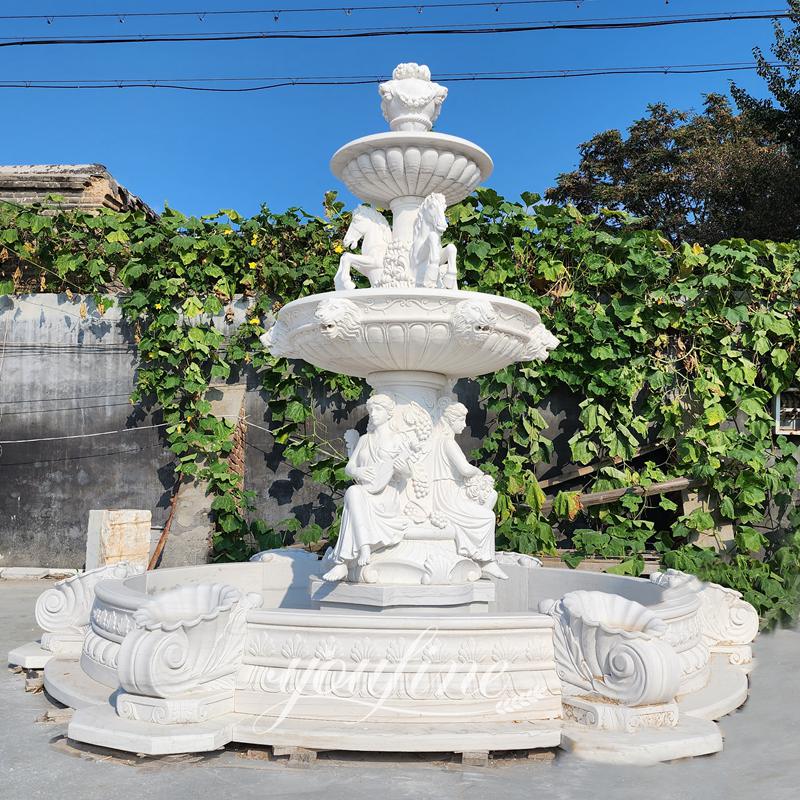 Top 4 Lion Sculpture Fountains
Lion sculptural fountains are a breathtaking blend of artistry and function, capable of transforming any garden or courtyard into a place of regal splendor. These fountains not only pay homage to the strength and grandeur of the lion but also serve as the focal point of outdoor spaces. Lion sculptural fountains are crafted with painstaking attention to detail. They capture the majestic aura of these powerful creatures, reflecting their strength, courage, and nobility. These fountains seamlessly integrate with garden landscapes. Whether surrounded by vibrant blooms or nestled amidst lush foliage, the combination of natural elements with the lion sculpture imparts a sense of elegance and grandeur.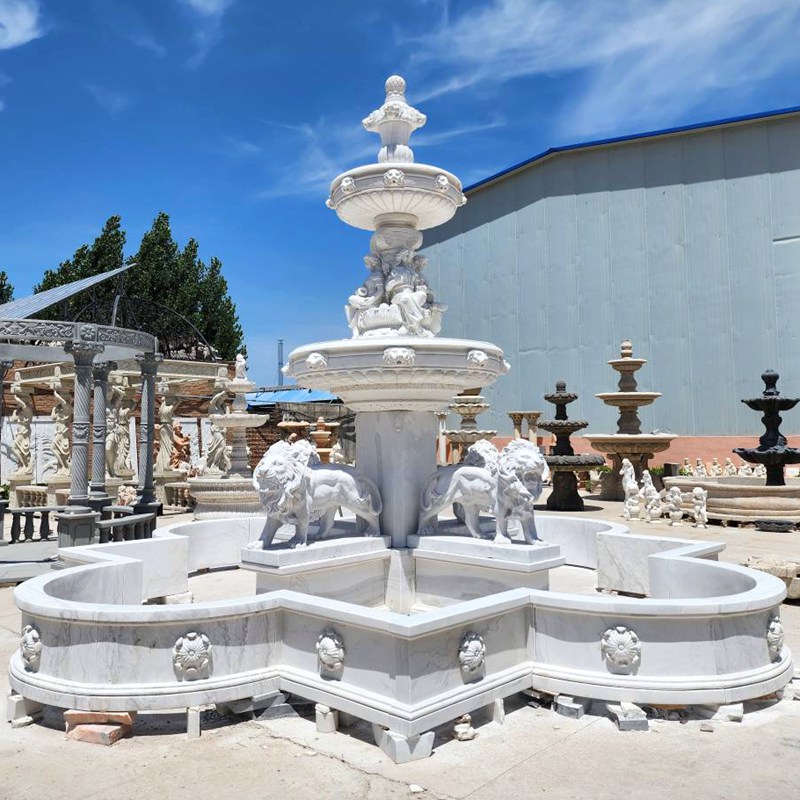 Top 5 Horse Sculpture Fountains
Horse sculpture fountains are a magnificent fusion of artistry and functionality, capable of transforming any garden or courtyard into a place of majestic beauty. These fountains not only pay homage to the grace and power of these noble animals but also serve as the focal point of outdoor spaces. Horse sculptural fountains are crafted with meticulous attention to detail. They capture the essence of horses in motion, reflecting their strength, elegance, and spirited nature. These fountains are true works of art that elevate the aesthetics of any outdoor setting. Placing a horse sculptural fountain at the heart of your garden or courtyard instantly makes it the focal point. Its commanding presence draws the eye and sets the tone for the entire space. The soothing sound of water adds to the ambiance, creating a tranquil retreat.
Top 6 Modern Tiered Fountain Minimalism
Modern tiered fountains in marble embrace minimalism, offering a striking contrast to traditional ornate designs. These contemporary fountains are characterized by clean lines, geometric shapes, and a focus on simplicity. Modern tiered fountains feature sharp, clean lines that create a sense of order and precision. They often have sleek, straight tiers or basins that give them a minimalist appeal. Geometric shapes like squares, rectangles, and cylinders dominate the design of these fountains. The simplicity of these shapes adds to the modern aesthetic.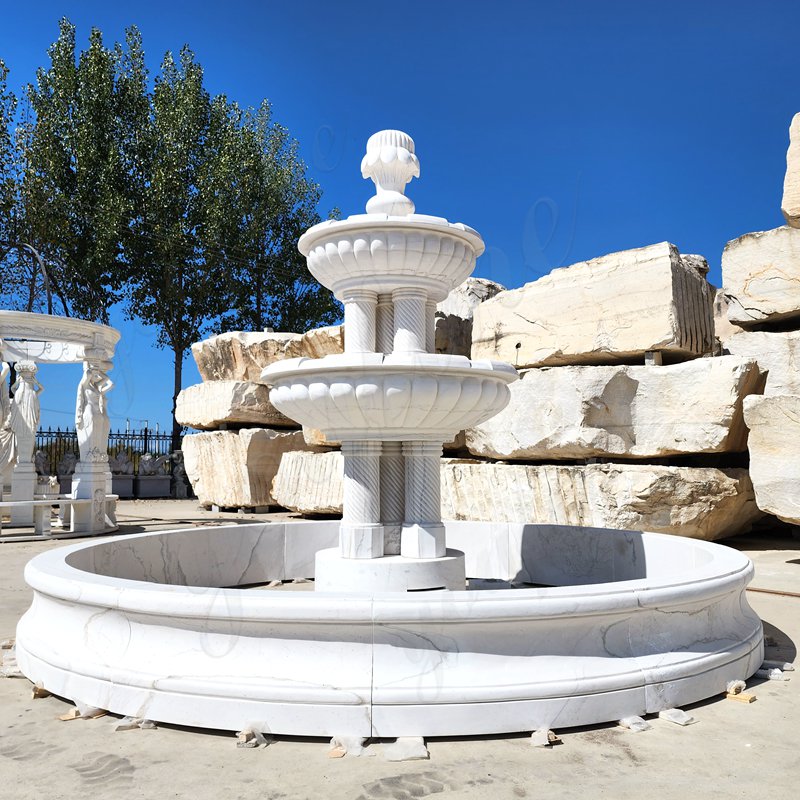 Top 7 Marble Wall Fountains
Marble wall fountains are a testament to the fusion of functional elegance and space-saving ingenuity. These captivating water features offer architects and designers a plethora of innovative ideas for enhancing interior and exterior spaces. Wall fountains utilize vertical space efficiently, transforming plain walls into dynamic elements of design. Their sleek, sculptural profiles create a striking contrast against flat surfaces, adding depth and dimension to any setting. In areas where floor space is limited, wall fountains shine. They occupy minimal floor area while still making a bold visual statement, making them ideal for compact courtyards, atriums, or interior spaces. Wall fountains could be seamlessly integrated into architectural designs. They could be incorporated into alcoves, recessed niches, or even become focal points on feature walls, enhancing the overall aesthetic.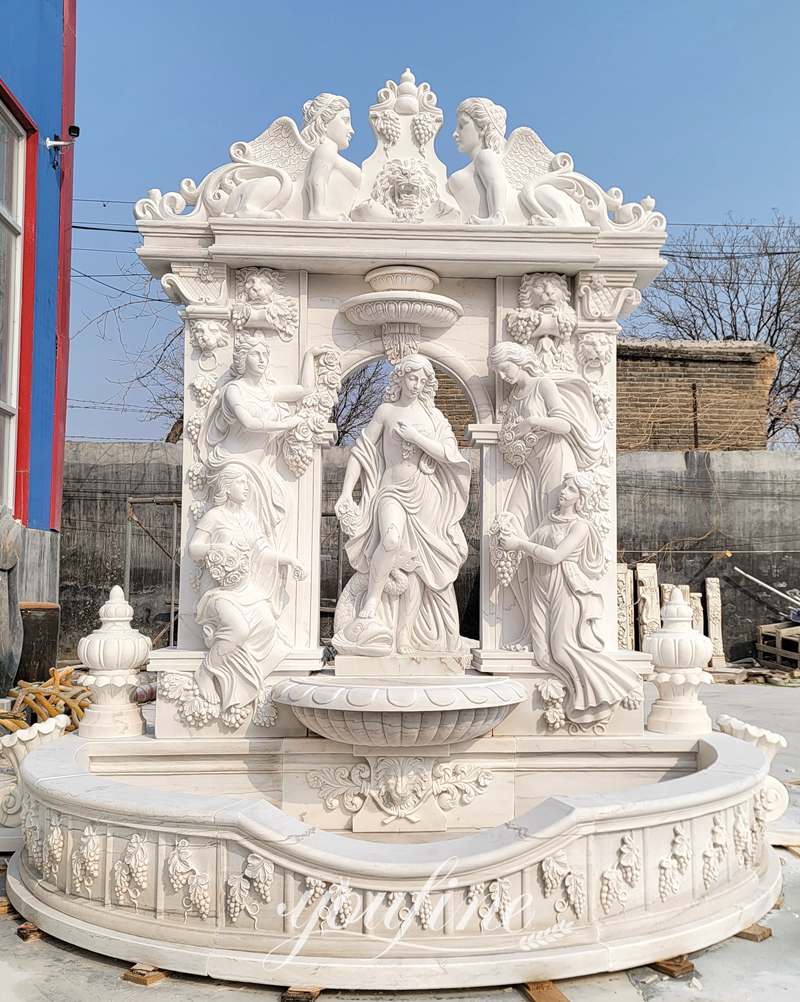 Top 8 Lighting and Effects Marble Fountains
The allure of marble fountains doesn't diminish with the setting sun; it transforms into a captivating nocturnal spectacle. Using lighting to enhance these architectural wonders after dark adds a touch of magic to outdoor spaces. Submerged lighting fixtures beneath the water's surface could create a mesmerizing, ethereal glow. This subtle illumination highlights the fountain's structure and the play of water, producing a serene ambiance. Colored LED lights or gels could be strategically placed to infuse the fountain with drama and vibrancy. Colors could be changed to suit different occasions or moods, creating a dynamic visual experience. Modern fountains often incorporate water jets that could be choreographed with lighting effects. These synchronized water displays, illuminated with varying colors and patterns, offer a dynamic and visually striking performance.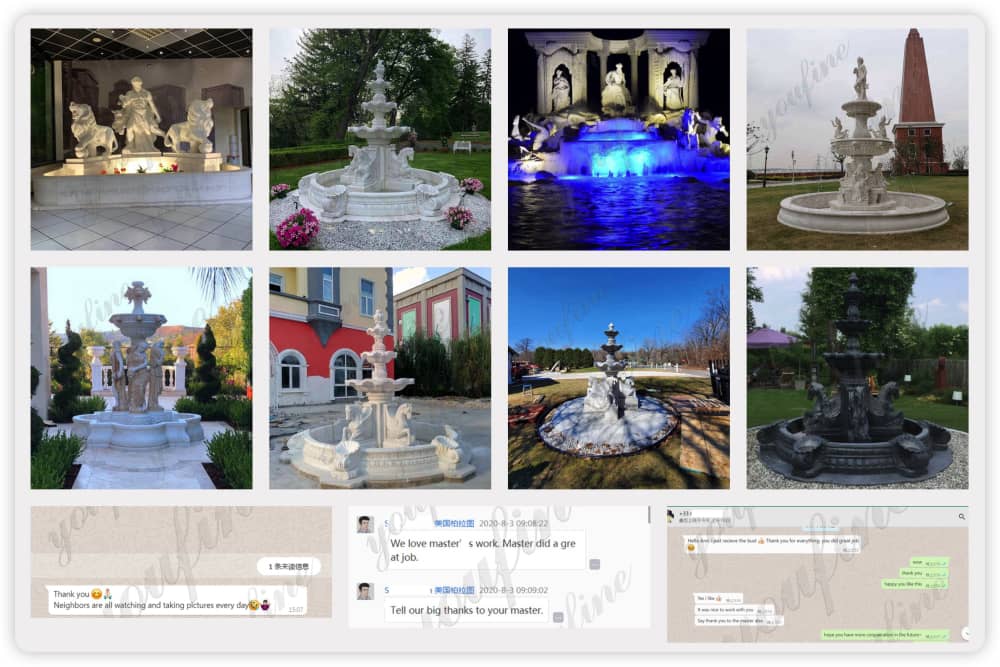 Top 9 Sustainability and Eco-Friendly Fountain Designs
In a world increasingly focused on sustainability, even the most elegant marble fountains could embrace eco-friendly principles. These sustainable designs harmonize the beauty of marble with responsible practices, aligning seamlessly with eco-conscious landscaping. Sustainable marble fountains often incorporate advanced water recycling systems. These systems capture and filter the water continuously, allowing it to cycle through the fountain. This reduces water waste and conserves this precious resource. To minimize energy consumption, some eco-friendly marble fountains use solar-powered pumps. These pumps harness the sun's energy to keep the water flowing gracefully, reducing the reliance on conventional electricity. These designs celebrate the elegance of nature while nurturing it for generations to come. Sustainable marble fountains are not just works of art; they are beacons of environmental consciousness, showcasing how even luxury could be eco-friendly.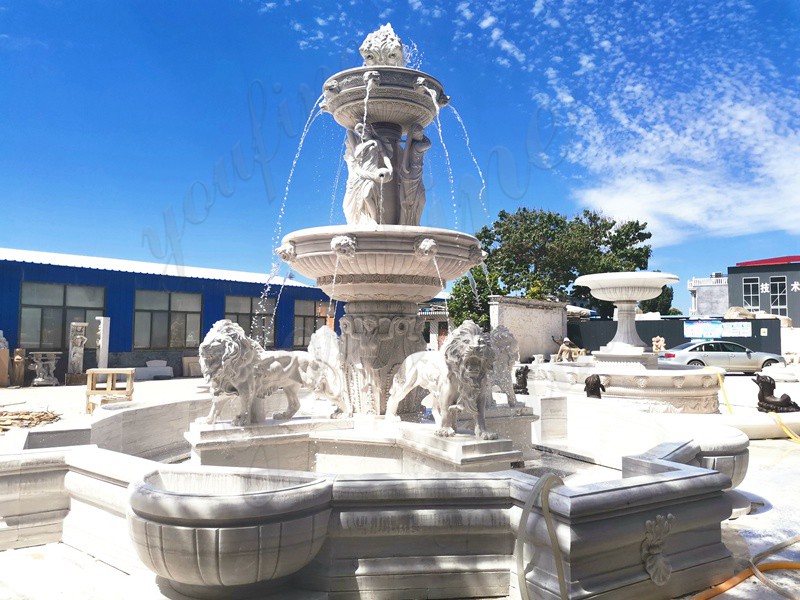 Top 10 Interactive and Playful Marble Fountains
In the realm of architectural and landscape design, fountains are no longer just static fixtures. They've evolved into interactive and playful wonders that engage people of all ages. Splash pads are a summertime favorite, especially for families with children. These fountains incorporate playful jets that shoot water up from the ground. They're often found in parks and plazas, enticing kids to run, jump, and splash to their hearts' content. With their safe, slip-resistant surfaces, they provide hours of fun and relief from the heat. Musical fountains are a sensory delight. Coordinated with music and lights, they put on captivating displays where water dances to the rhythm. Audiences are treated to a multisensory experience, as the visual spectacle is paired with music that resonates through the surroundings. Musical fountains often draw crowds for enchanting evening shows.

YouFine Factory Customization and Personalization
At YouFine Factory, we take pride in our ability to bring your wildest architectural and design visions to life. Our dedication to customization and personalization knows no bounds. Here's how architects and designers could collaborate with our skilled artisans to create truly unique marble fountains. Architects and designers could provide us with their design concepts, whether it's a sketch, a blueprint, or simply a vision. We'll work closely with you to translate these ideas into exquisite marble fountain designs. From choosing the right type of marble to refining every intricate detail, we ensure your vision becomes a reality.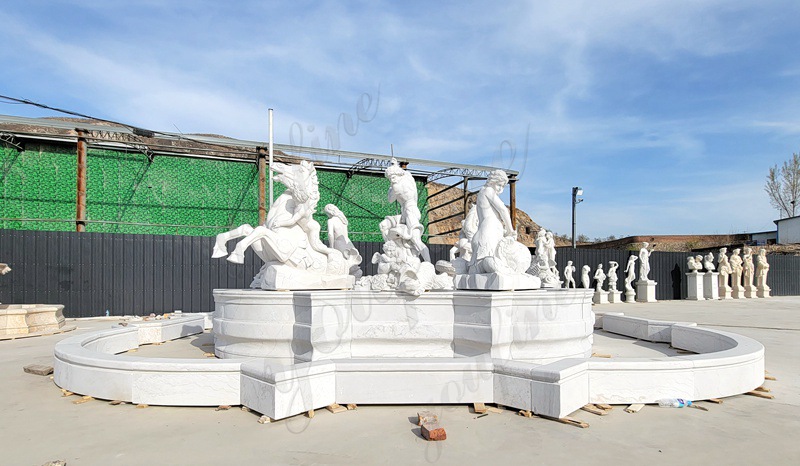 Our factory specializes in crafting marble fountains of all sizes, from small, intricate pieces to grand, monumental installations. Architects and designers have the flexibility to specify the exact dimensions to perfectly fit their projects. Whether it's a modest courtyard or a sprawling public plaza, we've got you covered. Marble comes in a stunning array of colors and patterns, each with its unique character. Collaborators could select the type of marble that aligns with the project's aesthetic goals. Whether it's the classic elegance of Carrara, the warmth of Crema Marfil, or the dramatic veining of Calacatta, our artisans expertly work with your chosen material.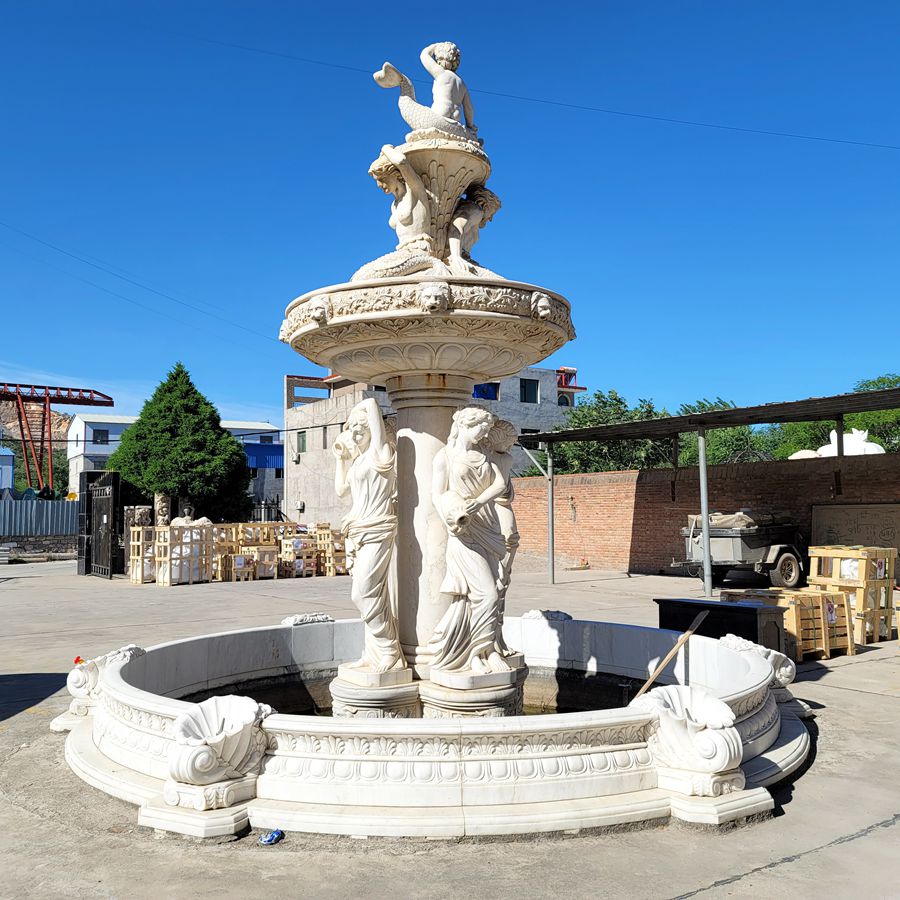 Our team of seasoned artisans excels in hand-carving intricate details. Architects and designers could request specific artistic elements to make the fountain truly stand out. Whether it's adding ornate relief sculptures, customized motifs, or personalized engravings, we turn your artistic dreams into tangible masterpieces.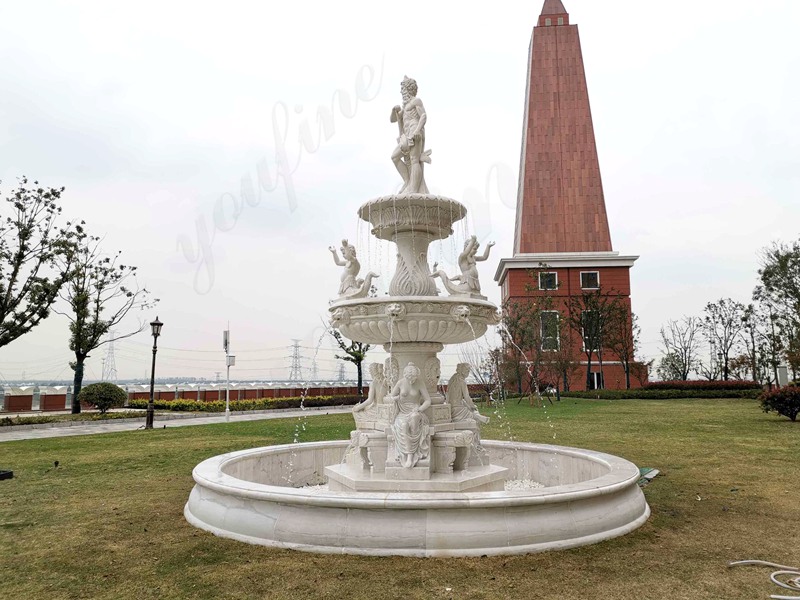 Beyond aesthetics, architects and designers could collaborate on the functionality of the fountain. This includes specifying the type and pattern of water jets, the flow rate, and any additional water features like cascading tiers or spouts. The result is not just a beautiful sculpture but a functional piece of art. Lighting plays a crucial role in enhancing the beauty of a marble fountain, especially at night. Collaborators could work with us to integrate various lighting elements, from subtle underwater LEDs to dramatic spotlights, to create mesmerizing visual effects.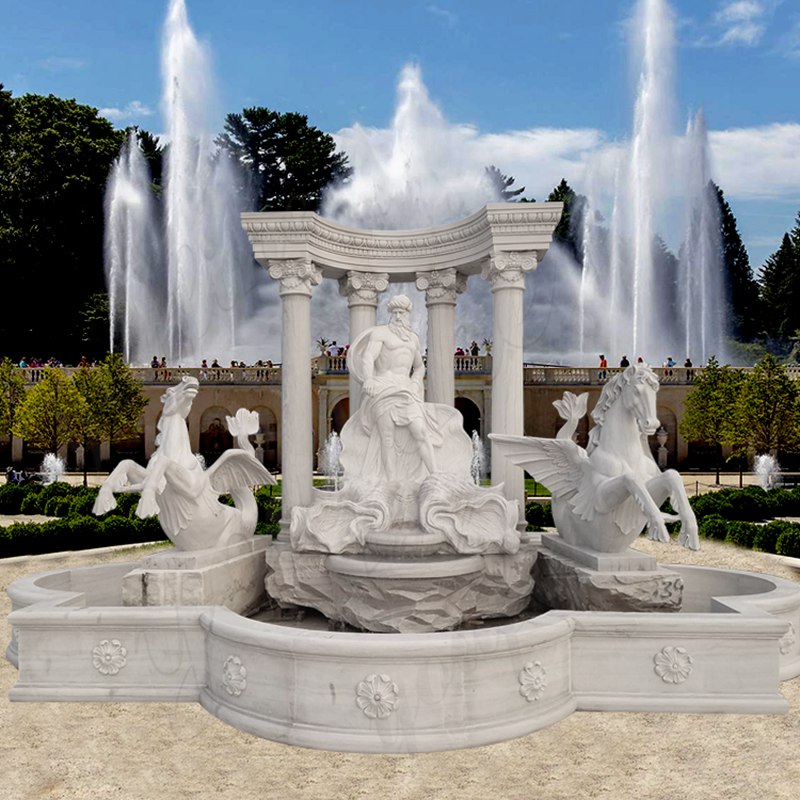 Ultimately, our goal is to transform your concepts into unique, breathtaking creations. Together, we'll craft marble fountains that not only meet but exceed your expectations, becoming iconic centerpieces in your architectural and design projects.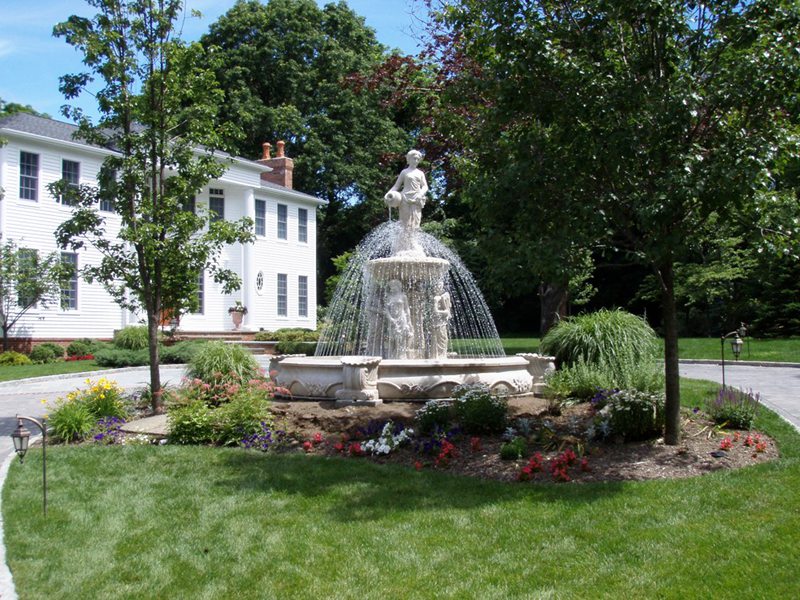 At YouFine Factory, customization is not just a service; it's a passion. We invite architects and designers to explore the boundless possibilities of collaborating with us to bring their most ambitious and imaginative marble fountain designs to life.
Last Article
:
12 Most Popular Catholic Church Statues for Home or Community Church
Next Article: