Bronze miniature camel figurine for outdoor decor–BOKK-445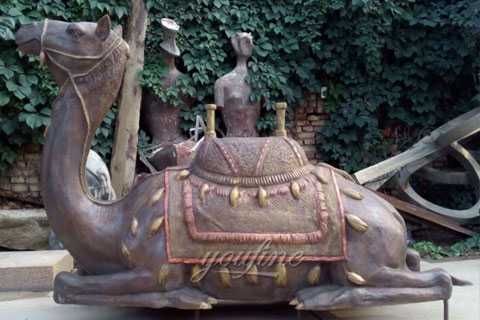 This bronze miniature camel figurine is custom made by our Egyptian customer. Edward is the manager of a hotel and wants to put the sculpture in his hotel as an attraction. This bronze sculpture is 80 cm high and the color is buff. The difficulty with this bronze sculpture is that the cushions on the camels are very hard to color, but we have a professional master of color. Our master hand color finally completed this piece. Customer is very satisfied.
The bronze miniature camel figurine's head is small, the neck is thick and long, and it is curved like a gooseneck. The body is tall and the body is brown. The eyes are heavy, the nostrils can be opened and closed, the limbs are slender, the hooves are as large as the disk, and the toes and thick skins are all suitable for walking in the sand. The tail is slender and has a tuft at the end.
There are 1 or 2 large hump on the back, which stores fat. The stomach is divided into 3 rooms (lack of valve stomach) and can be ruminant. Temperate temperament, often alone, eating grass and shrubs. Life expectancy is about 30 years.

Our Organization is working very hard in this area and offers excellent bronze miniature camel figurine. The available camel statues are superior products manufactured using quality-guaranteed raw materials and the best tools, depending on market trends. Available in patterns, sizes and colors, the camel statues are provided with the best packaging and inspection before the final shipment.
So if you are interested in this bronze miniature camel figurine,or like other sculpture in bronze,please contact with us,we are focusing on bronze casting sculpture since 1983,we are the best choice of you !
Last Article
:
Outdoor Famous Classic Bronze The Thinker Statue for garden decor
Next Article:
Outdoor modern large art water fountain with angel girl lion head horse sculptures for sale MOK-182