Bronze Pope Statue John Paul For Australia Customer
Updated 05/30/2019 5:08 PM By George Wang
We have made the Bronze Pope Statue John Paul II for our Australia customer. The height of pope is 2.5m. Now the Bronze Pope Statue John Paul was placed in a church.
Before our artist started making the Bronze Pope Statue, we spent a lot of time doing the clay model. First, we checked out lots of datas to study his tie. His tie is not tied to the clothes, but when he dressed and then took the tie. Then the small flowers on the clothes are also need carved carefully. Besides, the ribbon also spend lot of time, because pope's ribbon have several modeling.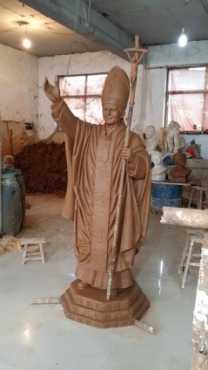 At first , we have done a cloth for his ribbon. When communicated to our customer, he requested two ribbons. Then we revised the ribbon according the customer's request and made octagon base for the pope.
When the Bronze Pope Statue's clay model was completed, our Australia customer and his mother came to our factory to check the clay model. The picture above  is the clay model.
After our customer confirmed the clay model, we began to cast.
The following photo is the final Bronze Pope Statue John Paul. When our customer received the pope, he is very satisfied. And he sent us a good feedback email to express his satisfaction and gratitude to us and our masters.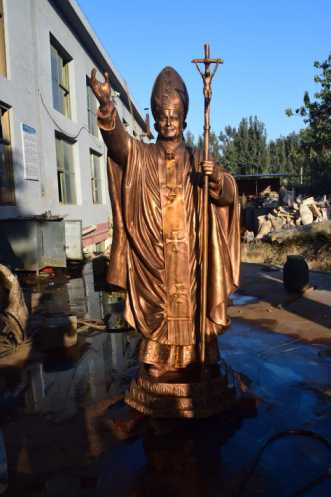 YOU FINE ART SCULPTURE could customized all kinds off statue sculptures according to customer's needs, such as marble & bronze & stainless steel sculptures. If you want to customize sculptures or other products, please contact us do not hesitate, we are foucsing on sculptures more than 30 years, YOU FINE ART SCULPTURE is you best choice!
Last Article
:
Garden Marble Planters for Bulgaria Client
Next Article: