Do You Know Some Famous and Ancient Athena Statues?
Updated 10/21/2020 3:09 PM By lijingwen
Athena believes that everyone is very familiar with it. The goddess of wisdom in Greek mythology has an important position in ancient Greek culture. She later merged with the Roman goddess Minerva. Athena was the patron saint of Athens in ancient Greece. Her main symbols include the owl, olive tree, snake, and goblin. Do you know some classic statues of Athena and their stories?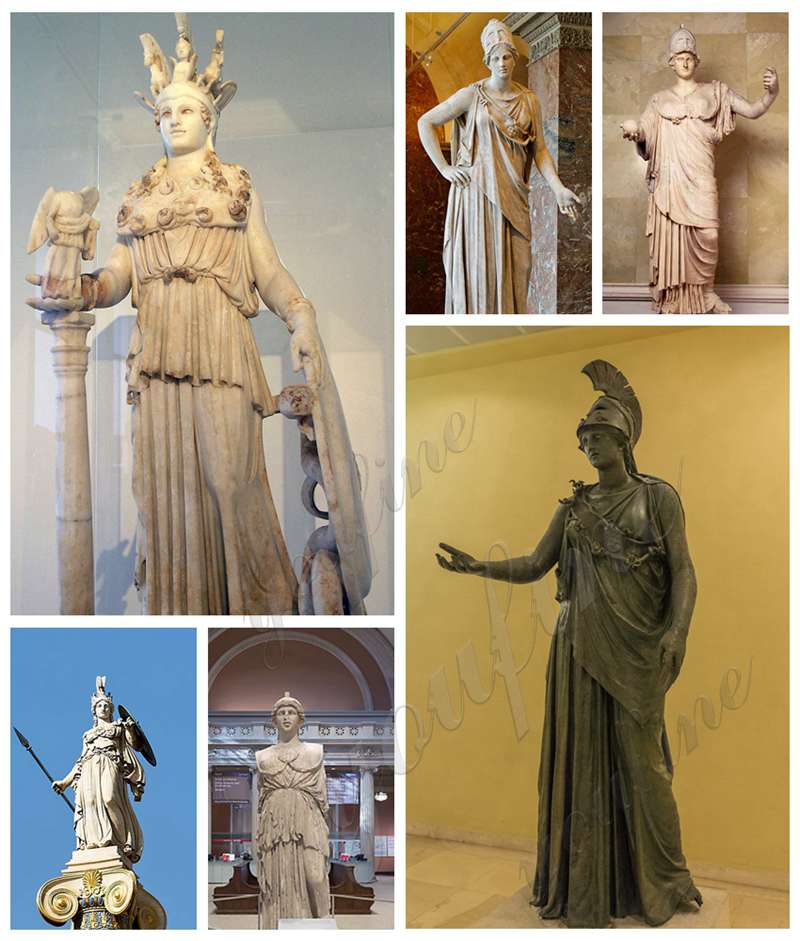 First one: Piraeus Athena
The classic Greek Piraeus Athena statue is a bronze statue dating from the fourth century BC. It is now located in the Archaeological Museum of Piraeus. This statue originally belonged to the main image of the Barditon Temple. It was 13 meters high, but it was a pity that it was destroyed in the Roman Byzantine era.
This Piraeus Athena has a battle helmet on her head and a Greek-style dress. Her armor is decorated with snake-shaped decorations and human head decorations. Athena's bare arms, through her thin clothes, can vaguely see Athena's plump, fit and powerful body.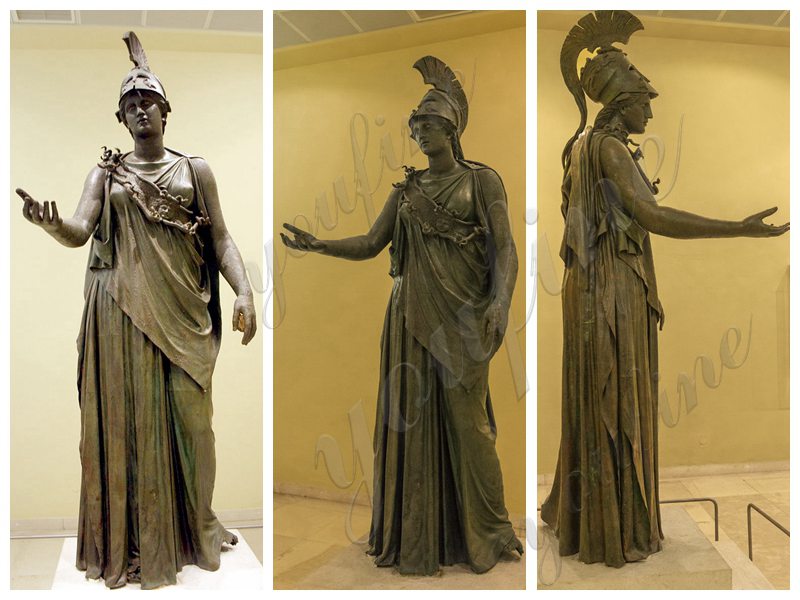 The folds and ornaments of the dress have created the beauty of the density and density of the horizontal and vertical lines. The gesture of extending the hand is likely to be holding a spear or something.  And the whole image is full of feminine tenderness and vitality. It shows more humanity and less divinity, which shows that the art of ancient Greece has begun to become secular.
Secondly: Athena Parthenos
Athena Parthenos statue is a large lost sculpture of the Greek goddess Athena, made by Phidias and his assistants, located in Parthenon, Athens. The statue is designed as its focal point. In ancient and modern times, there are many replicas and works inspired by statues.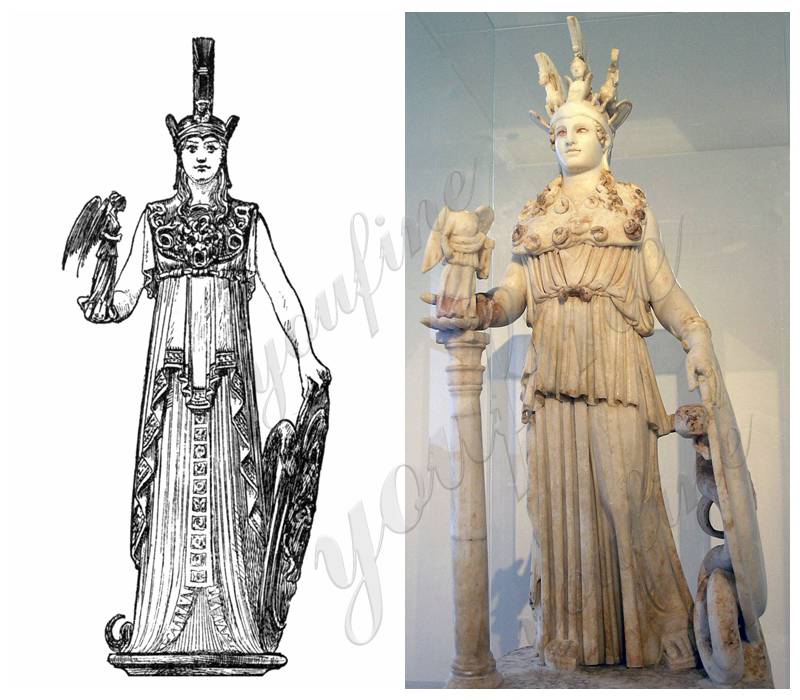 The original Athena Parthenos statue is made of ivory and gold. In the middle of her helmet is the image of a sphinx. On the sides of the helmet are lions. The statue of Athena is upright, the length of the skirt stretches to her feet. Medusa's head was processed into ivory on her breasts. In her right hand, she held a statue of the goddess of victory. There was a shield under her feet and a snake near the spear. This snake is Eric Tonius. On the pedestal is the birth of Pandora.
This Athena Parthenos statue is the most famous cult image in Athens. And is considered one of the greatest achievements of the most acclaimed sculptors in ancient Greece. Phidias began work around 447 BC. Rachales removed gold coins to pay for his troops in 296 BC, and the bronze substitutes thereafter are likely to be gilded. It was damaged in a fire around 165 BC, but it has been restored.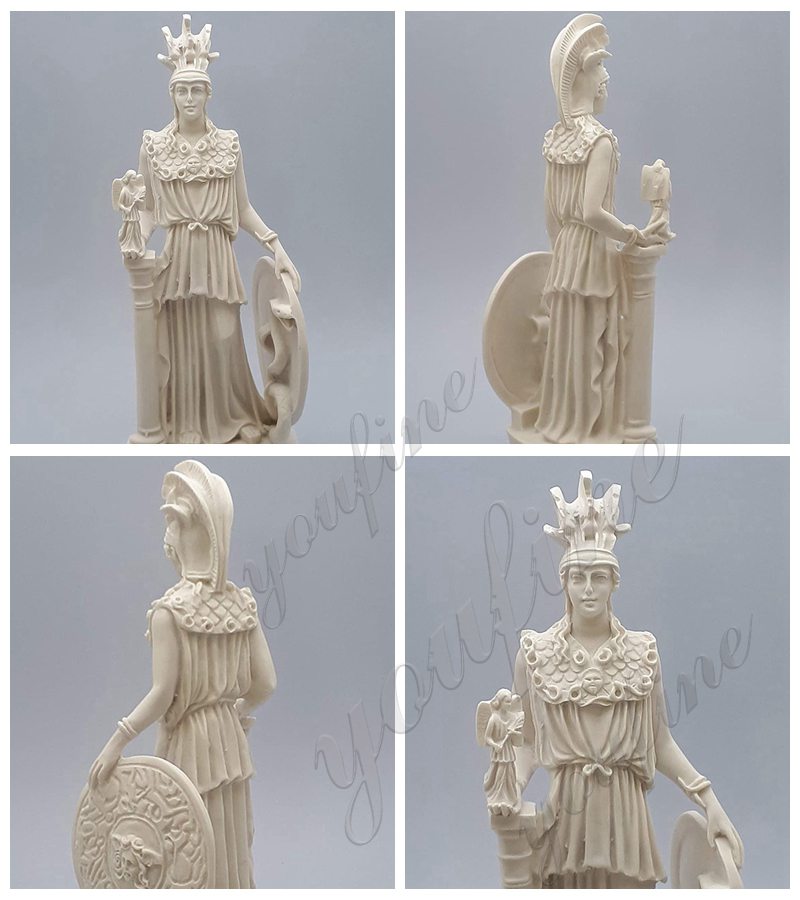 So, if you are interested in these classic Athena statues, please feel free to contact us. As a professional carving factory, You Fine can restore these classic sculptures, and make sure it is 100% similar to the original.
Last Article
:
Beige Marble Lion Statues with Ball for Driveway Suppliers MOKK-709
Next Article:
Life Size Catholic White Marble Jesus Christ Statue from Factory Supply CHS-809