Everything You Need to Know About Gazebos 1
Updated 03/28/2023 3:07 PM By Rui Wang
What is the Gazebo?
A gazebo is a freestanding, open-sided structure that is typically round, hexagonal, or octagonal in shape and is often used for outdoor recreational or social activities. Gazebos are commonly found in parks, gardens, and other outdoor spaces, and they could provide shelter from the sun, rain, and other elements while still allowing for an open-air experience. They are often made of wood or metal and may have a roof, walls, and/or curtains or screens to provide additional protection and privacy. Gazebos could be used for a variety of purposes, such as outdoor dining, entertaining, relaxing, or as a focal point in a landscape design.
Where Did Gazebos Originate?
The exact origins of gazebos are unclear, but it is believed that they originated in ancient Egypt and were later introduced to ancient Greece and Rome. These early structures were often made of stone or marble and were used as small temples or shrines dedicated to various gods and goddesses. During the Middle Ages, gazebos became more common in Europe and were used primarily as garden features or lookout points in larger estates or castles. In the 18th and 19th centuries, gazebos became increasingly popular in public parks and gardens, as well as in private homes and estates, and they began to be constructed in a wider variety of styles and materials. Today, gazebos could be found all over the world and continue to be popular for a wide range of outdoor activities and events.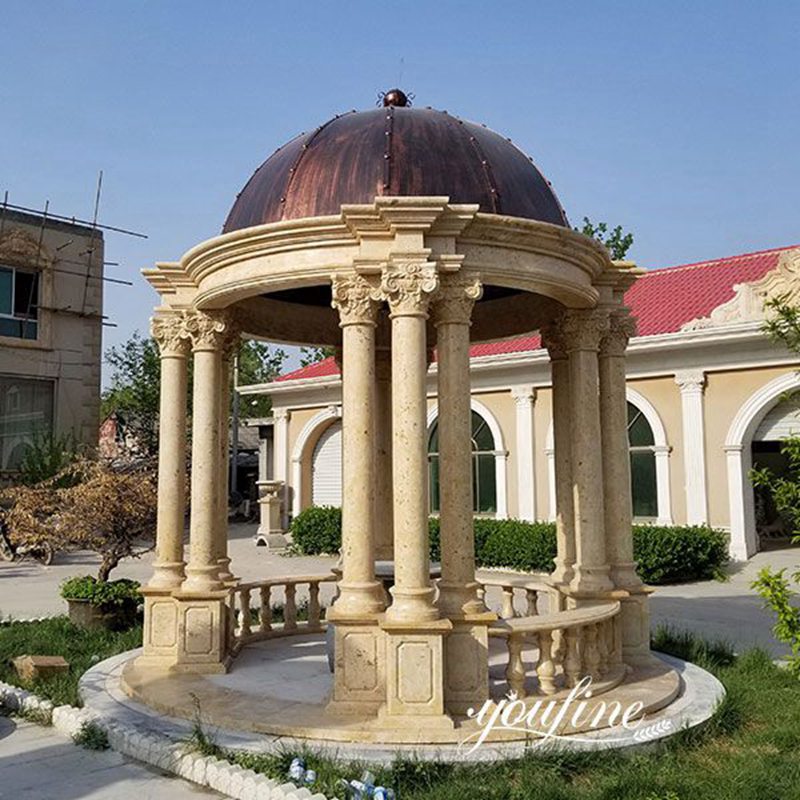 Which Gazebo is Best?
The best type of gazebo depends on your specific needs and preferences. Some factors to consider when choosing a gazebo include the size, shape, material, and features you desire, as well as your budget and the intended use of the gazebo. Here are some popular types of gazebos:
Wooden gazebos: Wooden gazebos are classic and traditional, often made of cedar, redwood, or pine. They could be stained or painted to match your outdoor decor and could offer a rustic or natural look.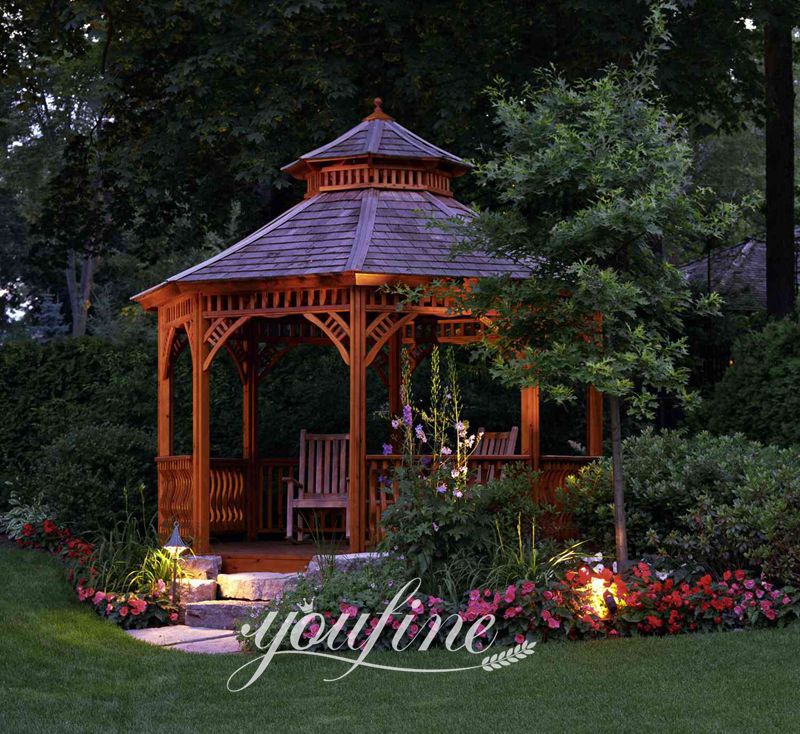 Metal gazebos: Metal gazebos are typically made of aluminum, iron, or steel and could be durable and long-lasting. They could be modern or ornate and come in a variety of shapes and sizes.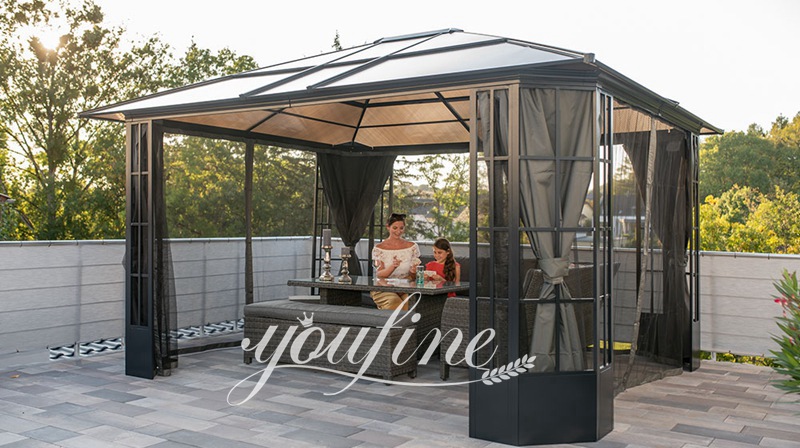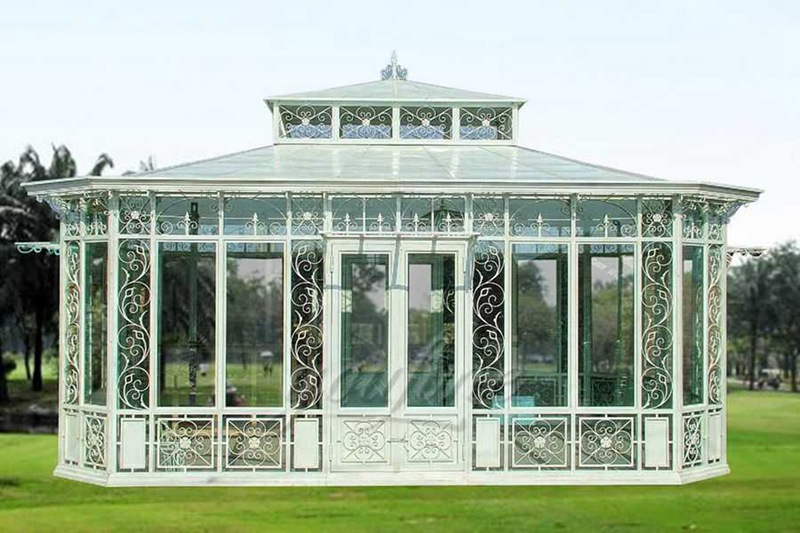 Pop-up gazebos: Pop-up gazebos are portable and easy to set up, making them great for events or temporary use. They could be made of fabric or plastic and come in various sizes and styles.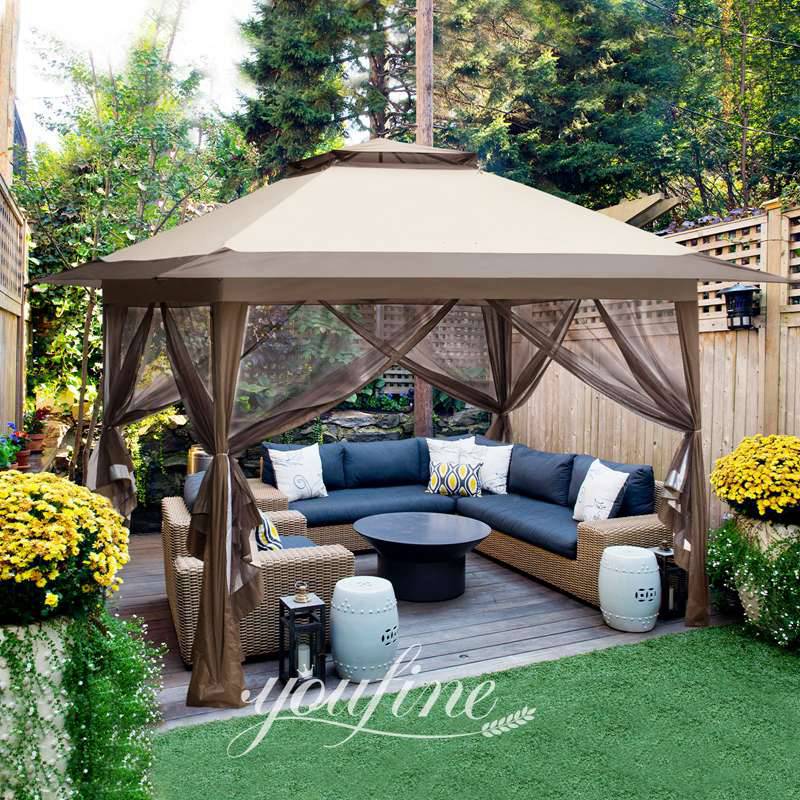 Marble Gazebos: Marble Gazebos are made of natural marble as raw material, which has excellent durability and aesthetic appeal at the same time. They are easy to install and require little maintenance while having artistic value. With careful maintenance, a marble gazebo could serve customers outdoors for more than a hundred years.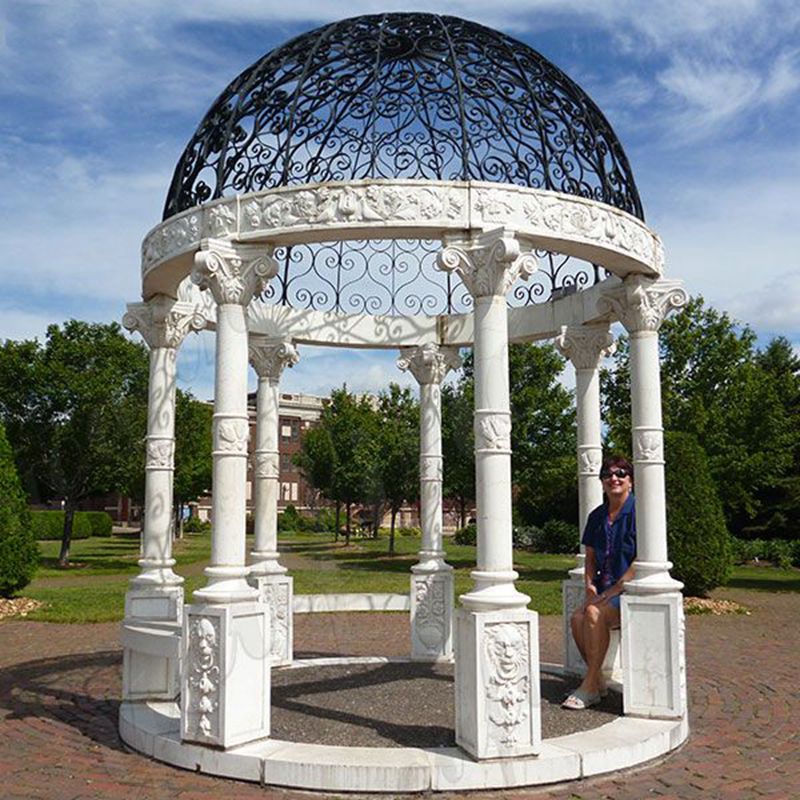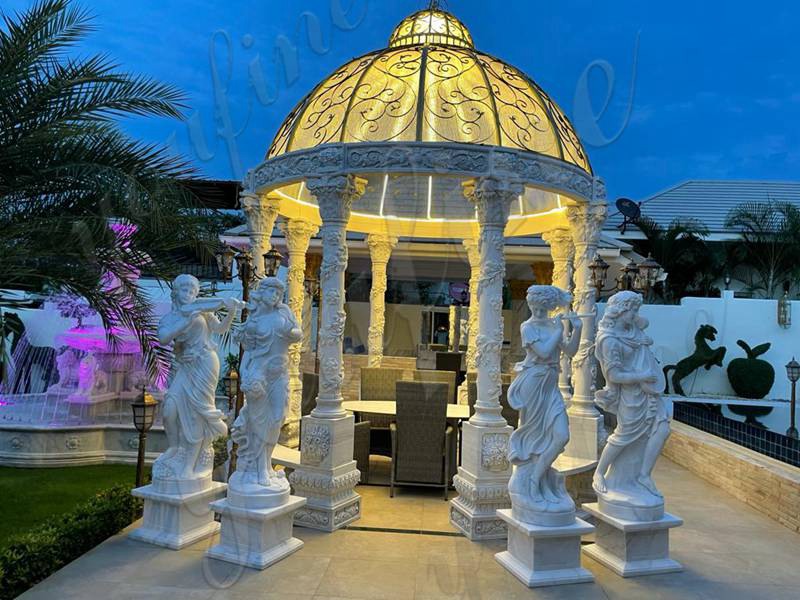 Ultimately, the best gazebo for you would depend on your individual needs and preferences, so it is important to research and compare different types of gazebos before making a decision.
Which Gazebo is Best for Wind Protection and Best for Winter?
Whether your gazebo is wind-resistant and winter-proof may depend on several factors, including the specific wind conditions in your area and the gazebo's intended use. Here are some factors to consider:
Material: A sturdy, durable material like metal or stone(marble) may be better suited to withstand winter weather than a lightweight or flimsy material like fabric or plastic.
Frame design: A gazebo with a strong frame design, such as a hexagonal or octagonal shape or a reinforced rectangular frame, may be better able to withstand wind than a gazebo with a weaker frame design.
Anchoring: Properly anchoring the gazebo to the ground could help prevent it from being blown over by strong winds. Some gazebos come with built-in anchors, while others may require additional anchoring equipment.
Roof design: A gazebo with a sloping or steeply pitched roof may be better able to withstand wind and shed snow than a gazebo with a flat or low-pitched roof.
Overall, a metal or heavy-duty stone(marble) gazebo with a sturdy frame, proper anchoring, and a sloping or steeply pitched roof may be a good choice for withstanding wind and winter weather conditions. It is also important to properly maintain the gazebo and take any other necessary precautions to ensure its stability and safety during inclement weather.
How Long Do Gazebos Last?
The lifespan of a gazebo would depend on several factors, including the materials it is made of, the quality of construction, and the level of maintenance it receives. A well-maintained gazebo made from high-quality materials could last for many years, even decades.
A wooden gazebo that is properly maintained, with regular cleaning and sealing to protect it from moisture and pests, could last 10 to 20 years or more. Some high-quality vinyl or plastic gazebos may also have a lifespan of 10 to 15 years or more. Metal gazebos made from materials like steel or aluminum could also last for many years, as long as they are properly maintained and protected from rust and corrosion. Marble gazebos could be inherited for more than a hundred years, and at the same time require less maintenance and have aesthetic value.
However, factors like exposure to harsh weather conditions, inadequate maintenance, and poor-quality construction could significantly reduce the lifespan of a gazebo. It is important to choose a well-made gazebo and to properly maintain it over time to ensure it lasts as long as possible.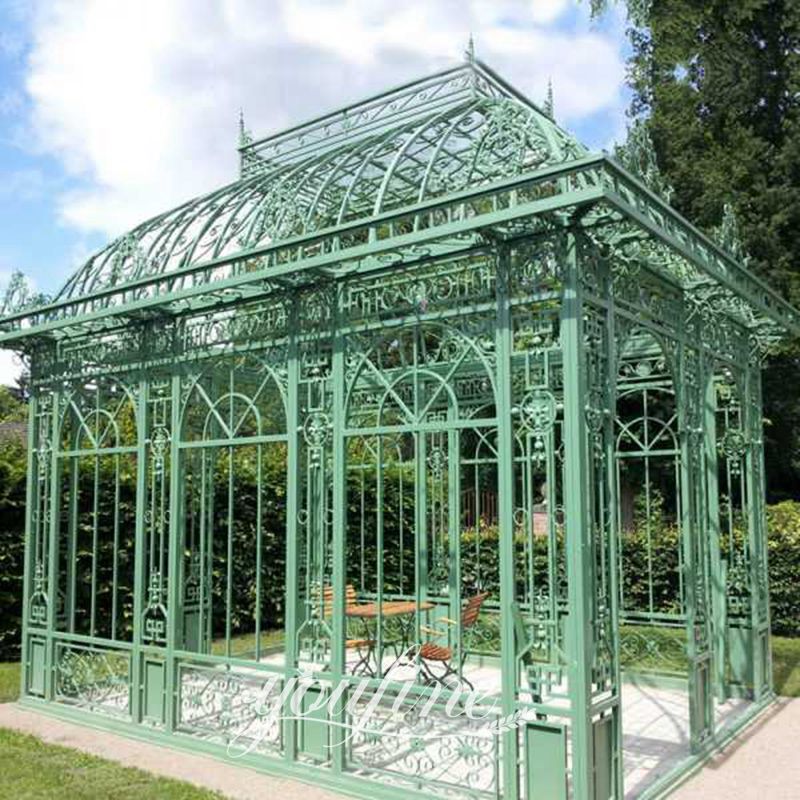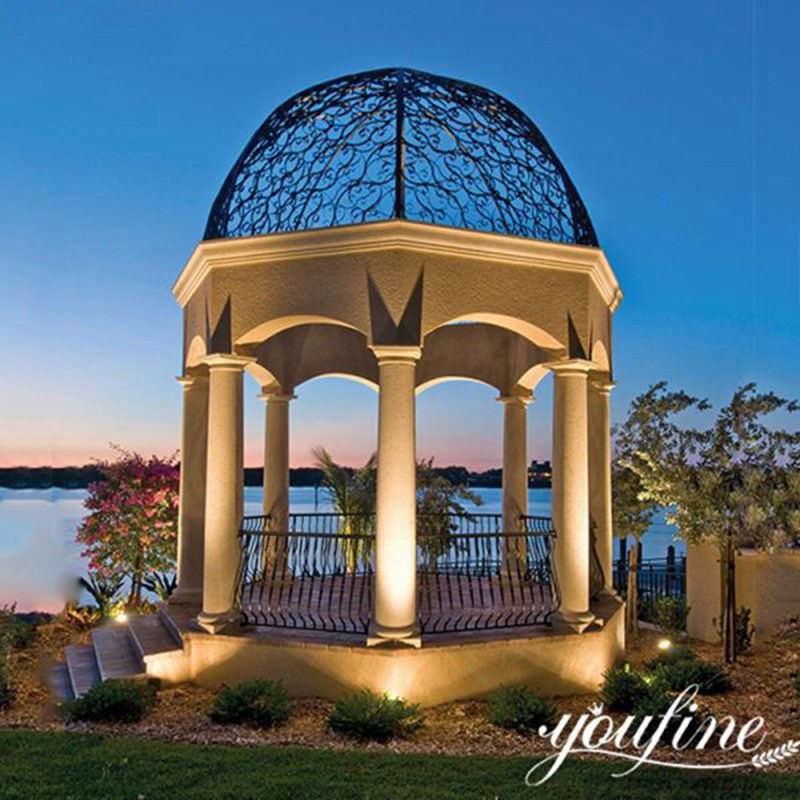 How Much Does a Gazebo Cost?
The cost of a gazebo could vary widely depending on the size, style, materials, and level of customization. Here are some general price ranges to consider:
Basic pop-up or portable gazebos made of lightweight materials like fabric or plastic could cost anywhere from $50 to $500, depending on the size and features. But their use time is shorter.
Pre-built, freestanding gazebos made from wood could cost anywhere from $3000 to $15,000 or more, depending on the size, materials, and level of customization.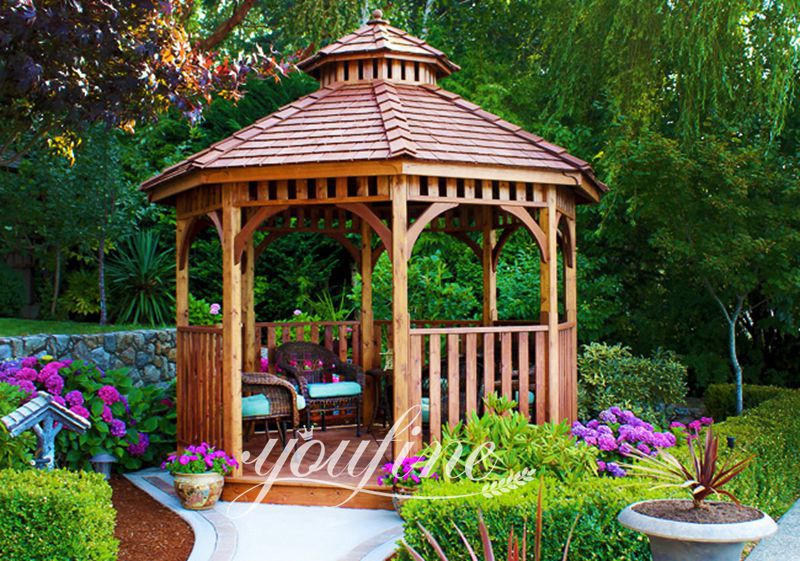 The price of marble and metal gazebos would be higher, depending on the design, size, and material grade of the gazebo. Generally between $5000 to $15000, if you choose to import directly from Chinese suppliers.
If you choose a direct factory, they could also create a custom gazebo just for your backyard or garden, which could generally range from $5,000 to $30,000, depending on size, materials, and degree of customization.
It is important to factor in additional costs such as delivery, installation, and any accessories or upgrades you may want, such as lighting or heating. Keep in mind that investing in a high-quality, well-built gazebo could provide many years of enjoyment and add value to your home.
How to Properly Install and Place a Gazebo for Your Outdoor Space
Last Article
:
Unique Modern White Marble Abstract Sculpture Supplier MOK1-133
Next Article:
Marble Statue of Discus Thrower Timeless Decor for Sale MOK1-154