Production Process Of Bronze Mermaid Sculpture
Updated 08/23/2017 8:30 AM By George Wang
Admiring the beauty of this statue, it's a gorgeous mermaid statue holding the seashell, bronze mermaid statue was cast from elaborately green and brown bronze. She sitting gracefully, pouring water from a large shell as water from the floor encircling her.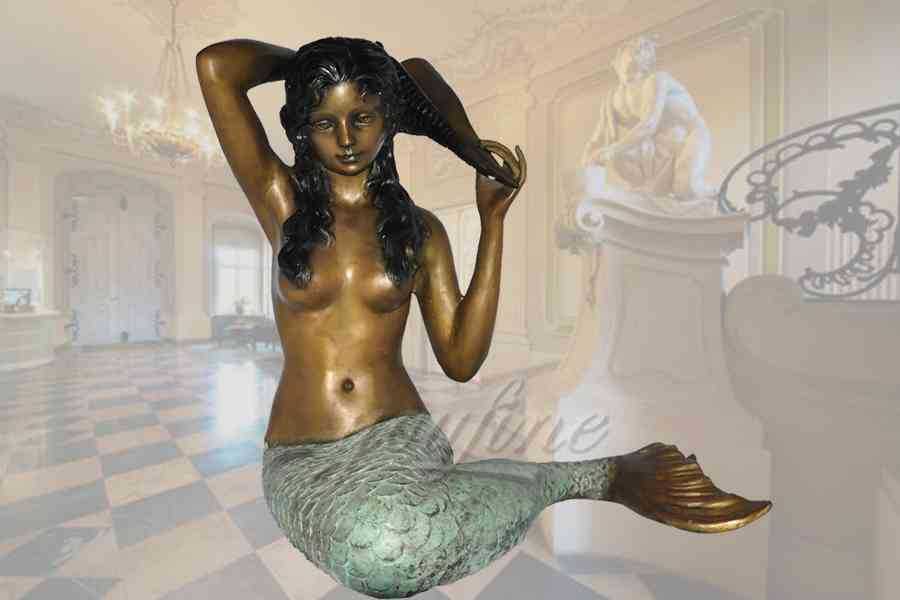 A graceful mermaid is swimming, an elegant bronze mermaid statue with sea theme cast in various color, employing a venerable time-tested method to ensure the detail and quality expected of a You Fine product.
Production Process Of Bronze Mermaid Sculpture
1.Make the clay mold
We would make the clay mold,according to final confirmed the pictures from customer.
We would send the mold photos to customer untill customer are satisfied with the clay mold, and say "yes",then we go ahead.
2.Make the Silicone rubber/plaster mold
Painting the Silicone rubber /plaster onto the original clay mold.
But the Silicone rubber mold is used for small delicate sculptures.The large sculptures will create plaster mold.
3.Wax Mold
When the Silicone rubber/plaster mold dry, pour liquid wax on the inner surface.
4.Make the shell
Wax pattern will be repeated immersion in the slurry about nine times,and then coated with several layers of silica sand.
When it dry sand shell is finished.
5.Lost wax
The shell will place in the fire kiln where the shell is solidified and the wax pattern is melted out about 12 hours.
6.Casting
Bronze material will melted in a furnace until they melt into liquid, then we will pour bronze liquid into this hollow sand shell.
7.Welding
When the bronze is cooled, remove the sand shell, weldding all parts of the sculpture together.
Polishing the surface and ready to make paint the color.
8.Coloring
We will use the chemical color, until the customers are satisfied with color, finally wax it to protect the sculpture.
Last Article
:
The Common Classification of Marble on the Market
Next Article:
Roman Bronze Discobolus Sculpture for the United States Client