Top 10 Large Bronze Water Garden Fountain Wholesale
Updated 10/14/2023 8:43 AM By Guo, Judy
Large bronze water fountains are visually stunning. They often feature intricate and lifelike bronze sculptures as their centerpiece, depicting various themes like mythical creatures, historical figures, or animals. These sculptures are crafted with exceptional attention to detail, making them a focal point of any landscape. Many large bronze fountains are designed to tell a story or convey a specific theme. They often incorporate symbolic elements that add depth and meaning to the artwork. For example, fountains featuring mythological figures could symbolize power and magic, while historical-themed fountains may celebrate cultural heritage.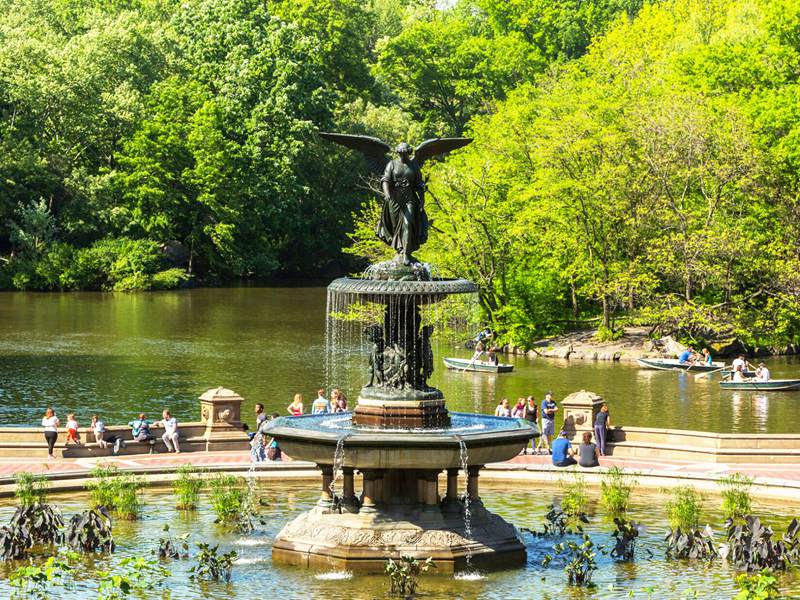 many clients often have the option to customize large bronze fountains to fit their unique preferences. They could choose the theme, size, and even the patina color. This level of personalization ensures that the fountain complements the surrounding environment perfectly. Their ability to create a harmonious and enchanting atmosphere while telling a story or conveying a theme makes them highly attractive additions to gardens, parks, public spaces, or any location where aesthetics and tranquility are valued.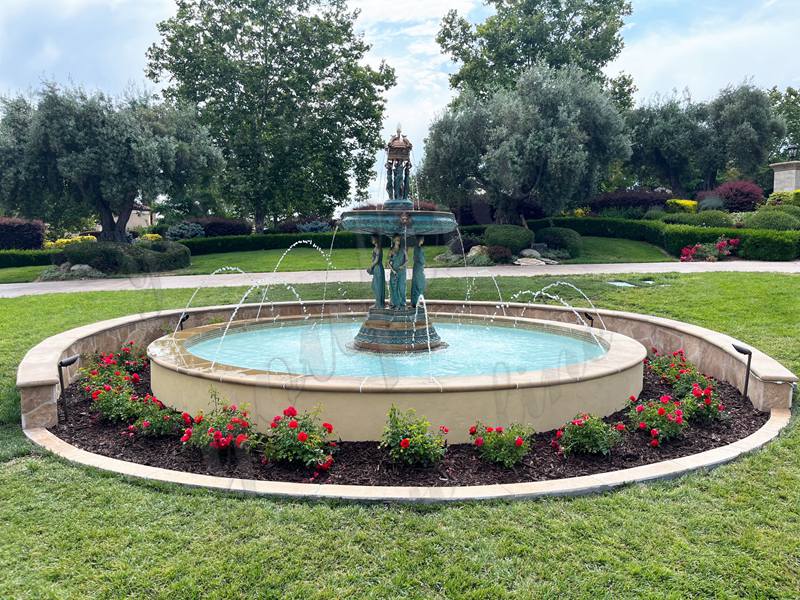 Top 10 Large Bronze Water Garden Fountain
Top 1 Bethesda Terrace Fountain
The Bethesda Terrace Fountain is a prominent and iconic feature located in New York City's Central Park. This ornate, neoclassical-style fountain is situated at the heart of the Bethesda Terrace, which is known for its architectural beauty and significance. The Bethesda Fountain features a large, imposing bronze statue that serves as its centerpiece. This statue, called "Angel of the Waters," was designed by sculptor Emma Stebbins and depicts a female angel with outstretched wings standing atop a tiered, sculpted base.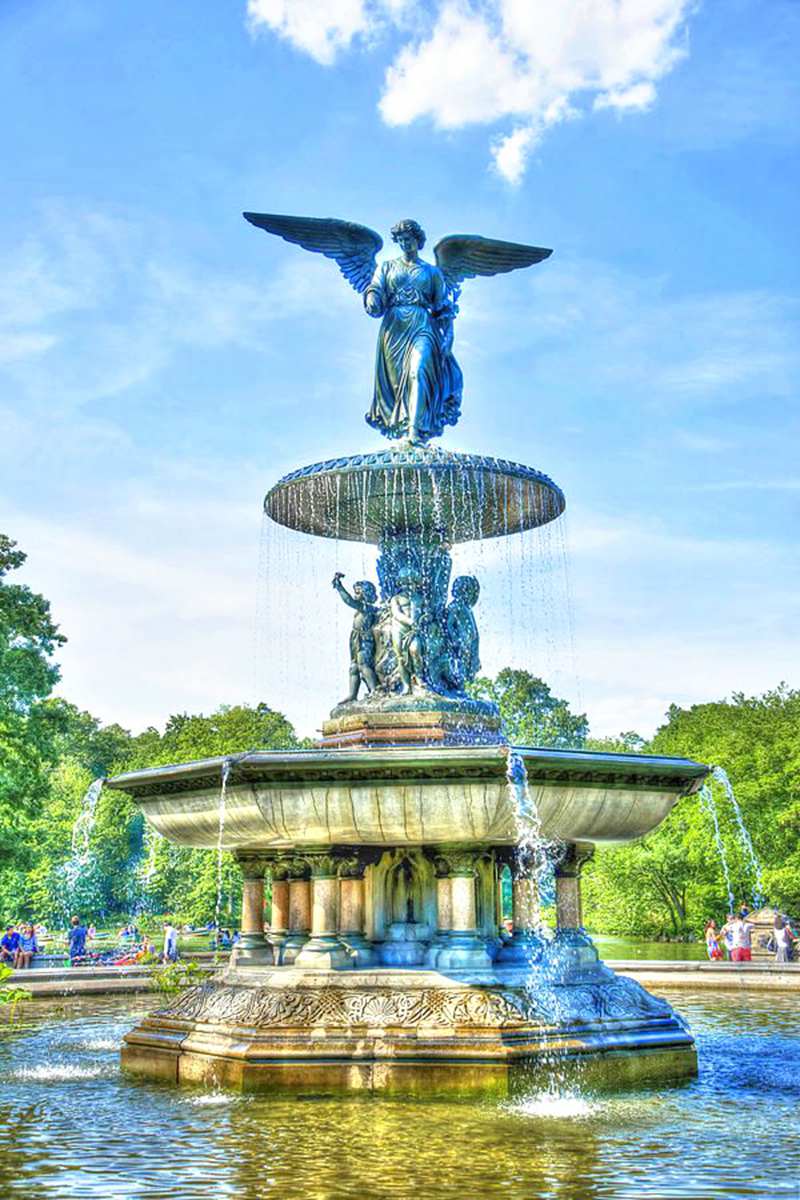 The angel holds a lily in her left hand, symbolizing purity, and with her right hand, she blesses the water as it flows beneath her. Water cascades down from the angel into the pool below. This design represents the healing and purifying power of water, and the sculpture itself is often seen as a symbol of hope, renewal, and inspiration.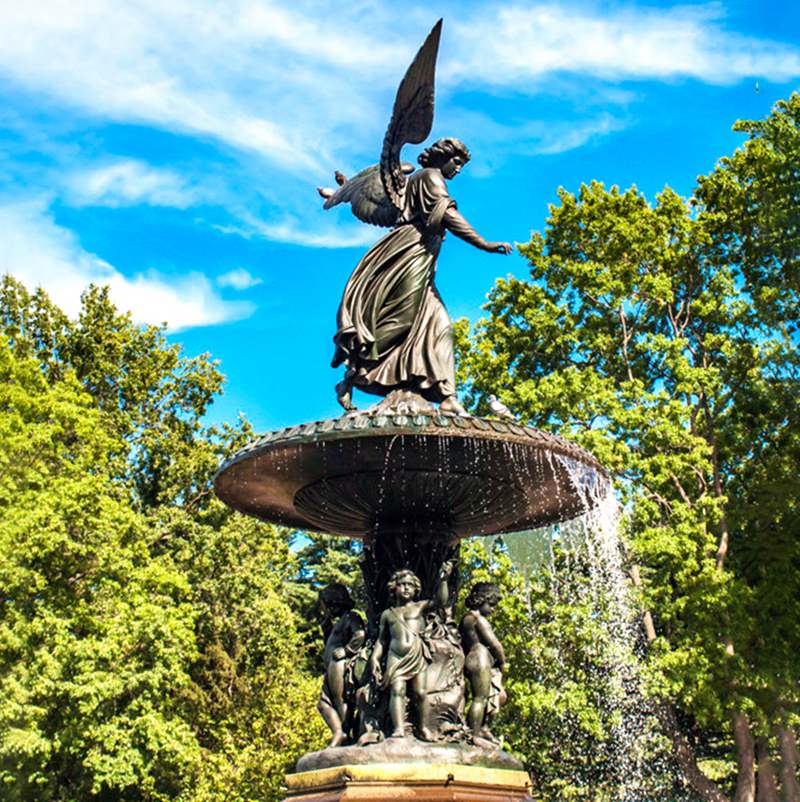 The fountain and its surrounding terrace are adorned with intricate detailing, including ornate carvings, beautiful tiles, and a grand, curved staircase that leads to the fountain. The entire structure offers both visual and architectural appeal, making it a popular spot for visitors and a sought-after location for events and photography within Central Park. We have cast reduced versions of this bronze fountain for many customers, and of course, we would customize bronze fountains in different sizes according to customer needs.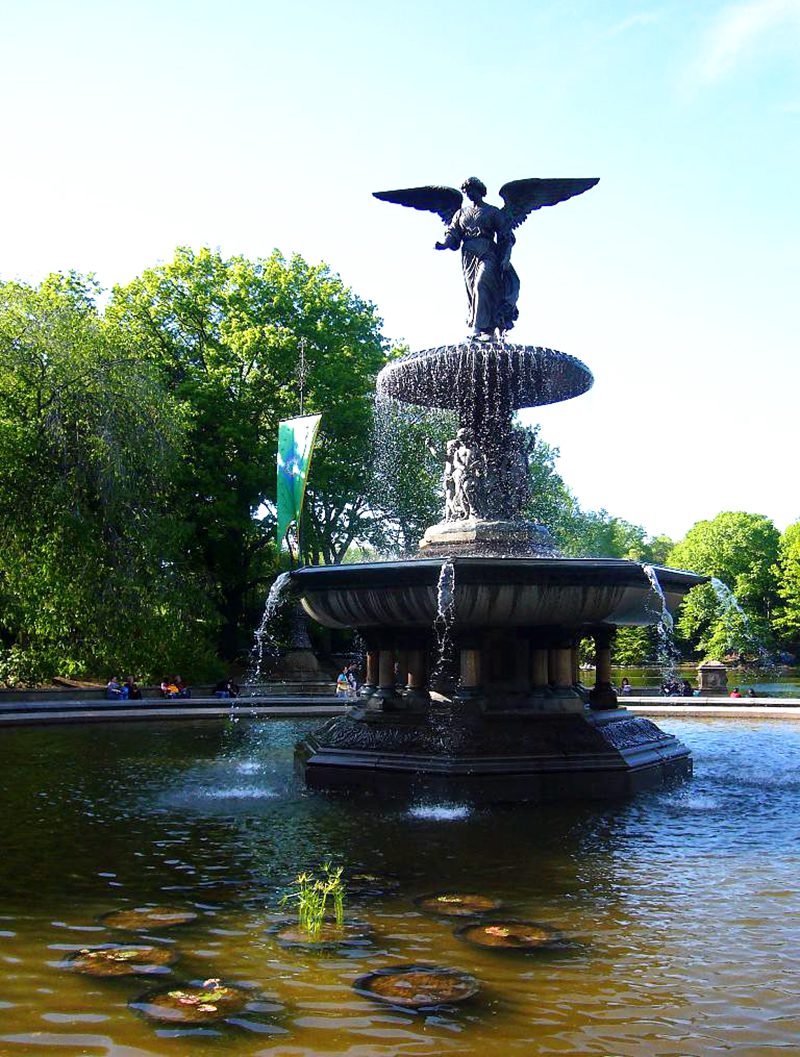 Top 2 Four Parts Of The World Fountain
The "Four Parts of the World Fountain" is a remarkable sculpture and fountain located in the courtyard of the United Nations Headquarters in New York City. This exquisite piece of art, created by Italian sculptor Raffaele Menconi, is a symbol of unity and diversity, representing the aspirations of the United Nations.
The fountain consists of a large bronze globe supported by four figures, each positioned at one of the cardinal points on the globe. This figure is placed at the northern point of the globe and represents the continent of Europe. The sculpture showcases European features and characteristics. Located at the eastern point of the globe, this figure represents the continent of Asia. It embodies Asian features and symbolism. Placed at the southern point of the globe, this figure symbolizes the African continent. It features African attributes and imagery. Situated at the western point of the globe, this figure represents the combined continents of North and South America. It embodies characteristics from both American continents.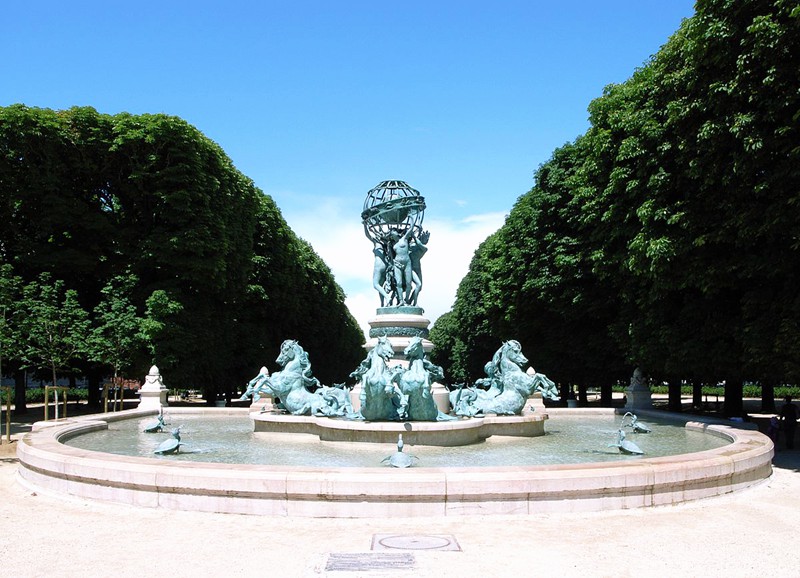 Top 3 Fontaine Des Fleuves
The Fontaine des Fleuves, also known as the Fountain of the Rivers, is a stunning monumental fountain located in the Place de la Concorde in Paris, France. This fountain is a significant part of the city's rich architectural and artistic heritage. The fountain consists of a large basin made of white marble. At the heart of the fountain stands a monumental obelisk made of red granite. This obelisk is adorned with hieroglyphs and adds a sense of grandeur to the fountain. Surrounding the obelisk, there are four large sculpted figures that represent four of the major French rivers: the Seine, the Loire, the Garonne, and the Rhône. Each river is embodied by a female figure who personifies the spirit and characteristics of that specific river.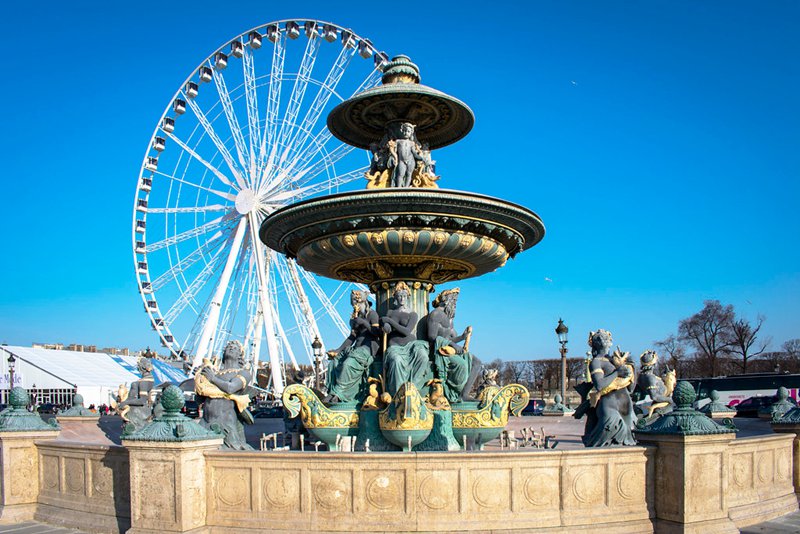 Water sprays out from the central obelisk and also from various water jets around the edges of the basin, creating a dynamic and visually pleasing display. At the corners of the fountain, you could find bronze horses, which are part of the elaborate decorative elements of the monument. The Fontaine des Fleuves is not only a beautiful work of art but also a historical monument that represents the city's connection to its rivers. It was constructed in the 1830s during the reign of King Louis-Philippe and is a significant landmark in the heart of Paris.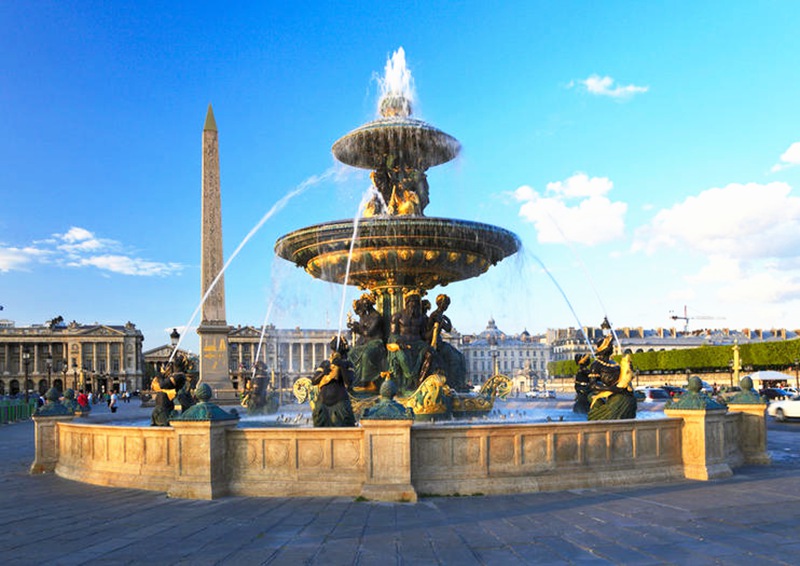 Top 4 Tyler Davidson Fountain
The Tyler Davidson Fountain, often referred to as the "Genius of Water," is a magnificent and iconic fountain located in Cincinnati, Ohio. It is a testament to the city's rich artistic heritage and is celebrated as one of the nation's premier artistic and architectural landmarks. At the apex of the fountain stands a beautiful and imposing bronze statue of a woman. She is known as the "Genius of Water" and represents the life-giving and purifying qualities of water. She gracefully extends her hands, holding aloft a jug from which water gently cascades.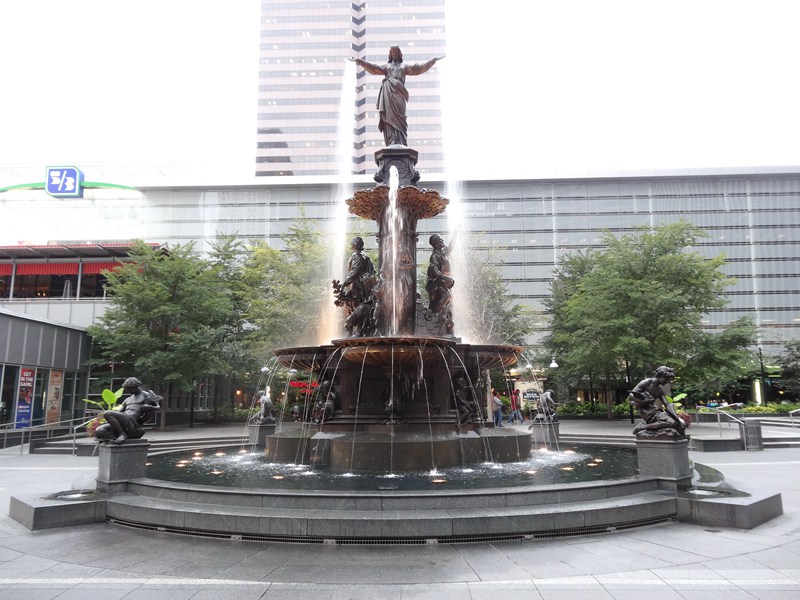 Below the central figure is a large, circular granite basin that collects the falling water, creating a serene and reflective pool. Surrounding the basin, there are four bronze figures that represent different practical uses of water – agriculture, manufacturing, trade, and health. These sculptures celebrate the role of water in the city's development and prosperity. The fountain is crowned by an ornate, domed couldopy supported by a series of columns and ornamental details. The entire structure is adorned with intricate decorative elements, including reliefs and motifs, which add to the overall grandeur of the fountain.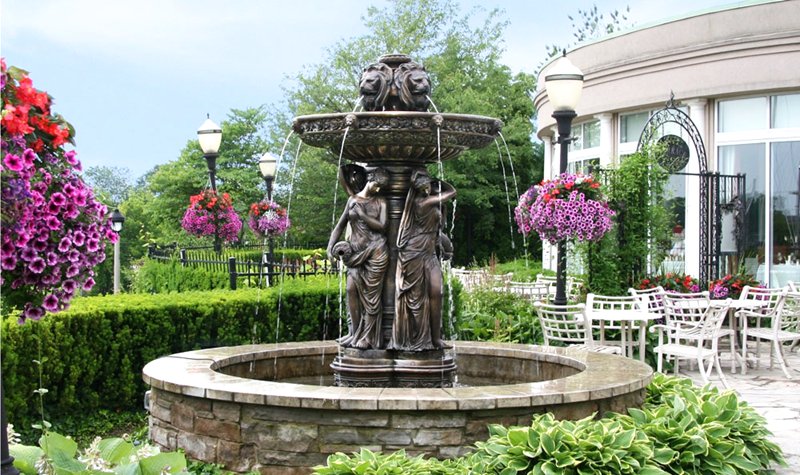 Top 5 Bronze Figure Fountain
The bronze female figure fountain is predominantly composed of four graceful women, each holding a jar. These ladies strike elegant poses, draped in exquisite long gowns. The fountain is characterized by a series of cascading tiers, with a grand central basin adorned by several majestic bronze lion head sculptures. Encircling the main basin, there's an additional row of smaller lion head sculptures, from which water gracefully emanates. In addition to this, the water continuously flows from the jars carried by the women, creating a symphony of beauty and movement.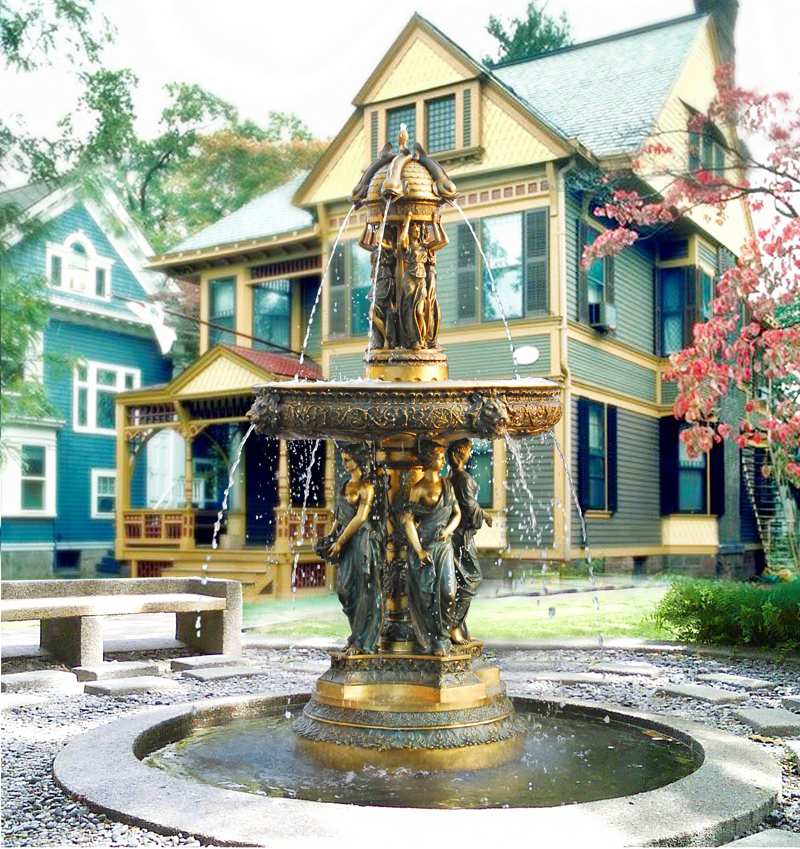 Top 6 Bronze Angel Fountain
The Bronze Angel Fountain is a captivating sculptural masterpiece. At its heart stands a resplendent angel, with her wings unfurled in graceful majesty. She is often depicted holding aloft a vessel, from which a gentle stream of water flows. Surrounding the angel are intricately designed basins, often adorned with intricate motifs and decorative elements. Water flows from tier to tier, creating a mesmerizing display of liquid artistry. The overall effect is one of serenity and ethereal beauty, making Bronze Angel Fountains a popular choice for gardens, parks, and other outdoor settings where their presence could inspire a sense of wonder and tranquility.
Top 7 Bronze Horse Fountain
Among the myriad animal-inspired fountains, it's the Bronze Horse Fountain that often stands out as a favorite. The powerful imagery of a horse often captured rearing on its hind legs, combines with the mesmerizing element of flowing water to create a captivating and grand spectacle. The sight of a group of bronze horse sculptures encircling the fountain pool, with water gracefully cascading from their mouths, is nothing short of magnificent.
It evokes a sense of motion, as if a herd of horses has come to life, frozen in a moment of wild exuberance. This dynamic combination of art and water brings an irresistible allure to any setting. Bronze Horse Fountains serve as more than just decorative pieces; they symbolize strength, grace, and the untamed spirit of these magnificent creatures. Whether placed in a garden, a park, or another outdoor space, the Bronze Horse Fountain has an unparalleled ability to capture the hearts and imaginations of all who behold it.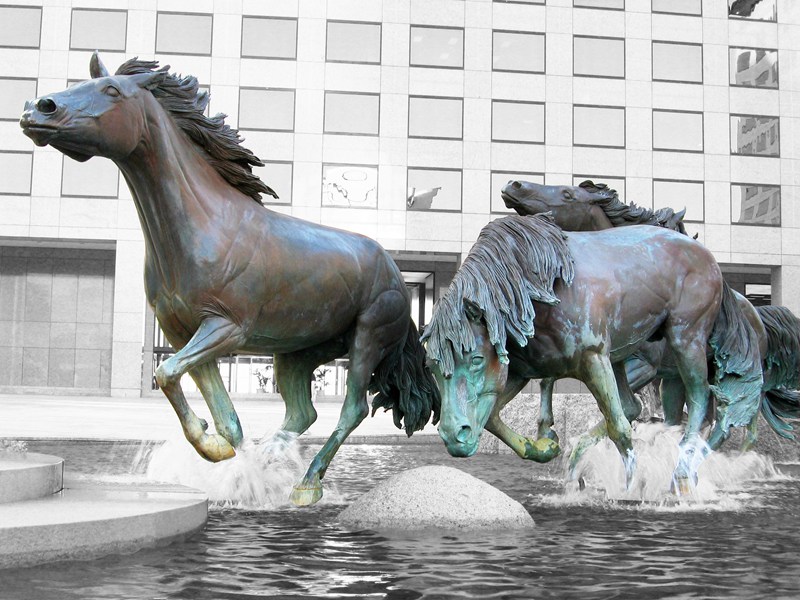 Top 8 Bronze Dolphin Fountain
The Bronze Dolphin Fountain is a mesmerizing spectacle, enchanting viewers with its grace and elegance. Typically, this fountain features multiple bronze dolphin sculptures arranged around a central pool. These dolphins are often depicted in various dynamic poses, leaping out of the water, diving back in, or playfully frolicking around. The water flows through and around these graceful creatures, creating a stunning symphony of motion and sound. As the water jets from their mouths and interacts with the surrounding pool, it adds an enchanting element of fluidity to the entire scene.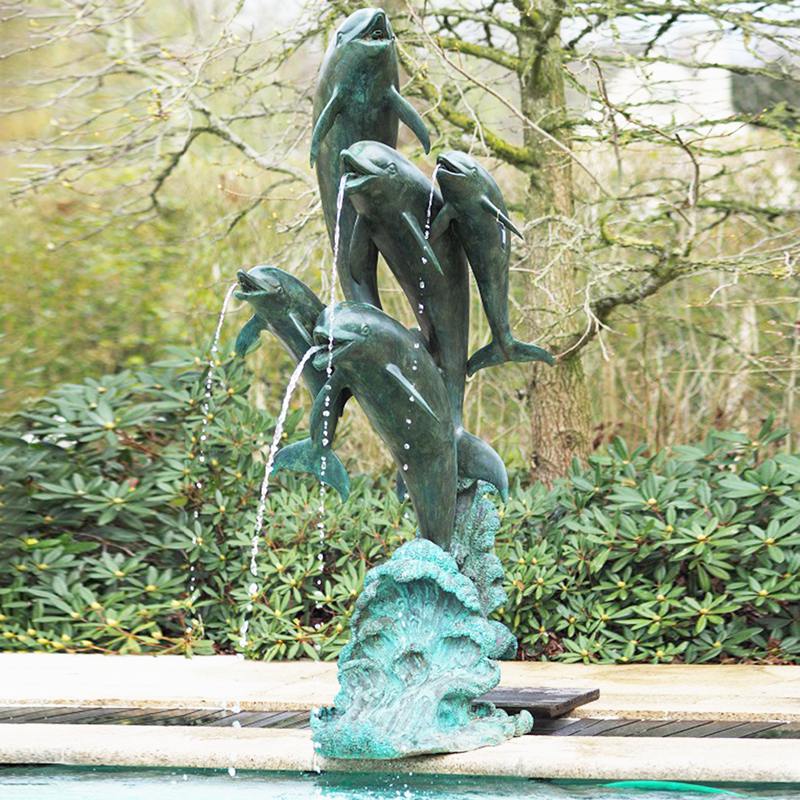 Bronze Dolphin Fountains not only capture the charm and beauty of these intelligent marine mammals but also evoke a sense of freedom and the boundless spirit of the ocean. Placing one in a garden or public space transforms it into a serene oasis, making it a focal point that embodies the spirit of nature and water's tranquility.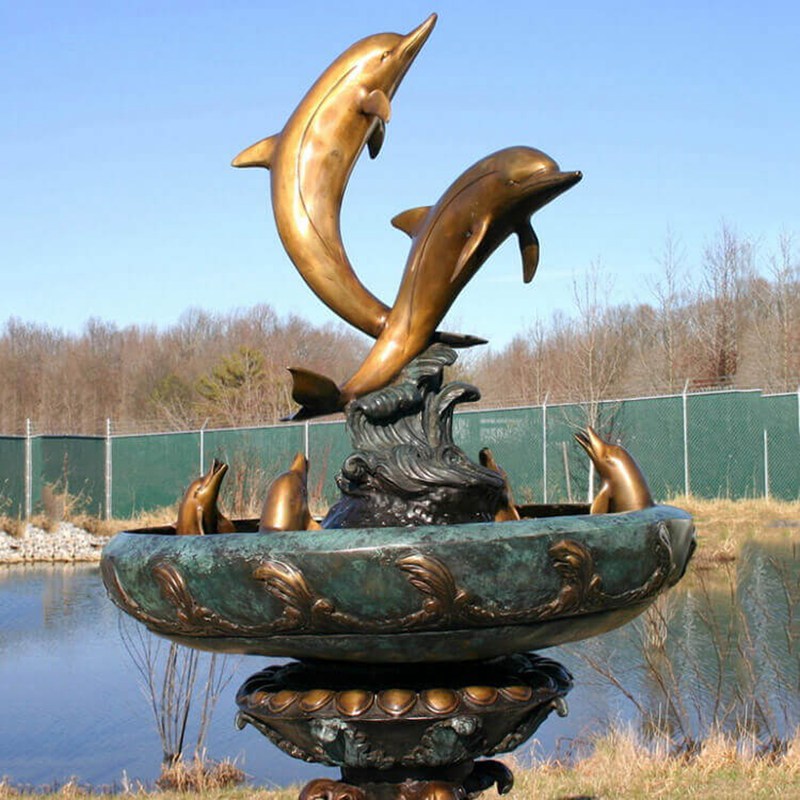 Top 9 Bronze Tiered Fountain
The Bronze Tiered Fountain is a magnificent and intricate masterpiece of outdoor water artistry. This type of fountain typically consists of multiple tiers or levels, with each level adorned by exquisite bronze sculptures or decorative elements. Water flows gracefully from the top tier, cascading down from one level to the next, creating an enchanting and soothing display. These fountains often feature various themes and designs, such as classical figures, animals, or intricate patterns, which are beautifully cast in bronze. The flowing water enhances the sculptures' grandeur, providing both visual appeal and the soothing sound of running water.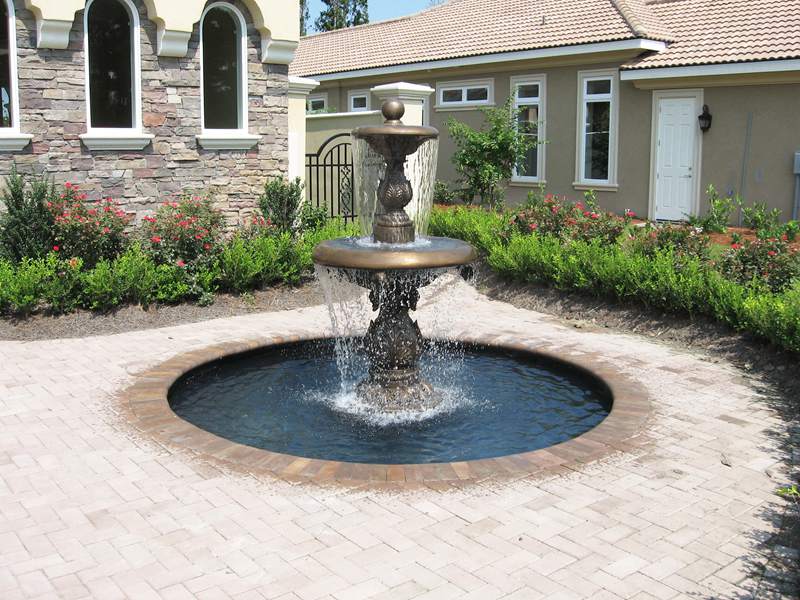 Bronze Tiered Fountains are not only remarkable focal points in gardens, parks, or public spaces, but they also symbolize opulence, craftsmanship, and timeless beauty. Their presence adds a touch of elegance and serenity to any outdoor setting, making them a popular choice for those seeking to create a sense of luxury and tranquility in their surroundings.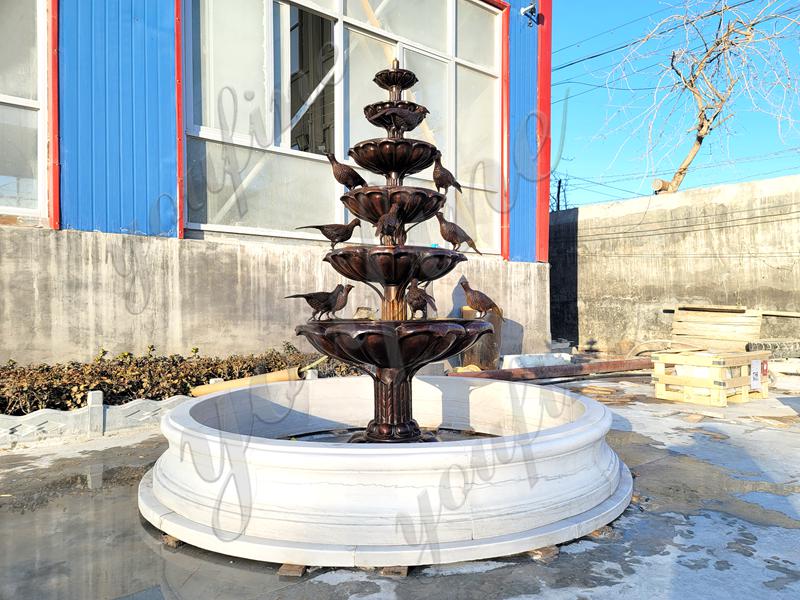 Top 10 Bronze Dragon Fountain
The Bronze Dragon Fountain is a captivating work of art that seamlessly combines the mystical allure of dragons with the soothing beauty of flowing water. Typically, this type of fountain features one or more exquisitely crafted bronze dragon sculptures as its central focus. These dragons are often depicted in intricate and lifelike detail, showcasing their powerful and majestic presence.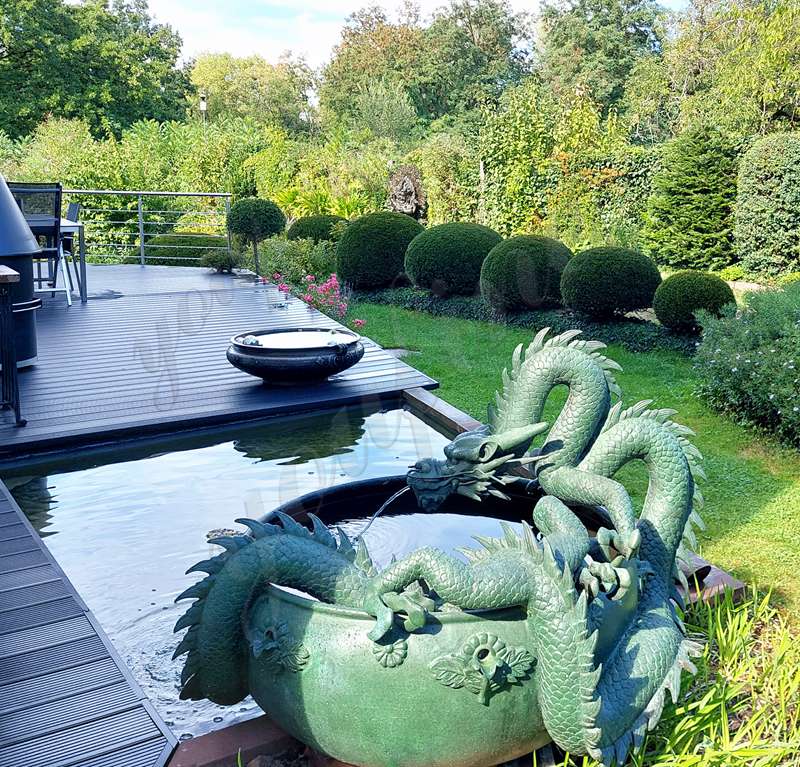 The dragons may be positioned in various dynamic postures, such as coiled around a central column, poised to take flight, or guarding a cascading water feature. Water flows from the dragon's mouths or other parts of their bodies, creating a mesmerizing display of cascading water and a gentle, soothing sound. These fountains evoke a sense of wonder and awe, as dragons are often associated with power, protection, and good fortune in many cultures. As a result, Bronze Dragon Fountains are not only visually stunning but also symbolic, making them a popular choice for those who appreciate the mystical and wish to infuse a touch of magic into their outdoor spaces.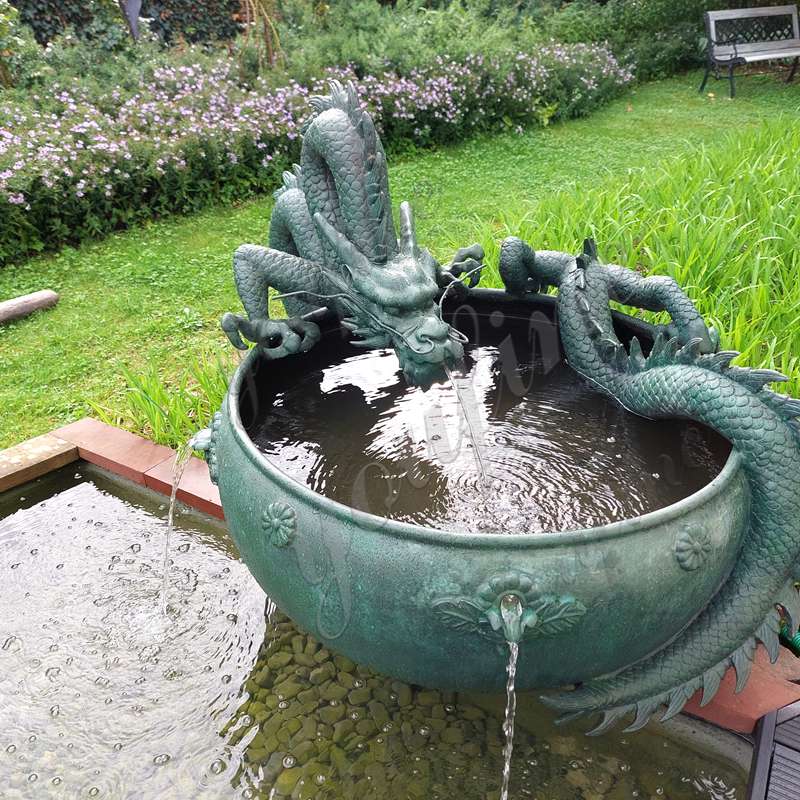 YouFine Bronze Fountains Advantage
YouFine bronze fountains are a fusion of art and functionality. They feature meticulously sculpted bronze figures or motifs with exquisite attention to detail, elevating them to the realm of masterpieces. We provide extensive customization options, allowing clients to tailor their fountains to their specific desires. This includes selecting the theme, size, and patina color, resulting in a unique and harmonious addition to any landscape.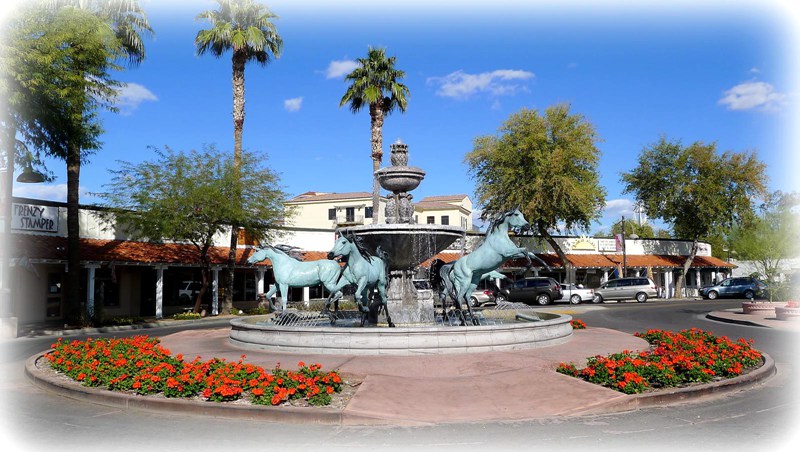 Experienced Craftsmanship
With years of expertise in bronze casting, our artisans bring unrivaled skill to every project. They capture the essence and spirit of the chosen theme, creating fountains that are not just water features but captivating works of art.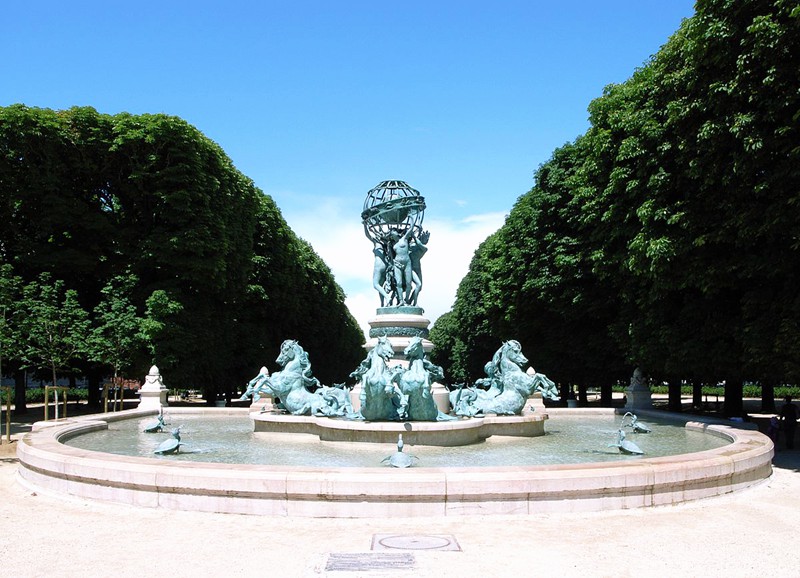 Detailed and Lifelike Sculptures
Our sculptors excel in creating lifelike and captivating bronze sculptures that become the centerpiece of the fountain. These sculptures are often rich in symbolism and are sure to engage viewers.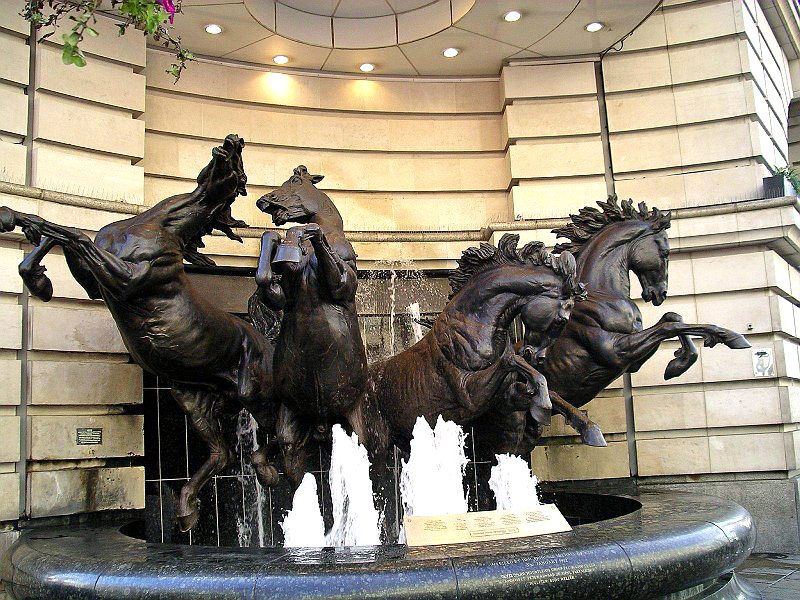 Professional Installation
We offer installation services to ensure the fountain is positioned correctly and operates seamlessly. Our fountains could be tailored for various settings, including public parks, gardens, courtyards, and more. They add elegance and charm to both residential and commercial environments.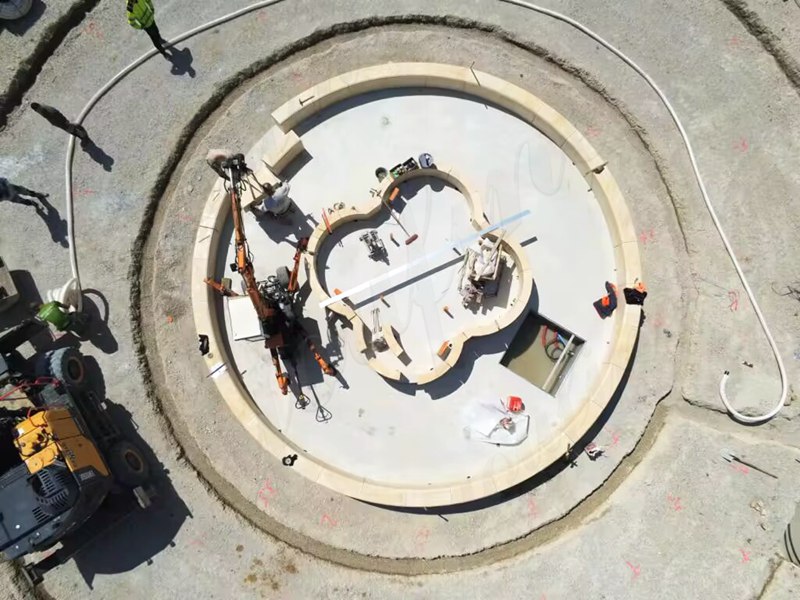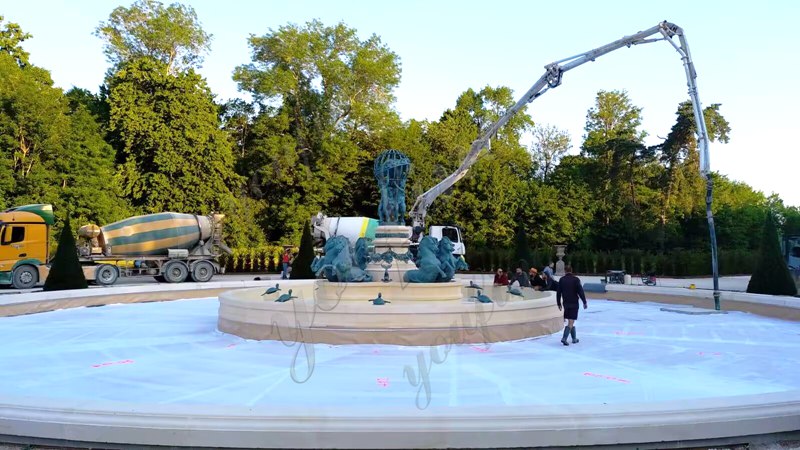 Check Out: More Bronze Fountain
In conclusion, YouFine's bronze fountains stand as testaments to artistry and craftsmanship, offering an opportunity to transform any space into a captivating haven. Our commitment to quality, customization, and durability ensures that each fountain is a unique masterpiece that would be cherished for generations.
Last Article
:
Life Size Australian Wildlife Bronze Koala Animal Statue
Next Article:
Custom Museum Sculpture Bronze Perseus Athens National Archeological art