Top Popular Front Porch Welcome Statue for Home Ideas: Welcome Your Guests in Style!
Updated 07/25/2023 4:09 PM By Alice
Are you looking to elevate the curb appeal of your home and create a warm, inviting ambiance for your guests? Front porch welcome statues are the perfect solution to add a touch of sophistication and charm to your home's entrance. In this comprehensive guide, we will explore the top popular front porch welcome statues for home ideas that will make a lasting impression on anyone who visits your home.
Top Popular Front Porch Welcome Statue for Home Ideas
Welcome your guests with stunning front porch statues that exude elegance and showcase your unique style. Let's dive into the best options available:
1. Marble Lion Entrance Statues – Majestic Guardians of Your Abode
If you seek to infuse a sense of grandeur and majesty into your home's entrance, marble lion entrance statues are the perfect choice. Symbolizing strength and protection, these regal beasts stand tall as guardians, creating an awe-inspiring and majestic atmosphere. Crafted from durable materials like stone or resin, these statues endure various weather conditions, ensuring they maintain their majestic allure for years to come.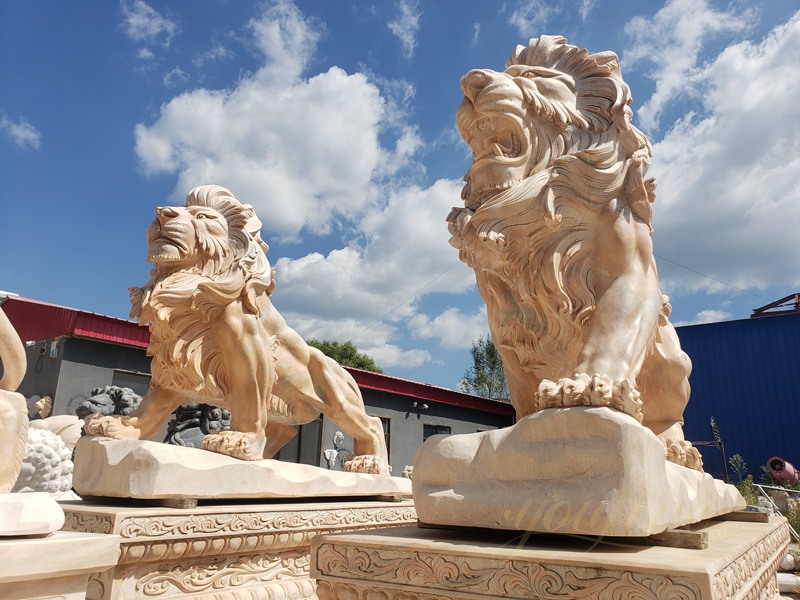 Red Natural Marble Lion Statue for Driveway
Indeed, besides marble, lion statues for the front porch can also be crafted in bronze, fiberglass, or stainless steel. Each material choice brings its unique appeal and characteristics to the grandeur of the entrance.
Each of these materials offers a unique charm, allowing homeowners to select the lion statue that best complements their architectural style and personal preferences. Whether you prefer the classical beauty of bronze, the flexibility of fiberglass, or the modern appeal of stainless steel, a magnificent lion statue will undoubtedly stand as a symbol of strength and majesty at the front porch, leaving a lasting impression on all who visit your home.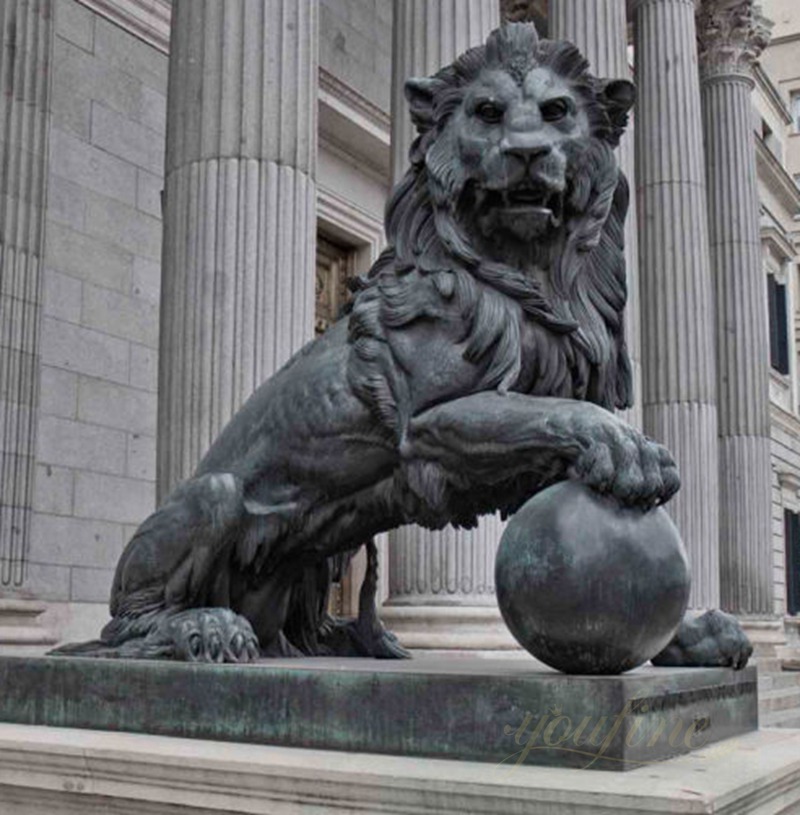 Guardian Bronze Lion Statues for Front Porch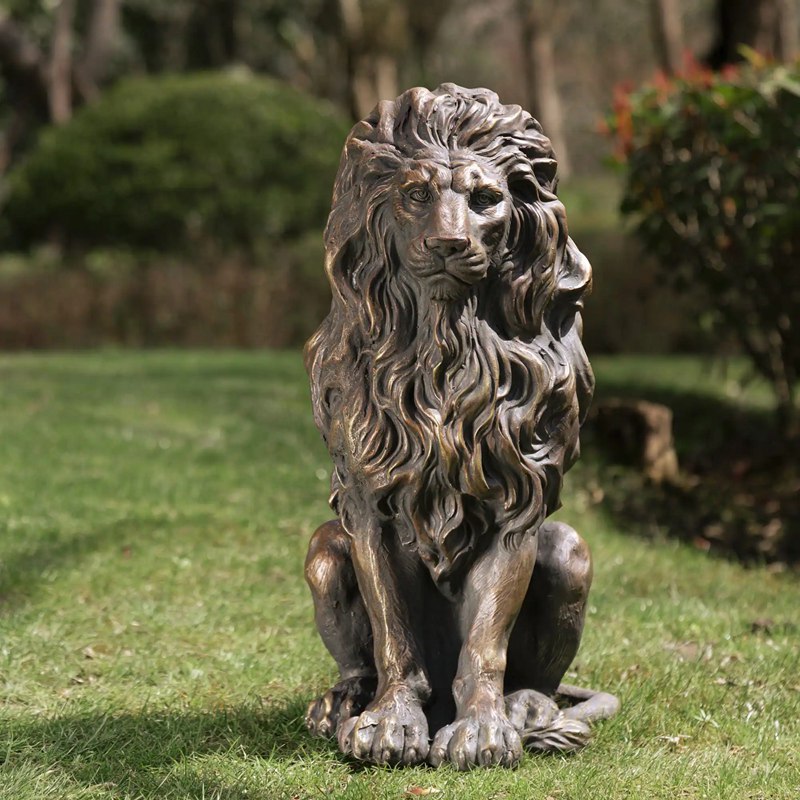 2. Marble Foo Dog Statue for Front Porch – Timeless Elegance
Foo dogs, also known as Chinese guardian lions, are a traditional symbol of protection and prosperity. Carved from marble, these statues exude timeless elegance and grace, making them a classic choice for front porch decor. Placing a pair of marble foo dog statues on either side of your entrance conveys a sense of balance and harmony while guarding your home against negative energies.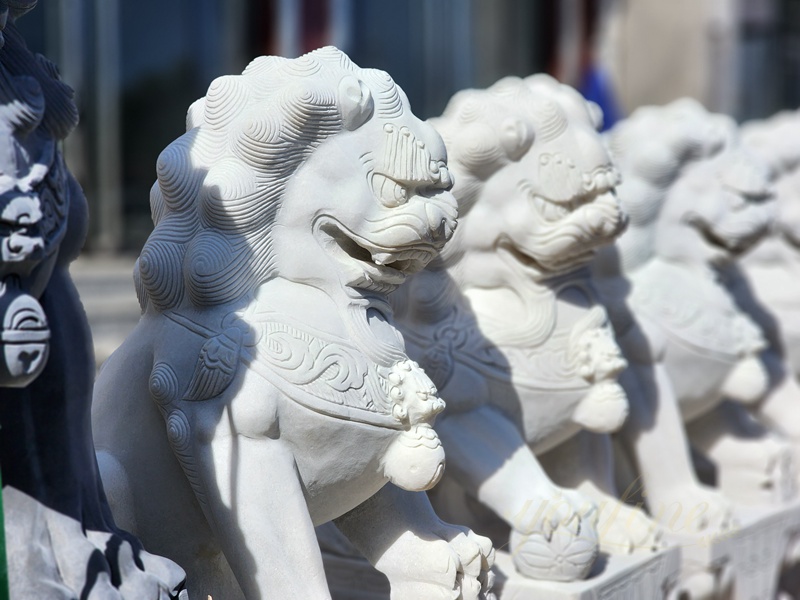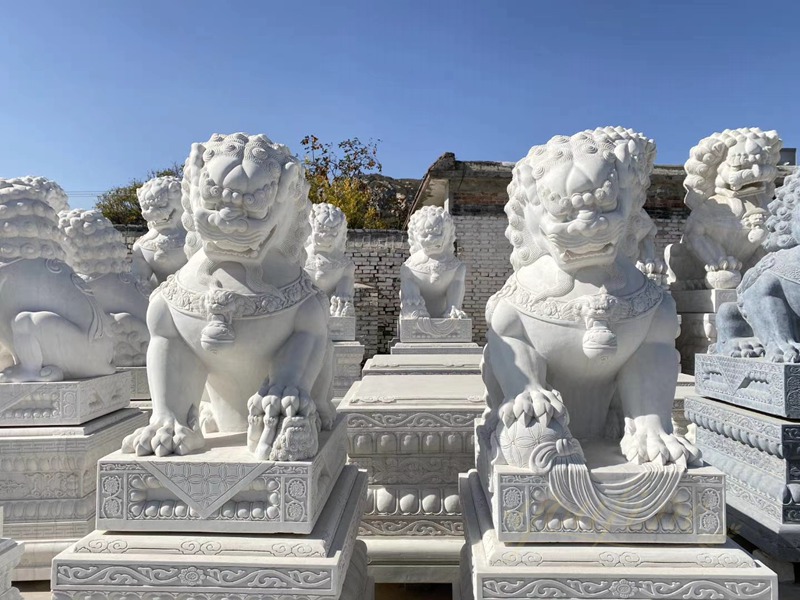 Garden Marble Guardian Lion Foo Dog Statues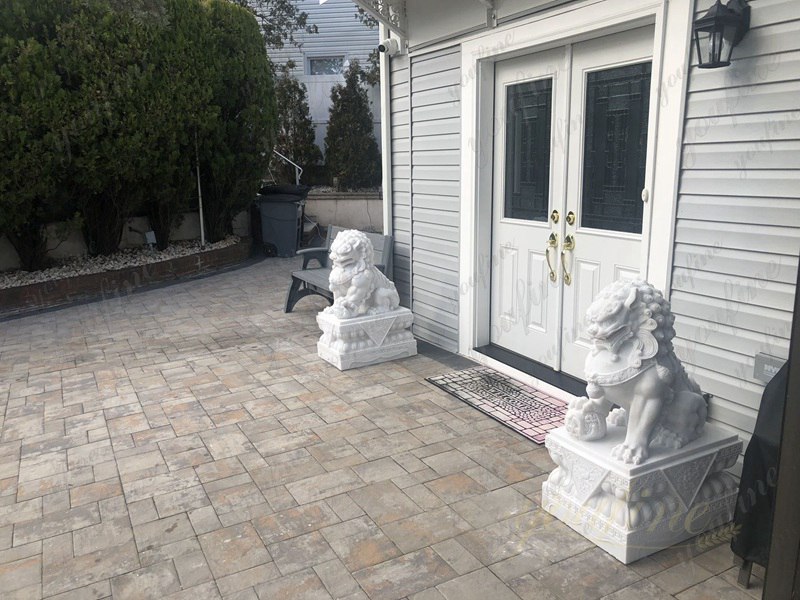 3. Welcome Dog Statues – Loyal Companions at Your Doorstep
Imagine being greeted by the adorable presence of a dog as you approach your front porch. Welcome dog statues bring an air of playfulness and loyalty to your home's entrance. These statues often come in various breeds and poses, capturing the essence of canine charm. Whether it's a playful Golden Retriever or a vigilant German Shepherd, these sculptures exude a sense of warmth and hospitality that instantly makes guests feel at ease.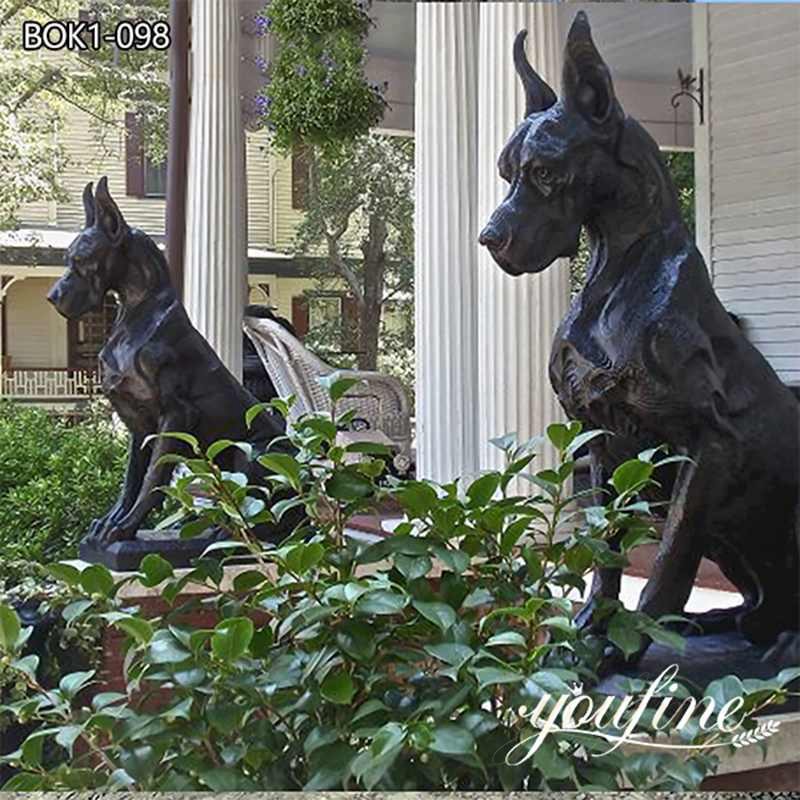 Bronze Dog Statues for Front Porch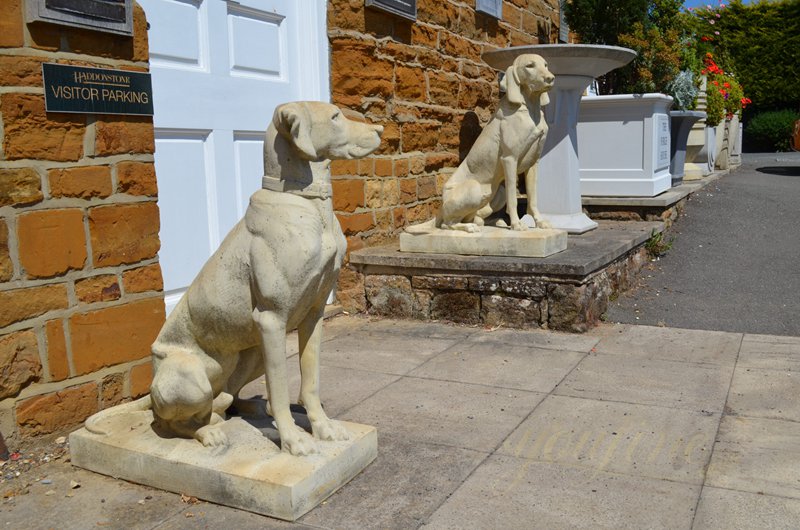 4. Female Sculptures for Front Entrance – Graceful Welcoming
Female sculptures bring a touch of femininity and grace to your front porch decor. From Greek goddesses to contemporary-inspired statues, these sculptures showcase beauty, elegance, and warmth. These welcome statues symbolize fertility, nurturing, and protection, making them a delightful addition to any home entrance.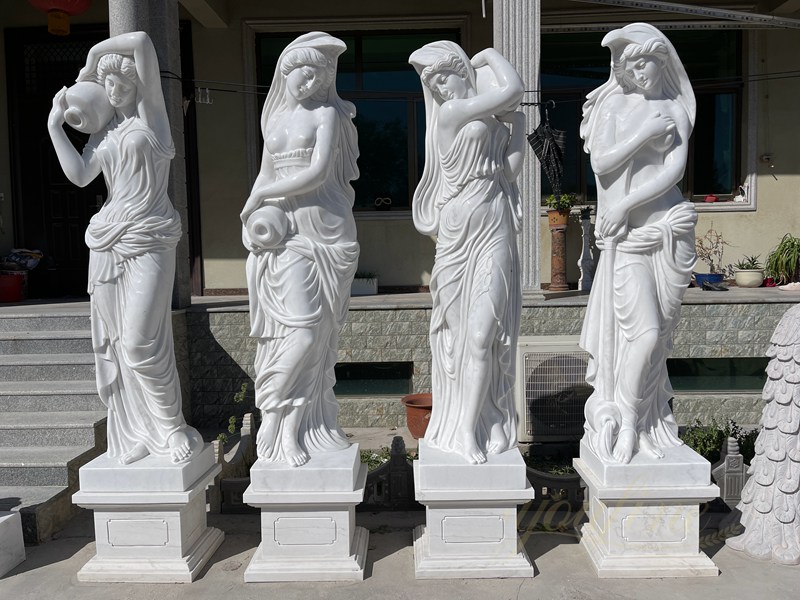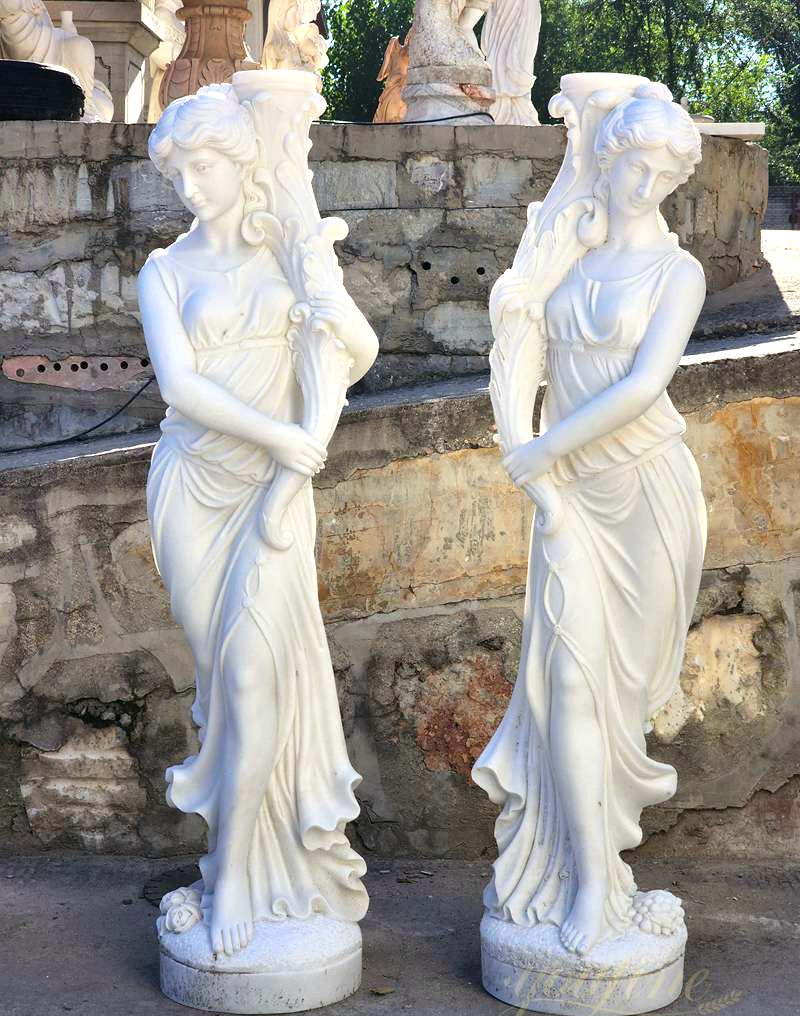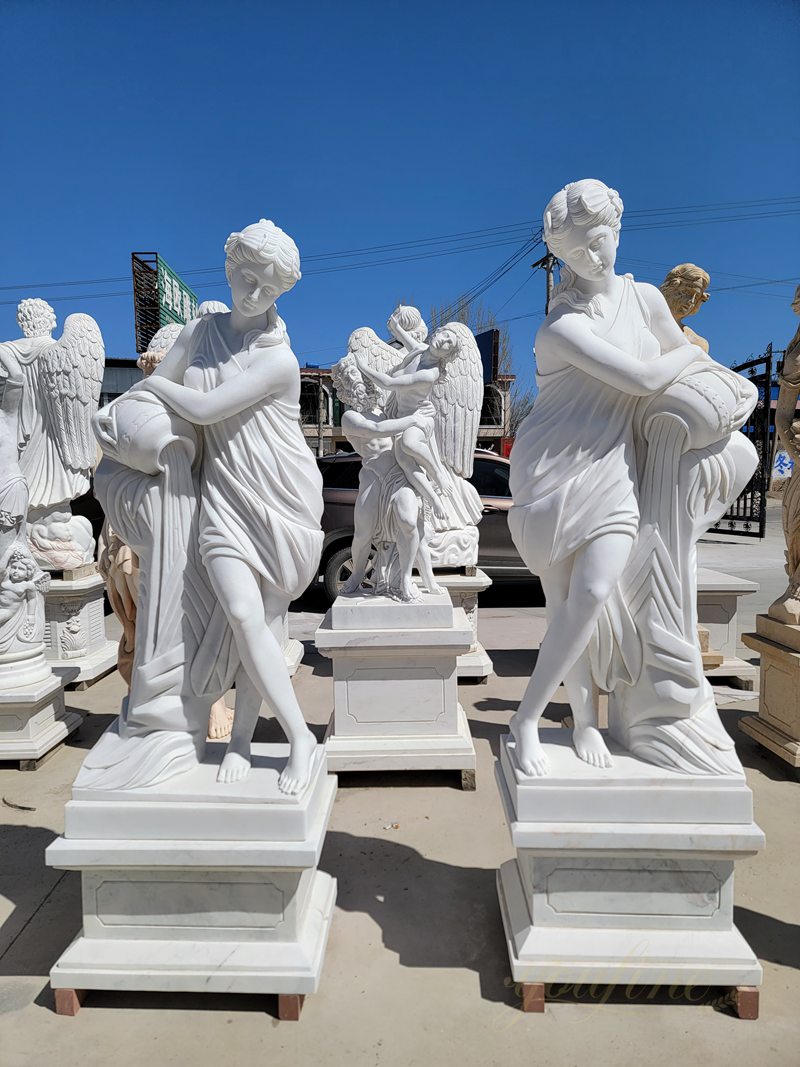 5. Front Door Angel Marble Statue – Heavenly Presence
An angelic presence gracing your front entrance can evoke feelings of peace and serenity. Front door angel marble statues depict celestial beings in various poses, radiating a sense of tranquility and protection. Crafted from pristine marble, these statues add an ethereal touch to your home's exterior, making it feel like a safe haven.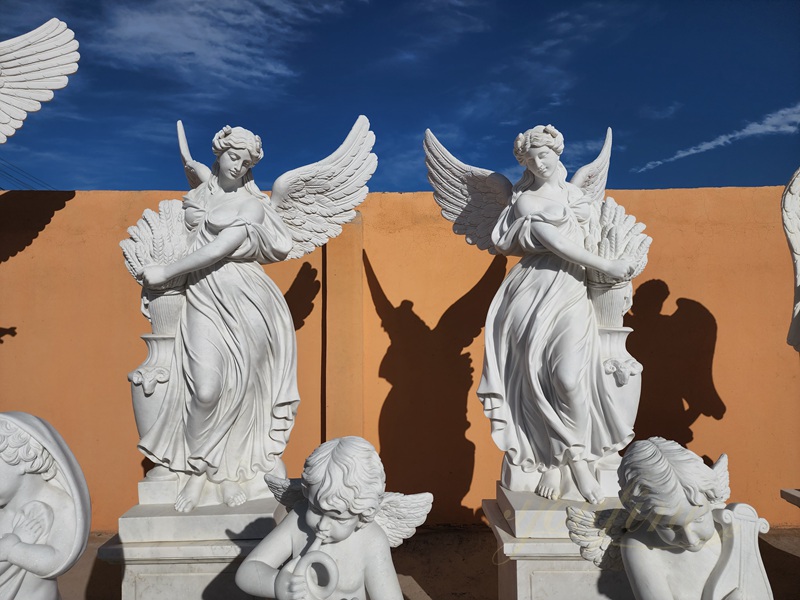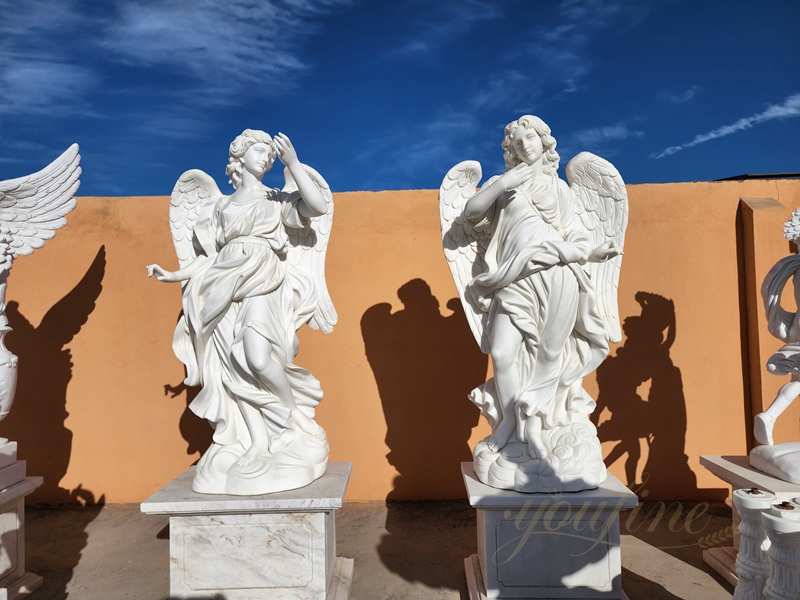 6. Marble Caryatid for Doorway – Architectural Marvels
Caryatids are captivating architectural elements inspired by ancient Greek design. These columns, sculpted in the form of graceful maidens, support the structure of your front porch. Incorporating a marble caryatid into your entrance design not only adds a touch of history and artistry but also elevates the overall elegance of your home.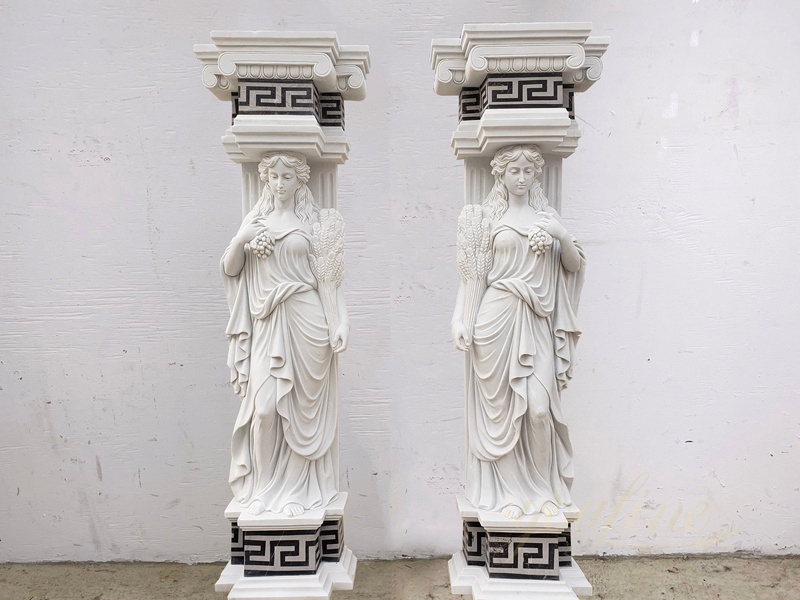 Natural Marble Caryatid Column
7. Marble Flower Pot for Front Door
Transform your front door area into an exquisite display of natural beauty and elegance with a captivating marble flower pot. This luxurious addition not only enhances the curb appeal of your home but also serves as a delightful greeting for guests and passersby. Crafted from pristine marble, this flower pot exudes sophistication and timeless charm, making it a perfect choice for elevating the aesthetics of your entryway.
Carved with intricate details and polished to a flawless finish, the marble flower pot becomes a stunning focal point that effortlessly complements any architectural style. Its durable and weather-resistant nature ensures that it withstands the elements, allowing you to enjoy its beauty season after season.
Elevate your home's exterior with a touch of opulence and sophistication by adorning your front door with a magnificent marble flower pot. Embrace the timeless allure of marble and embrace the enchanting world of gardening as you make a statement of elegance and refinement for all to admire.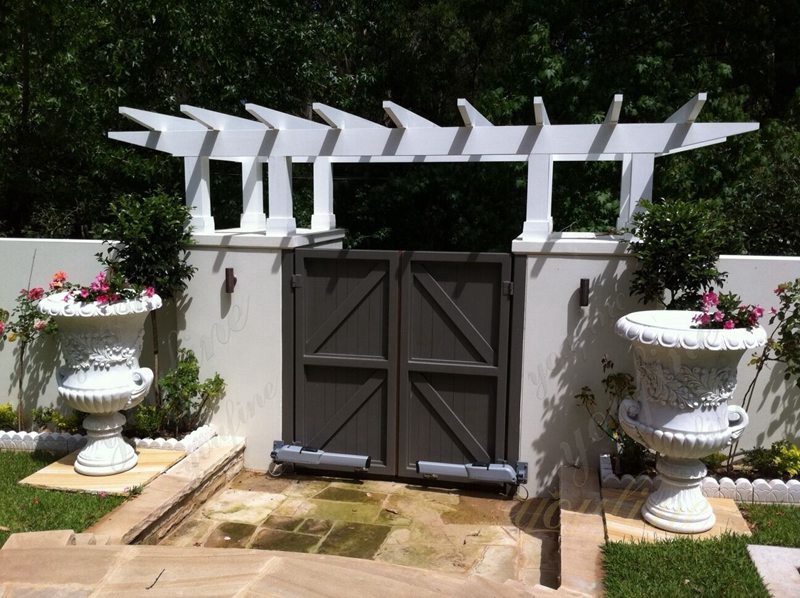 Hand Carved Large Garden White Marble Planters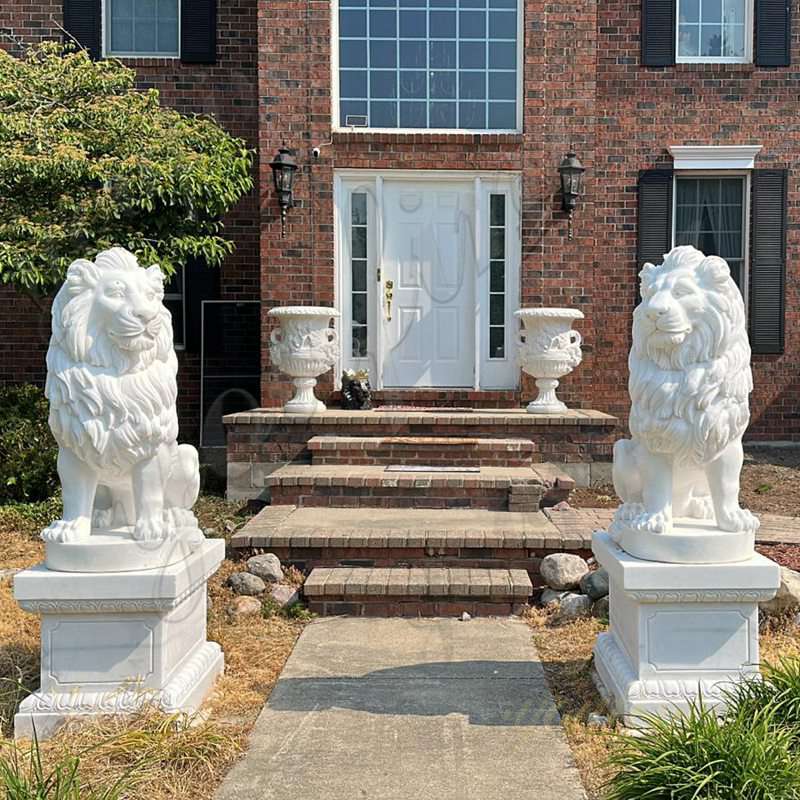 More Front Porch Welcome Statue Ideas
Beyond the aforementioned ideas, the world of front porch welcome statues offers a plethora of options to suit your unique taste and style. Some other popular choices include:
– Grecian Urn Welcome Statues: Classical beauty with a touch of greenery.
– Zen Garden Buddha Statue: Invokes tranquility and harmony at your doorstep.
– Animal Welcome Statues: From turtles to rabbits, these statues exude charm and playfulness.
– Victorian Lady and Gentleman Statues: Vintage elegance for a touch of nostalgia.
Conclusion – Elevate Your Home's Charm with Welcome Statues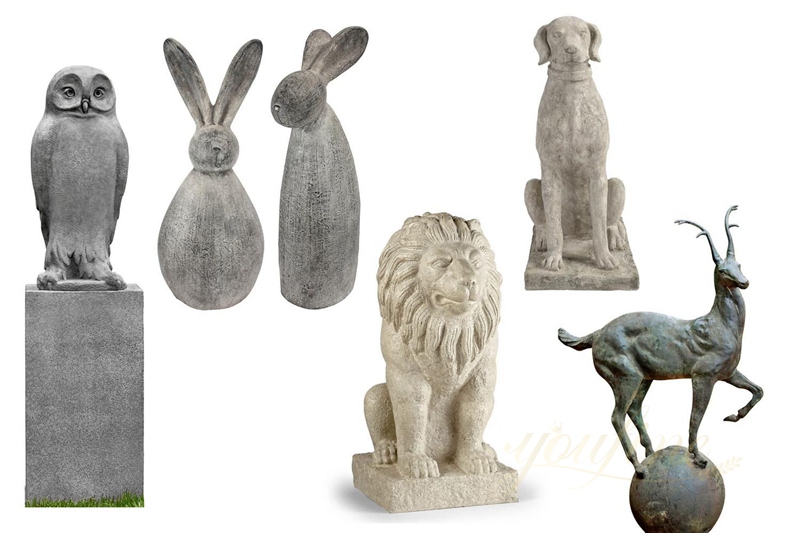 Incorporating a well-chosen welcome statue into your front porch decor can truly transform the ambiance of your home. Whether you prefer the timeless allure of marble statues or the endearing charm of animal sculptures, these statues add a personal touch that sets your home apart.
How to Choose the Perfect Welcome Statue for Your Front Porch
1.Consider the Theme and Style
Choose a statue that complements the overall theme and style of your home. Whether it's a classic, modern, or eclectic design, ensure the statue harmonizes with your home's aesthetics.
2.Size and Proportions Matter
Consider the size and proportions of the statue in relation to your front porch. A large statue might overpower a small entrance, while a tiny one may get lost in a grand setting.
3.Weather Resistance and Durability
Ensure the material of the statue is weather-resistant and durable to withstand various climatic conditions. Marble, bronze, and stainless steel statues are popular choices for their resilience.
4.Placement and Positioning
Strategically position the statue to create an inviting focal point. Flank your front door, frame your steps, or position statues near potted plants for an enchanting effect.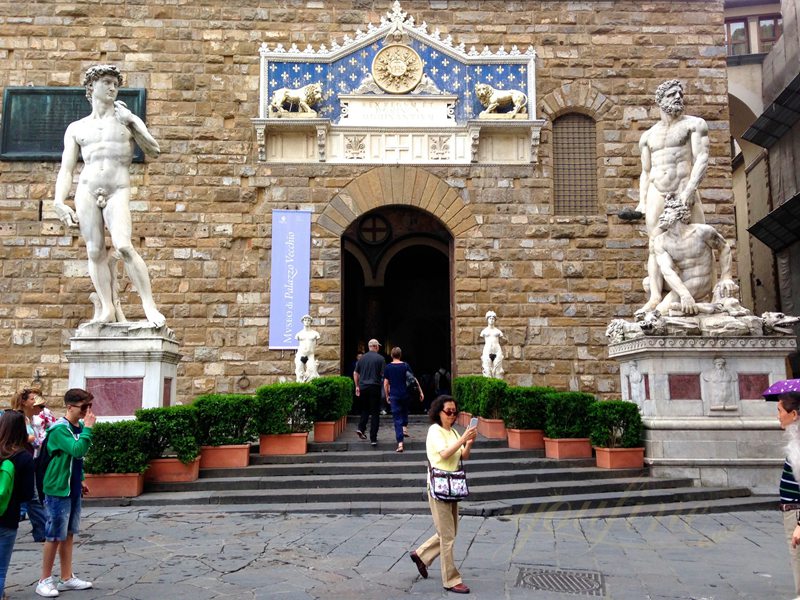 Front porch welcome statues are the perfect way to elevate the look of your home's entrance and create a welcoming atmosphere for your guests. Whether you choose which style of sculpture, each choice brings its unique charm and personality.
Make sure to consider your home's architecture, your personal style, and the message you want to convey when selecting a front porch welcome statue. With these stunning statues adorning your front porch, you'll undoubtedly impress your guests and make a lasting impression every time someone steps foot into your home.
FAQs:
Q: How can I choose the perfect front porch welcome statue for my home?
A: When selecting a front porch welcome statue, consider your home's architecture, personal style, and the emotions or message you want to convey.
Q: Are front porch welcome statues durable for outdoor use?
A: Yes, most front porch welcome statues are made of weather-resistant materials like marble, bronze, and stainless steel, ensuring they remain intact even in harsh weather conditions.
Q: Can I commission a custom-made front porch welcome statue?
A: Yes, many sculptors and artists offer custom-made front porch welcome statues that can represent your family or personal values, making it a truly unique piece.
Q: What are some other unique front porch welcome statue ideas?
A: You can explore options like mythical creatures, classic statues, contemporary art, animal figures, geometric shapes, whimsical statues, and even personalized statues.
Q: Are welcome dog statues suitable as gifts for dog lovers?
A: Yes, welcome dog statues make excellent gifts for dog lovers, providing a heartwarming and thoughtful present for various occasions.
Q: How do lion entrance statues symbolize power and protection?
A: Lions have been symbols of strength and royalty in various cultures. Placing lion entrance statues on your front porch portrays a sense of power and protection for your home and family.
Last Article
:
Natural Marble Fountain of Diana Sculpture for Sale MOK1-206
Next Article: