Where are the Statues of Diana Princess of Wales?
Updated 08/29/2023 3:43 PM By Guo, Judy
Diana Sculpture in the Kensington Palace
On her 60th birthday, a new statue of the late Princess Diana was unveiled in London by her sons Princes William and Harry. In 2017, on the 20th anniversary of her death, the brothers commissioned sculptor Ian Rank-Broadley.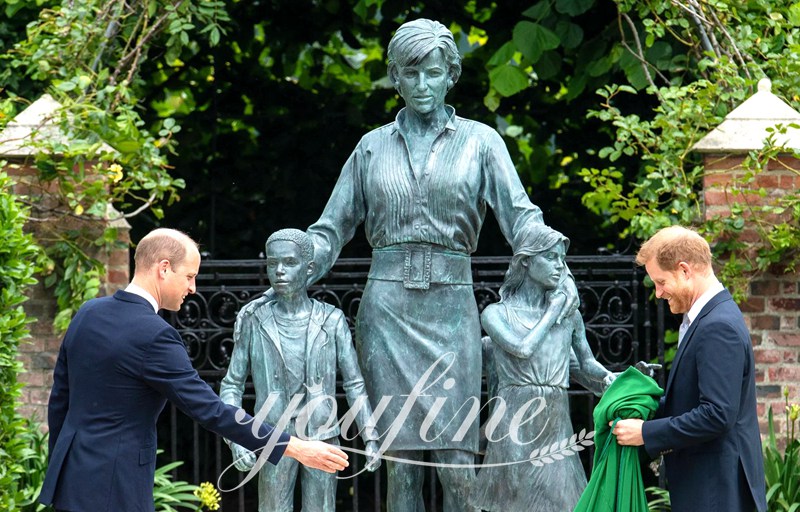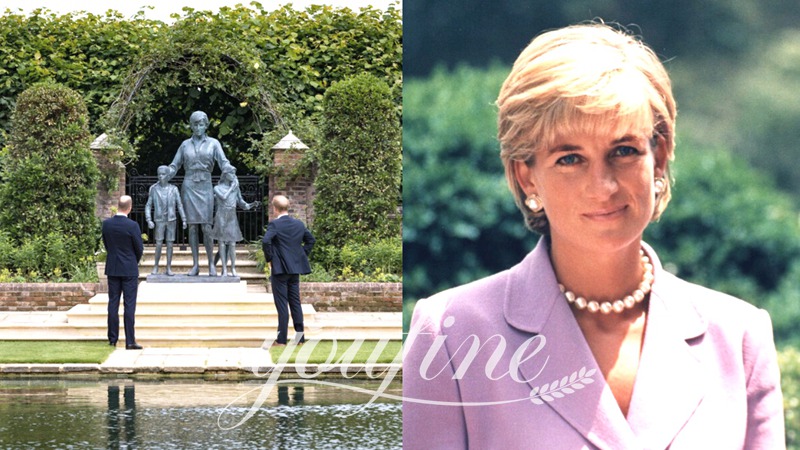 They wanted to honor their mother by placing a sculpture in their childhood home, Kensington Palace. The memorial to the late princess includes three young children. It represents her selfless dedication to humanitarian and charitable work – and the significant impact she had on so many throughout her life.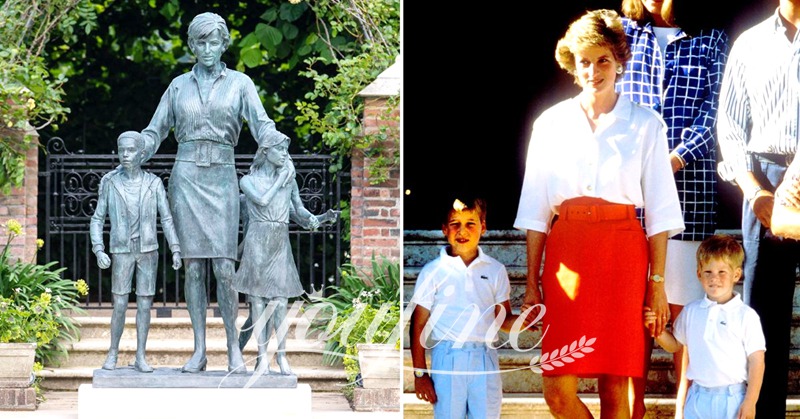 Princess Diana Bronze Statue at Harrods
The innocent victims are bronze statues of Princess Diana and Dodi Fayed. The sculpture was on display at Harrods in London, England, between 2005 and 2018. Dodi's father, Mohammad Alfayed, commissioned the statue when he owned Harrods.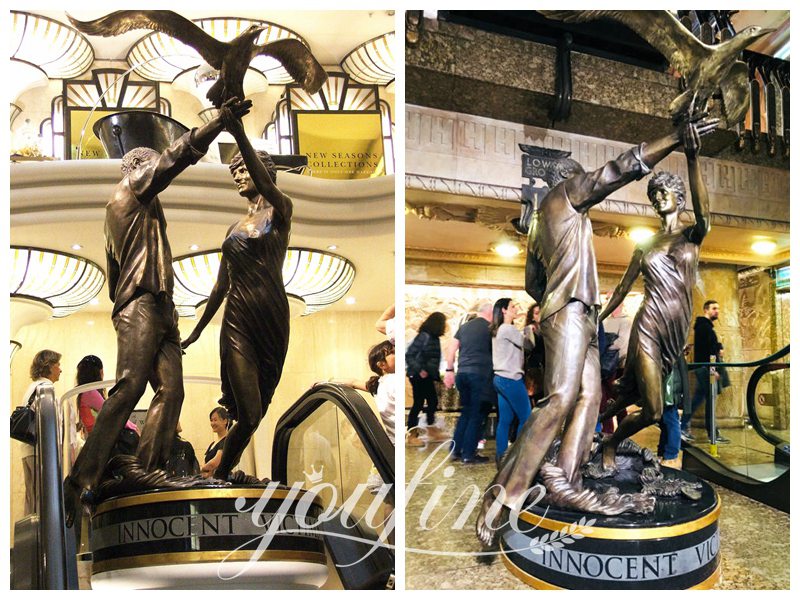 It depicts Diana and Dodi face to face as they hold a bird with outspread wings and dance across the waves of the Mediterranean. The statue has received considerable criticism for its aesthetic value, and is widely described by the media as "tacky" and "offensive". The work has been returned to the Al-Fayed family.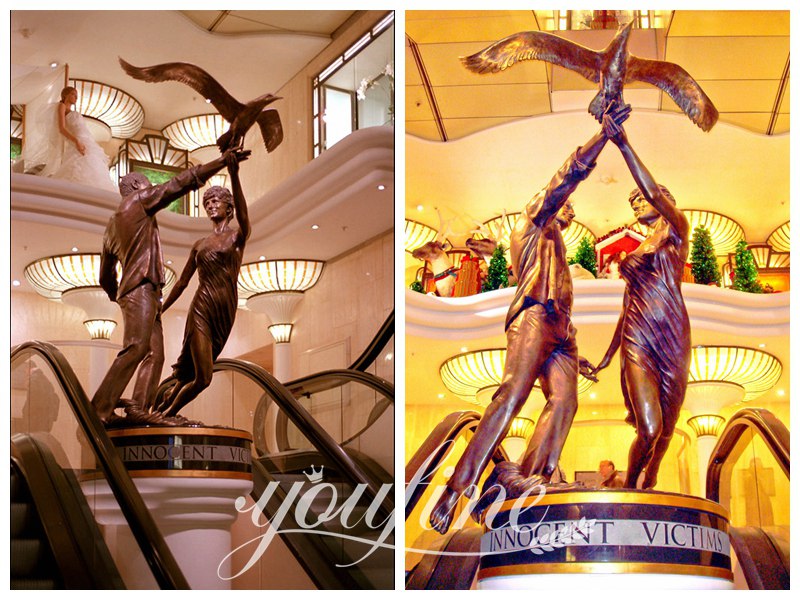 Princess Diana Sculpture in Colwyn Bay, Wales
This sculpture by Merseyside artist Tom Murphy is not as well-known as other statues or monuments to the princess. He donated his work to Colwyn Bay in Wales. The life-size sculpture depicts the late princess relaxing during a visit to Angola, North Wales Live reported.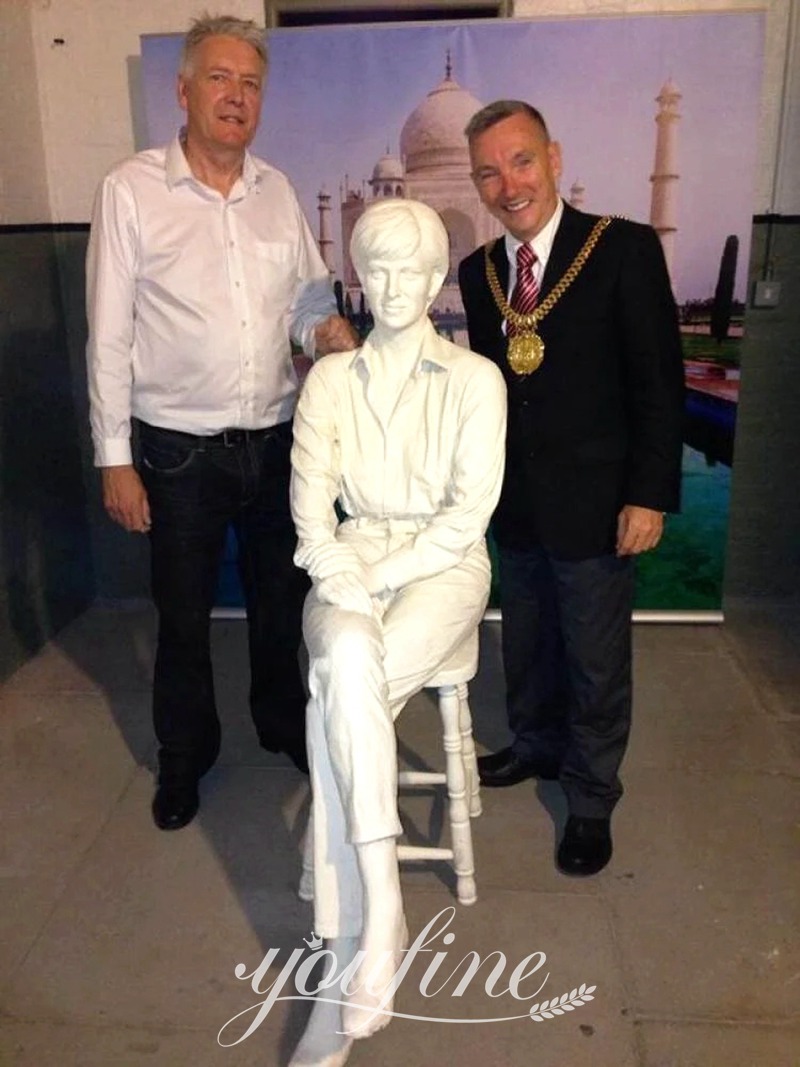 Statue of Princess Diana in Brookswich
The granite statue of Princess Diana was planned to go on display at the New Art Gallery in Walsall. But in the end, the polished statue was then put on display outside Andrew Walsh's funeral on Brookswich Park Road. Stonemason Andrew Walsh sculpted the piece. He wants the princess statue to be prominently displayed in his hometown of Walsall, West Midlands. The £10,000 black granite statue was the centerpiece of a funeral exhibition at the NEC in May 2000 – Funeral Art Exhibition.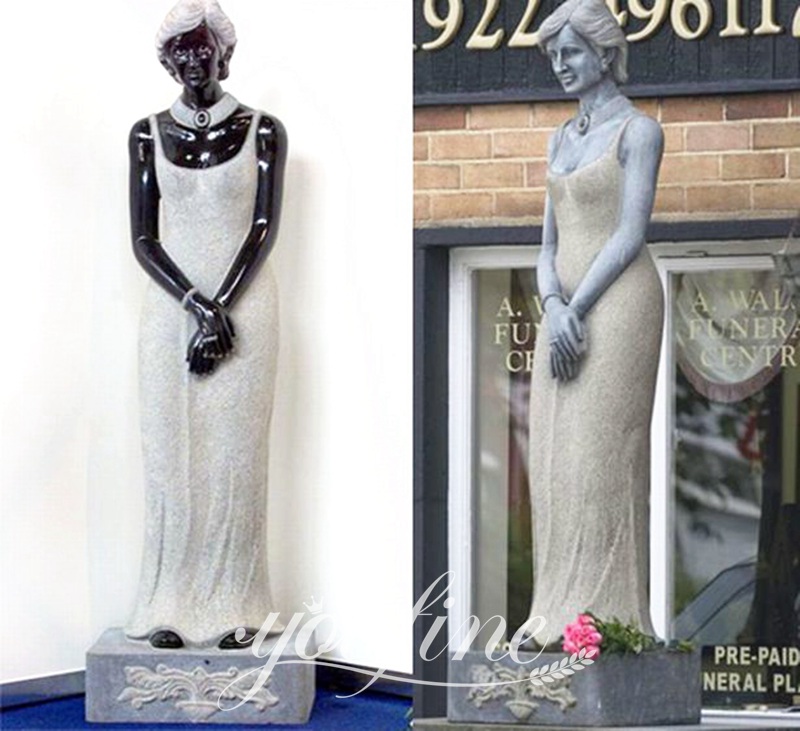 Princess Diana's Tomb is in Althorp
Diana was buried on an island in the middle of Oval Lake, on her family estate, Althorp Estate. Her grave site is marked with a white memorial pedestal and urn. Although tourists are prohibited from visiting the tomb itself due to safety concerns. But in summer, visitors can leave offerings at a temple opposite.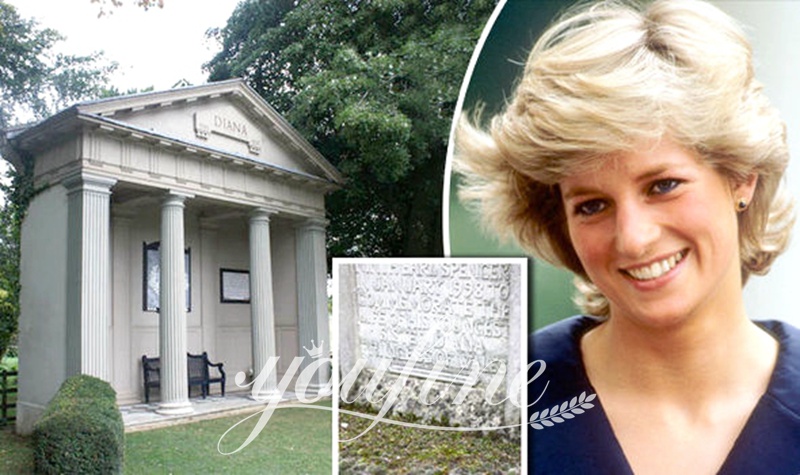 The Doric structure is inscribed with Diana's name and contains her black and white marble silhouette. Of course, we also customize large marble mausoleums for customers. Our artists have over 40 years of experience carving luxurious marble tombs. Of course, our beautifully carved marble mausoleum details could bring a better abode for the departed.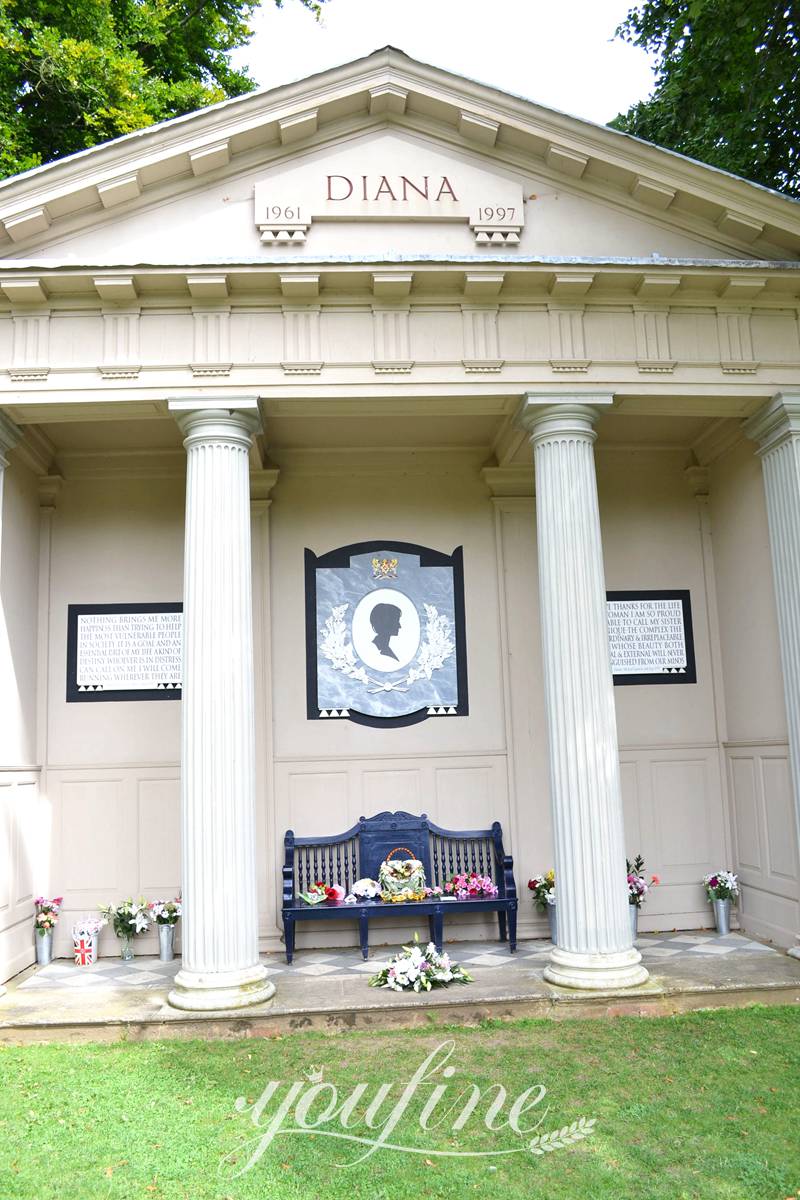 Biography of Princess Diana:
Diana Spencer was born on July 1, 1961, in Norfolk, England. She was the youngest daughter of Earl Edward Spencer. And, Diana married Charles, Prince of Wales on July 29, 1981. She was the first wife of Prince Charles III and the biological mother of Prince William and Prince Harry.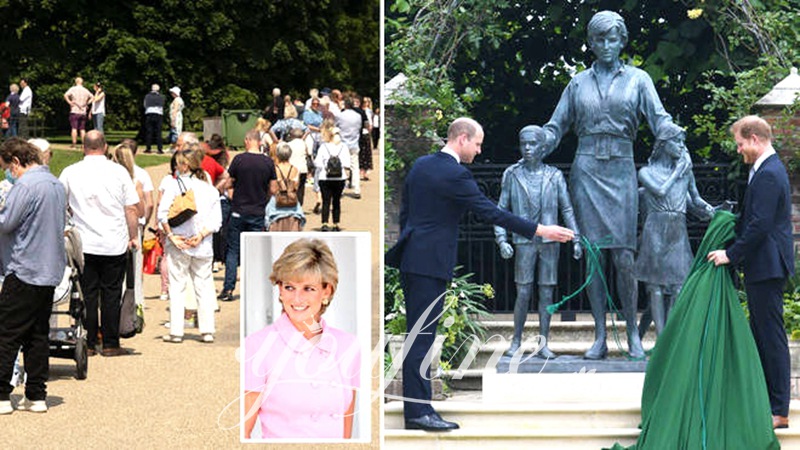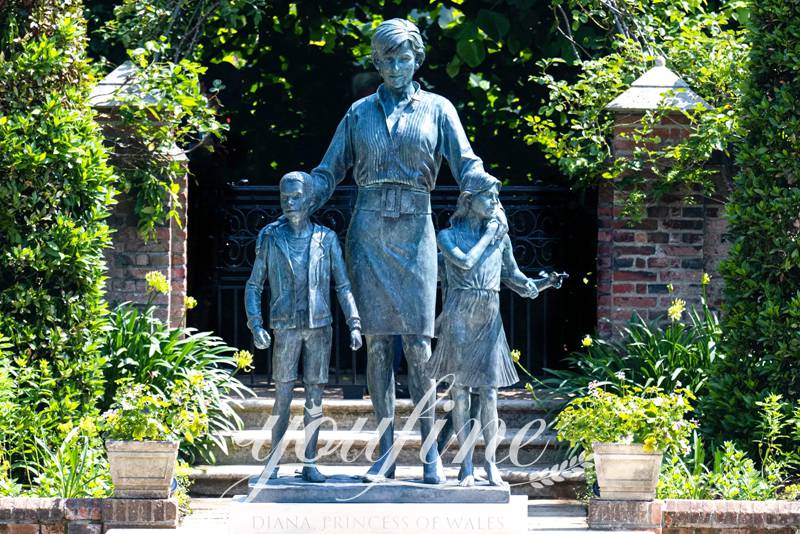 The engagement was terminated on August 28, 1996, and died in a car accident in Paris, France in 1997. On June 1, 2019, in memory of Princess Diana, the Paris city government plans to name the square after Diana. On July 1, 2021, Princes William and Harry built a statue at Kensington Palace in memory of their mother, Princess Diana.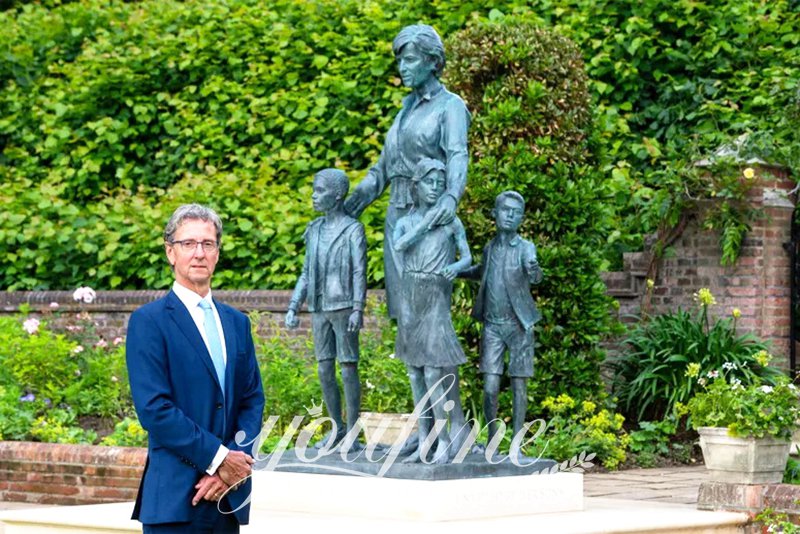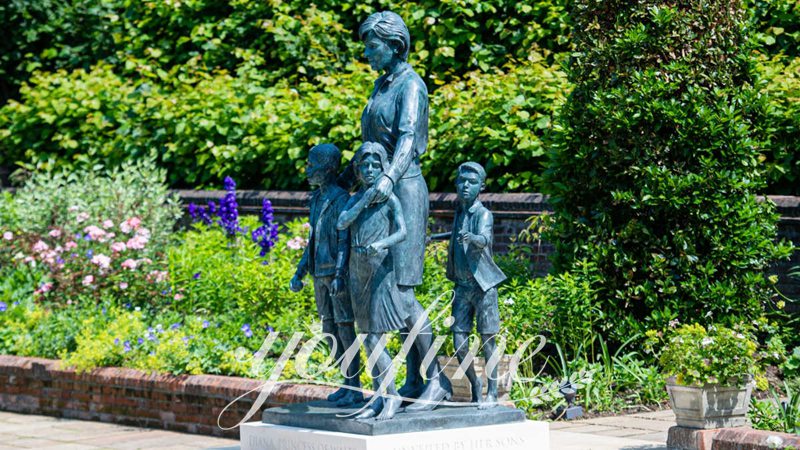 YouFine Provides Customized Services:
If you would like to customize a bronze Princess Diana sculpture we could accommodate any needs you may have. Of course, we have professional designers who can design a 3D stereoscopic image of Princess Diana sculpture for you. Then, no matter what kind of sculpture you want to cast, you can see the vivid appearance of the sculpture more intuitively. In addition, our artists would sculpt and manufacture clay models of the same size.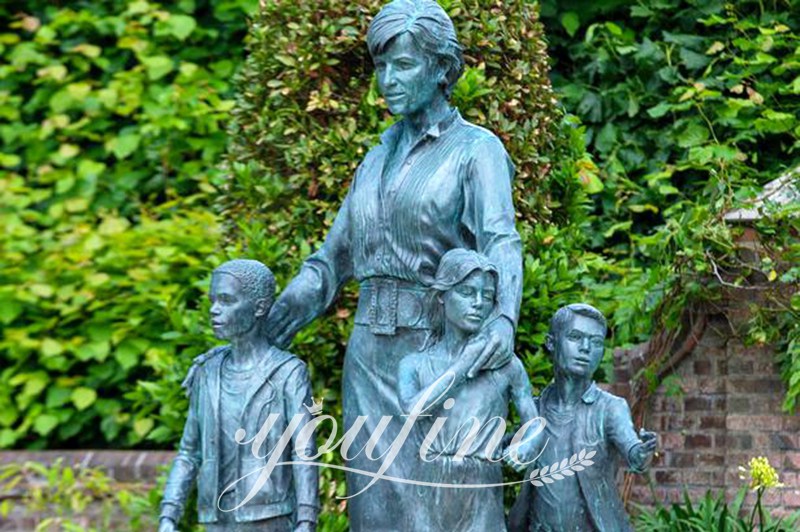 As a result, our sculptures are a true representation of Princess Diana's appearance. Of course, we not only cast bronze sculptures but also carve Dali Diana sculptures for you. Moreover, we use all-natural high-quality marble raw materials.
Therefore, our marble sculptures have a longer lifespan and could permanently preserve people's memory of Princess Diana. Therefore, if you want to customize a princess sculpture, please feel free to contact us.
Last Article
:
Casting Bronze Life Size Whitetail Deer Sculpture
Next Article:
Contemporary Abstract Metal Art Sculptures Indoor Outdoor Decor CSS-903