Beautiful Marble Angel Apollo and Daphne Monument for Alice from France–MOKK-90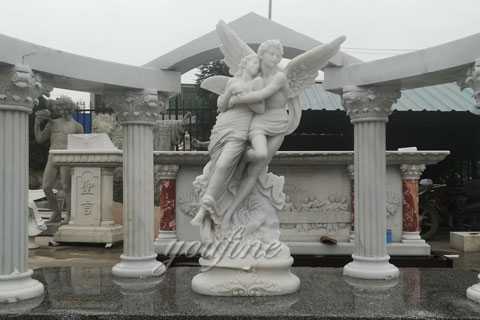 Beautiful Marble Angel Apollo and Daphne Monument for Alice from France just be finished. How about the angel tombstone?
We got one inquiry from our website at February, 11th. 2018.
And the client named Alice who is from France and she asked the marble monument is height 180 cm in white marble to Odessa Port. We think that is a complete inquiry and destination goal is very clear.
We reply her email very quickly with detail photos because we made many same piece of statue before, and we have model already so Alice could save the model fee. Also, we suggest her Sichuan white marble which is pure white marble.
Alice likes our angel statue very very much and she asked us how many years we think Sichuan white marble angel statue can resist to the weather on cemetery and what payment terms we could accept.
Alice think we are the right person she is looking for and she told us she would like to make a marble monument for her parents and she gave us a drawing about what she want. The drawing which including the Marble angel statue, Marble Columns, Marble Arch Top…
She is very very satisfied with our work after finishing and she emailed us back "It's absolutely wonderful! Perfect work!!!"
We are so happy and proud of what we are doing, and we are also knowing what's the most important things in our life. We are still having a long way to go, quality is Future.So if you also interested in Marble Angel Apollo and Daphne Monument ,please contact with us right away,all size could be custom made!
Last Article
:
Outdoor Classical Famous Igor Mitoraj bronze sculpture for sale BOKK-565
Next Article:
Outside Large Marble Water Fountain With Four Praying Angel Statues Manufacturer For Hotel Lobby MOK-808