Customized Life Size Multi Color Granite Panda And Koalas With Wrought Brass Bow Knot Sculpture for Australian clients(3)
Updated 09/9/2017 8:16 PM By George Wang
Striving for perfection is the belief of You Fine Sculpture.
After the deep communication with joe, our team design the final drawing as below.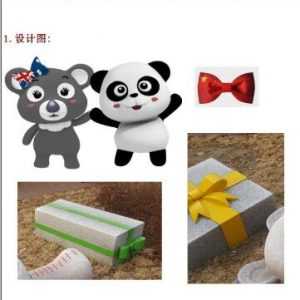 Panda sculpture and koala sculpture holding hand standing together. Designer add the bow knot to the animal statue.
The koala's bow knot with Australian national flag. The panda's bow knot with China's national flag.
Joe is very satisfied with our drawing. Then the vivid clay mold was made out.
After Joe confirmed the mold, our master begin to carve and joint.
Everything goes smooth. Blow is the completed panda and koala statue.
After the statue arrive, Joe specially call a phone to us express his thanks to us.
This is a pleasant cooperation!
Last Article
:
Simple design water fountain for Kazakhstan clients
Next Article:
Sunset red marble gazebo with woman statue column for Australian clients