The Top 5 Marble Water Fountain Designs in 2022
Updated 07/19/2023 6:30 PM By George Wang
As the merry music and ambiance, Christmas is coming again, and it is time to bring in the New Year. We wish the most optimistic of Christmas to you and your loved ones and happiness and prosperity in the year ahead!
We have made many sets of marble fountains in 2022, it's your trust and encouragement that we Insist on making better sculptures. I will give the lists of hot sale marble water fountains for your reference if you need.
Top 1. White Marble Courtyard Fountain
An ultra rich and luxurious hand carved marble feature perfect for upscale motor court application. The natural white color and gray veins meshes excellent with a muted gray color scheme.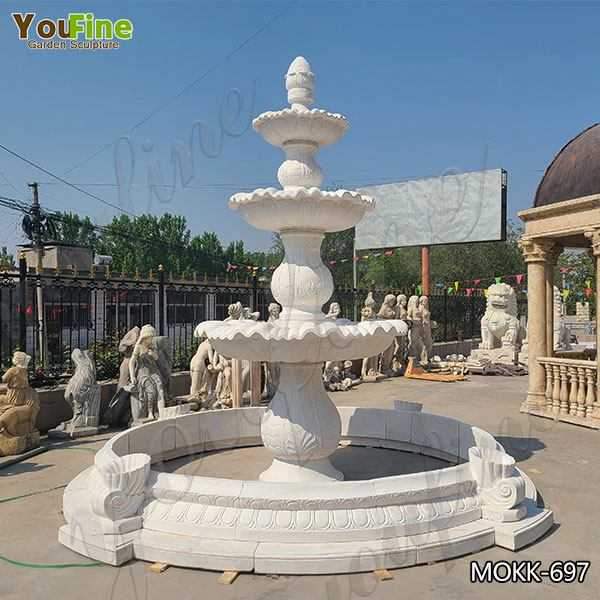 Top 2. Simple Marble Tiered Fountain
Elaborate Carved Tiered Fountain in Natural marble with Optional Commercial Stainless Waterjets sold separately. Spectacular hand carved acanthus leave pool basin which has been grooved out to house a spray ring!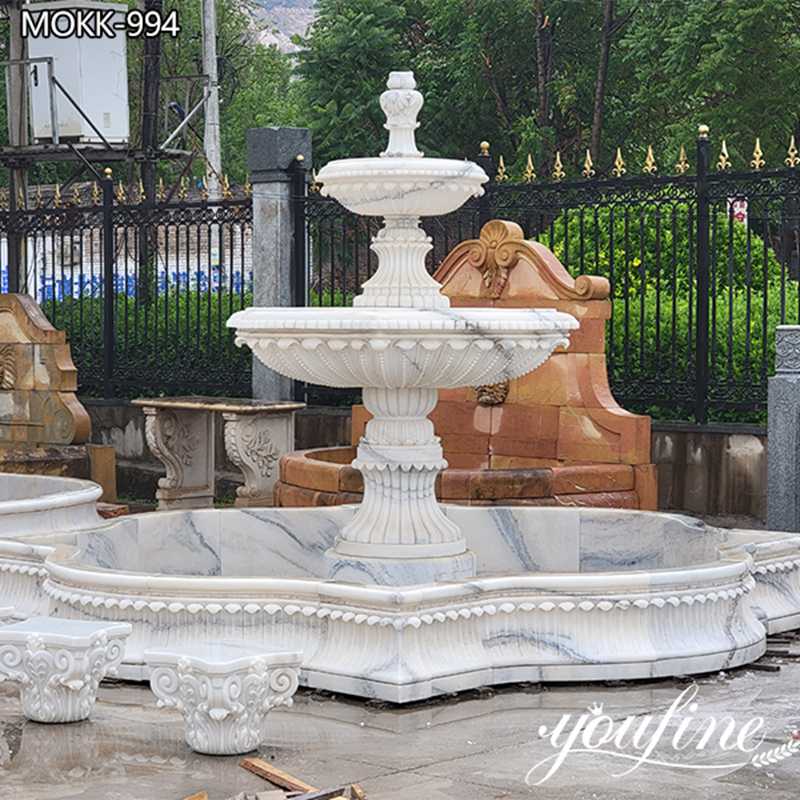 Top 3.  Gorgeous Tiered Marble Fountain with statues
This must be a marble oversized marble water fountain design, which could make your courtyard more exquisite. The size and design of this fountain are very magnificent, with many statues of people and animals on it. Each layer of the bowl has delicate carvings. Its pool is composed of two kinds of marble. The combination of pure white and beautiful light yellow is wonderful. Therefore, this exquisite fountain would become an indispensable decoration in any garden or manor.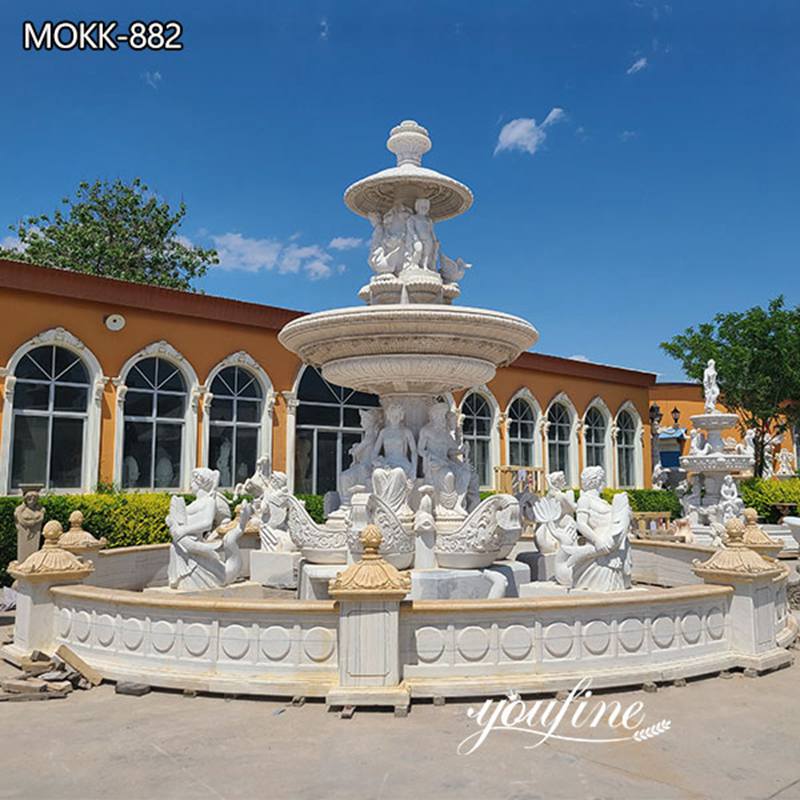 Top 4.  Classic Outdoor Marble Trevi Fountain
This exquisite marble Trevi fountain is a small version of the classic Trevi fountain. Our professional designers and sculptors developed this small fountain design based on the size and design of the original version. The height of the entire fountain is 4 meters and the length is 5 meters. Although the overall size has become smaller, we have retained the overall design style and the best part of the fountain.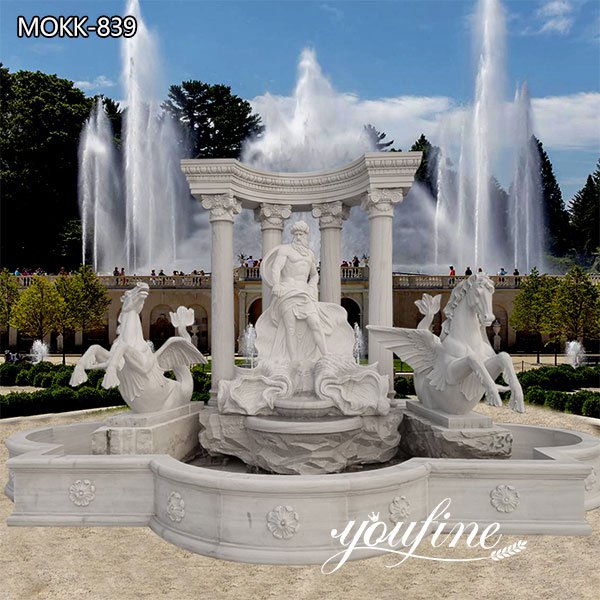 Top 5.  Marble Lion Head Fountain
This is a lions head fountain made of Egyptian beige marble. The overall design of this marble fountain is a simple tiered fountain, but the details of the design are very exquisite. So the whole fountain looks low-key but delicate. In the middle of the fountain core, there are four vivid lion heads carved, and water could flow out of the lion's mouth. So some people would call this fountain the Lion's Head Fountain. Someone also likes to make this style of fountain in white marble.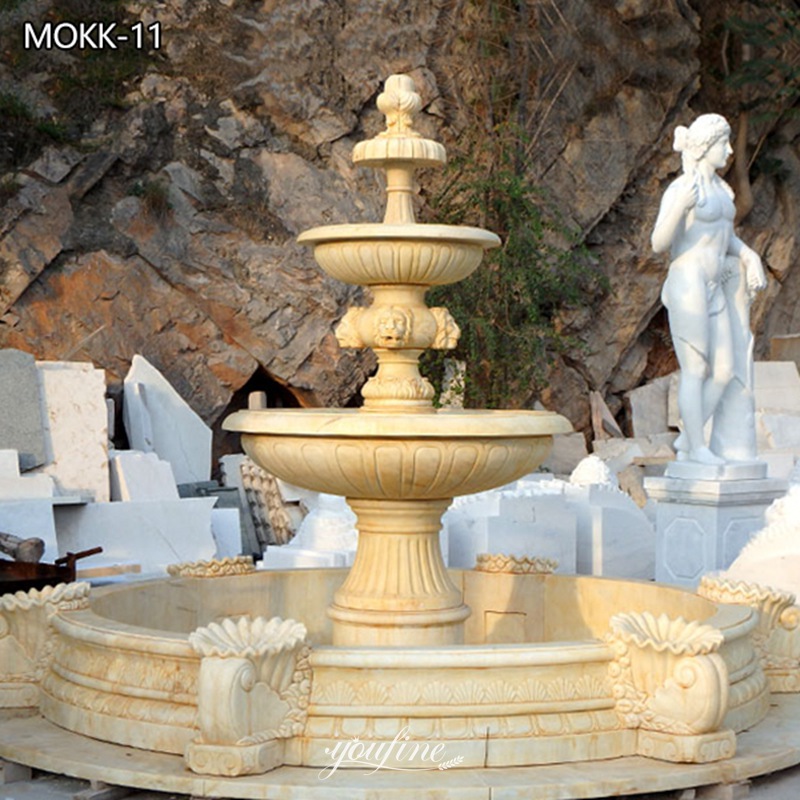 There are also many other designs of marble water fountains that are suitable for your garden and yard. How do you think about these popular fountains?
If you don't know how to choose a fountain for your garden, you could check the blog : How to choose a marble fountain for garden?
You can also contact us directly, we will help you to find the best water fountains for you.
Last Article
:
Hand Carved Marble Water Fountain Garden Decor for Sale MOKK-882
Next Article: